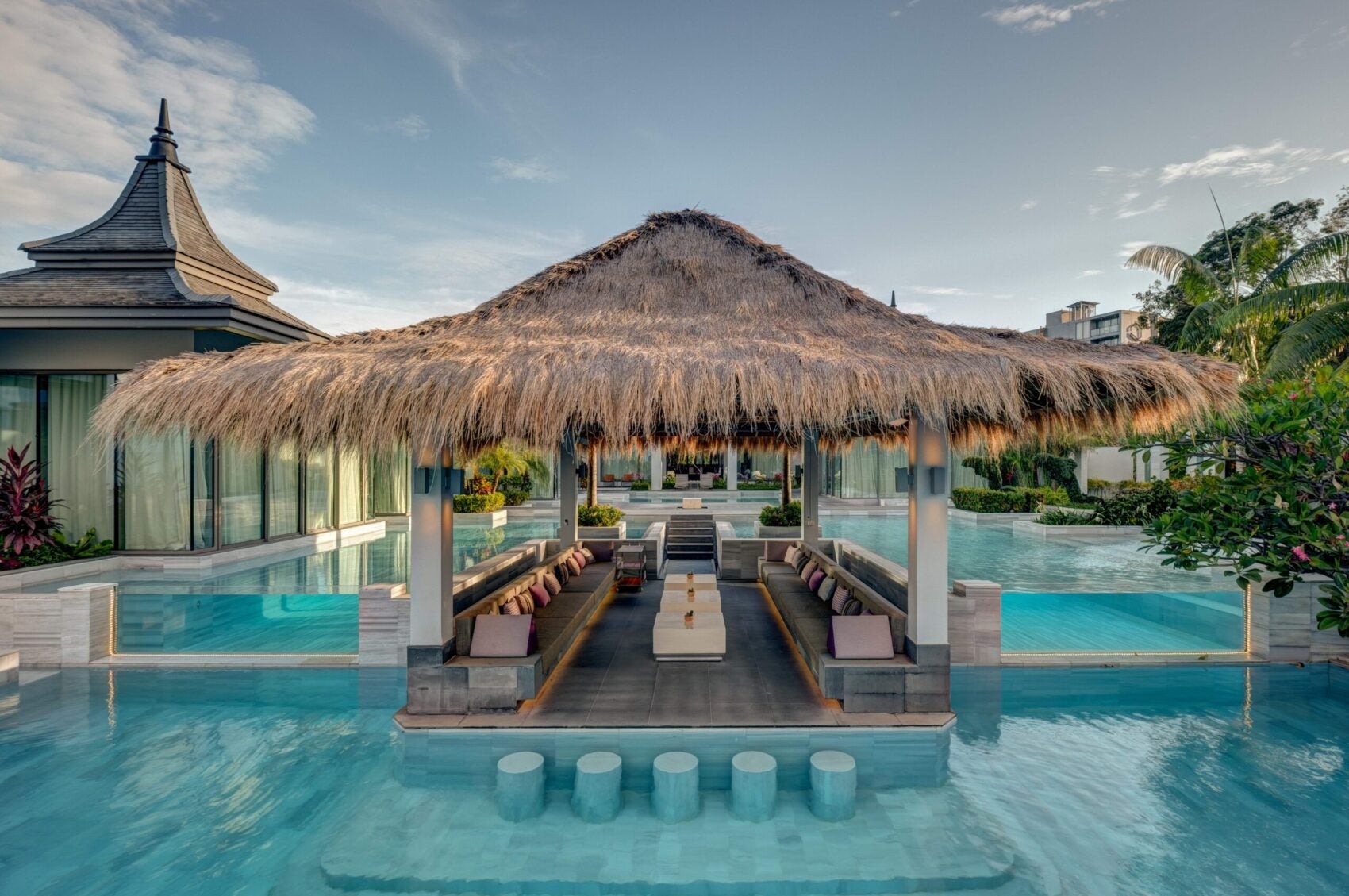 Given the stress and upheaval of this year, an escape to a luxury hotel or island retreat has never been more appealing. Safety is, of course, paramount across the world's great escapes, where social distancing, designer face masks and hand sanitizer will be on the agenda for months – perhaps years – to come. And while many countries across continental Europe have reopened their borders, the US has remained locked down for what seems like an eternity. The question on everyone's lips is: Where can I travel safely? The simplest answer is hotel buyouts.
The concept is nothing new – hotels and resorts typically give free rein over their estates for lavish weddings, glitzy Hollywood-style events or corporate retreats. As the demand for such soirees has plummeted, smaller and more exclusive hotels have begun to see a trend in requests from guests looking to vacation without other travelers.
Thankfully for us all, there's no shortage of these super-private, luxe and under-the-radar hotel buyouts. Elite Traveler has rounded up the best hotels and resorts, from the South African bush to the shores of the Caribbean, that allow you and your family and close friends to enjoy the perks of buyout life à la prive.
[See also: Raffles Maldives Meradhoo Launches $1m Buyout Package]
The Resort Villa, Thailand
$140,000 per week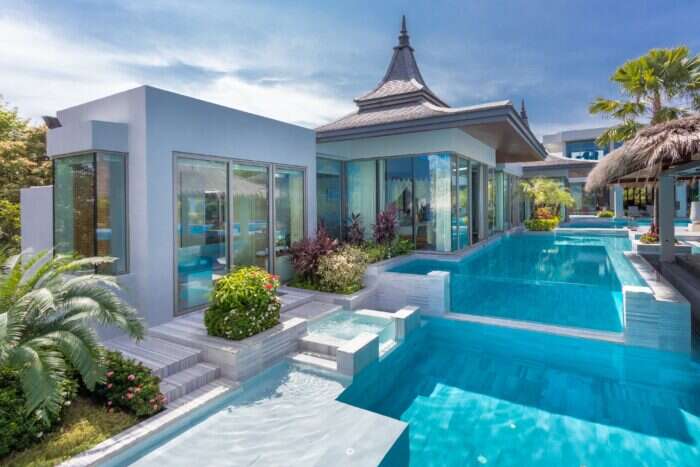 Luxury getaways could learn a thing or two from this outstanding Thai powerhouse. A master class in all things over-the-top, the Rayong-located retreat is set among 3.5 acres of supremely lush tropical foliage, sea views, towering palms and some of the most colorful florals known to man. Absolute privacy is the doctrine The Resort Villa preaches, with over 70 staff members trained to see to your every wish.
Eight stunning villas are available to book for up to 16 guests; the villas feature Tom Ford-esque floor-to-ceiling windows, infinity pools, an outdoor Jacuzzi, mammoth walk-in wardrobes, and king and queen beds finished off in the plushest and most luxurious linens. Expect a host of designer labels, from Menotti and Kenkoon to Dedon and Gaggenau, and Rosenthal, too. In keeping with the Thai-Scandi design, polished granite, onyx stones and teak flooring give the place that "wow" factor, along with a Hollywood-style centerpiece aquarium, home to exactly 800 tropical fish.
By the sea, the resort's majestic Serenity Spa specializes in Southeast Asian holistic treatments with Thai, hot stone, maya and head massage, and expert facials. Cuisine is a mix of East meets West, with local and international flavors taking center stage in all of the resort's three celebrated kitchens. Wines from Italy, France and New Zealand will keep the palate happy way into the wee hours.
When it comes to activities, there's oodles to do: Scuba, fly boarding and deep-sea diving are rites of passage in these parts, along with guided motorbike tours atop premium BMW bikes – and for those who really want to rack up their daredevil points, thrilling rides on the resort's new dune buggies.
If you do one thing …
It's totally bespoke at The Resort Villa, so you have free rein to do what you want. Sunsets are golden and quite simply unforgettable in this part of the world, so our advice is to cruise the Gulf of Thailand and discover the area's natural beauty and nearby islands aboard one of The Resort Villa's private luxury boats. Excursions are customized, and the crew is more than happy to tailor your trip as you wish.
Contact Benjamin Tellenbach, director, benjamin.tellenbach@theresortvilla.com, +66 922 811 675, theresortvilla.com
Refuge de la Traye, Méribel, France
From $75,756 per week low season, $134,000 per week high season
A new ski hangout to put on your radar: Luxury French hotel connoisseur Airelles has just joined forces with the equally flashy Monaco-based brand JV Pastor Collection on the new and exclusive mountainside chalet Refuge de La Traye. The all-inclusive, Méribel-situated chalet is available for weekly rentals for the winter and summer ski seasons on an entirely exclusive-use and tailor-made basis. Fifteen guests can be accommodated in the dreamy digs spread over acres of secluded alpine space – perfect for hitting the slopes minus all the tourists.
Operating on genuinely sustainable lines, the retreat boasts six elegant bedrooms, all featuring mesmerizing panoramic views, a slick wellness area, Last Christmas music-video-esque dining room, lounge with glowing open fireplace, cinema room and kids' playroom. There's also a fully equipped ski room for stashing all your ski gear and a bijou chapel — think magical fairy-tale winter weddings. All is taken care of by a team of expert staff who will create everything from bespoke wine menus to regional wine tastings in the cellar and arrange muscle-soothing spa treatments and a host of inspired mountainside experiences, including rides on electric snowmobiles, snowshoeing, zip-lining and a treetop assault course.
Bonfires, custom-built igloos and marshmallow-roasting campfires are just some of the things you can also request. For the French foodie in you, Refuge de la Traye's chef is on hand, whipping up local Savoyard specialties such as cheese fondues, raclettes, charcuterie boards and a plat du jour inspired by global travels. Blankets and cups of cocoa? Of course.
If you do one thing …
During your stay, you'll be given the option to wine and dine during the legendary Le Festin lunch experience at La Table des Airelles restaurant at Les Airelles in Courchevel 1850. Our verdict? Do it. If that's not enough, the team will get you booked into Le Chalet de Pierres, Courchevel, along with Nama at Aman Le Mélezin and La Folie Douce Méribel-Courchevel – all bucket-list foodie experiences that will leave your friends green with envy.
Contact Léa Décloux, executive assistant, reservation@refugedelatraye.com, +33 458 240 404, refugedelatraye.com
The Mark, New York City
From $75,000 per night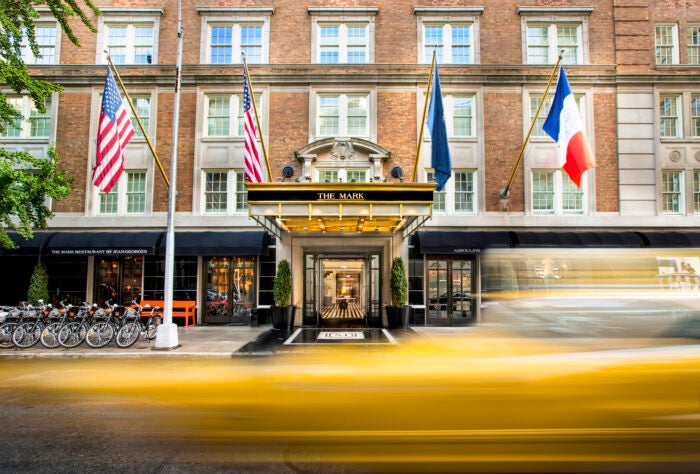 Manhattan life doesn't get swankier than in this New York City grand dame. Wedged between the frills and thrills of the Upper East Side, this uber-chic and royally approved hotel icon is old-school glamor personified, brought to life by a grand staircase and the most dramatic striped marble flooring. The overall feel is more European; Paris instantly springs to mind, but the sconce-lit walls, mirrored elevators, bold furnishings and abstract artwork give it a sexy, "inspire your own home" feel. Hire out the entire top two floors for exclusive use – it's here where the real magic lies: You'll find The Mark's Penthouse, one of America's largest at more than 10,000 sq ft.
[See also: Set Sail With The Mark Hotel and Chef Jean-Georges]
Views, as you might imagine, are insane, with huge terraces looking over the grand expanse of Central Park, the Met Museum and beyond. Created in the vision of legendary French designer Jacques Grange, the inside is just as impressive: Bold, kaleidoscopic old-world grandeur meets contemporary luxury with Grange-designed furniture and bright and airy high ceilings set across five bedrooms, six bathrooms, two powder rooms and two wet bars. The living room, if your heart so desires, can be transformed into a ballroom, and there's also the use of a plush conservatory, library lounge, stately dining room and, if you're visiting during the winter months, your very own ice skating rink. And there's a top-notch restaurant overseen by celebrated French chef Jean-Georges Vongerichten and personal training by Dan Flores at The Mark Fitness Center. Butlers and a private masseuse are available if you so desire.
If you do one thing …
There's in-suite hair styling from the house of Frédéric Fekkai and dining beneath the stars with an exclusive menu curated and prepared by Jean-Georges himself, but if there's one thing you should do here, it's to take advantage of the 24/7 access to shop at Bergdorf Goodman. Whether it's 3am or 11pm, you can shop everything from shoes to jewels, scents to the latest designer collections and more.
Contact Isabelle Hogan, concierge, reservations@themarkhotel.com, +1 212 744 4300, themarkhotel.com
Calivigny Island, The Caribbean
From $132,000 per night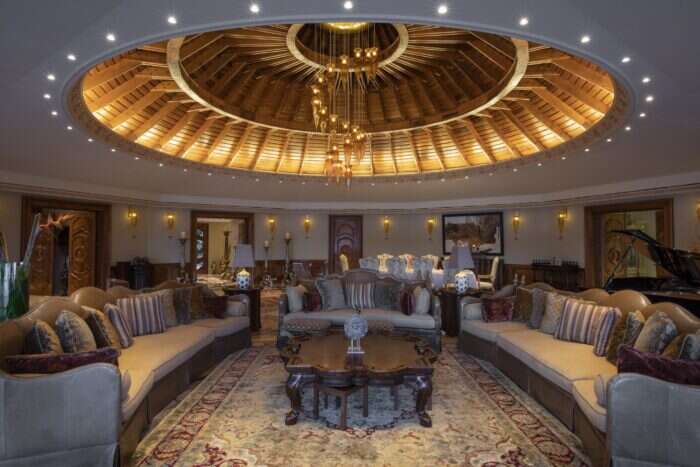 With seriously pomp dining, fabulous all-suite residences and an army of staff at your disposal, Calivigny Island lives up to its reputation as one of the most exclusive and exquisite private islands on the planet. Spread over 80 lush acres, the Grenada island has room for 40 guests to bask in all its palatial glamour; there are two great big sandy beaches and sweeping views of the Atlantic Ocean and Caribbean Sea.
Over the years, the spot has amassed a loyal following who flock back to its shores for absolute privacy behind the ferns. Exactly 80 hospitality gurus, made up of celebrity fitness trainers, massage therapists, are on hand to pamper, plus nannies and entertainers on request. Of all the grand places to rest your head, Calivigny's Beach House is the most jaw-dropping. Ten sumptuous suites inspired by French Colonial architecture have been crafted using the finest materials from Europe and South America. With views of the ocean and tropical gardens, the 4,000-sq-ft master suite is supreme. A vision in French cherrywood, its custom-built, Roman-style Jacuzzi room with marble floors and handcrafted sculptures is sheer extravagance.
The food at Calivigny is also a delight: French, Japanese, Chinese, Italian, American, Russian and Caribbean-inspired specialties are all crafted with finesse, with ingredients sourced locally and from the island's organic farm. Burn it all off in the outdoor pools, fitness center, floodlit tennis court, soccer field, basketball court, or biking or jogging trails. Prefer water sports? Water skiing, jet packing and kayaking are all ready and waiting to keep the island dream alive until the fateful day that is checkout.
If you do one thing …
Staying here means that no request has limits. The entire experience is tailor-made to whatever you desire. If you need inspiration, the resort has put on private concerts, yacht excursions and firework displays, and has brought local markets and wine and culinary experiences to its glittering shores.
Contact Alexis Celeyron, sales executive, sales@calivigny-island.com, +33 749 433 288, calivigny-island.com
Aman-i-Khas, Rajasthan, India
From $67,000 per night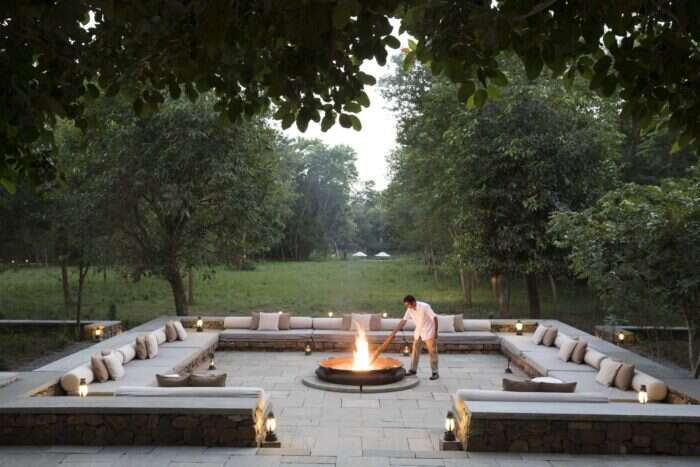 Aman-i-Khas takes glamping to a whole new level of luxury. Hewn into the edge of Rajasthan's prime tiger-spotting territory in Ranthambore National Park and with 10 opulent, Mughal-inspired tents and endless chances to spy a Bengal beast poolside, safari in India has never been so chic. Its unique mix of nature and ancient ruins – coupled with Aman's legendary pampering – make all the unholy-hour wake-up calls to explore the bush ever so worth it.
In terms of looks, it is best described as leather and mahogany nouvelle-colonial decor: billowing canvas walls, king-size pads (with king-side beds) and marble bathrooms. The library is a great spot to simply relax and recharge; combine it with the knockout spa and you'll be humming the fine tunes of zen until checkout. Treatments draw on Ayurveda, India's ancient healing system, and include everything from poornvandana massage (a full-body, circulation-boosting rubdown), a daily roster of yoga and meditation classes, and special tailored and bespoke treatments on request.
Food is sourced locally and from the organic garden, a verdant oasis that supplies the Dining Tent with fresh fruit, vegetables and herbs. International favorites feature heavily on the curated menus as well as authentic Indian fare, including fragrant Rajasthani curries accompanied by rice and homemade roti.
As part of the buyout experience, aptly dubbed A Camp of Your Own, the entire retreat is all yours and includes daily jeep safaris in search of tigers, leopards, sloth bears, hyenas and crocodiles. Bird-watching trips along the verdant Banas riverbed and camel rides through local villages are also part of the action-packed program.
If you do one thing …
You spend a lot of time in a jeep for your stay here, so switch it up and explore the unspoiled terrain of the Land of Kings on horseback. Your trusted steed will be a Marwari horse — a rare breed from the Marwar (Jodhpur) region once highly prized by the Rajput royals — that will trot you through rural Rajasthan as you learn all about the history, culture and landscape of this mighty land.
Contact aman-i-khas@aman.com, +91 941 337 9194, aman.com
Kinross House Estate, Scotland, UK
From $15,957 to $22,604 per night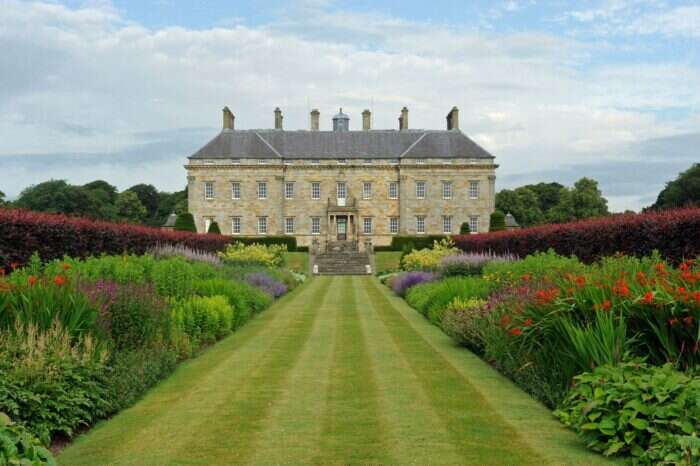 Surrounded by a great lake, towering trees and a string of picturesque mountains, this unique retreat is a quintessential Scottish beauty. Set on the banks of Loch Leven, the exclusive-use-only Kinross House, a member of Luxury Scotland, has endless headliners to brag about: giant country house, wondrous views and lush landscaped gardens, to name a few. But perhaps the most fascinating thing is its storied past. Built as the first neoclassical Palladian mansion in Scotland by Sir William Bruce, the grand abode looks out to Loch Leven Castle, famous as the place where Mary Queen of Scots was incarcerated and forced to abdicate in favor of her son James VI and for being recaptured from British troops during the First War of Scottish Independence by Sir William Wallace, aka Braveheart.
[See also: Discovering the Scottish Gold Rush With Hamilton & Inches]
Historic British dramas aside, the landscaped estate now invites guests to experience its knockout mansion house with 14 en-suite bedrooms, along with a private spa with treatment rooms, hydrotherapy pool and sauna. Think grand maison with stately dining rooms, stunning painted ceilings, beds piled high with pillows wrapped in the finest linens and glitzy yet traditional regal bathrooms. Fully staffed, the place has enough room to accommodate 48, all of whom can enjoy tutored tastings in the contemporary tartan-clad Whisky Library – offering some of the rarest drams in the world – or test their Highland games skills on the mammoth lawns. The estate's walled kitchen garden and extensive cycling routes also have romantic lazy, hazy summers written all over them. A major bonus is that Kinross is just 30 minutes away from Edinburgh airport – pair that with the estate's helicopter and you can combine the perks of city life and country nirvana into one mega-vacation.
If you do one thing …
It's a fully designated National Nature Reserve, so a trip over the lake to Loch Leven Island is practically mandatory. Estate boats will whisk you over for the short trip to their very own island (as it's been dubbed), where you can fish for trout, spend an afternoon devouring a well-stocked picnic hamper or simply find a quiet spot under a tree and read to your heart's content.
Contact Ellie Garvie, events coordinator, ellie.garvie@firstsightestates.com, +44 157 786 5626, kinrosshouse.com
[See also: Getting to Know Jacques Smit of Sabi Sabi Private Game Reserve]
Sabi Sabi Private Game Reserve, South Africa
From $15,437 per night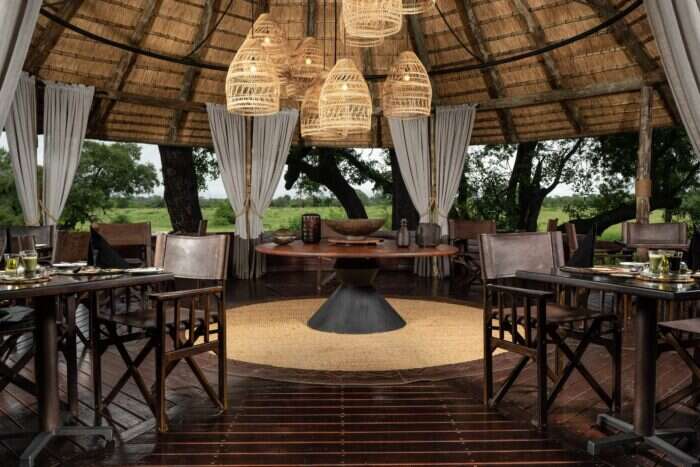 Set among nearly 150,000 acres of bushland sprawled on the edge of Kruger National Park, Sabi Sabi Private Game Reserve is renowned for offering sustainable safari experiences like no other. Exclusivity is the defining mantra here: It has its own private-use airstrip, exquisite earth-hewn suites and wild open spaces tuned to the relentless buzz and hum of Mother Nature. It's totally unfenced, so spectacular wildlife sightings (including of the famous Big Five) are commonplace without you even having to leave the comfort of your own lodge. The best part is that Sabi Sabi is not only committed to sustainability and the ecological conservation of endangered species but your hosts also invest every dollar you spend into education, improving literacy skills and actively encouraging entrepreneurship in the local community.
The buyout? Selati Camp. Seven stunning suites and elegant lounge spaces overlooking a lively waterhole that attracts all sorts of wildlife, from rhino to impala, 24 hours a day. Stylewise, it's typically colonial yet contemporary with modern conveniences giving it that extra-luxurious "in the bush" feel. Expect a perfectly curated backdrop of mishmash furniture, rich timbers, handpicked African artwork and handcrafted sculptures. Beyond the lodge, adventure reigns supreme. Go on two 4×4 game drives per day with expert rangers and highly trained Shangaan trackers. If you're brave enough, ditch the jeep for a bush walk – you'll learn everything about the flora and fauna in the area, get up close and personal with all sorts of critters and uncover the amazing secrets of the bushveld.
If you do one thing …
Breakfast in the bush is non-negotiable while you are staying at Sabi Sabi. Following your morning game drive, you'll be whisked off to a secluded deck in the middle of game country. Hidden from view, a huge banquet will be laid out for up to 14 of you, along with familiar faces from the lodge who will be there to cater to your every need.
Contact Tebogo Motale, reservations consultant, concierge@sabisabi.com, +27 114 477 172, sabisabi.com
Twin Farms, Vermont, USA
From $56,000 per night with a minimum two-night stay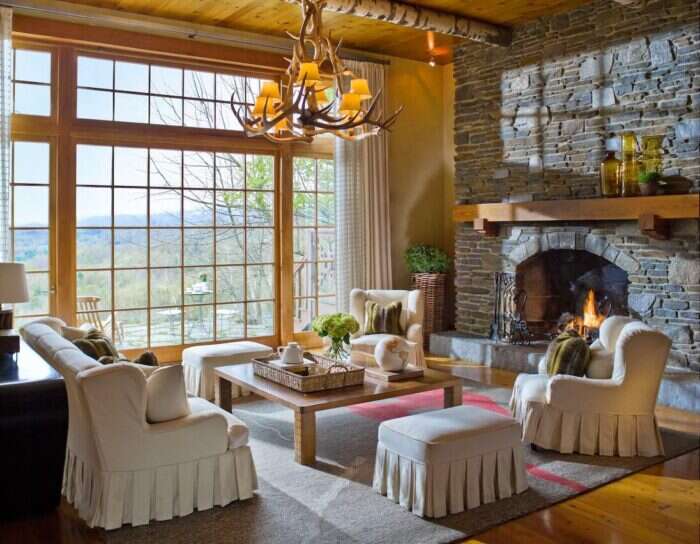 Twin Farms is the romantic and exquisitely intimate country hideaway of your buyout dreams. Set amid 300 acres of sprawling meadows, the Relais & Châteaux gem is the only five-star resort in the state of Vermont, boasting 10 charmingly rustic and whimsically named cottages that sleep a total of 20: Think rooms inspired by writer Sinclair Lewis and a grand four-suite mega-barn overlooking the water, kitted out with cozy wood-burning fireplaces, vintage flags, eclectic lush fabrics, mammoth rugs and super-snug king-size feather beds. Gorgeous hand-painted murals, rich maple furnishings and tons of American and gallery-worthy contemporary art pieces adorn the interiors.
The food here is excellent too: Guests dine under the watchful eye of executive chef Nathan Rich and his team of culinary whizzes, who curate anti à la carte menu breakfasts, lunches and dinners inspired by the changing seasons. Expect hearty but elegant North American fare sourced from Twin Farms' own estate, including herbs, fruits and vegetables. Adrenaline comes courtesy of the epic hiking trails and tennis courts, plus there's pond swimming, fly fishing and, in the warmer months, canoeing and a putt or two on the golf course. In the winter months, private downhill slopes are the major sell, along with cross-country skiing, snowshoeing, ice skating and sledding. When the adventure ends, head for the Furo (the Japanese-style hot tub) and the Bridge House spa for treatments using Vermont-centric potions and lines from houses Tata Harper and Lunaroma.
If you do one thing …
Aspen who? Twin Farms has six ski slopes, and they are all private-use-only. The Chalet, the largest cottage, has its very own slope, so you can ski-in, ski-out totally to your own beat. Take advantage of the retreat's "ski sherpa" butler experience, where the guide will take you to the top of the mountain for an icy picnic, culinary treats and endless mugs of cocoa.
Contact Randi Bartles, reservations manager, randi@twinfarms.com, +1 802 234 9999, twinfarms.com
Zornitza Estate, Bulgaria
From $6,640 per night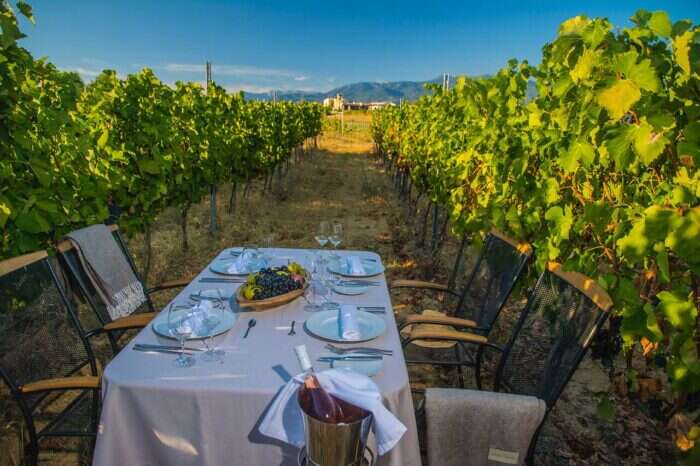 It's unlikely you've come across this precious fairy-tale family estate before, but the likelihood is that once you've been, you'll want to keep it a tight-lipped secret until the end of your days. Embodying country living to a T, the Zornitza Family Estate was built from the dreams of a family of aesthetes enamored of the beauty of their home country. Hidden within the misty green-gold hills and zesty vineyards of southern Bulgaria, the Relais & Châteaux grand maison produces its own wine, honey, truffles and organic fruits, and raises its own curio of livestock – 90% of which is used in its restaurants.
Speaking of restaurants, this is where you really want to tuck in. With "farm to fork" dining at the heart of his menu, head chef Vasil Spasov (previously of Noma and Alain Ducasse fame) serves up seasonal haute cuisine with Bulgarian influences featuring black Burgundy and Bianchetto truffles stuffed into hearty meats. Then there's the wine. With over 280 days of sunny rays, the fertile soils of Zornitza produce some seriously aromatic and full-bodied wines. Syrah is the dominant vine, accompanied by 17 other local and classic red wine grape varieties, all of which you can taste in the wine cellar under the tutelage of Alex Skorchev, head sommelier at Zornitza and founder of the Wine & Spirits Academy Bulgaria.
The estate's vibe is cozy and elemental, with 15 modern rooms, suites and villas outfitted with stone walls, huge sofas, roaring fireplaces and massive beds. Of all the hideouts, the private villas are the best. All come with balconies overlooking the estate and beyond, along with romantic living rooms and bathtubs with dreamy views.
If you do one thing …
There's lots on offer, from fishing in great lakes to climbing the sand pyramids of Melnik (absolutely stunning rock formations) via a great path next to a 13th century monastery, but perhaps the most special offering is a hot air balloon ride over the region. Start early to see the sun rise over the surrounding Greek and Bulgarian hills before whizzing over the great vineyards and rolling tundras, canyons, mighty rivers and dense forests that border the resort. Glass of bubbly in the air? Mandatory.
Contact Ralitsa Georgieva, sales representative, sales@zornitzaestate.com, +359 888 457 005, zornitzaestate.com