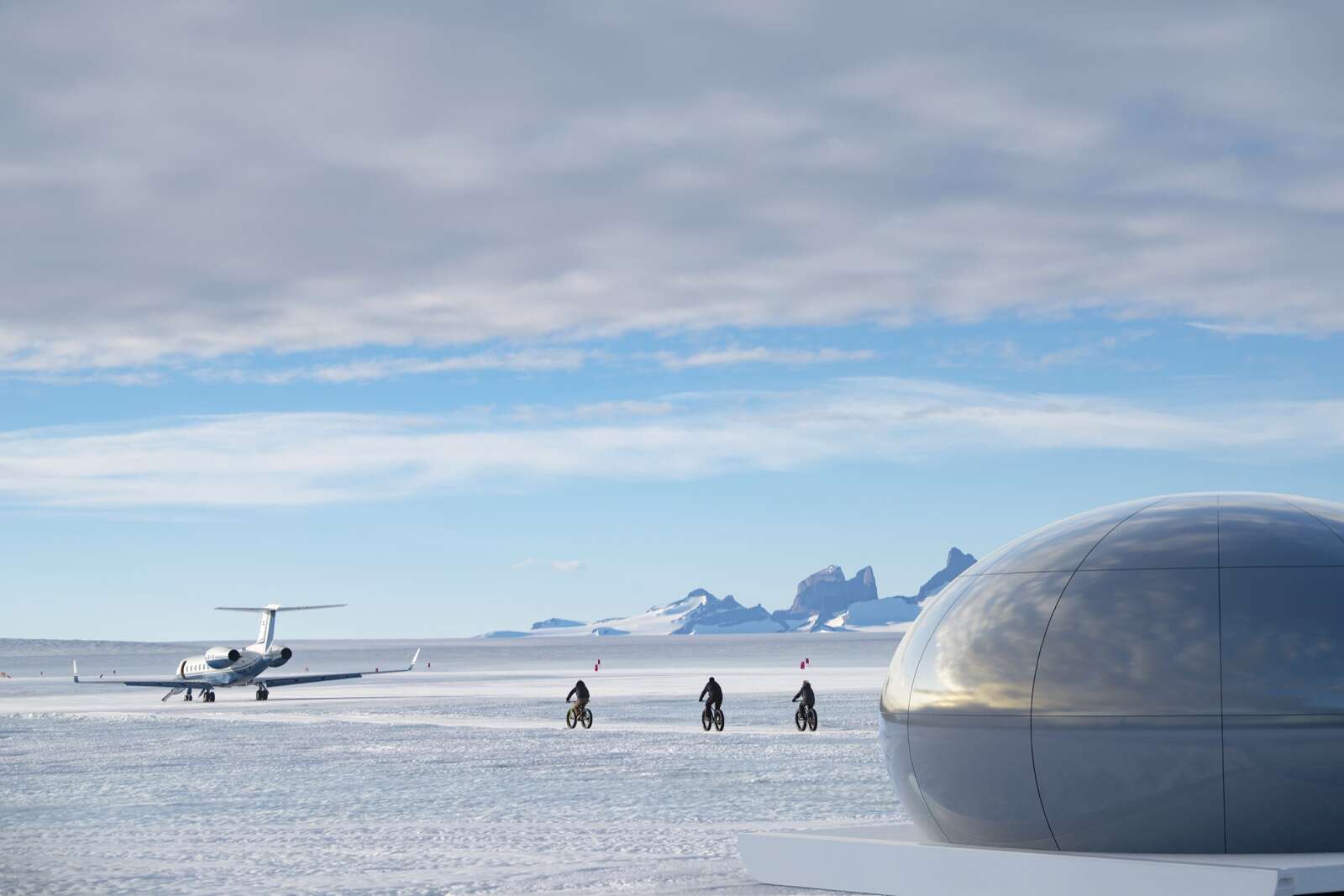 Intrepid travelers will be delighted to hear White Desert has unveiled its third camp in Antarctica, Echo, set to open this November. Those that are familiar with the eco-minded travel firm will know this isn't your average glamping experience. The futuristic new camp will feature just six space-inspired sky pods with floor-to-ceiling windows revealing sweeping views of the icy plains and snow-capped mountains beyond.
As the only operator on the planet to fly guests to this remote corner of the world, the tours don't come cheap, with a single ticket starting at $65,000 per person, while larger groups of 12 can book the entire camp for $780,000.
So what can guests expect from this unique travel experience? The tour kicks off in Cape Town where you'll be whisked away onboard a private jet bound for Antarctica. On arrival at camp Echo, you'll be taken straight to a private lounge to enjoy a martini shaken with 10,000-year-old ice.
[See also: Elite Traveler Reveals Top Adventures]
Over the next five days, you'll have the chance to explore the breathtaking surroundings with an action-packed itinerary that includes skiing, biking, ice-climbing, 4X4 truck driving and mountaineering (all with the help of knowledgeable on-hand guides). Perhaps most exhilarating of all is the visit to Atka Bay, where you'll see the world's largest penguin species, the Emperor penguin colony, up close.
After a long day exploring, you can while away spare time in the cozy lounge and dining area before returning to the accommodation. Each of the pods (which sleep two) at Echo have been crafted from composite fiberglass with interiors adorned with retro space-age design details, luxurious furnishings and original photographs taken from the International Space Station by former White Desert guest and retired astronaut, colonel Terry Virts.
"The inspiration behind the interiors at Echo comes from too many years of watching Star Wars as a kid," says co-founder of White Desert, Patrick Woodhead. "The real difficulty was trying to get the interior designers to fuse together the retro feel of the Millennium Falcon with the luxury of a boutique retreat."
Like White Desert's existing sister camps (Whichaway and Wolf's Fang), Echo has been meticulously designed with no foundations so it can be packed away at any point without a trace. This commitment to preserving the precious landscape is at the heart of the company. Founded by polar-explorer duo Patrick and Robyn Woodhead back in 2005, the couple had a vision of enabling people other than scientists and explorers to experience the magic of Antarctica through their tours. Right from the start, they put in place a range of sustainability initiatives to minimize the impact of their operations on the surrounding environment.
These include mitigating emissions generated by flights and activities of guests through carbon offset schemes (the company has been carbon neutral certified since 2007), eliminating single-use plastics, using solar air heaters to warm the pods and using its planes to transport scientists to their Antarctic research stations.
Most recently, White Desert signed up to the Glasgow Declaration and, in line with the UK Net Zero target, is aiming to replace all Jet A-1 fuel it uses with sustainable aviation fuel (SAF) over the next three to five years. Made from waste oils and fats, SAF has an 80% smaller carbon footprint when compared with existing jet fuels and produces significantly fewer soot particles which is especially important in Antarctica where high deposits of soot on the icy surfaces trigger the melting of snow.
Prices start from $780,000 for an exclusive group of 12 or $65,000 per person for a five-day tour and include return flights and transfers from Cape Town to Antarctica, all accommodation, food and beverages, and activities around camp.
[See also: First Look at Wilderness Safaris and White Desert's Itineraries]