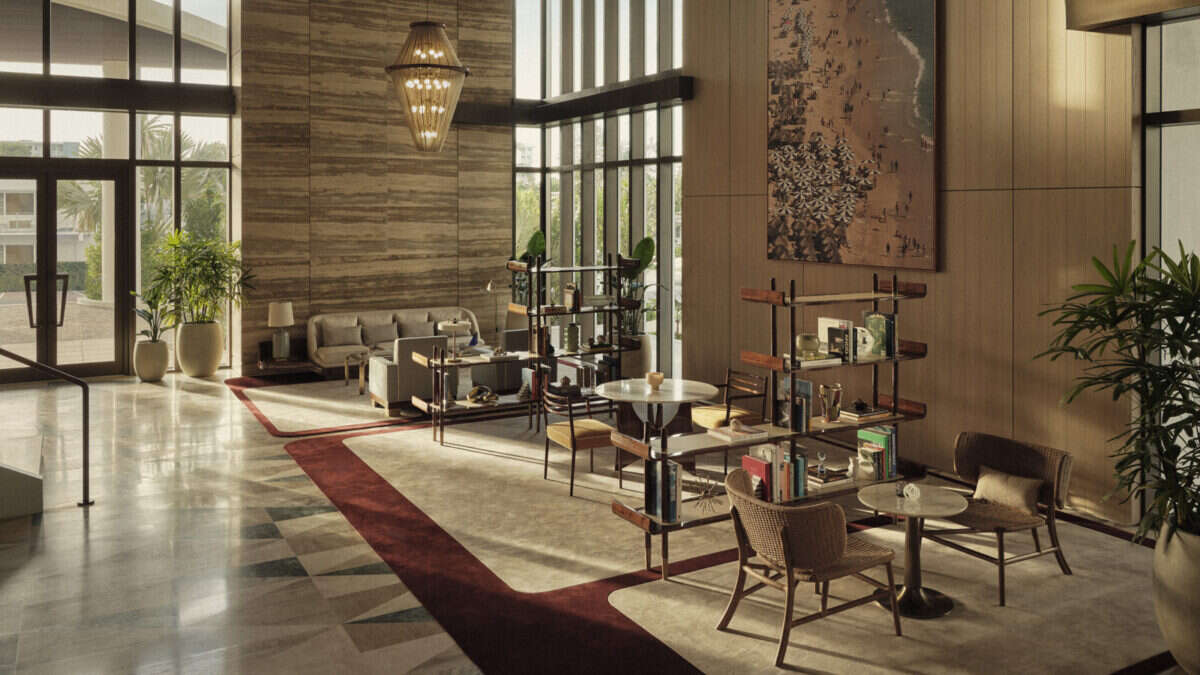 When Four Seasons announces a new destination, naturally our ears prick up. So, when the hotel giant opened the doors to its newest outpost in Fort Lauderdale last month, we couldn't wait to take a look inside.
Ask anyone where they're vacationing in Florida, and there's a good chance they'll say Miami. Each year the coastal metropolis lures thousands of tourists eager to sample the city's vibrant cultural scene and buzzing nightlife.
But for those looking for something a bit more laid-back, Fort Lauderdale might just hold the answer. Known as the 'Venice of America' thanks to its intricate network of canals and rivers, Miami's neighbor is having a bit of a moment.
The arrival of Four Seasons Fort Lauderdale will only cement its status as one of the Sunshine State's hottest destinations. "Like a picture-perfect postcard, the newest Four Seasons in our growing global portfolio will create an unmatched luxury lifestyle experience – from design to service, and everything in between," says Christian Carr, Four Seasons President of Hotels and Resorts. "We are setting the stage to experience one of America's most beloved seaside communities in an entirely new way."
Situated at the water's edge, with stunning views of the Atlantic Ocean, it's hard to think of a better setting to explore the city. Designed by Miami-based architect Kobi Karp, the 22-story tower's curved silhouette and sleek lines take inspiration from Fort Lauderdale's rich yachting history. From the moment you step foot inside the bright, airy lobby you know you're in for a serious treat: this is understated luxury at its finest.
[See more: Four Seasons Announces New Naviva Tented Resort]
Stay
The hotel boasts 189 elegant rooms and suites, with marine-inspired interiors from celebrated British designer, Tara Bernerd. Floor-to-ceiling glass sliding doors bathe the spaces in natural light and open onto spacious balconies – the ideal spot for watching the sunset with a cocktail.
Bernerd and her team employed a mid-century design aesthetic: think curved lines, warm polished wood, and beautiful bespoke furnishings. The result? Timeless interiors with minimal clutter and fuss.
Most exclusive of all is the Birch Oceanfront Terrace Suite, named after local attorney Hugh Taylor Birch, who gifted vast stretches of Fort Lauderdale beachfront to the city in the 1940s.
The 1,600-sq-ft apartment is perfect for family gatherings with two roomy bedrooms, a vast indoor dining area and the option to connect to an additional guest room for extra space. The star of the show, however, is the expansive 2,000-sq-ft terrace with breathtaking ocean views.
Dine
When you can bring yourself to leave your room, head up to Evelyn's – Four Seasons Fort Lauderdale's gourmet restaurant designed by Martin Brudnizki. Like Bernerd, he has taken inspiration from the property's surroundings, effortlessly blending indoor and outdoor spaces.
"Fort Lauderdale has an iconic sailing history and has long been established as a destination for leisure and beautiful weather," he says. "The interior design of the restaurant reflects this, showcasing an abstraction of traditional nautical architecture and combining these motifs with simple and elegant lines to create a modern and weightless interpretation of a yacht club."
The eatery is named after Evelyn Fortune Lilly Bartlett, an artist and art collector who lived at the historic Bonnet House estate just up the road from the hotel. Here, you can enjoy eastern Mediterranean culinary delights from Brandon Salomon. The talented head chef has played a key role at some of America's most prestigious restaurants, including a stint at Mauro Colagreco's three-Michelin-star Florie in Palm Beach.
"Evelyn's menu is all about discovery," he says. "The diverse and complex flavor compositions of the eastern Mediterranean region elevate curiosity and intrigue. Our recipes are familiar in ethnic origin and ingredient-forward, creating distinct and colorful profiles that blend harmoniously."
As you would expect, Salomon has made the most of Fort Lauderdale's bounty of fresh, seasonal ingredients including plenty of seafood. The beautifully presented dishes are inspired by the Levant, featuring much of the region's delicious flavors and spices from pomegranate and dukkah to sumac and saffron. Created with sharing in mind, the menu is brimming with mezzes and spreads served with pillowy house-baked pita bread.
Highlights from the dinner menu include Yellowfin tuna 'Nayeh' served with puffed bulgur, pickled vegetables and Swank Farms gem lettuce and Grilled whole branzino dressed in coriander seed chermoula with cilantro and rose petals.
Make sure to order a side of the Batara Harra – addictive crispy potatoes with garlic, cilantro and olive oil. And if you have room for dessert the indulgent Dark Chocolate Pave crafted with halva, black sesame ganache, tahini shortbread, gray sea salt and almond is not-to-be-missed.
If you're looking for a lighter bite, you can also drop by at Evelyn's for lunch to sample chef Salomon's delicious Chicken Shawarma wrapped in pita with tahini, picked sumac, garlic toum and cilantro or the buttery Maine Lobster Roll drizzled with saffron aioli and lemon gremolata.
Downstairs, you'll find Honey Fitz – Four Seasons Fort Lauderdale's all-day lounge named after John F Kennedy's presidential yacht. In the morning you can enjoy coffee and sweet treats from pastry chef Christina Kaelberer, while by night the space serves as an intimate bar with an extensive drinks list spanning grower champagne, natural wines and signature cocktails.
[See more: The Most Anticipated Restaurant Openings of 2022]
Relax
At Four Seasons Fort Lauderdale, you'll never be short of places to relax and unwind. Dotted with tropical plants and daybeds, the Ocean Sun Deck is the perfect spot to while away a lazy afternoon by the pool or attend a sunrise yoga class.
Most impressive of all, though, is the enormous Spa. Also designed by Tara Bernerd, the light-filled interiors feature gentle curves reminiscent of Forte Lauderdale's famed waterways, with pale linens, natural woods and white marble coming together to create a sense of calm.
The spa boasts six treatment rooms and a serene lounge area complete with Himalayan salt-wall saunas, aromatherapy steam rooms, ice fountains and multisensory experience showers.
As for the treatments themselves, you'll find everything you can think of including scrubs, wraps and facials. We recommend the Signature Ebb & Flow massage which uses therapeutic Himalayan singing bowls, aromatic oils and a combination of Swedish massage and Thai stretching techniques to leave you feeling completely refreshed and rejuvenated.
Explore
Of course, the best way to explore Fort Lauderdale is by water. Often dubbed the 'yachting capital of the world' thanks to its balmy weather and calm sailing conditions, it's worth chartering a luxury yacht for the day to visit the city's pristine beaches and secluded coves.
There's also an array of museums, restaurants, galleries and bars to keep you entertained. And for nature lovers, it's well worth visiting the Hugh Taylor Birch State Park where you can fish, swim, hike and spot the gopher tortoises away from the bustle of the city.
[See more: Twenty for 20: The Most Iconic Hotels of the 21st Century]