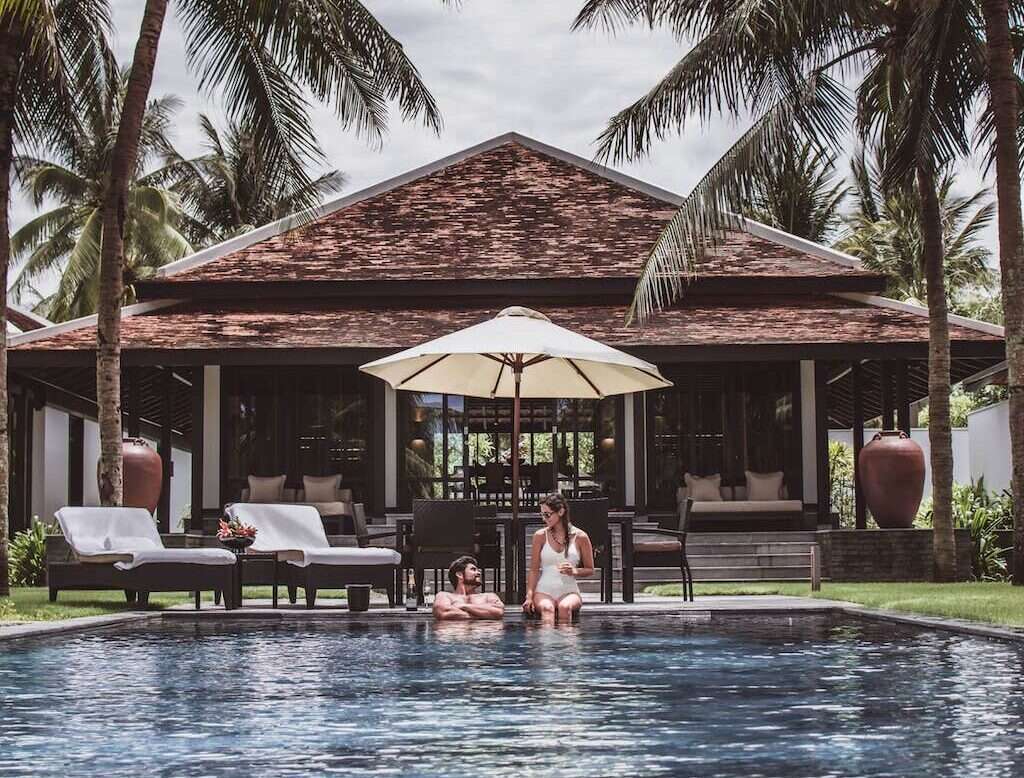 There is a reason why the only Four Seasons resort in Vietnam is situated in Hoi An. The charming ancient town is rich with distinctive architecture that showcases the cultural diversity that characterized Hoi An during its trading peak. Well-preserved wooden buildings, colorful façades, and ornate detailing adorn its narrow streets and alleyways.
At night, the rivers are lit up with thousands of multi-colored lanterns that illuminate the Thu Bon River and gondola-like boats pause beside the bank to pick up couples and travelers alike.
This Venetian-like city attracts lovers from all over the world and the Four Seasons Nam Hai is the resort where romance is nurtured. Since opening its doors in December 2016, the hotel has healed and revitalized residents from all over the globe through its award-winning spa and the serenity conveyed through its design.
Inspired by 2,500 years of history, the architecture and interior design – conceptualized by Reda Amalou – present a dramatic interplay between wind and water that pay tribute to ancient feng shui philosophy and the grandeur of the Tu Duc royal tombs of Hue. 
[See also: Paradise Found: Inside Four Seasons Mauritius at Anahita]
Stay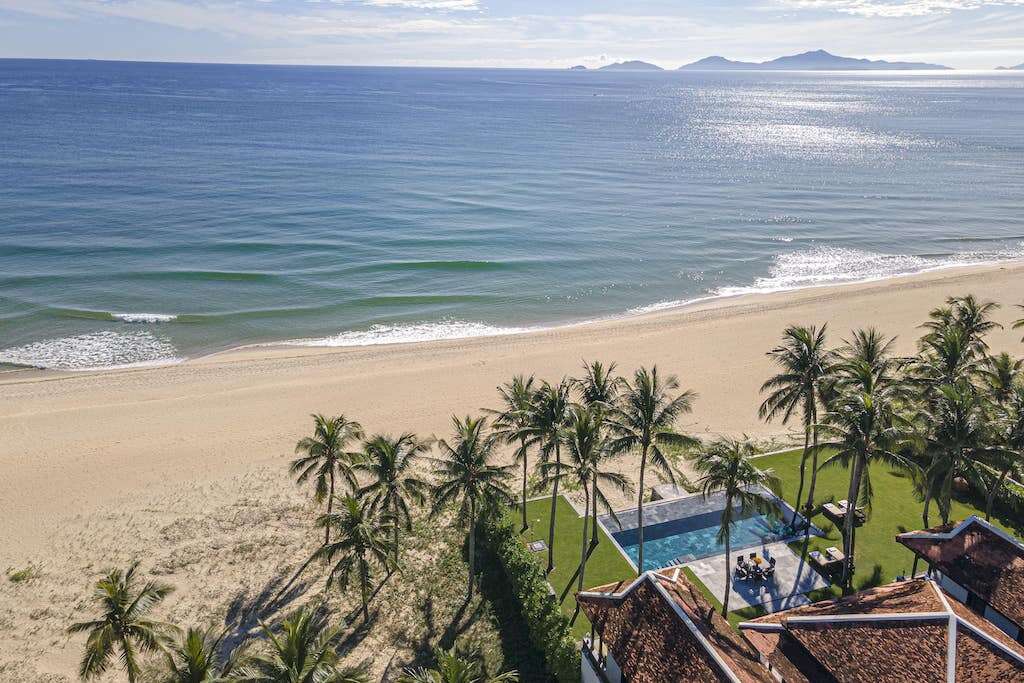 Tha Nam Hai has 100 keys – 60 of which are resort villas and 40 that are poolside. All feature outdoor showers, terraces and expansive indoor and outdoor living areas. Each one is considerately laid out and furnished to create maximal relaxation.
Often the top choice for celebrities, the One-bedroom Pool Villa offers a private sanctuary shielded by swaying palms. The villa features a king-size bed, two sinks with neighboring walk-in wardrobes.
Adjoining the bedroom property, a living area contains large sofas, a television, large dining table and stocked drinks cabinets should you need a space to unwind outside of the bedroom. Spanning 2,690 sq ft, the space strikes a perfect balance between privacy and space, as the private pool and courtyard that surrounds a lotus pond create a little bubble of nature. 
[See also: Inside Four Seasons Resort Costa Rica]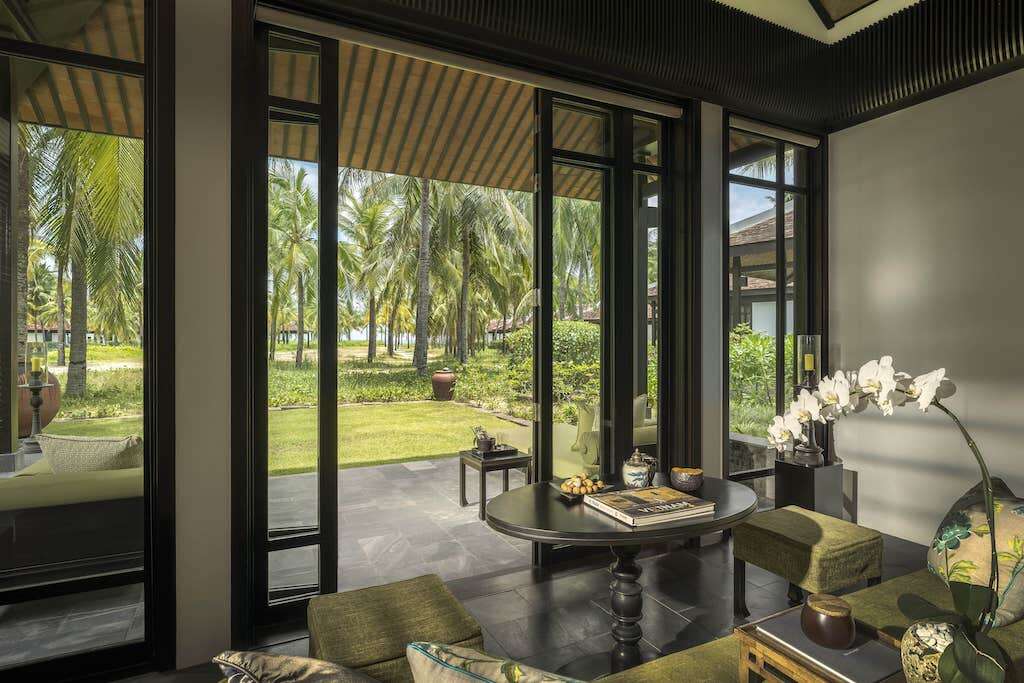 On a smaller scale of 860 sq ft, the One-bedroom Beachfront Villa enjoys all of the same bedroom amenities but does not have a living area. Instead, as it sits on the front row of the beach, guests can watch the sunset while lounging on daybeds in the courtyard.  
There are also villas that have the best of both worlds. The Three-bedroom Beachside Pool Villa is the smallest (the four and five-bedroom villas are also available. ) These villas feature an infinity pool just steps away from the beach, should you want to alternate between the warm waves and cool still waters.
Dine
The beachfront La Sen restaurant is the perfect place for a sun-lit lunch. Featuring flavorful Vietnamese dishes such as Bánh Mí (a baguette sandwich often filled with a choice of protein, coriander, cucumber and carrot) and sir-fried rice noodles alongside contemporary classics – like a succulent wagyu beef burger or garlicky seafood spaghetti.
La Sen also offers an extensive dinner menu that elaborates on the variety of Vietnamese cuisine, but for guests looking for something different, Café Nam Hai welcomes guests to enjoy a meeting of Western and Indian worlds.
As you ascend the stairs past the children's pool and hop across a trio of stepping stones, intimate, low-level lighting guides you to sink into cushioned seats and enjoy a spread of crispy poppadoms accompanied by a trio of chutneys. It is then up to you to decide between a bursting burrata drizzled with rich balsamic or edamame samosas filled with soybeans and sultanas; between a lobster carbonara and creamy tikka masala.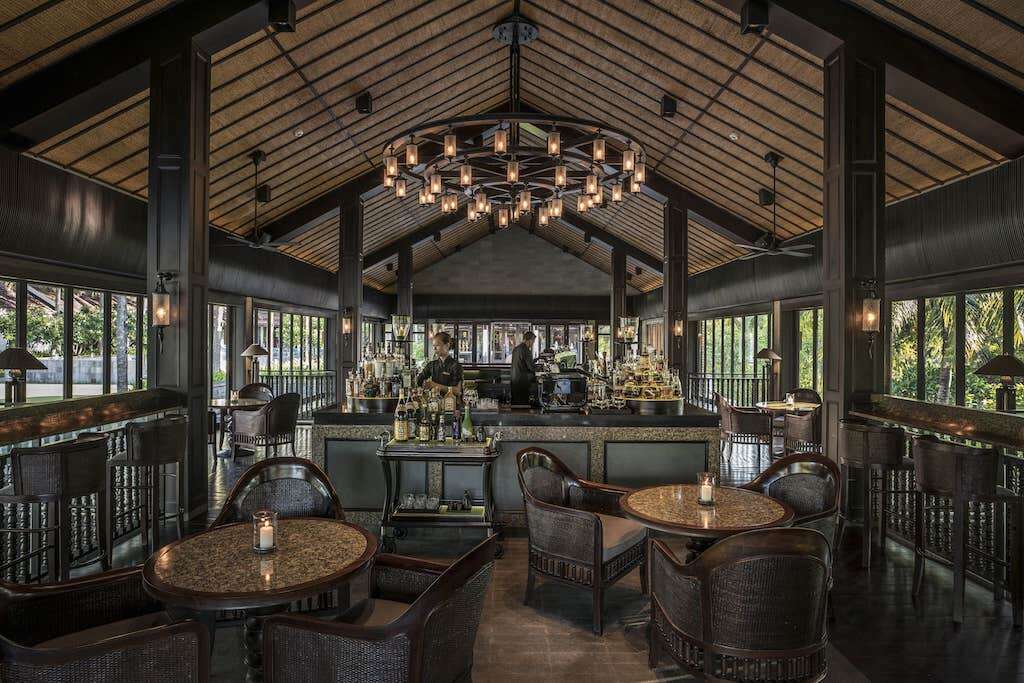 An extensive vegan menu is always available at both Le Sen and Café Nam Hai. The fresh herbs served in both restaurants are largely sourced from the hotel's own farm, with 40 types of seasonal plants grown there.
The 4,500 coconut trees scattered around the resort are similarly used in cooking and drink-making (even the outer shells are used in the coconut shy game that takes place daily by the beach bar). 
Should you choose to dine in the comfort of your villa, or wish for a private meal along the coast, an in-villa or beachfront BBQ can be arranged. 
Relax
The Nam Hai has recently relaunched its recharge retreat to enable wellness enthusiasts a chance to experience healing connection and mindfulness while on holiday, however, this sense of healing can be experienced by all residents of the Nam Hai at The Heart of the Earth Spa.
Inspired by Love Letter to the Earth by Thich Nhat Hanh – a Vietnamese monk who describes stability, creativity and non-judgment as nature's lesson – the spa centers around mindfulness and relaxation, leaving all who visit with a newfound sense of calm. 
As you enter the spa, a crystal-clear glass Buddha welcomes you to ponder on the beauty of the pond behind him. Rows of seemingly floating miniature villas line the emerald waters, each its own private sanctuary. It is by this stretch of water that 'A Goodnight Kiss to the Earth' wellness service takes place every evening.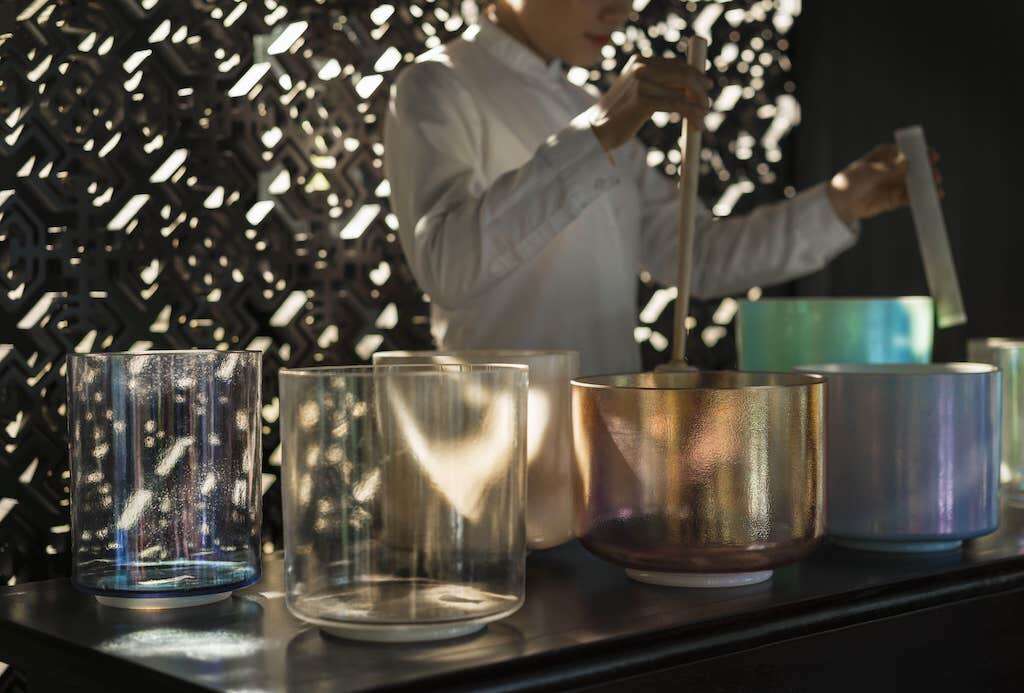 At this service, guests are invited to reflect upon their day, themselves and their goals by writing a letter to Mother Earth. This letter is then folded and placed into a colored lantern of your choice. Once set alight, you can place the dream-filled lantern into the water and watch it float away before it turns to ashes and rejoins the earth below.
Other services on offer include mindfulness, meditation and yoga classes that are often accompanied by a singing bowl experience. Played at a 432 Hz frequency, the sound that radiates from the bowl subjects listeners to the harmonic intonation of nature and is designed to align your internal rhythm with the heartbeat of the earth. 
Facial blossoming designed to recapture youth, bathing ceremonies, scrubs and much more are also available at the spa, alongside ancient Vietnamese healing techniques that function to harmonize the body and soothe the skin.   
Experience 
A range of complimentary experiences are included in your stay at The Nam Hai, including your own bicycle which can be used to get around the resort or to join the countryside cycling tour that takes place every Thursday morning. Taking you through the rice fields, riversides and local village, this is one way to get to know the surrounding city better while slotting in some exercise. 
CrossFit classes are also available twice a week. These classes take place at the Health Club; The Nam Hai's own gym building that comprises exercise equipment, a sauna and steam room. There are also four tennis courts, a badminton and a basketball court.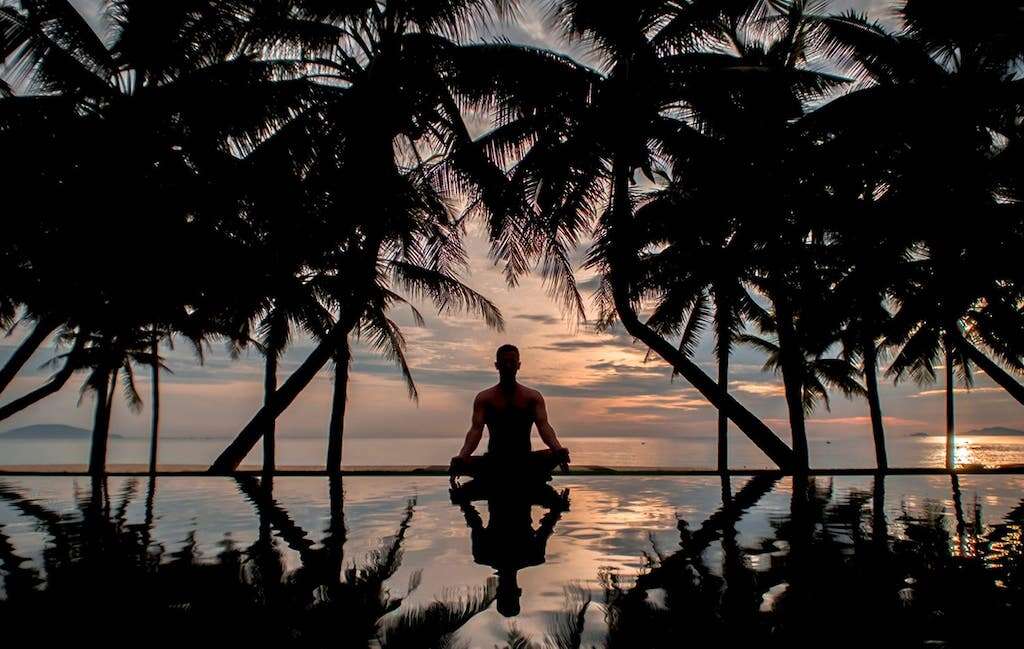 A range of complimentary water sports are also on offer such as kayaking, bodyboarding and windsurfing. Enjoy the beach-front Tai Chi lessons before heading off to enjoy some of the more relaxing activities on offer such as hat-making or coffee tasting.
The Nam Hai also prides itself on its Cooking Academy where guests can immerse themselves in the full scope of Vietnamese cuisine by making dishes themselves. With a different theme each day, residents can choose to make seafood dishes, ones from the Imperial Cuisine of Hue and Hoi An or Vietnamese classics.  
Explore 
A complimentary shuttle transports guests from the resort and into Hoi An town three times a day. There, enjoy the local street food and trinkets sold at the markets including the colorful lanterns that Hoi An is known for floating on its waters. 
One of its other most famous draws is tailoring. Hoi An is packed full of seamstresses waiting to make the perfect-fitting garments for visitors and locals alike. Luckily, The Nam Hai has partnered with the best dressmakers in town to ensure that its residents receive the best tailoring experience and that all items can be quality checked. All you need to do is show up for your first fitting and your suit, dress, trousers or even wool coat can be ready the very next day.
Slightly further than the 15-minute drive to the ancient city, but still very close by, lie two other Unesco World Heritage sites including the temple-strewn sanctuary of My Son and views of Hue's Imperial Citadel. Offshore, the Cham islands can also be explored. 
The one-bedroom pool villa is available from $1,678 per night. Contact: +1 800 819 5053; fourseasons.com/hoian
[See also: The Ultimate Luxury Guide to Vietnam]