Spain really is the country that can do it all. In addition to historic sites, metropolitan hubs, relaxing beaches and lively nightlife scenes, the Iberian nation is also a haven for adventure junkies – in particular, keen windsurfing enthusiasts who flock to Spain's blustery beaches (or playas).
Regarded as one of best windsurfing destinations in the world, Spain's coastline – from its northern Atlantic shores right down the beaches of the Mediterranean – is known for its almost-year-round winds and clean waters.
Here, we round up the best beaches for windsurfing in Spain, whether you're a pro seeking the strongest gusts or a beginner looking to test the waters.
[See also: The Most Secluded Beaches in Spain]
Pozo Izquierdo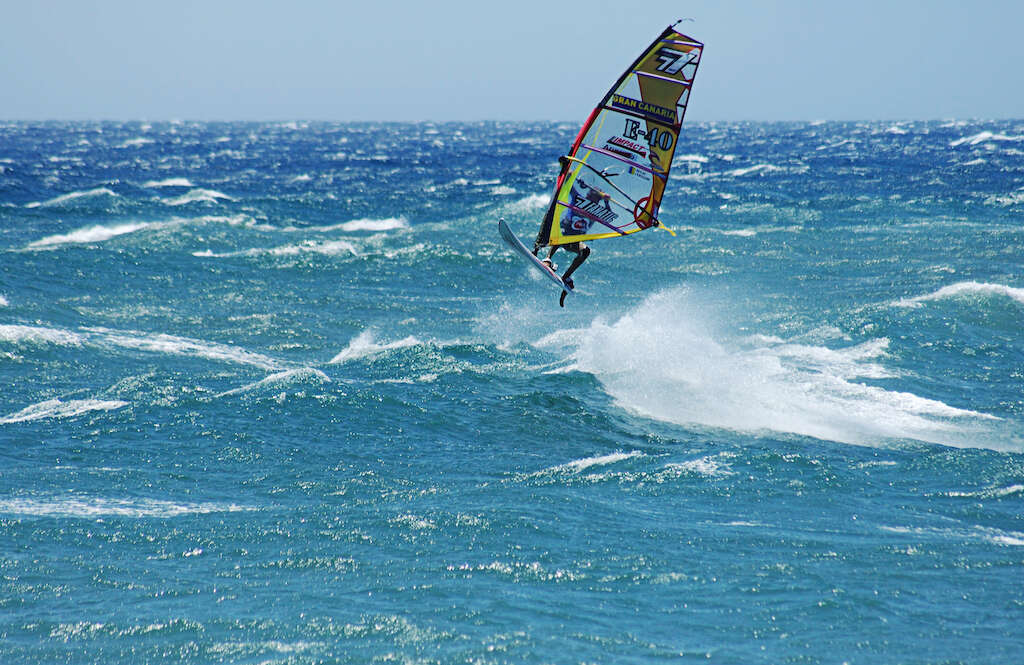 Playfully referred to as the Hawaii of Europe, the Canary Islands are one the best places in Spain for windsurfing. The rugged archipelago, which sits off the coast of northern Africa, is known for its exposed position and therefore strong winds.  
One of the Canary Island's best beaches for windsurfing is Pozo Izquierdo, which sits on the southeastern coast of Gran Canaria and is known for its long waves, reliable year-round winds and specialist surf shops.
Each year during July, the beach also plays host to a number of windsurfing events and competitions, giving professionals a chance to show off their skills and newbies the opportunity to witness master excel in their field.
[See also: Discovering the Wild Corners of Spain]
Playa Valdevaqueros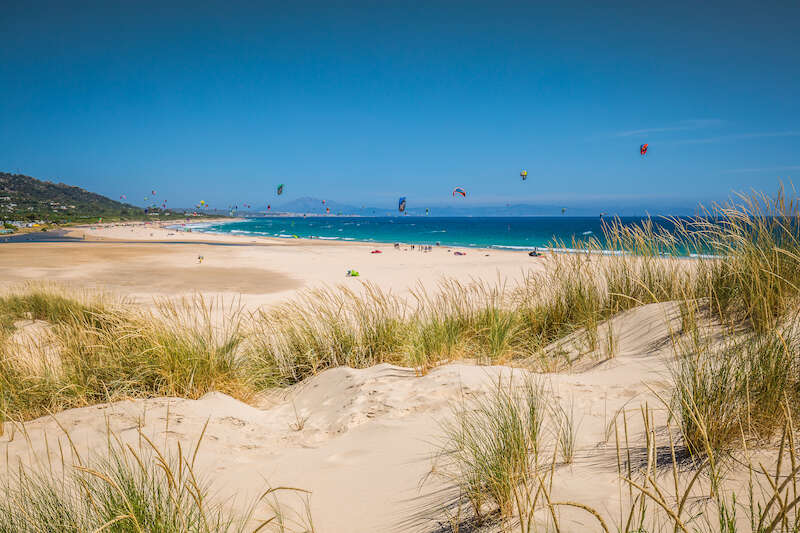 Thanks to its prime position facing the Strait of Gibraltar – a stretch of ocean separating Europe and Africa on Spain's southern coastline – Tarifa is known for being one of the best windsurfing destinations in not only Spain, but the world. The area benefits from two main winds: levante which blows offshore and is warmer and strong; and poniente, a lighter, cooler wind which rolls in from the Atlantic.
The region has several beaches prime for windsurfing, but among the very best is Playa Valdevaqueros. Playing host to many of the region's competitions, the beach stretches over three miles and is celebrated for its dynamic yet typically safe wind conditions. Prime windsurfing runs from May through November and facilities are good too – Playa Valdevaqueros has a kit rental center as well as several cafes and bars.
[See also: The Best Scenic Drives in Spain]
Bay of Roses
Back on the mainland, the Bay of Roses is considered one of the top windsurfing locations on the Costa Brava. The bay has several long, sandy beaches, including Sant Pere Pescador, and welcomes strong northerly winds coming down from the Pyrenees mountains, as well as a gusty summer breeze.
The bay has plenty of facilities with windsurf rentals and classes, as well as cafes and bars further into town. Conditions are good year-round but to catch the best of the wind, aim for spring through summer.
Los Alcázares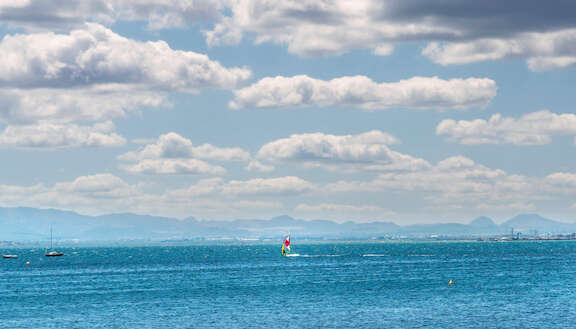 Those new to windsurfing might want to put Los Alcázares on their radar – while the beach, which lies on Spain's southeastern coast in the region of Murcia, does have moderate wind speeds, the generally calm waters make it far more beginner friendly.
The area also has plenty of windsurfing instructors, so whether you want an hour-long refresher lesson or a full course, you'll be in safe hands.
[See also: The Best Scuba Diving Spots in Spain]
La Lanzada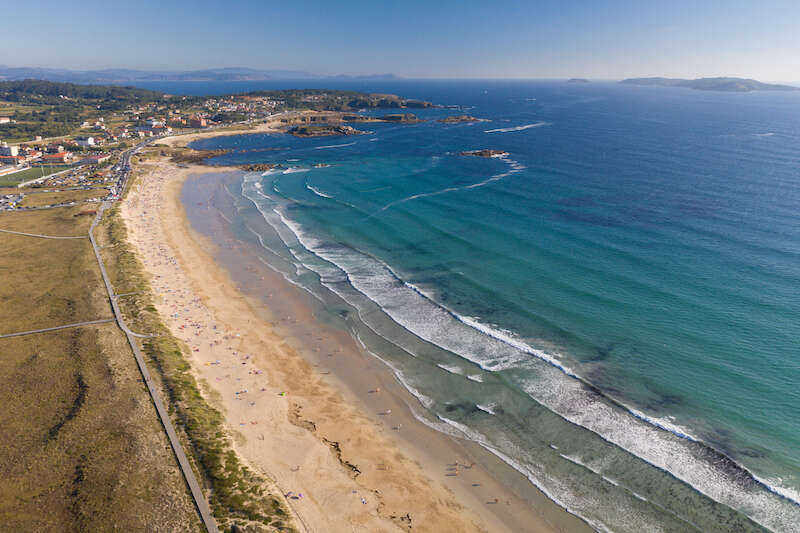 With its blue waters and white sands, La Lanzada is primarily known as one of Spain's most beautiful beaches but what the average visitor might not realize is that it is actually a prime spot for windsurfing too. The long stretch of sand allows for plenty of room for surfers and swimmers alike, but rougher conditions and prevailing winds often make it more popular among the former.
The Galician beach also has plenty of amenities including several bars and cafes, toilets, sun loungers and convenient parking.
[See also: The Most Beautiful Wineries in Spain]