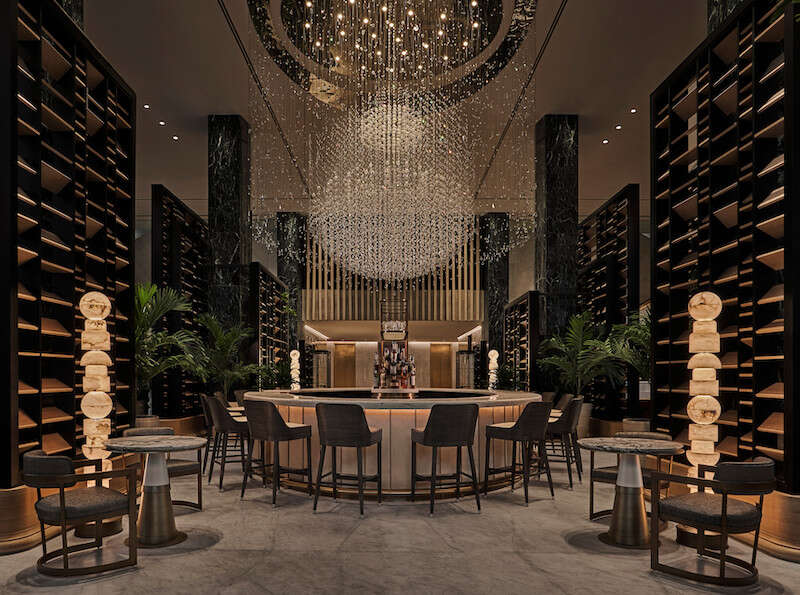 I've had a fascination with New Orleans since I was a child when my dad brought me home a ruby ring from a business trip. He'd bought it on the storied Rue Royale in the French Quarter, home to some of the world's most evocative antique stores and galleries. As I opened the box, he told me tales of the bawdy city and its history, relating tidbits about pirates, voodoo, bygone duels fought beneath oak trees, jazz parades, ghosts and sugary beignets as big as a plate.
Years later, I finally dined at Galatoires, his favorite restaurant and a place that intrigued me, too, because Tennessee Williams had been a regular. I'll never forget fighting the grimy allure of raucous Bourbon Street to pop into the iconic restaurant's lavish sanctum of scintillating chandeliers, gild-framed mirrors, liveried waiters, clinking china plates, tiled floors and haute monde diners aplenty. Among the din, that distinctive New Orleanian accent wafted through the air as precious as a priceless perfume. 
Happily, the moment I walk into the lobby of the Four Seasons Hotel New Orleans, I get that same otherworldly, only-in-New-Orleans feeling. Whether it's the day drinkers huddled around the circle-shaped lobby bar beneath its glittering chandelier, the legacy design of Alon Shaya's Miss River Restaurant, the plaster wall relief depicting magnolia flowers above my bed or the extant architectural details of the now-re-jiggered, mid-century modern tower on the banks of the Mississippi River, the hotel conveys a toothsome taste of the city.
[See also: The Best Restaurants in New Orleans]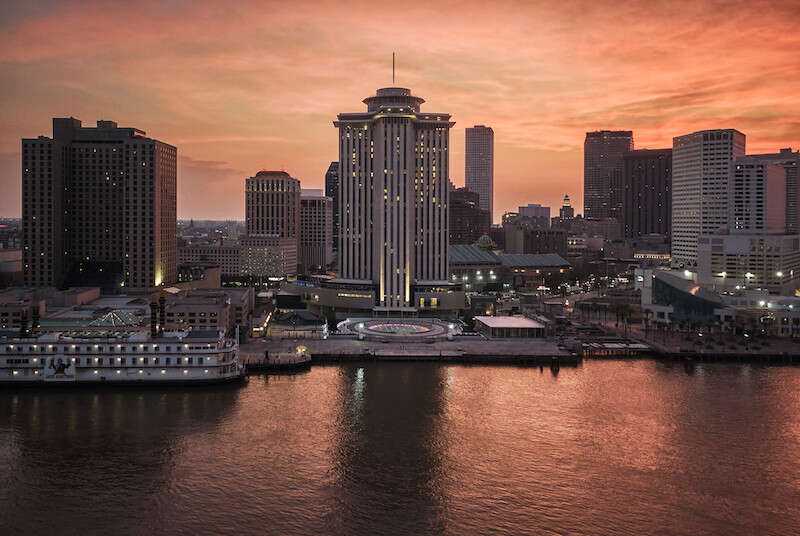 Ensconced in a cannily redesigned and reimagined mid-century modern building, Four Seasons Hotel New Orleans offers a distilled, authentic version of the Big Easy's attributes, including aspects of its history, charm, eccentricities and verve, all re-syncopated for contemporary travelers.
As New Orleans' newest living room for locals and the choice hideaway for tourists in search of luxury digs, the hotel achieves its goal to be a haven from the hubbub, a place that surely will lure you to linger within, perhaps drinking frosé by the pool or eating gulf oysters in the comfort of your suite. 
Stay
The renovated and re-envisioned 34-story tower holds 341 guest rooms and suites and 92 private residences boasting views of the river and cityscape. Though that sounds massive, the hotel reads like a boutique sanctuary. Choose one of the hotel's two Presidential Suites, each spanning 2,439 sq ft and poised respectively on floors 17 and 18.
Vaunting vistas of both the French Quarter and the Mississippi River, the suites have Mardi Gras flair with crimson and cobalt hues, punctuated with original local and international artwork. A fitness room, dining room, sybaritic bathroom, private office and lavish bedroom with commodious walk-in closet add up to make this one of New Orleans' most opulent stays.
[See also: How Prime Real Estate Fuses Grand House with Luxury Hotel]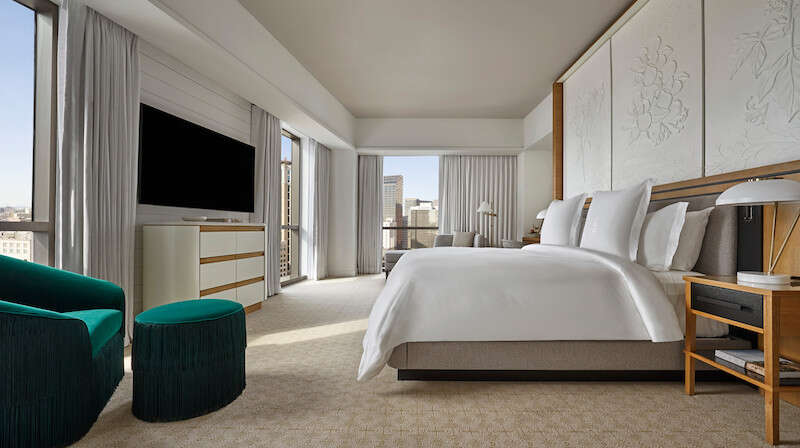 Design
Meant to be a refuge from the city's bustle, brashness, zest and bedevilment, Four Seasons Hotel New Orleans emanates instant tranquility with its fresh-white palette and tendency toward sleekness. Bits of the sixties-era tower (designed by legendary modernist architect Edward Durrell Stone) remain as a reference, along with mid-century-shaped furniture in the common areas.
Like a garden pavilion, the lobby opens to leafy areas. It holds the breathtaking Chandelier Bar (designed by Bill Rooney Studio), anchored by a jaw-dropping, yet timeless, chandelier. Guest rooms and suites are large with panoramic windows.
References to the region abound — I loved the plaster wall relief behind my bed, awash in magnolia flowers and the captivating painting of local birds hung poolside, created by a mother/daughter duo. Carrara marble bathrooms with deep soaking tubs in guest rooms underscore New Orleans' omnipresent message to pursue pleasure at all times.
With remarkable design by London-based Alexander Waterworth Interiors, Miss River by Alon Shaya on the lobby level exudes old-school, Crescent City elegance and gravitas, perhaps a tribute to the city's epicurean heritage.
Fifth Avenue Hotel to Open in NYC This Fall
Dine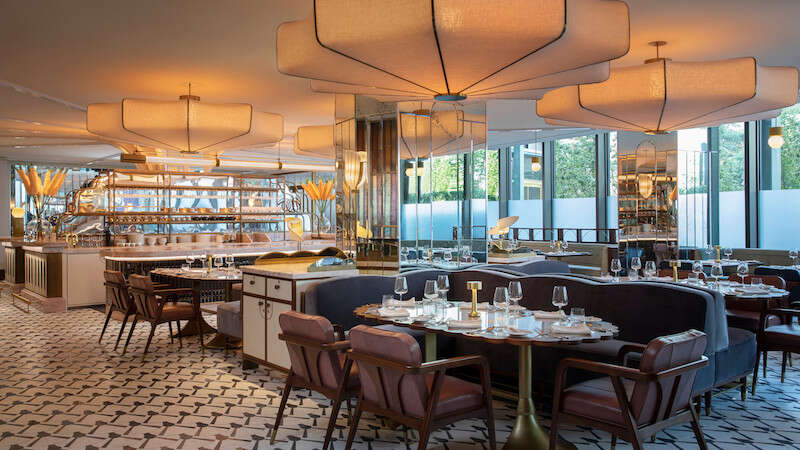 Competing with NOLA's hundreds of gastronomic wish-list restaurants can be a challenge for hotels, but Four Seasons Hotel New Orleans rises to the gourmet occasion with two stellar restaurants by James Beard-winning chefs. Miss River by Israeli-American Alon Shaya pays tribute to Louisiana and its great chefs with his own tweaks: think a crab maison salad with sunflower seeds with lemon vinaigrette and clay pot dirty rice, served with a crispy bottom, duck egg yolk and liver pate.
Shaya also oversees the Chandelier Bar, where snacks such as upscale pimento cheese sandwiches complement an artistic cocktail menu. Upstairs, on the fifth floor, Donald Link's Chemin à la Mer serves as the hotel's all-day restaurant. French-inflected menus draw from local bounty and delve into Link's carnivore-oriented fare to include such delights as croque madams, biscuits and gravy and cajun spiced chicken sausages at breakfast and foie gras and gulf shrimp for dinner. 
Relax
Located on the fifth floor with the state-of-the-art fitness room, the buzzy rooftop pool, and Chemin à la Mer, The Spa, encompassing more than 5,000 sq ft, just wants to make you feel good. That might mean a glass of bubbly from the Prosecco Bar in the tranquil Relaxation Room, a results-driven Biologique Recherche facial as firming as a facelift, an energizing full body exfoliation, or a treatment a deux in the gorgeous couples suite, complete with soaking tub.
Presidential Suite from $10,000 per night.
[See also: Four Seasons to Open Hotel and Residences in Jacksonville]