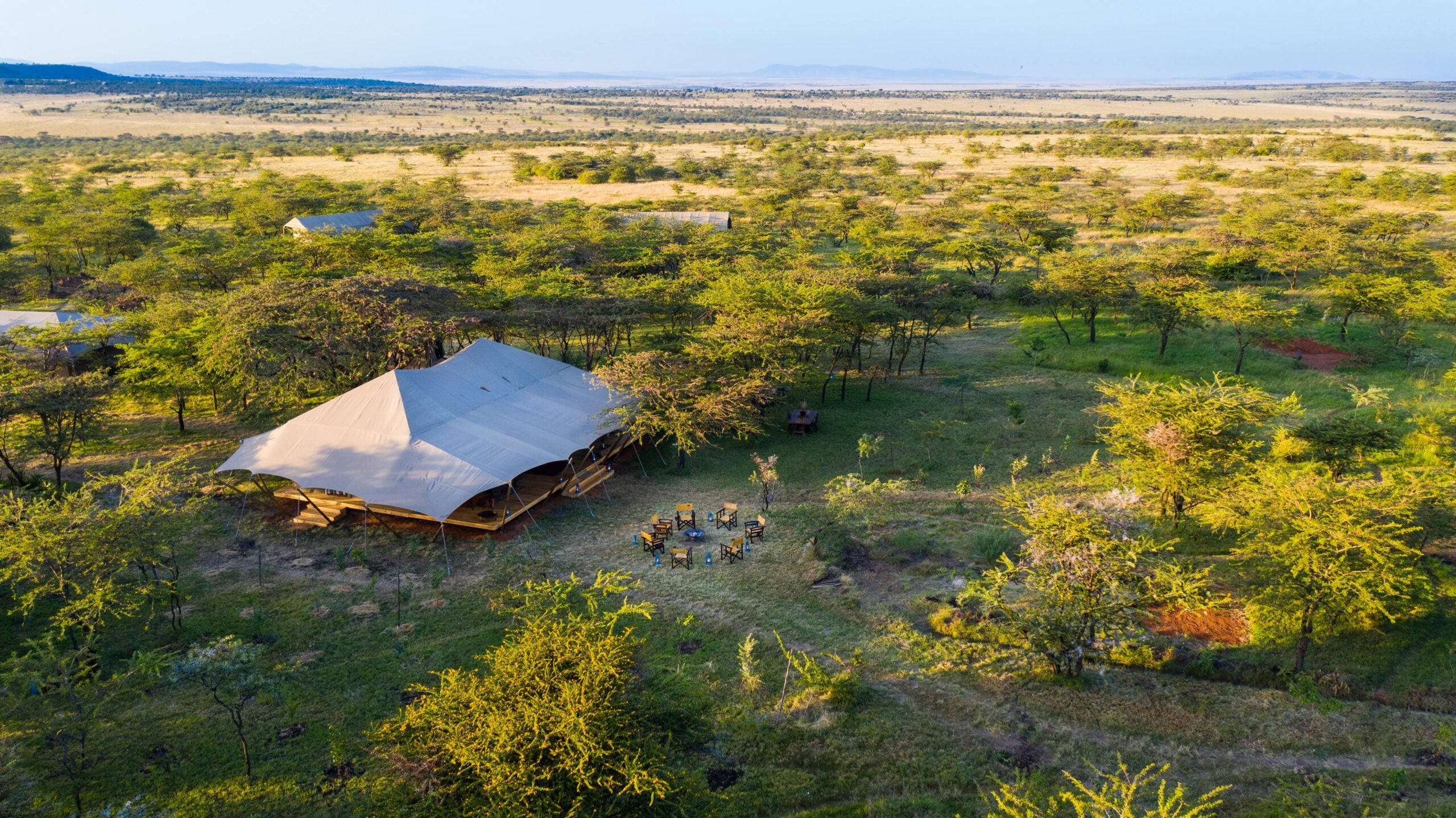 Renowned responsible safari company Great Plains is welcoming guests to its three newly unveiled camps, Mara Toto Camp, Mara Expedition Camp and Mara Plains Camp. Each is set within the heart of Kenya's Mara Conservancies and offers an authentic insight into this diverse part of the world via direct access to the Masai Mara National Reserve.
Of the three new camps, Mara Toto and Mara Expedition are both newly built, while Mara Plains has reopened its doors following an extensive refurbishment. As part of this revamp, Mara Plains has been elevated to sit on wooden stilts above ground level, creating a series of floating island-like structures nestled within the forest.
The refurbishment also saw the addition of the all-new Jahazi Suite, which adds another level of safari luxury to the camp. The two-bedroom suite sits on its own 'island' and boasts a full-length deck overlooking that opens straight into the surrounding forest.
[See also: Great Plains Reveals New Botswana Experience Itinerary]
Situated within the Olare Motorogi Conservancy in southwest Kenya, which stakes claim as one of the most wildlife-dense destinations on the planet, the Mara Plains Camp offers access to over 40,000 hectares of exclusive protected land, as well as the wider 151,000 hectares of the seemingly endless Maasai Mara National Reserve.
"I loved Mara Plains before, but this new camp is the perfect evolution of what was there before but utilizing some unique opportunities to expand the tasteful camp design into nooks and crannies of the trees that have grown into an amazing forest," said Dereck Joubert, Great Plains CEO.
Just over a mile away from the Mara Plains Camp is Mara Toto, which sits on the Ntiakitiak riverbanks on the border of the Maasai Mara Reserve. Unlike its big sister camp, Mara Toto sits low on the floor and is hidden in the otherwise undeveloped wilderness. Thanks to its discrete nature, Mara Toto is regarded locally as a wildlife spotting hotspot, with leopards known to prowl the nearby riverbanks.
While Mara Toto naturally has all the extra touches and exemplary services that come as standard at any Great Plains camp, it is more simplistic in its design, evoking a sense of wildness that is reminiscent of the bygone era of safari. Plus, with space for just eight guests, it is decidedly intimate.
Completing Great Plains' round-up of new openings is the Mara Expedition Camp, which features six tents carefully spaced across a grove of acacia trees, each of which exudes classic safari style. As with Mara Toto, Mara Expedition is perfectly poised for some of the best wildlife spottings in the region, with big cats regularly making an appearance. Thanks to its high vantage point overlooking a valley in the Maasai Mara Game Reserve, the safari camp is also in a prime spot to witness the annual Serengeti migration.
[See also: Elite Traveler Reveals Top Adventures for 2021]
The three new camps join Great Plains' portfolio of luxury safari camps across Kenya, Botswana and Zimbabwe, all of which have sustainability at their core. Each camp uses sustainable materials in its production and is designed to sit lightly on the earth, leaving minimal impact on its surroundings.
Great Plains ensures that each guest visit directly gives back to local communities and conservation efforts, with a Conservation and Community Levy added to each reservation. Funds are donated to a variety of projects and initiatives such as Student Conservation Camps and Rhinos Without Borders.
Great Plains also has a voluntary offset program in place that encourages guests to counteract the emissions caused by their travel and has committed to planting one sapling per guest as part of the Replacement of Shade Programme, which aims to restore Kenya's indigenous trees.
All of Great Plains' new safari camps are now accepting reservations.