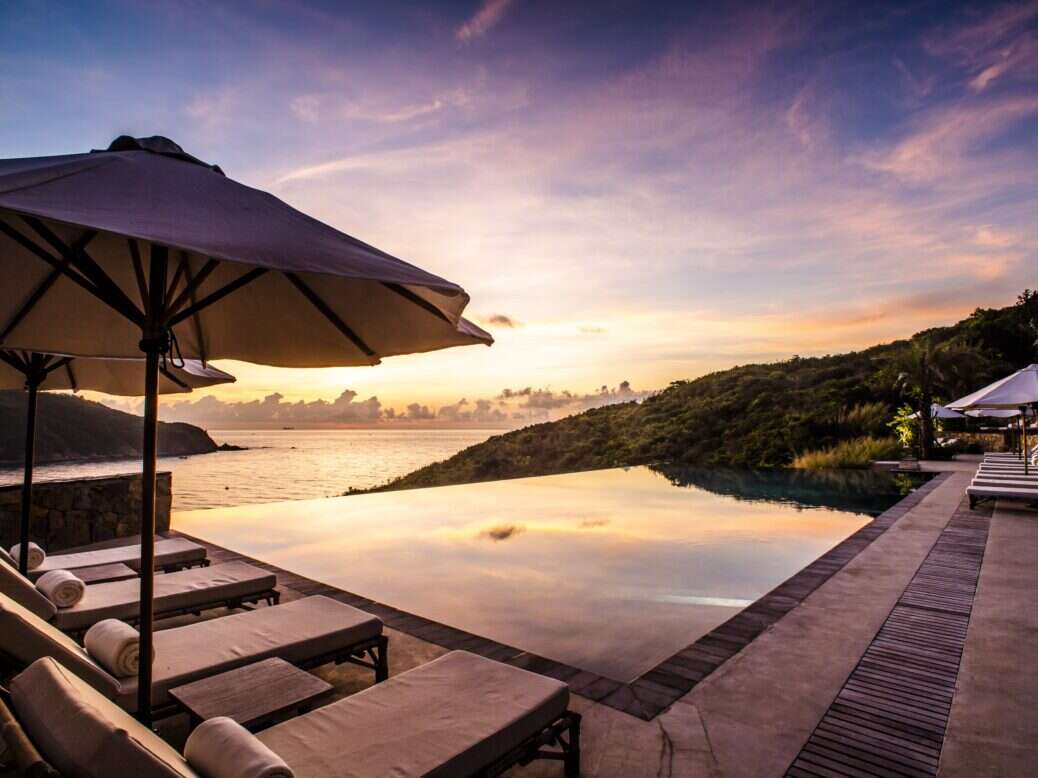 It is in a lesser-trodden corner of Vietnam's jungle-covered coastline that you'll find Zannier Hotels Bãi San Hô. The 245-acre property was opened by French hotelier Arnaud Zannier in December 2020 in the midst of the pandemic.   
We arrive in November, peak rainy season, but the weather appears to be on our side for the weekend. Settling in, the dusk sky over Bai San Ho Bay turns an inky lilac and cascades down, merging into the South China Sea. The water only distinguishes itself with the twinkle of lights from small fishing boats in search of tiger prawns.
Taking it all in by your infinity pool, over 180 miles away from the hum of touristy Hoi An, you might just think you've uncovered one of Vietnam's burgeoning hotel scene's best-kept secrets.
[See also: Spa of the Week: Four Seasons Hoi An, Vietnam (The Nam Hai)]
Stay
All five of Zannier Hotel's luxury resorts (the group also has properties in Cambodia, France and two in Namibia) have a distinct personality: tasteful, understated and original. Though probably the most inherent detail of all is that local culture is thoughtfully woven into every corner.
This is no more apparent than in Bai San Ho's architecture which mirrors the traditional building styles and sustainable techniques utilized by a number of distinct Vietnamese communities. This sort of emulation can sometimes feel contrived in a five-star setting but Zannier Hotel's dedication to detail has an authentic quality. The result is not only aesthetically beautiful, but it gives an unmistakable feeling of actually being in Vietnam, as opposed to a "could be anywhere" beach resort. 
Of the 73 free-standing villas, there are four options to choose from. Each style is spacious (even the smallest Rice Paddy Villas are a roomy 527 sq ft) and adorned with carefully-sourced one-off antiques and repurposed furniture, muted color palates and bamboo flourishes.
[See also: Da Vittorio Debuts at The Reverie Saigon, Vietnam]
If privacy and panoramic views are your priority, go for a one- or two-bedroom Hill Pool Villa. Perched amongst the trees and flowers, its infinity pool provides the perfect vantage point for endless vistas of the bay.
If your happiness is measured in proximity to sand and sea, the ever-so-slightly larger one- and two-bedroom Beach Pool Villas open right on the edge of the resort's own beach. The emerald-toned sea is within gaze from the canopied four-poster bed through enormous glass doors leading to the private deck and pool.
The most luxurious option is the four-bedroom Grand Bay Pool Villa, one of Elite Traveler's Top Suites for 2023. Peeking out from the hillside, it draws architectural inspiration from the thatched Ede longhouses found in the Vietnamese mountains. The 3,272-sq-ft, two-story retreat can accommodate up to eight adults and boasts a kitchen, dining room, sprawling living room, an expansive infinity pool and multiple terraces.
Dine
Over 95% of the produce at the hotel's three restaurants is Vietnamese, the vast majority of which is sourced from small local producers (even the European-style cheeses served at breakfast.) The abundant fresh fish and seafood is mainly supplied by fisherman in the neighboring towns and villages.
Nha O restaurant is open all day and sits at the heart of the resort. It dishes up a tremendous breakfast buffet and a la carte menu with everything from organic egg omelets, sourdough loafs and viennoiseries created by in-house pastry chefs, to Vietnamese fare such as congee (a traditional rice porridge), beef pho and fresh banh cuon (a vegetarian or meat roll served with fresh herbs and dipped in a light tangy sauce.)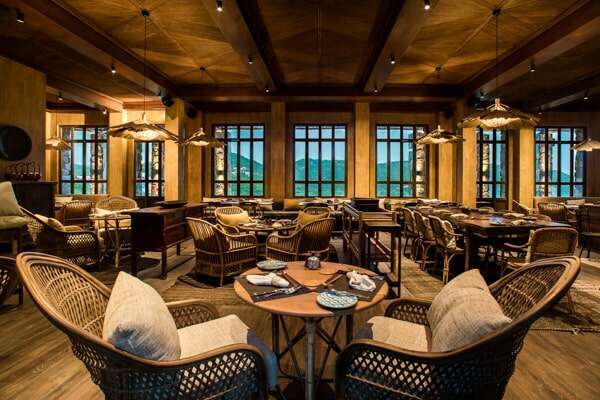 Pre-dinner cocktails can be enjoyed at the chic Ham Bar before being seated on Nha O's panoramic alfresco terrace. The dinner menu encapsulates the best of the hotel's home of Phu Yen province and the friendly local team are more than happy to explain dishes in more detail. Nha O's signature is the traditional hot pot, which is best shared due to its impressive size. Have fun creating your own pot, adding your preferred ingredients to an aromatic noodle broth.
Beachside dining can be enjoyed in the boho surroundings of Lang Hai grill and beach bar, serving up barbequed meat, seafood and wood-fired pizzas.
The Ba Hai restaurant aims to immerse diners in Vietnam's varied food heritage. Set within a stilted Bahnar-style communal house with a towering 35-ft high handcrafted rattan roof, a refined open interior dotted with earthenware leads to a wooden terrace overlooking the resort's rice-paddy fields. Its four bold set menus are influenced by centuries-old recipes passed down from mothers and grandmothers, credited in the restaurant's name Ba Hai, meaning 'Grandma Hai'. Dishes are served alongside organic tea pairings and Vietnamese rice wine.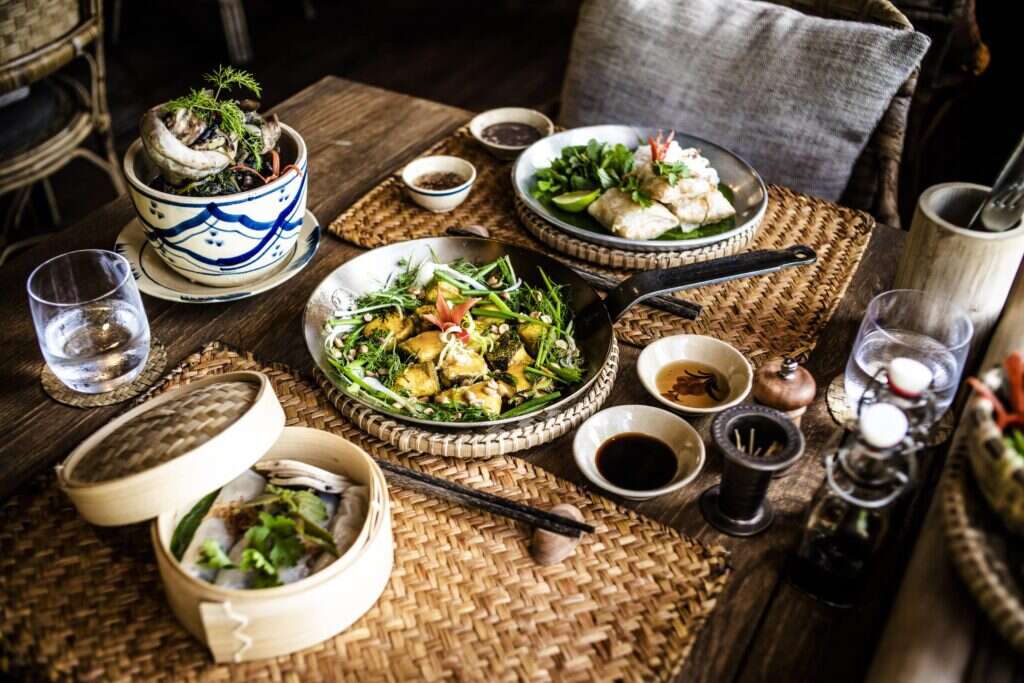 Relax
As you descend downstairs to the Hoa Sen spa, the scent of jasmine lures you in. Inside you'll find seven treatment rooms, hammams, saunas, Himalayan salt beds and a tea room. Vietnamese traditional therapies such as bathing rituals and acupressure techniques have been developed with the guidance of a local healer and fuse with a selection of modern high-performance approaches. Both local and French sustainable skincare brands are utilized.
The spa's Signature Ritual combines local tea leaves and herbs to rebalance the body. Detoxifying layers of mud are applied to the body while gentle feet acupressure helps to cleanse old energy. A balancing body treatment follows using oils blended with ancient indigenous herbs. The treatment finishes with a nourishing acupressure facial.
As well as the spa, zen can be found in the yoga studio with outdoor deck, while the tennis court and gym offer space for letting off steam.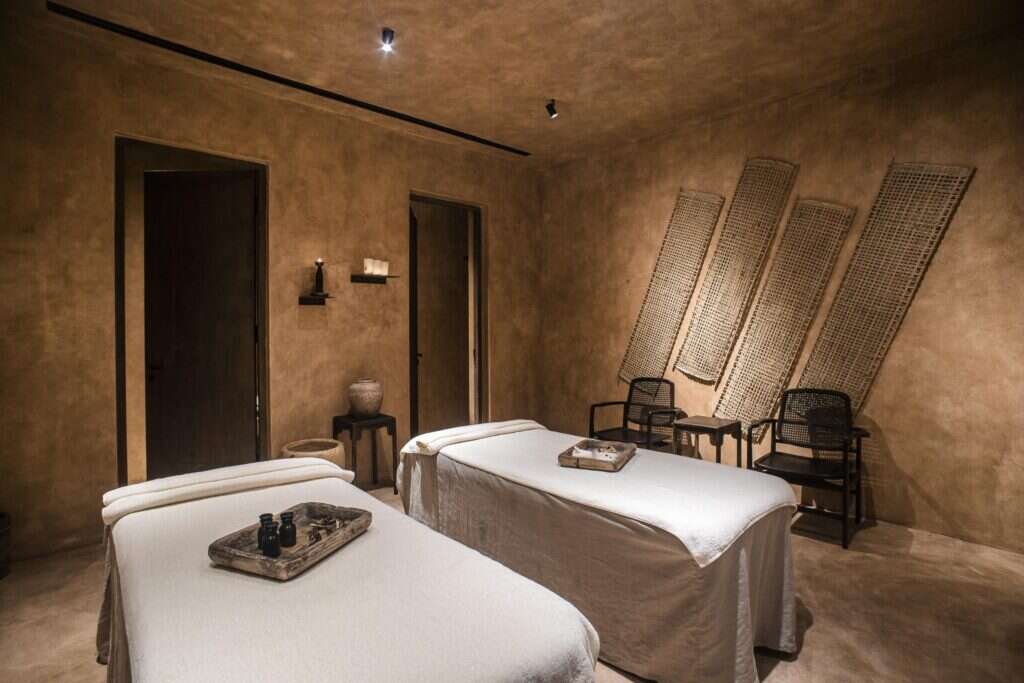 Explore
The resort's onsite water sports center offers countless ways to explore its crystal clear waters and coral reef including snorkeling, surfing, kayaking, stand-up paddle boarding and fishing. Guests are also invited to experience a morning spin on an authentic Vietnamese basket boat.
Further afield, the team is on hand to arrange any manner of cultural activity from tours of temples and nearby Quy Nhon City, to a candle-lit dinner on your own boat. Foodies will especially appreciate the chance to visit the local market with the chef to uncover the best of Vietnamese ingredients.
Villas start at $296 per night. Contact +84 257 383 0000, zannierhotels.com