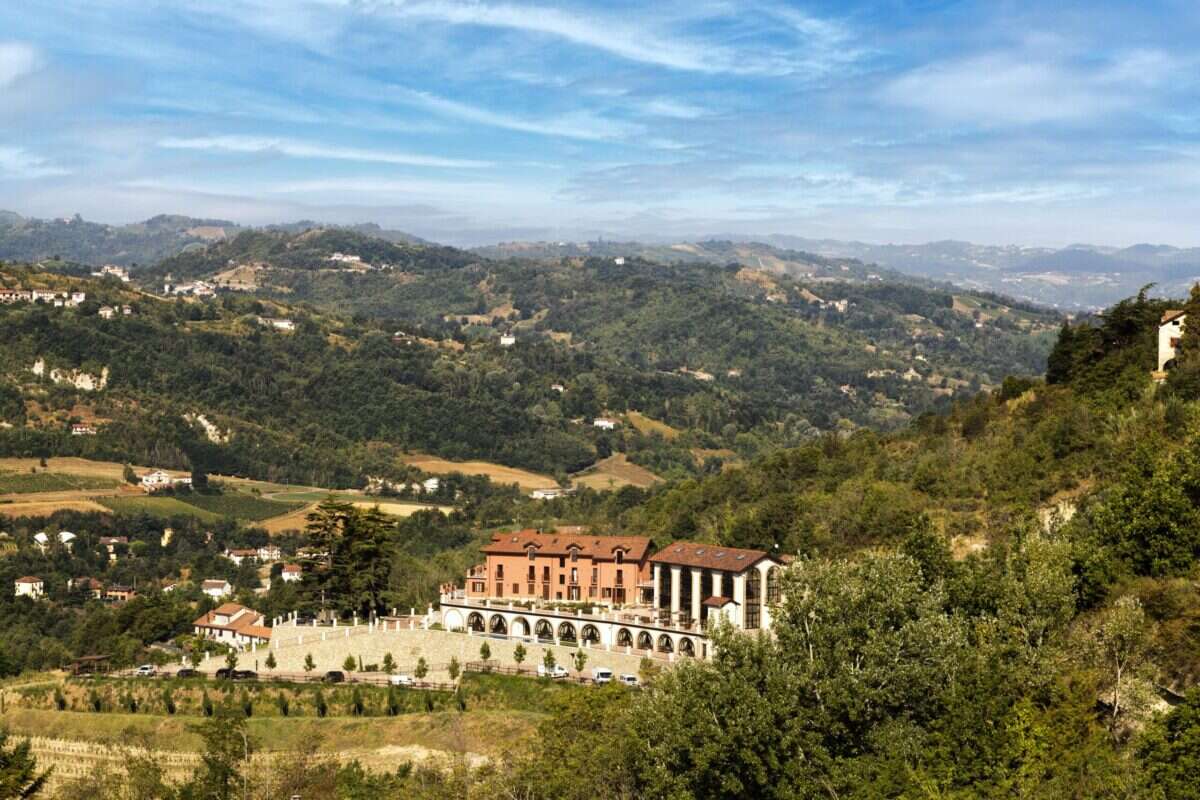 Perched high on a hill in Italy's Piedmont region, Nordelaia has watched over the rolling hills of Cremolino for the last 800 years. The former private villa, which sits as high as Cremolino Castle thanks to a unique agreement between the aristocratic families of the two properties, reopened earlier this year after a three-year restoration which saw it reborn as Nordelaia, a boutique bolthole combining modern design details with rustic charm and spectacular views of the Piedmont countryside.
[See also: The Most Beautiful Wineries to Visit in Italy]
Stay
Nordelaia is the first hotel project for Rose Murray and her British design agency These White Walls, which has taken the hotel's "slowing down" ethos as the starting point for the design. "We had a lot of discussions with the owners about how post-pandemic, this ethos is more relevant than ever," says Rose. "We made a deliberate decision to keep the interiors very simple and not have televisions or telephones in the rooms as we wanted people to slow down, engage with nature, and engage with Nordelaia."
Rose's vision also had to accord with the restrictions imposed when renovating a protected property. "We had to be very careful as it's a conservation area so we weren't allowed to expand the footprint or do anything radical which would be seen as too modern. A lot of the design is very sympathetic to traditional features, for example, the color of the villa is very much in line with the color palettes allowed by the local committee."
To respect the villa's history and Nordelaia's strong stance on sustainability, Rose has deftly blended antique finds and reclaimed furniture, notably the locally sourced fireplaces and the ice fountain in the spa, with contemporary pieces designed in London by the agency and made nearby in Italy. In another nod to the past, replicas of the villa's Juliet balconies and their decorative ironwork were crafted by local artisans in Cremolino and reinstated into the hotel to bring original features back to life.
Whilst these common design details link the 12 guest rooms together, each has been individually decorated in one of the three themes to offer guests a new experience each time they stay. The ground floor Garden Rooms, which come with direct access to the hotel's ornamental gardens, have been simply furnished with rustic materials and a color palette that references the natural landscape. Foliage displays and bird motifs nod to the gardens outside but the most striking feature is the rooms' curved red brick ceilings, a replica of the original arched ceilings discovered during the restoration in ancient houses hidden beneath the cellars.
Upstairs, the Legacy Rooms are inspired by one of the four seasons in Piedmont and are intentionally more indulgent, combining a rich Renaissance color palette of ochre, ruby and black with heavy drapes, sumptuous velvets, and four-poster beds and ceiling roses designed by These White Walls. In the Apartment suites, Rose took the opportunity to play around with a more contemporary Italian style, particularly in the White Apartment which makes an impact with a monochromatic color scheme, bespoke furniture and a decadent standalone tub that looks out onto the countryside through black-edged semi-circular windows.
Dine
Next door to the historic villa, Rose worked with an architect to replace the dilapidated former farmhouse with a sleek three-story glass building to house the hotel's bar and two restaurants. The high arched windows of the exterior reference the old vaults which lined the original basement whilst inside the design veers from contemporary to cozy.
Fine dining restaurant L'Orto has been dressed with a glossy peach color palette, golden brass fittings, and sculptural seating whilst downstairs in restaurant Bistro, rustic shades of forest green, deep wood flooring, and autumnal dried flower displays invoke the soil, roots and earth of the surrounding landscape. "We didn't want the hotel to feel like an austere retreat where you couldn't indulge, because a really important part of Nordelaia is the food and wine offering," says Rose.
In the equally stylish open kitchen is British chef Charles Pearce, who in just a few short months has already established Nordelaia as a gastronomic hotspot in the Cremolino region. At Bistro, Pearce has designed an ever-changing seasonal menu of Piedmontese classics with the help of Nordelaia's Consulting Chef, the Michelin-starred Andrea Ribaldone, whose own family hail from the region. Specialties such as crispy egg served with roccaverano and bagna cauda and tajarin, a local version of tagliatelle, have been given a fresher, lighter twist but remain authentically Piedmontese and rooted firmly in Pearce's ethos of sustainability.
Produce is sourced from small local farmers suggested by Ribaldone, some only a 20-minute drive from the hotel, and the bread is homemade by inmates at a prison in nearby Alessandria. Upstairs, Pearce has gone one step further and taken the rather bold move to make L'Orto meat-free and champion local vegetables, some from Nordelaia's own garden, and fish from nearby Liguria. So far, the risk has paid off. Cooking techniques usually associated with meat such as grilling and barbecuing infuse each dish with a depth of flavor so rich that it's even turning the locals away from their usually carne-heavy dishes and onto L'Orto's vegetal tasting menus.
Trying to implement a zero-waste policy, which Chef Pearce hopes will be 100 percent in place by next year, is another step to encourage environmental consciousness but also creativity, as seen in plates such as BBQ Cabbage, served with a persimmon sauce cooked with leftover chicken jus from Bistro and sprinkled with an umami-flavored powder made from outer cabbage leaves which, instead of being thrown away, are fermented and then dried.
The final touch is a wine list that celebrates small local domains, some of whom produce as little as 5,000 bottles a year, to give guests an almost exclusive taste of that year's harvest. To experience Nordelaia's terroir, order a bottle of the hotel's own label 'Calligram' red and rosé wines which showcase the Barbera and Dolcetto grapes from its surrounding vineyards.
Relax
With the hotel's ethos all about rest and relaxation, it makes sense that a large part of the villa has been dedicated to an indulgent spa area with a spacious yoga room, gym, and relaxation area. Before booking in for massages and facials with products courtesy of Italian brand Comfort Zone (which has some impressive sustainability credentials of its own) make time to unwind in the banya-style sauna and steam area complete with an ice-cold bucket shower, Kneipp foot pools, and a Tibetan sound therapy room, all crowned by stone vaulted ceilings in the villa's original underground rooms.
For those who believe that nature is the most soothing tonic of all, head outside to rejuvenate in one of Nordelaia's two seasonal pools. There's no better way to wake up than a bracing winter swim in the heated infinity pool or cool off from the heat in the summer pool which enjoys sun-soaked views of Piedmont from morning until sunset.
[See also: Twenty for 20: The Most Iconic Hotels of the 21st Century]