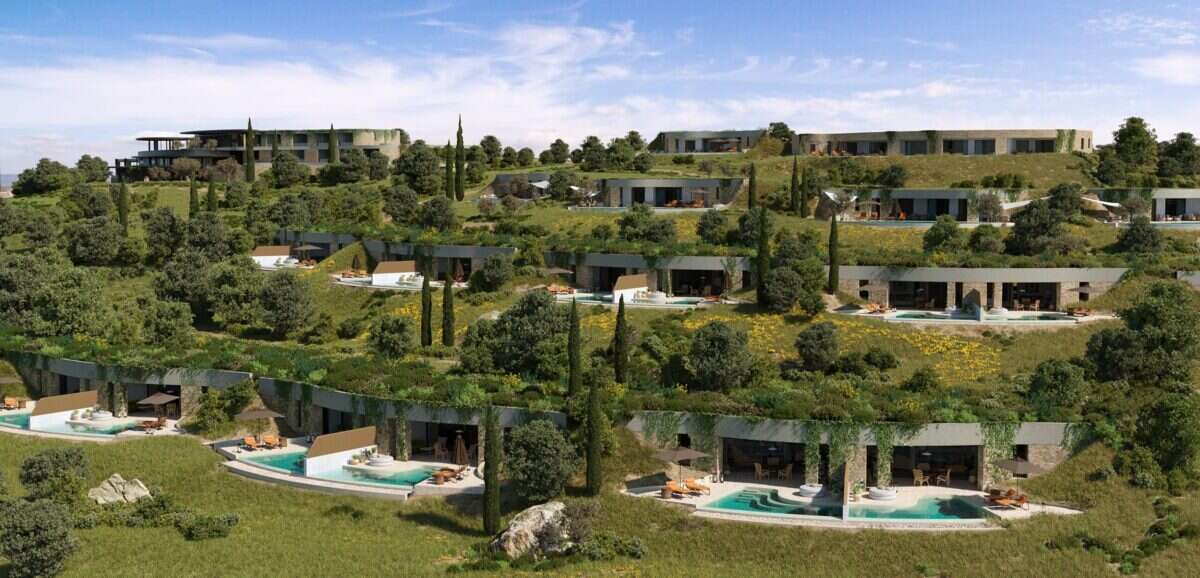 Each year, Covid permitting, thousands of tourists descend on Greek shores to lounge on the beautiful beaches, soak up the sun and discover the country's rich cultural heritage. And while many travelers rarely venture beyond the most popular islands, for those eager to avoid the crowds there is exciting news. Next spring, Mandarin Oriental will open its very first property in Greece, tucked away in a quiet corner of the Peloponnese region along the Mediterranean coast.
Under an hour's drive from Kalamata International Airport, the brand new hotel will be set within 350 acres of lush greenery, overlooking the historic bay of Navarino on the west coast of Messenia. The property joins a collection of luxury hotels at Costa Navarino – a high-end sustainable development that boasts opulent private residences, a spa and thalassotherapy center, conference facilities, four golf courses and an array of gourmet restaurants.
"We are delighted to be opening our first property in Greece in Costa Navarino and look forward to sharing this striking combination of unspoiled landscape, olive groves, pristine beaches and authentic Greek culture in the region with our guests," said James Riley, group chief executive at Mandarin Oriental.
[See also: Santorini Sunsets: Nobu Unveils First Hotel in Greece]
The hotel group has partnered with TEMES for the project – the developer and operator behind Costa Navarino. Commenting on the new venture, the company's chairman, Achilles V. Constantakopoulos said: "We are proud to have Mandarin Oriental bring their hospitality expertise for the first time to Greece, signifying further growth of Costa Navarino, which is becoming a top international destination to visit and live."
The new beachside resort will feature 99 elegant guest rooms, including 48 pool villas each with a spacious outdoor terrace overlooking the Ionian Sea. With a portfolio of 35 hotels dotted across the world in locations from Tokyo to Milan, those that have stayed at a Mandarin Oriental property will know what to expect. The hotel group's latest outpost in Greece will feature the brand's signature interiors, expertly blending Asian-inspired décor with contemporary design.
Celebrated Greek architects, Tombazis & Associates Architects and K-Studio, have made efforts to minimize the property's impact on the environment by using plenty of natural materials throughout and including green roofs covered with vegetation to blend in with the natural landscape.
This ties in with TEMES wider commitments to promoting sustainable tourism in Messenia at Costa Navarino, advancing the local community while protecting the region's natural beauty. Initiatives currently underway include maximizing the use of renewable energy at the resort by operating a solar park in the nearby town of Pylos, and collaborating with NGOs to monitor and preserve local habitats including the endangered population of African chameleons that live at the neighboring Gialova lagoon.
When it comes to activities, guests at Mandarin Oriental's new hotel in Greece will be spoilt for choice. The resort will boast a 16,145-sq-ft wellness facility offering the brand's array of signature therapies in tranquil outdoor pavilions. Guests can also make the most of Costa Navarino's amenities teeing up at The Bay Course (an 18-hole golf course), sampling culinary delights at the array of dining venues and taking part in the wide range of outdoor activities on offer from rock climbing to water sports.