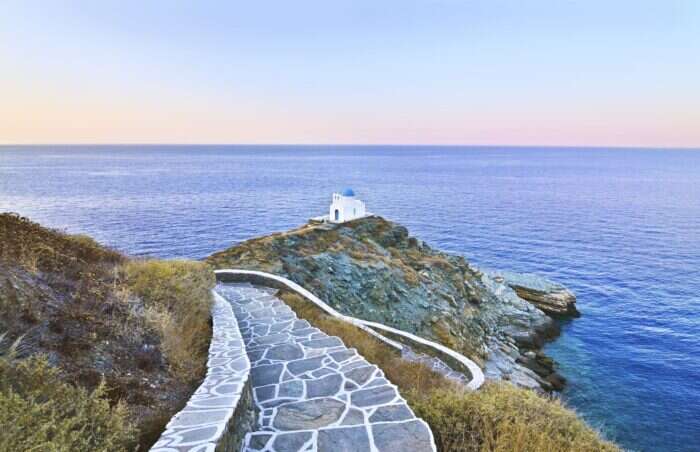 The beauty of the Greek isles is incomparable. Unfortunately, this often means that the crowds are incomparable too. For those who want to visit this stunning region in peace, we've rounded up some of the quietest Greek islands that should be at the top of your 2022 travel bucket list.
In these remote corners of Greece's vast archipelago, crystal clear waters, sun-bleached villages, pure white beaches and unspoiled coastlines come together to create what can only be described as paradise.
From lazily whiling away a day (or seven) on a remote cove surrounded by pine trees and navigating the winding streets of an ancient village, to sailing through sapphire-colored waters and tasting the finest Greek cuisine, these are the islands where the real Greece shines through.
Ikaria
In the Eastern Aegean Sea, some 30 miles off the coast of Turkey is Ikaria, an island that unlike many of her sisters, has retained her own sense of identity. And one of the most famous parts of that identity is the longevity of its residents. The island is one of just five 'Blue Zones', which identify regions where people live the longest, with Ikaria's cuisine, stress-free lifestyle and exercise-inducing topography thought to be the cause. Whatever it is, we want a dose.
Beauty is a given in Greece, we know, but the beaches of Ikaria do deserve a special mention. The aptly named Seychelles Beach, for example, is the vision of perfection with dazzlingly white stones gentled washed over by azure waves.
But, despite its impossible beauty and supposed health-giving properties, there is relatively little tourism on Ikaria. A few island hoppers will stop off for a day trip and some travelers may spend a quiet week or two here, but mostly life is about locals – a rarity on the Greek isles. And, while Ikaria does have its own airport, with just one flight per day coming in from Athens, it doesn't see the same hordes of tourists as other island airports.
Ikaria's quiet nature does mean high-end accommodations are limited, but there are two marinas, making it the perfect destination for a yachting vacation.
[See also: Santorini Sunsets: Nobu Unveils First Hotel in Greece]
Hydra
If you're seeking sleepy island life with a dose of subdued cosmopolitan luxury, Hydra is the place for you. The island has no airport, putting off the throngs of tourists hoping for a rowdy week in the sun. Instead, visitors to Hydra are after a serene vacation full of authentic Greek cuisine and culture – so you'll be in great company. Although the island is quiet, there is a pretty main town with a few lines of shops and tavernas to keep the curious occupied.
Unlike many of Hydra's neighbors, this quiet Greek island isn't famed for its long stretches of sandy beaches. Instead, its coastline is punctuated by intimate pebbled coves, surrounded by cascading rock faces and rugged pine forests. The abundance of the little bays means that it's not hard to find one that is completely private – your own personal slice of heaven for the day.
Another huge appeal to Hydra is the lack of cars – and even bicycles. Instead, the island's narrow roads are traversed by foot. It's clear that the fast life isn't even a consideration on Hydra, and we love it all the more for it.
To while away a week (or even a month) in complete bliss, book one of the six suites at Four Seasons Hydra (nope, no connection to the Four Seasons hotel group), which overlooks the sheltered Vlychos beach on a remote corner of the island. Time all but stands still here, with days all about cooling dips in the pristine waters and oceanfront dinners each evening. Bliss.
Ithaca
Found just off the northeastern coast of Kefalonia, the teeny island of Ithaca is shrouded in myth and legend. So mythical in fact, that it was thought to be the home of Odysseus, of Homer's epic Greek poem The Odyssey. There are plenty of spots across the island to immerse yourself in its ancient history, including the medieval village of Paleochora and the 8th-century remains of the Palace of Odysseus.
Like many of the quietest Greek islands, Ithaca doesn't have its own airport. There are, however, a good number of sheltered marinas, making it a great stop-off for those traveling by yacht. Spend a few days idling around the island's coastline, stopping off at its secluded inlets before mooring at Vathy, Ithaca's main town, which sits in a jaw-dropping natural harbor.
There are also plenty of quaint villages to visit across the island, many of which have been carefully preserved to retain their Grecian integrity. Notable spots include Stavros, which dates back to the 16thcentury, and Kioni, a dinky seaside village tucked into the mountainside with a taverna-lined harbor.
[See also: How To Charter a Superyacht]
Patmos
As one of the most spiritual of the Greek islands, Patmos has become a pilgrimage site for religious travelers from around the world, who make the journey to both the 'Cave of the Apocalypse', where Saint John supposedly wrote the Book of the Apocalypse and the hillside monastery that was built in his honor.
Below the monastery, you will find Hora, Patmos's white-washed main town. The religious connections of the island mean the nightlife is subdued (which is a blessing to locals and most visitors alike), but there are a few laidback bars and inviting tavernas to visit.
While Patmos is still one of Greece's quieter islands, admittedly the jet-set crowd has discovered its appeal, but this does mean that there's more to choose from in terms of luxury accommodation. Our favorite is Patmos Aktis Suites & Spa, which overlooks the serene Grikos Bay. Opt for the Aegean Suite for floor-to-ceiling views of the stunning beach below.
Again, no airport and the ferry journey to get here is long. But this only works in favor of those who do deign to make it, with such a journey putting off the less ambitious of travelers. The only tourists here are Patmos enthusiasts, who tend to come year after year, making it easily one of the quietest Greek islands.
Syros
While it may not be the best choice for beach lovers, with a coastline of rocky shores and waterfront towns rather than stretches of sand, Syros makes it our Greek island bucket list thanks to its abundance of arts and culture. Here, summer evenings are enjoyed to the soundtrack of live music, with (in normal years) a healthy calendar of art and film festivals throughout the season.
The island's architecture is just as appealing, with leftover fragments of its Italian rule throughout the main town of Ermoupoli, Ano Syros, and Vari. Think colorful houses, stately palazzos and grand mansions. In one of Ermoupoli's grand neoclassical buildings, you will find Aristide, a boutique hotel that blends art-focused design with eco-friendly touches. Each suite is individually designed, with tasteful riots of color, specially selected furniture and stunning artworks at every corner – a stay here is a must.
It should be said that Syros is one of the better connected on our list of the quietest islands in Greece (there's an airport!), but many still favor the hedonistic party lifestyle of nearby Mykonos, leaving Syros for those wanting a more relaxed yet cultural vacation.
Sifnos
Sifnos has seemingly achieved the perfect balance: under the radar enough to feel quiet even during peak season, yet popular enough to have a vacation-y buzz. The island's main appeal, however, is its excellent food scene, the reputation of which was begun by 20th-century chef Nikolaos Tselementes AKA Sifnos local and the forefather of modern Greek cuisine.
Some say it's impossible to eat a bad meal on Sifnos, with the chefs at each of the many tavernas around the island pouring their heart into each dish they serve. Revitháda – a low-and-slow-baked chickpea dish – is the signature of Sifnos, with fresh fish and other roasted casserole dishes also local favorites. Sweets like nougat and honey pie are served to finish.
And, seclusion lovers rejoice – we're back to airport-free life on Sifnos. The main port is at Kamares, an unassuming little village on the west of the island. Cute as it is, Kamares is the island's main thoroughfare, so once you arrive, head to either the main town of Apollonia, where postcard-worthy white-washed buildings are aplenty, or the hill-top village of Kastro, which with its blue-domed churches could be plucked straight off Santorini.