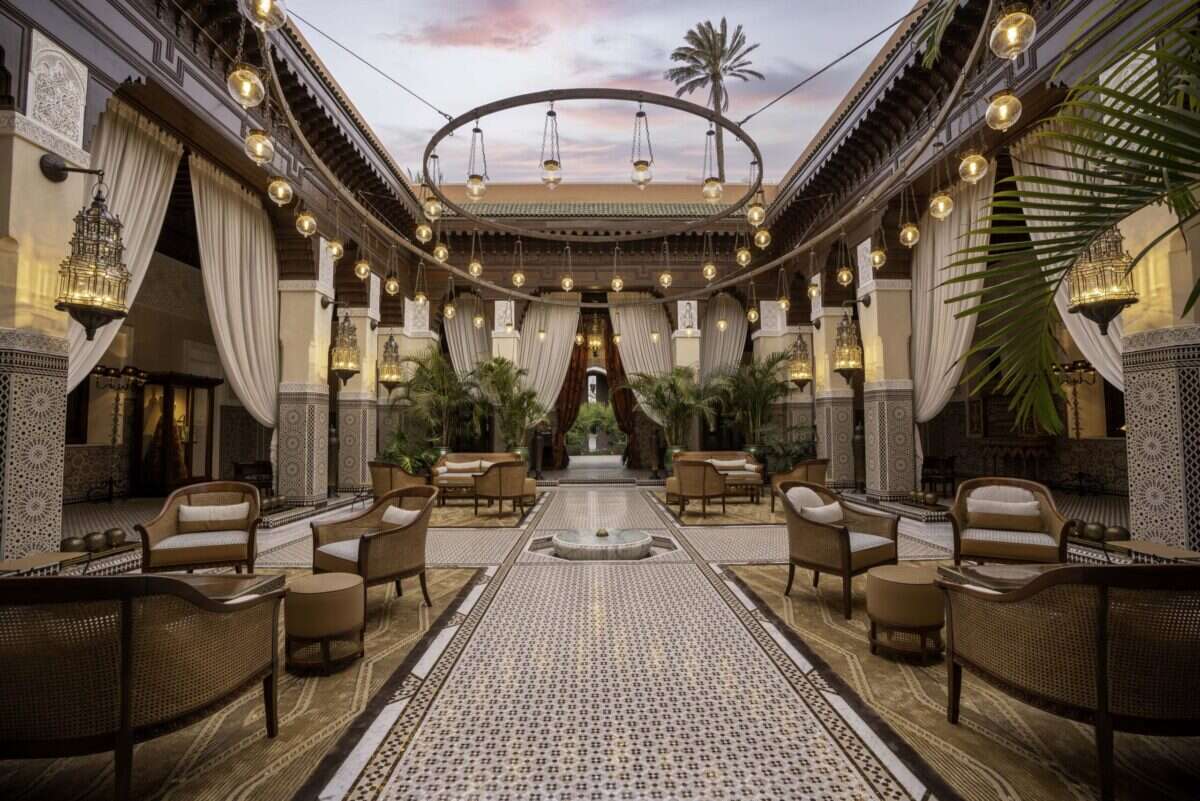 If ever a place deserved the accolade of enchanting it would be Royal Mansour in Marrakech. A true work of art, The King of Morocco's hotel was crafted by over 1,000 artisans utilizing traditional techniques making every inch as beautiful as a centuries old royal palace.
It's hard to believe, peering across the mosaic lined courtyard, past the sparkling fountains and the intricately hand-carved arched doorways, that the luxury hotel is in fact only 12 years old. What's even harder to fathom from inside the resort's ochre-hued walls filled with fruit orchards and birdsong, is that you're actually within the beating heart of central Marrakech, mere minutes from the buzz of Jemaa El Fna Square.
It is easy to get swept away with the magic of it all. And a finely tuned operation ensures for a flawless guest experience from start to finish. As you make your grand arrival (and it will be grand — everything is at Royal Mansour) you will be made to feel like royalty.
[See more: Elite Traveler Reveals Top Suites in the World 2022]
Stay
Royal Mansour doesn't do hotel rooms, or even suites. Every guest has their very own stand-alone riad, a traditional-style Moroccan house which centers around a beautifully tiled inner courtyard. All 53 of Royal Mansour's elegant three-story riads are one-of-a-kind. Like the rest of the resort, exquisite craftmanship takes center stage, from plush upholstery and carved plaster work to hand painted wood paneling, original artworks and custom designed furniture.
There are no bad options here, and even the smallest one-bedroom abode— the Superior Riad — feels perfectly palatial at 1,500-sq-ft, as you enter through an enormous turquoise bolted front door and take in the sky-high ceilings.
Service is paramount (the hotel has its own butler school on site) and every riad boasts a discreet staff entrance on each floor which is used for everything from delivering your luggage to serving breakfast. These subtle entrance points are in fact connected to a central hub hidden away from guests. This keeps the day-to-day running of the hotel completely out of guests' eyeline (not a luggage trolley in site).
Each of Royal Mansour's riads feature at least one lounge, a spa-style marble bathroom with cruelty-free marocMaroc amenities, as well as its own rooftop solarium equipped with a pool and fireplace as standard. However, opt for one of the larger three-bed Prestige Riads and you will enjoy everything from a private hammam and library to a bar and fully-equipped kitchen. It also comes complete with a lift and personal butler.
Those looking for an extra special private hideaway might want to consider Royal Mansour's famed Grand Riad. Standing at a sprawling 19,375 sqft and adorned with silks, cedarwood and tile-work, it offers all of this and more with a ground floor opening onto a private landscaped garden and swimming pool, as well as a snooker room, three roof terraces and rooftop cinema.
Dine
Four distinct restaurants await guests at Royal Mansour. Luckily for us, our stay at Royal Mansour last month coincided with the opening of one of them: brasserie La Table, by renowned Parisian chef Yannick Alleno. The menu boasts classic French dishes with contemporary flair, as perfect for sharing as it is enjoying all to one's self.
The sumptuous space includes a private dining room and an Instagram-worthy terrace, as well as a wine tasting room to sample the restaurant's substantial wine list which just happens to be the largest in Africa. To start, a must-try is the sea bass carpaccio which the chef smokes on site, as well as the generously plump langoustine ravioli accompanied with beurre blanc. For main course, grab the chance to enjoy the sublime matured fillet steak — a fine-aged cut not typically found in Morocco.
Alleno, whose European restaurants have amassed a total of six Michelin stars, also stands at the helm of two other restaurants at Royal Mansour. La Grande Table Marocaine, serving Moroccan Haute cuisine and Le Jardin, an outdoor eating concept nestled in between the citrus trees within Royal Mansour's newly expanded grounds. Featuring a Mediterranean-Asian fusion menu, Le Jardin's pièce de résistance is a hidden private dining space aptly named The Nest. Perched 14 ft above the hotel's grounds, it delivers breath-taking views over the famous Koutoubia mosque and the Marrakech skyline beyond.
The fourth culinary offering is just as notable. Refined Italian eatery SESAMO is helmed by Italian chef Massimiliano Alajmo of three Michelin-star Le Calandre's. Like Alleno's three restaurants, SESAMO is served by Royal Mansour's onsite organic vegetable and herb garden.
Relax
The abundance of fresh herbs doesn't just come in useful in the kitchen — they are also utilized in aromatic infusions and treatments for the three-story 27,000-sq-ft Spa Royal Mansour.
A light-filled temple of serenity, the spa includes a gym, a glass-encased swimming pool and extensive treatment menu featuring massages, beauty, facials and body treatments, all delivered by an expert team. And if there was one treatment every guest should experience, it is The Royal Mansour Signature Hammam (a traditional middle eastern steam bath.) This centuries-old ritual will see you massaged, scrubbed and moisturized by a skilled therapist, leaving you feeling nothing short of reborn as you end your treatment with a dip in a cool plunge pool, before being led to a cabana for a re-invigorating detox juice in a butter-soft robe.
For those in need of some extra TLC, Royal Mansour offers an abundance of wellness programs available as three-, five-, seven- or 14-day retreats to restore, recharge and pamper. Choose between the Rebalance, Rejuvenation, Immunity Boost and Weight Control programs – all customizable with the aim of improving both mental and physical wellbeing. Each is unique and integrates nutrition and wellbeing activities such as art therapy in the onsite Atelier d'Artiste artist studio, meditation and Pilates.
Explore
Royal Mansour is perfectly positioned to explore all of the treasures of Marrakech. From its colorful souqs and the storied Bahia Palace, to the azul-hues of Jardin Majorelle, everything is within walking distance, however, a chauffeur will be on hand should you prefer.
For bespoke experiences or unforgettable adventures, Royal Mansour's concierge can make it happen. Whether it's a private guided city tour or dinner underneath the stars in the Atlas Mountains, sunrise hot air balloon rides or a helicopter ride over the Sahara, it's just an ask away.
Prestige Riad from $6,840 per night, royalmansour.com