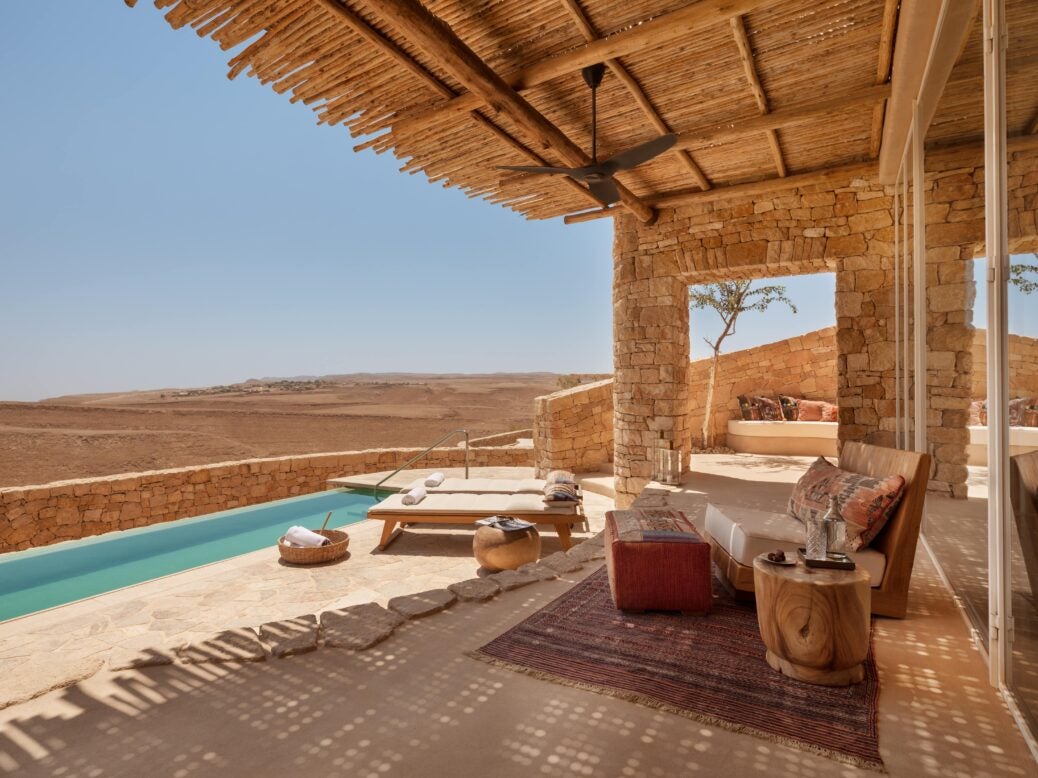 Practically in the middle of nowhere, Six Senses Shaharut is a hidden sanctuary of boutique-style villas stretching over 46 acres. It overlooks the almost boundless, supernatural landscape of the Negev Desert, which spirals all the way up to the dizzying peaks of the Edom Mountains in neighboring Jordan.

Hewn from the very rock that you see scattered around the scorched moonlike desert, this Six Senses wonder is a truly remarkable feat of modern eco-minded engineering.
Since it was nine years in the making, calling it a 'hot new opening' would be a disservice. With a vision to not impinge on the landscape whatsoever, owner and Israeli entrepreneur Ronny Douek broke the bank and spent more than $130m to protect the surroundings from his own passion project.
To put it all into perspective, the first three years were devoted to carving out the cliff that's now home to the resort, followed by a further three dedicated to grinding rubble into sand for cement and putting the jigsaw together — and the final three making sure the hotel was clad into the desert as sustainably as humanly possible. The result? It's a leading wonder of the hotel world.
[See also: Four Seasons Resort Tamarindo to Open in November]
Stay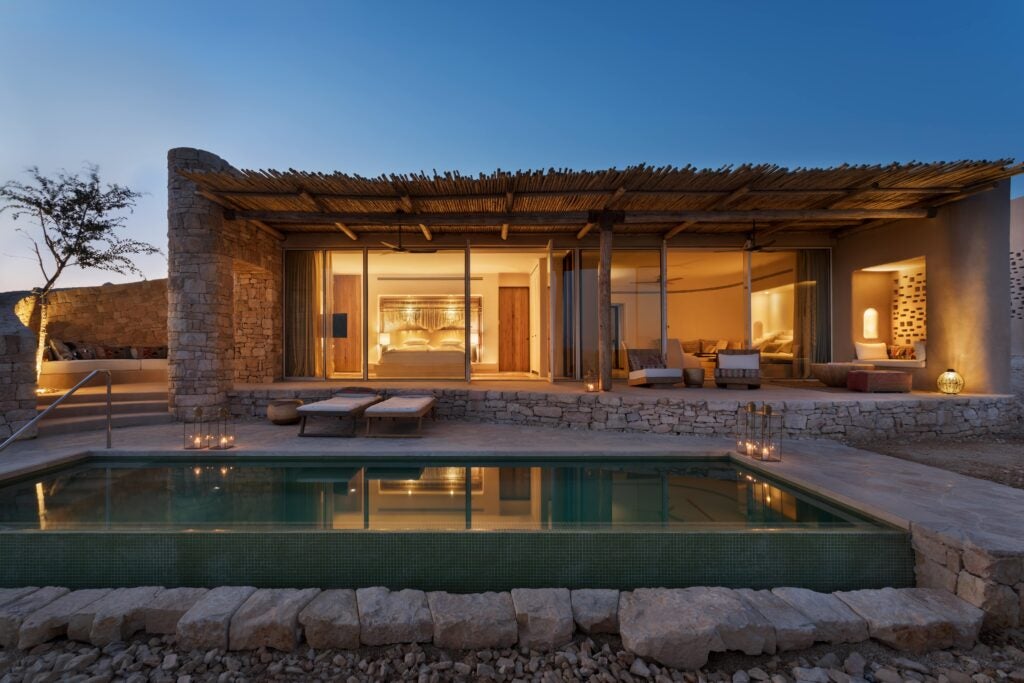 At first sight, the extraordinary design of the place knocks you out. A contemporary ode to the ancient nomadic Nabataeans (who would have once crossed these parts atop their camels some 2,000 years ago along the incense route from the Persian Gulf to the port of Gaza), the resort (it almost feels blasphemous calling it a resort) is hidden away in the rocks, clipped by the odd lavender plot, storied trees and mammoth pile of rocks.
It's all very minimalist, and that's the underlying point; it is a refreshing take on restraint. Everything is light, bright and airy. The walls are finished off in sandy tadelakt plaster, the ceilings custom-made from reclaimed teak, and the furniture and art — much of it sourced from the neighboring community of Shaharut — draped in deliciously rich Bedouin-inspired fabrics (thankfully, there's some take-home souvenirs in the store).
It's really the French doors that do the talking, though. Magically set to the hum and drum of the desert's enigmatic horizon, these floor-to-ceiling openings in the walls invite you to immerse yourself into Shaharut's still nothingness. Lounge here day and night, and you'll find the eerie silence of the Negev is almost poetic.
Dine
It's all local, fresh and seasonal — the Six Senses way, Aussie resort manager Alicia tells me as we gorge on a new menu in restaurant Midian. Dips, sauces, breads, cured veggies… anything mezze-style is worth devouring from the à la carte menu.
Perhaps another plus of eating here is the view. Come breakfast, and weather permitting, you can feast as I did on a delicious spread of local, regional and Israeli takes on Western classics (the spicy avocado on toast with tahini is divine) as you take in panoramas of Jordan, Egypt and Eilat.
Then there's the bar, Jamillah, a sexy, low-lit kind of spot that features artisanal heritage antique knickknacks sourced from around the world. Cocktails are a must (be warned: They are strong, especially for lightweights like myself), as is simply chilling in the space for sunset meet and greets. The turntable with an old-school vinyl collection churning out Israeli bands mixed with world jazz and blues classics is another seriously good highlight.
Relax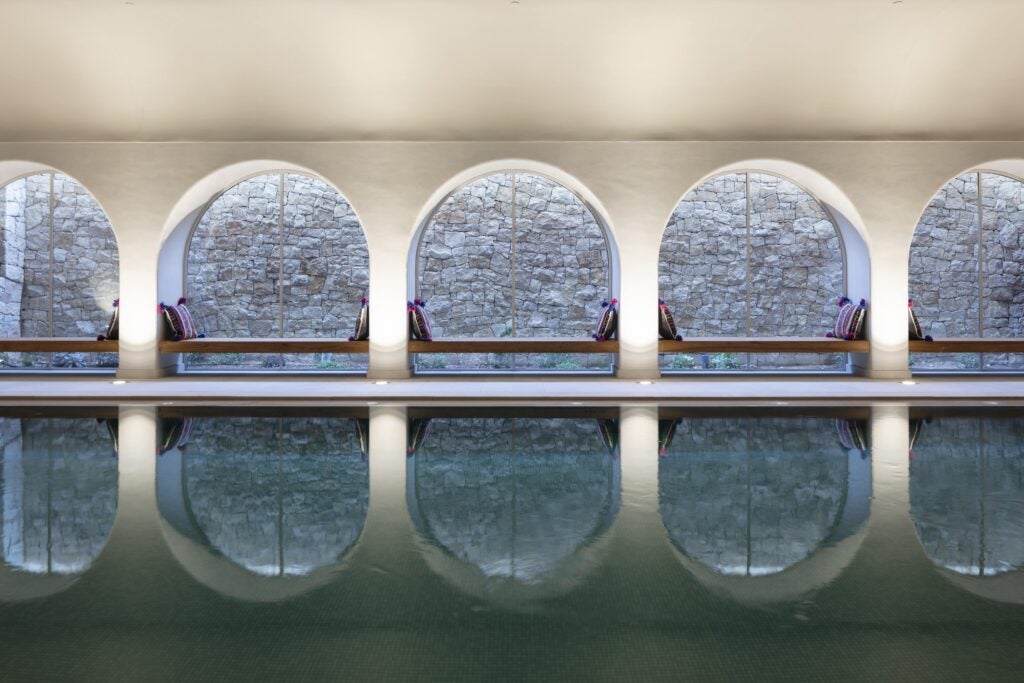 Let's face it, the spa is the true headliner of the place and makes the journey out here oh-so worth it. I'll say it now, buzz and hype aside: I had one of the best massages of my life in this spa and left feeling genuinely reinvigorated. The setup is no different from any other wellness pad on the globe: There's a pretty moody underground pool; a relaxation space (expect more of those dramatic tundras); a yoga studio complete with a yogi who understands the concept of 'beginner'; mani-pedi nail bar; and a fully equipped gym.
But it's the attention to detail that really sets it apart and makes all the contemporary spa facilities subservient in comparison. "Our ethos is as natural and sustainable as it can be," spa director Nina Shapiro tells Elite Traveler.

"We want to deliver a holistic, physical and mentally stimulating experience. It's about paying attention to the needs of our guests and not the sequence of prescribed movements. The beauty of a spa treatment here is that it's super-personalized, bespoke and suited to you as soon as you check in."
At massage time (I am booked in for the holistic experience), pure jojoba oil is used to relax my muscles — it has the closest pH level to the skin, I am told — along with anti-oxidantrich camel milk to help nourish any dry spots that may need nurturing.
It's all natural, of course. There's no music or spa paraphernalia. Instead, Dor, my therapist, focuses on touch, gauging every slightest movement my body makes. He unknots every wiry cluster in my shoulder. Ninety minutes later, I leave relaxed and ready for the next adventure: mint tea and a snooze in the relaxation room.
Explore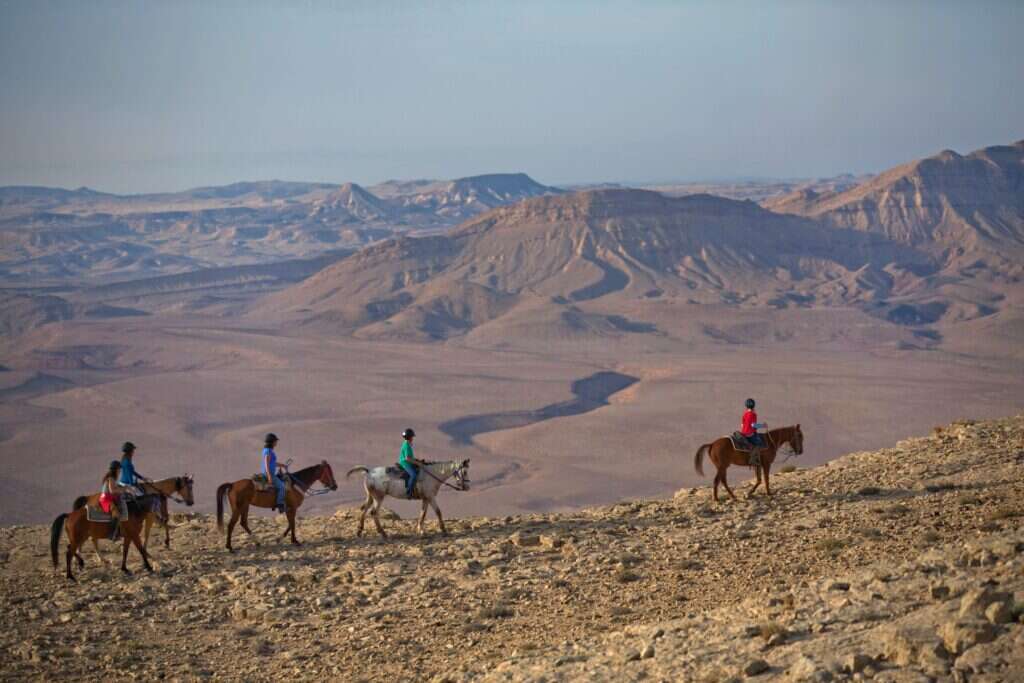 While it might be out in the sticks, there's lots to do here. Intense camel rides (and I say this only because your butt and arms will get a great workout as you hold on for dear life trotting down the resort's perilous hills) and sunset jeep safaris (a picnic of artisanal cheeses and wines is included) are just a couple of the extracurriculars I found myself on.
Hosts are also happy to take you on hikes, mountain bike rides, into the local community and on trips further afield to the likes of Petra, Masada, Har Karkom and the Dead Sea. Tel Aviv is a short 50-minute plane ride away from nearby Ramon Airport. The food alone is worth a visit — as are the seriously cool hotels, led by grand dame icon The Norman.
If you're only there for a short time, be sure to hit up Jaffa for a dose of local culture. The flea market is your one-stop shop for souvenirs, from old movie cameras to vintage furniture galore.
Elsewhere, the steps leading down to St Peter's Church provide plenty of photo ops, and Neve Tzedek (a sort of village within the city) is a great place to stock up on fashion and art steals from all the glitzy boutiques. To refuel, head to Abu Hassan for hummus, HaKosem for falafel and Levinsky Burekas for burekas (a salty pastry made of thin, flaky dough filled with cheese).
Six Senses Shaharut from $1,000 per night. Contact reservations-shaharut@sixsenses.com, +972 861 500 50, sixsenses.com
[See also: Jean-Michel Gathy on Designing the World's Most Iconic Hotels]
This article appears in the 05 Sep 2022 issue of the New Statesman, Fall 2022