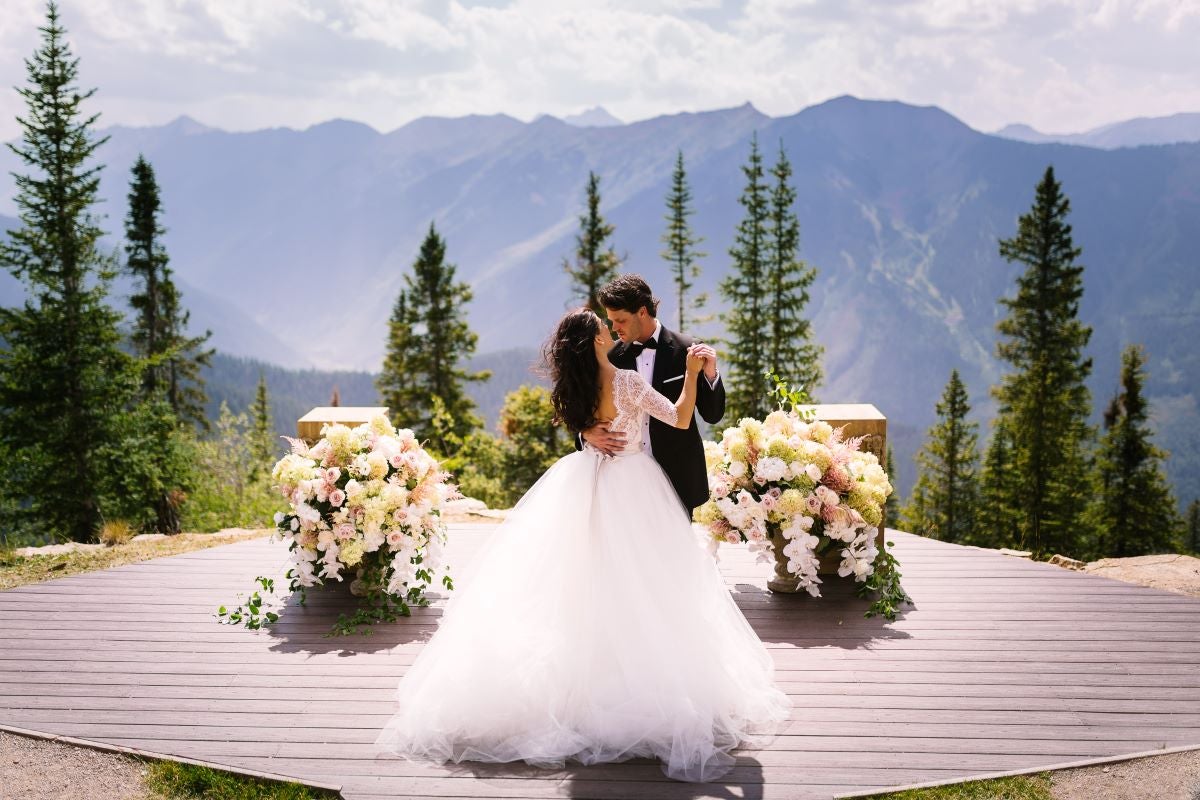 There is no shortage of luxury wedding venues across the US, but how do you choose which one is right for your special day? From beach-side weddings and snow-capped ceremonies in the Rockies to micro-weddings and epic parties (though there have been fewer of the latter over the past 14-months), finding the perfect destination to say "I do" is no easy task. 
This of course been made a whole lot more challenging over the past year with countless travel restrictions and social distancing rules coming into play. But as we begin to emerge into some semblance of normality,  happy couples are once again beginning to plan their dream wedding. To help, Elite Traveler has curated a shortlist of some of the best luxury wedding venues in the US.
The Rainbow Room, New York 
Northing symbolizes old-school New York glitz and glamour quite the Rainbow Room. A true icon, it has welcomed guests to the 65th floor of Rockefeller Centre since it opened its Art Deco doors in 1934. It is still one of the city's highest venues and offers sweeping Manhattan skyline views from all angles, including from the outdoor terrace of its elegant cocktail bar, SixtyFive. 
If you choose to get married at one of New York's cultural landmarks, you'll be in good company. Along with hosting some of the city's most famous soirees over the past 90 years, the legendary spot has held some of the city's most high-profile weddings. You and your guests will be able to dance the night away on the very same original revolving dance floor that has hosted countless stars, socialites, and presidents over its illustrious history. 
[See also: Discover the Magic of Sensei Lanai, A Four Seasons Resort]
Gurney's Montauk Resort & Seawater Spa, Montauk
Gurney's Montauk is a Hampton's institution. Famed for its brand of laid-back east coast luxury and 2,000ft long stretch of beach, It's no surprise the resort — nicknamed "O.G" by those in the know — has become one highly sought after wedding venue. 
From rehearsal dinners to farewell brunches, Gurney's has an impossibly beautiful selection of spaces for you to choose from all year round, from its iconic East Deck overlooking the Atlantic to the Beach Club for a magical beside-the-water reception. Indoors the Regent's Cocktail Club offers a chic alternative for smaller parties whereas the Great Hall with its stunning ocean views is perfect for larger celebrations during the cooler months. 
Those same ocean views can be found in Gurney's 158 effortlessly stylish rooms, suites and cottages, the perfect place for guests to rest their heads after the festivities. 
White Elephant, Nantucket
Located a few steps from Children's Beach and the Brant Point Lighthouse, the White Elephant has been a favorite Nantucket retreat since the 1920s. Quintessentially New England with its grey shingles and white trim, it's the type of place families visit for generations.
Oozing charm, the White Elephant offers a spectacular waterfront setting for weddings on the Harborview Lawn, right by the water's edge. From the ballroom to the star-lit Harbourview Terrace, whether you're planning an intimate affair or a dazzling celebration for 300 of your nearest and dearest, the White Elephant offers a truly picturesque all-American setting. 
Amangiri, Utah 
Amangiri is like something out of a dream: rising front the arid sands of the Utah desert, the 600-acre Aman resort is fast becoming a low-key favorite for stylish couples looking for a breathtaking, yet more unconventional wedding setting.
Though you can opt to get married indoors at the five-star Aman resort, most choose to be at one with the wilderness and tie the knot outside. Enveloped by the stark beauty of the natural landscape, receptions are also best held underneath the desert sky. 
Expect all the bells and whistles of a luxury wedding venue in the city with the resort's elevated and sustainable dining offering to the outstandingly beautiful 25,000-sq-ft spa – the perfect place to unwind the day after saying "I do".
Wynn, Las Vegas 
Getting hitched in Sin City doesn't necessarily need to mean eloping at the Little White Wedding Chapel and having Elvis as your celebrant. As America's party capital, it is the perfect place to throw one almighty reception and there is no better place to host a celebration than Wynn Las Vegas. 
One of the city's most lavish five-star resorts and casinos, Wynn Las Vegas, is home to some of the best suites and entertainment on offer, as well as acting as one of the most luxurious wedding venues in the US. 
For weddings of up to 120 guests, choose from the hotel's three wedding salons, including Primrose Court, a lush walled open-air garden complete with fountains and marble-tilled floor. Going bigger? Opt for one of the resort's opulent ballrooms, which can host up to 1,000 guests. 
Haiku Mill, Maui
Stepping into Haiku Mill is like entering into an enchanted garden. The 150-year-old estate is located on Maui's north shore; at one point in time it was a sugar mill, but now it acts as one of the most coveted luxury wedding venues in the US. 
Possibly the most romantic venue on our list, at Haiku Mill, Hawaii meets the vineyards of Europe as lush tropical flora winds itself around the old worldly surrounds of the restored open-air venue. Elegant and unpretentious, it offers a host of equally pretty spots to host your ceremony and the festivities that follow. Expect your guests to be wowed. 
The Little Nell, Aspen 
The Little Nell is one of Colorado's premier resorts, offering an awe-inspiring backdrop for a wedding ceremony any month of the year. 
Perched three miles above Aspen, The Little Nell Wedding Deck is a mountain-top venue unlike any other. At an elevation of 11,212ft, with sweeping views of the Elk Mountain Range and surrounded by wildflowers, ceremony guests will arrive via Aspen's gondola. 
For the wedding breakfast, five-star dining prepared using locally sourced produce can be enjoyed inside or out. However, during the cooler months of the year, couples may choose to opt for one of Little Nell's indoor spaces in the form of the Sundeck – which offers Rocky Mountain views – or the elegant Aspen Mountain Club.
Montage Laguna Beach, California
Dreaming of a California beach wedding? Montage Laguna Beach is the ultimate oceanside luxury destination. Overlooking the lapping waves of the Pacific, it is a picture-perfect location to host your big day. 
With the resort spanning 30-acres, you have your pick of venues; from smaller private dining studios to the spectacular 400-person ballroom, but with the sun nearly always shining, many couples choose to wed on one of the properties two ocean-facing lawns.
Your wedding menu will feature fresh organic ingredients from small family farms and rare artisanal producers, while the exquisite Spa Montage will be on hand to help you relax into your big day. 
Sunstone Winery, California
Just a 35-minute drive from Santa Barbara, as you pull up to Sunstone Winery in Santa Ynez, you would be forgiven for thinking you'd been transported to Provence.
Surrounded by sweeping views that overlook the organic vineyard's 55-acre estate, the magnificent Sunstone Villa is built from sun-weathered French limestone and serves as a truly special wedding venue –  which is why we had to include it on our shortlist of luxury wedding venues in the US. 
Ceremonies are best placed within the villa's serene grounds as aromas of rosemary and lavender fill the air. Dance the night away under the stars before retiring to one of the villa's five sumptuous suites. 
The Ranch at Rock Creek, Montana
Dreaming of a rustic ranch wedding at a venue in the heart of the West with farm-to-table cuisine? Say hello to The Ranch at Rock Creek, a five-star working-dude-ranch located in an authentic 19th-century homestead on the planes of Montana.
Whether you're getting married in winter surrounded by snow-capped peaks via a horse-drawn sleigh, or during warmer months under the Big Sky, the ranch's 6,600-acres of river, forest and valley offer near-limitless options for your big day. 
Though luxury isn't perhaps the first thing that springs to mind when you think of a ranch, The Ranch at Rock Creek is ready to challenge your conceptions. With accommodation for up to 125, guests can choose from the sumptuous surrounds of Granite House to the romance of Bluebird Cabin (though the happy couple might want to save that one for themselves).
[See also: Discover America's Hidden Gems on These Luxury Road Trips]