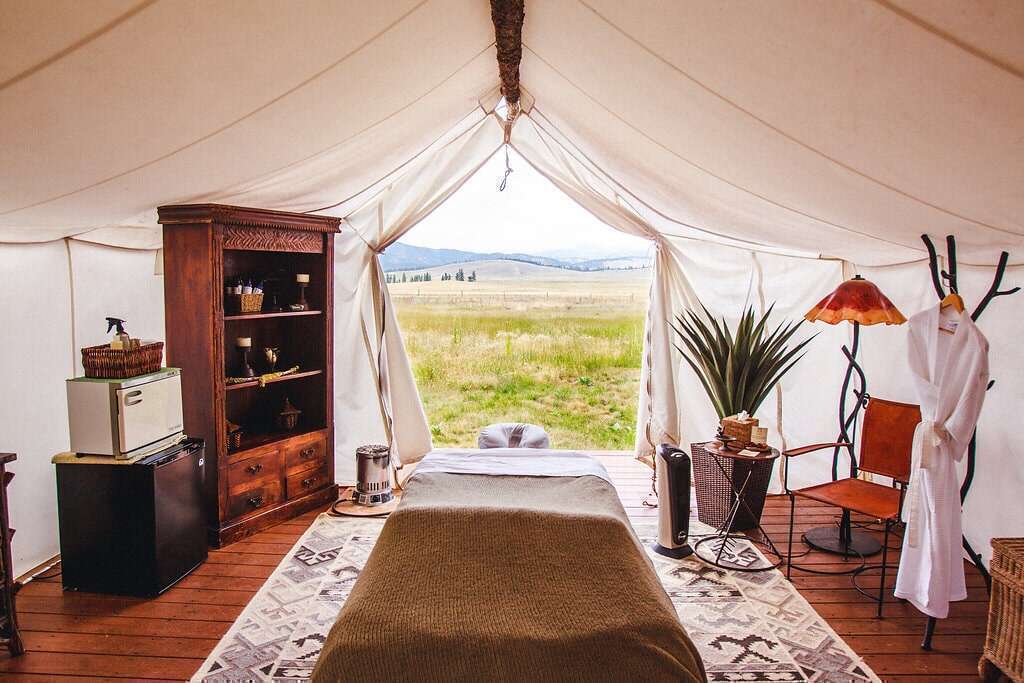 We may be seeing a comeback for the metropolis lifestyle, but after two years full of lockdowns and social distancing, many of us have discovered the value in remote vacationing. Once a haven for the adventurous, luxury ranch properties are now more popular than ever with domestic travelers for a variety of reasons.
These eight US ranches (plus an honorable mention of a British Columbia-based ranch) grant access to the great outdoors without comprising on luxury. Whether you seek adventure or peace and quiet, these ranches specialize in creating the perfect itinerary for every guest.
We've rounded up the best ranches to visit during the peak summer season when warm, sunny days fade into orange-colored sunsets over many of America's western frontiers. Choose from every activity from cowboy classes to fly fishing to horseback riding. One thing's for sure: Space, luxury and privacy are guaranteed whichever ranch you choose.
[See also: Save Everything – Eco-Tourism at Vermejo, A Ted Turner Reserve]
The Ranch at Rock Creek
Philipsburg, Montana
With room for only 29 accommodations, The Ranch at Rock Creek is a serene escape nestled in a Montana valley (see our Remote Suites of the World piece). It's a ranch-style experience through and through from its cuisine at Blue Canteen (think bison burgers and Montana ribs) to a ropes course and shooting sports to exploring the endless, untouched nature around you via foot or horseback. You'd be remiss not to book one of seven luxury homes ranging from one- to five-bedrooms.
Bear House is one of our personal favorites and each is decorated in Western-style decor where no detail has gone unnoticed. Don't miss summer rodeos from June through August on Tuesdays: Watch professional cowboys ride broncos or steers at The Ranch's very own Camp Roosevelt Arena. We promise this is about as Western as it gets.
Brush Creek Ranch
Saratoga, Wyoming
Brush Creek Ranch houses myriad experiences for every type of person on a 30,000-acre stretch of land that also is a working cattle ranch. Brush Creek houses The Lodge & Spa at Brush Creek, a family-friendly accommodation with plenty of activities; Magee Homestead, the ranch's Relais & Châteaux counterpart that offers seclusion and renewal throughout outdoor yoga and spa treatments; and French Creek Sportmen's Club with 15,000 acres of land for wingshooting, fly fishing and Big Game hunting trips.
[See also: Top Suites in the World – Taupo, Caldera House] 
Stay in one of the Cabin Residences, the largest and most luxe of all the amenities. You can't go wrong with any of them, but for large families and groups, the Homestead Residence is the most private of them all and can be combined with Jo's Cowgirl and Stagecoach residences for the ultimate private experience. Each has massive floor-to-ceiling windows in a log cabin with Western decor and jaw-dropping views.
Go for Independence Day Week, the biggest week of the year. Culinary experiences at the resort's Cheyenne Club await, as does a performance by country group Runaway June.
The Resort at Paws Up
Greenough, Montana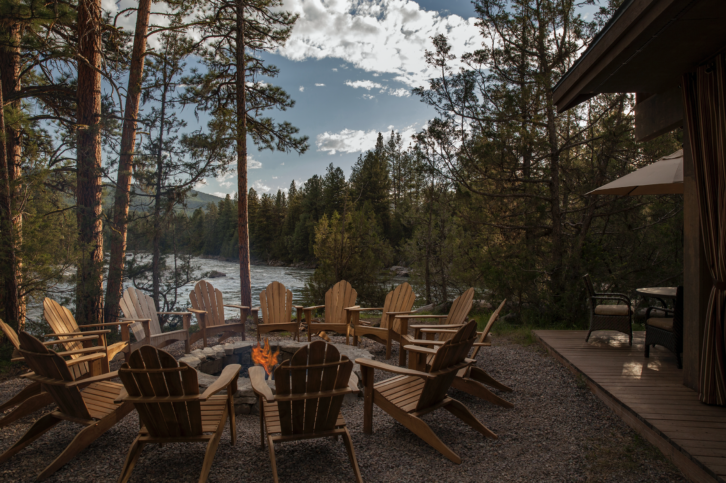 The Resort at Paws Up is one of the most storied luxury ranches in Montana bringing together glamping and luxury cabin homes, exclusive culinary events with celebrated chefs from all over the country and, of course, so many outdoor activities you wouldn't be able to fit them all in during the course of a week.
Choose from the classic hiking and horseback riding and experience archery lessons, cattle drives, helicopter tours, hot air balloon rides, a fitness trail in the woods with a full obstacle course, horse whispering and more. Kids programming is extensive here, from a supervised Junior Wrangler Program and paintball and pony riders to go karts and geocaching to arena horse lessons for kids. Anyone can participate in the Paws Up Mustang Rescue Program that helps protect public lands and relocates mustangs.
Gateway Canyons Resort & Spa
Gateway, Colorado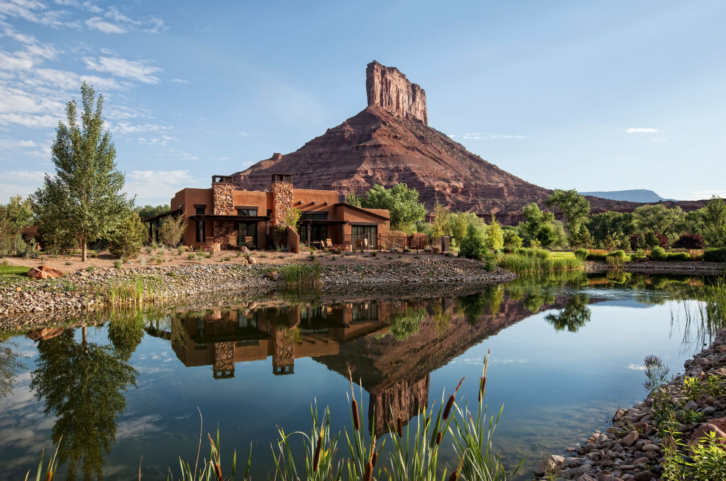 Located in southwest Colorado just a short drive from Grand Junction and along the Utah border, Gateways Canyons is one of Colorado's most luxurious resorts and hard to miss, flagged by the giant and deeply hued red rocks surrounding the resort.
The 6,000-acres of land the hotel is situated on was once used by ranching families to support the mining community in the 1800s. Gateway Canyons plays host to classic ranching activities (scenic tours on horseback, cowboy school and hiking) but it also has a rich history of Native American culture and a huge number of fossils and dinosaur footprints you can discover nearby.
In addition to the resort (including an expansive spa), the resort has a classic car museum, five restaurants easy access to a number of Colorado and Utah National Parks nearby. You can't miss the Kayenta Lodge, an adobe-style lodge built around the resort's courtyard.
Smith Fork Ranch
Crawford, Colorado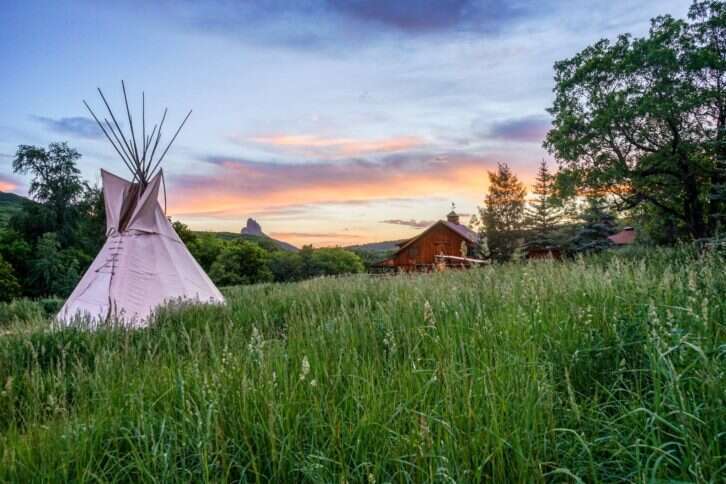 Owned by same founders who started luxury luggage brand Ghurka, the Smith Fork Ranch is designed with the same type of discerning traveler in mind. The rustic hotel is a serene escape nearly two hours east of Grand Junction and two hours west of Aspen and is set on 300 acres of land surrounded by the Rocky Mountains.
Near the resort are vineyards and the Black Canyon at Gunnison National Park, home to some of the oldest rock in the US and plenty of wildlife. Enjoy archery, horseback riding, shooting, hiking and off-ranch excursions like rafting, kayaking, paddle boarding and Western rodeos show you the true heart of Colorado. In addition to adventure, gourmet culinary experiences with farm-to-table cuisine is a hallmark of Smith Fork Ranch's ethos.
Local produce and grass-fed meats from the local community are used in every dish at the many dining venues on property. The award-winning Wine Cellar & Bar carries vintage labels from around the world, including local wines. For your stay, reserve the Mountain House, a two-story four-bedroom log cabin furnished with antiques and artisanal pieces and a distinct Americana vibe. A stone fireplace, kitchenette and a wraparound porch to take in the fresh mountain air.
Sorrel River Ranch
Moab, Utah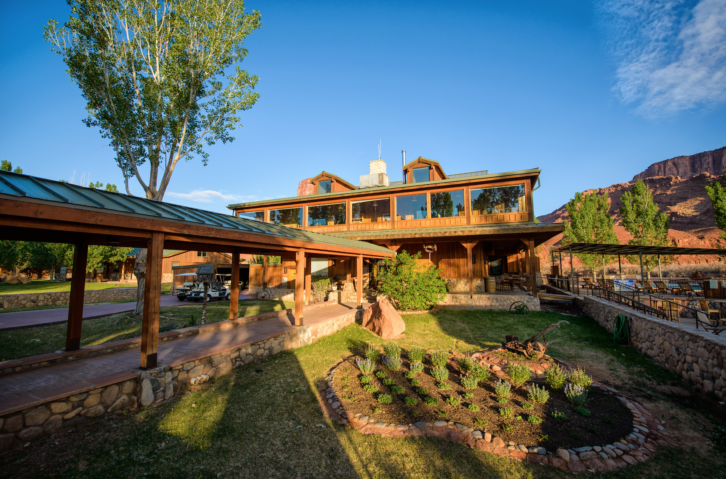 If it's the hoodoos and the gorgeous red rock in Utah you'd like to explore, Sorrel River Ranch is where you should rest your head. As the only luxury ranch in Moab, the resort pairs scenic solitude with gorgeous accommodations so you can explore the West in style.
The quaint but spacious Moab Ranch House Estate is indeed your best option – it has four bedrooms with a two-bedroom guest cottage and has views over Castle Valley. People also come for the resort's spa, which includes a complete wellness guide for detoxing and renewal.
Enjoy yoga, the infrared sauna, energy therapies you'd be hard-pressed to find anywhere else and massages using local ingredients. While here, book skydiving and hot air ballooning with experts or try your hand at canyoneering at Arches National Park nearby. You will never run out of things to do.
The Inn at Dos Brisas
Brenham, Texas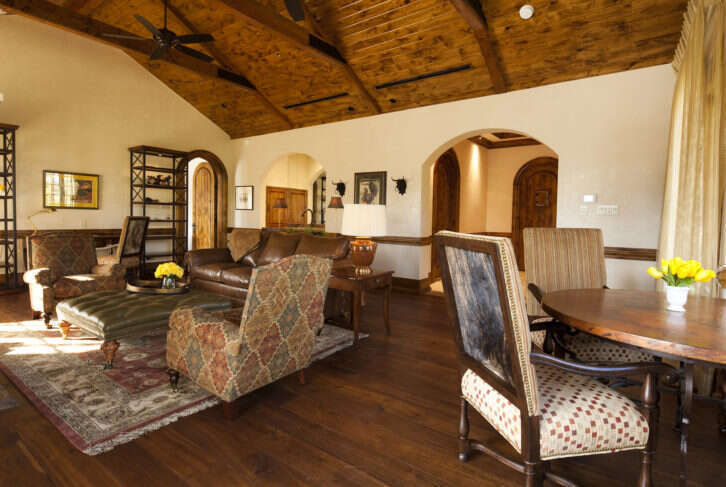 This award-winning Texas resort and ranch is more suited for a quiet, romantic weekend than a family-friendly getaway and has award-winning culinary experiences that rivals city fine dining. Compared to others in our list, The Inn at Dos Brisas doesn't have a Wild West vibe, but instead offers a Spanish ranch style. Set on 313 acres, the resort has the second largest privately owned indoor riding arena and plenty of room for clay target shooting, fishing, biking, hunting, swimming and golf and tennis.
Rest your head in one of the hotel's Haciendas – French oak flooring, cathedral-style ceilings, antiques and spacious living spaces are utterly remarkable. But those who come here come for the dining: The Relais & Châteaux property has farm-to-table dining at The Inn at Dos Brisas restaurant (a tasting menu is available, as are one-of-a-kind menus per special requests), as well as a 7,000-label wine cellar.
The Lodge at Blue Sky, Auberge Resorts Collection
Wanship, Utah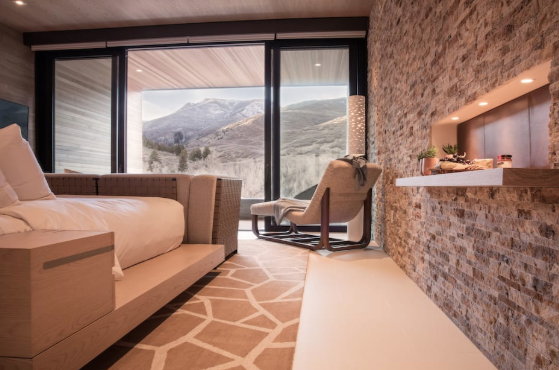 This 3,500-acre ranch just outside of Salt Lake City forgoes traditional ranch decor in favor of something modern and sleek. Part of Auberge Resorts Collection, The Lodge at Blue Sky promises all of your classic ranch activities including horseback riding on private trails, fly fishing, shooting on a private clay course and heli adventures only housed in neutral-hued rooms with limestone walls, floor-to-ceiling windows and furniture made with locally sourced natural materials that act as an extension of the land that surrounds you.
Stay in one of the Sky Lodge's Two-bedroom Signature Suites offering 2,240-sq-ft of space over two levels. Each is named after Utah's birds: Eagle, Kestrel, Falcon, Red Tail and Osprey. The hotel also offers Earth Suites complete with a living-grass roof. For a unique experience, plan your trip around a full moon. The resort offers Full Moon Adventures where you can explore the ranch, mountain and streams via hiking, horseback riding, fishing or rafting lit by the full moon.
Siwash Lake Wilderness Resort
British Columbia, Canada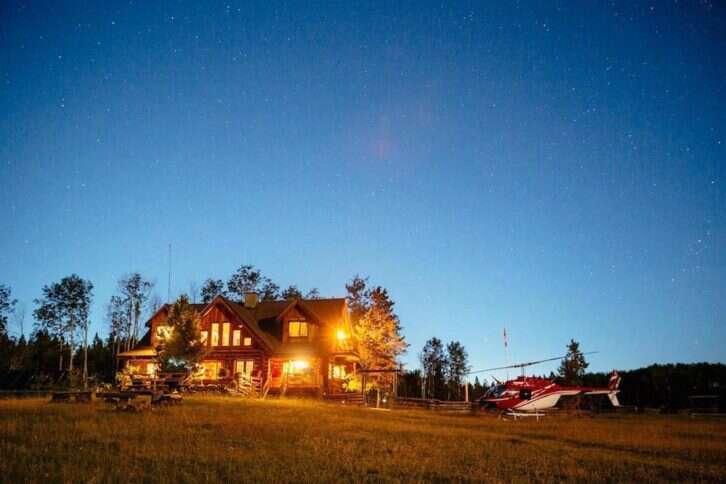 This resort might not be in the US, but it's special enough to be included on our list. Just a few hours north of the US-Canada border. Siwash Lake Wilderness Resort is a working dude ranch that pairs rustic style with five-star amenities. Described by the resort as an 'ultra-private hideaway,' you have access to 10,000 acres of untouched wilderness when staying here. The resort prides itself on its eco-adventures, as it aims to honor the land around it (and it is certified by Green Tourism Canada for its sustainable practices).
Explore the area on horseback – Siwash has one of the most regarded equine programs in Canada – or go fishing for rainbow trout with an expert guide. While here, glamp at Siwash Star Camp, reopening this summer after a 2017 forest fire. It's a fully furnished 17′ x 14′ tent with a wood-burning stove, solar lighting, stargazing platform with a telescope and a campfire pit. You'll have access to a private camp host who can set up nearly any adventure you can conjure up. While here, take advantage of the gourmet dining – the fresh ingredients and artful display is more Michelin than mountain.