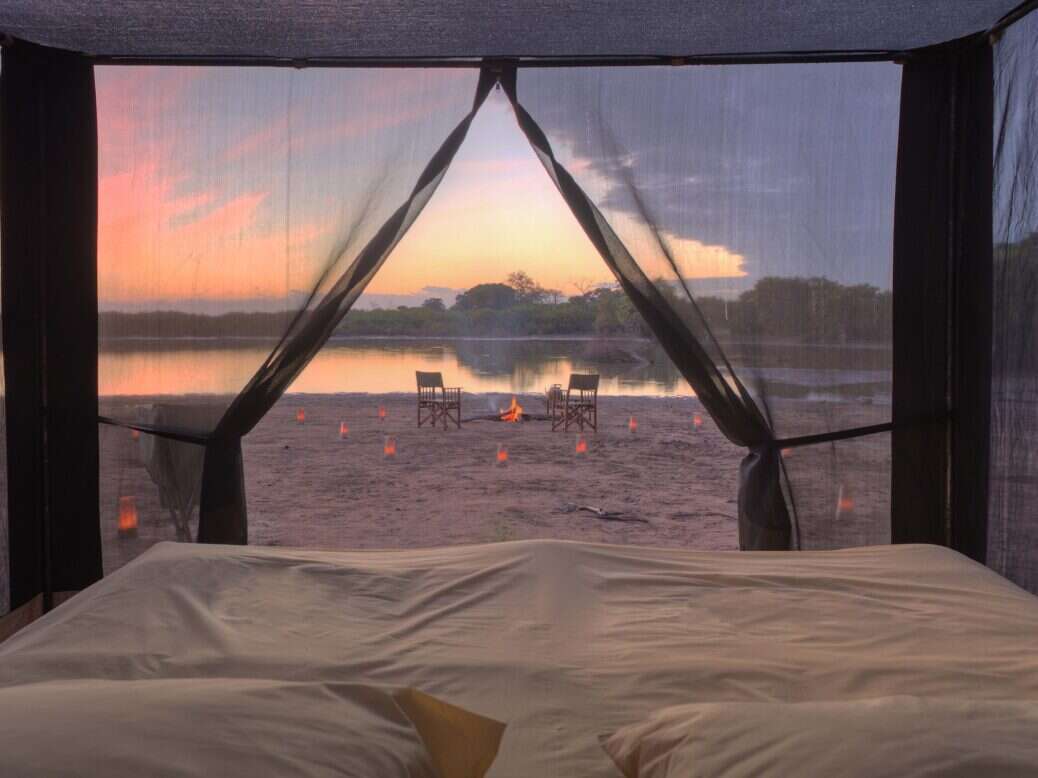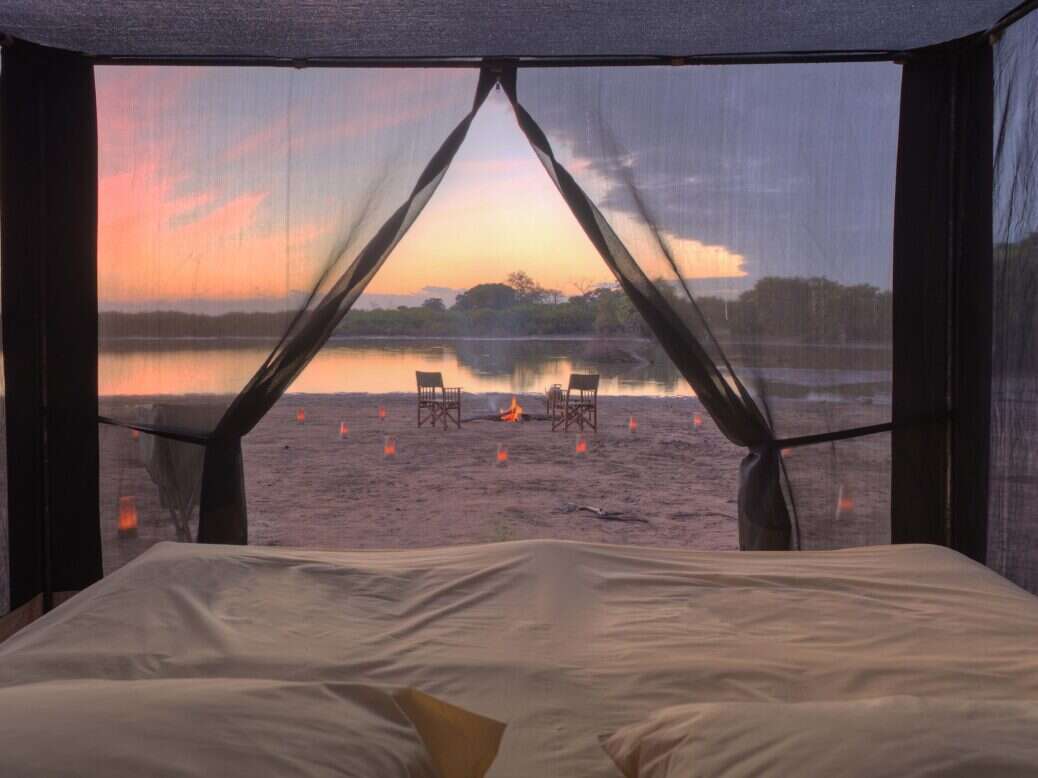 You'd be hard-pressed to stumble upon Usangu Expedition Camp by accident: Deep in the wild and uncharted Usangu Wetlands of Ruaha National Park in Southern Tanzania, this new camp consists of just four tents and sits on the banks of the Usangu Wetlands. It is the first tourism operation in the area; the next closest camp is some 60 miles away.
A safari for those who have ticked off all the big names, this new opening offers a deeply engaging, conservation-driven experience for guests seeking a hands-on adventure. The seasonal camp is slated to open this summer and only operates between June and November. The time of year that you visit is important: During these hot, dry months, the wetlands recede and the surrounding grasslands, which grow lush and verdant during the rainy season, dry out to reveal vast wide-open spaces – ideal for activities. And there are certainly plenty of those.
[See also: Elite Traveler Reveals Top Adventures 2022]
Stay
The camp is surrounded by the shade of a miombo woodland. There are four guest tents to choose from; all elegant in their simplicity, letting the landscape take center stage. Each spacious tent is positioned on a raised wooden deck with views of the wetlands and a shaded veranda. The front half of the tent is constructed from mesh fabric, meaning that you can lie in bed and enjoy the views over the wetlands while keeping an eye out for any wildlife that wanders past.
There is an en-suite bathroom complete with a traditional safari bucket shower (and yes, it's heated!). While the tents are fully immersed in the wild, you can take it up a notch by spending a night in one of the star cubes. The net tents are used for a magical sleep-out experience; gaze up at the immense night sky and twinkling stars, then watch the sunrise over the African bush. The camp's chef cooks the meals on an open fire, and they're enjoyed alfresco. Children aged 12 and older are welcome, but if the camp is booked on an exclusive use basis, then younger children can be accommodated.
Explore
With some 2,300 square miles of largely unexplored wilderness (around four times the size of Masai Mara), there is no shortage of activities. Each group of guests has a private vehicle that is open-sided, with removable canvas roofs and sides so you can get a clear, unobstructed view and snap photos. And battery life need not be a worry, as all vehicles have power points to charge devices, as well as a cooler for cold beer.
Each group also has a private guide, meaning you can take off for a game drive whenever you please. Naturally, the guide will recommend the optimal times for wildlife viewing — usually in the early morning, which is also the best time for a walking safari, when the temperatures are more comfortable and the wildlife more active. Keep a lookout for some of the Big Five: lion, leopard, elephant, and buffalo, as well as Masai giraffe, kudu, sable antelope and wild dog.
Night drives are when you're most likely to see the more bashful animals: African wildcat, owls, and bat-eared fox. As the camp is located in a wetland, boating safaris are a must-do. Depending on the time of year, you can navigate the narrow waterways or explore large swamps. Elephants are regular visitors in the shallower waters, and the area is home to an array of birdlife, including endemic species. You can also unwind in the natural hot springs.
[See also: The Most Immersive Safari Suites in the World]
Research
The Douglas Bell Eco Research Station is the central hub for all research and conservation efforts that take place within the Usangu Wetlands. Guests can join researchers at the station and participate in citizen science. Upon arriving at the camp, you'll receive a camera trap to set up that will capture any visiting wildlife. These images will then be uploaded to the Predator ID Hub at the Research Station for identification and tracking, and to compare against the existing database.
Researchers will work with you to analyze identifying features and determine if this is a new specimen or an existing one. This tracking of information helps to plot territories and means that you will be actively contributing to the ongoing research. You can also join researchers for a half-day of tracking collared animals, using radio telemetry to locate them.
For an additional donation, you can assist the research team on a wildlife collaring expedition where you'll track, dart and collar lion, leopard, elephant and wild dog (which are yet to be collared).
From $700 per night. Contact Katie Fewkes, sales director, enquiries@asiliaafrica.com, +27 214 180 468.
[See also: The Most Anticipated Restaurant Openings of 2022]
This article appears in the 06 Jun 2022 issue of the New Statesman, Summer 2022