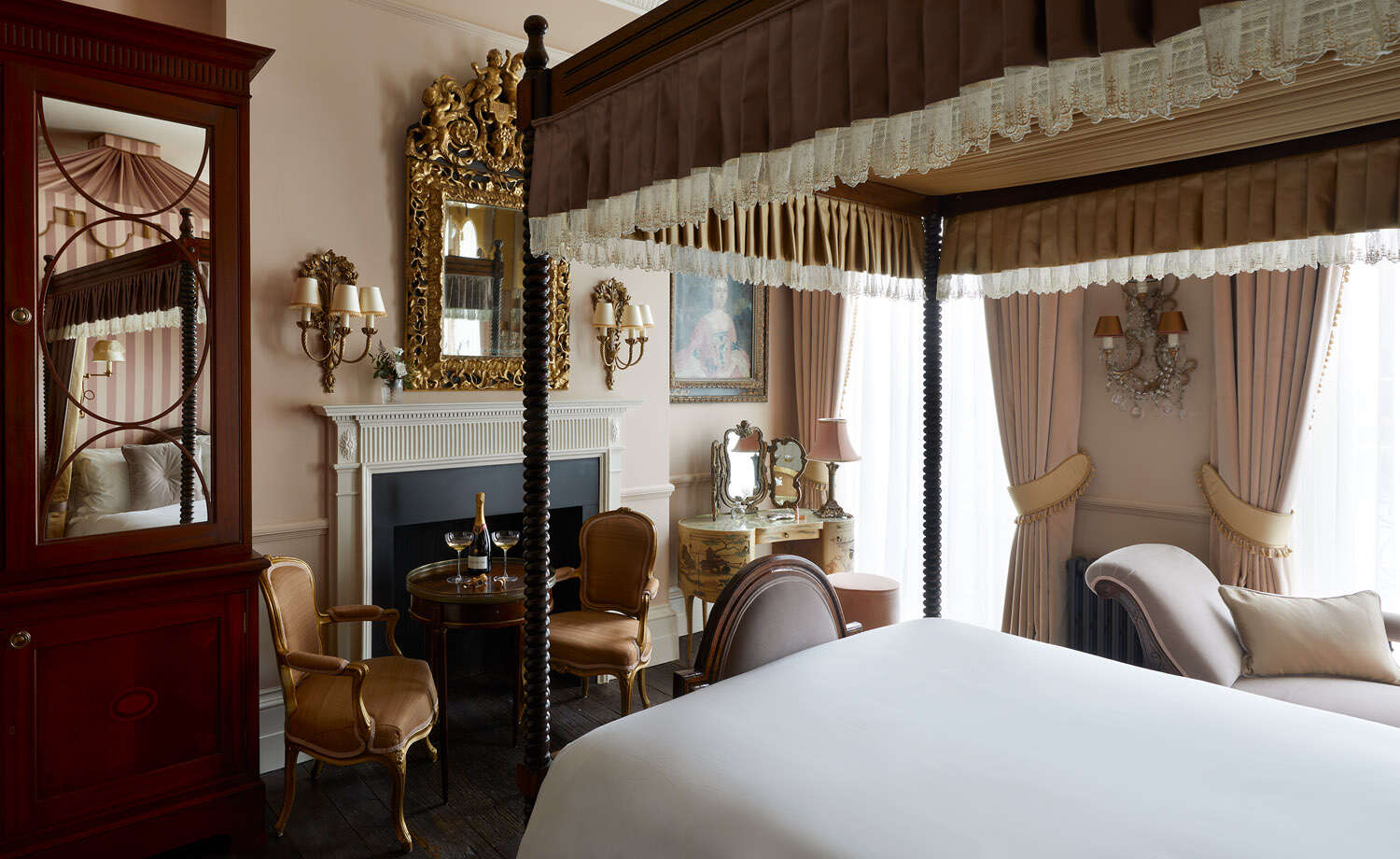 Situated on Upper Berkeley Street in London's famous Marylebone, Henry's Townhouse is a charming Grade II listed property that has recently opened as a private rental home. The setup of the property is a unique take on the current luxury rental trend: each stay is entirely bespoke to the guest or party staying, with everything from room layouts to cuisine options able to change depending on guest requirements.
It would be quite easy to overlook Henry's – which blends in with its Georgian neighbors – if you didn't notice the statement front door, the fresh coat of paint or the small brass plaque next to the door. This subtlety does not act against Henry's Townhouse in the slightest; in fact, it's preferable, allowing guests to come and go from the property without fanfare and remain anonymous if they wish. The relatively normal façade of the building also hides the true magic of the house: what's inside. As soon as you've stepped into this new home-away-from-home, Henry's reveals itself in all its 18th century magnificence.
Design
The design of Henry's Townhouse is focused around the central theme of the property's connection to that famous 18th century family, the Austens (most notable of which is writer Jane Austen). It's reported that Jane's favorite brother, Henry, lived here for a time – and Jane is said to have written parts of her famous works here while visiting her brother.
The owners of Henry's Townhouse, Steven and Jane Collins, were very hands-on with the design of the property. They collaborated closely with Russell Sage Studio to bring the townhouse from derelict B&B up to its current glorious standard. The result of the 18-month long project is an impeccable top-to-bottom restoration. The townhouse boasts many of its original elements, from the winding staircase and statement façade to the cornicing and changing ceiling heights.
Even the floorboards were carefully labeled as they were removed, to be delicately restored and put back into place. Much of the house's beauty comes from its age and history – in some rooms, it's even possible to see the slope of the floor and imagine the Austin family walking through the same spot you're standing in.
Now, Henry's Townhouse is full of rich color and texture everywhere you look, which creates the feeling of 18th century grandeur without being overbearing. In fact, the house finds the perfect balance of being opulent and homely at the same time. The Collins' passion for art and antiques is also on full display throughout the house, from the many artworks that line the walls – all from Steven's private collection – to pieces of antique furniture that are family heirlooms previously belonging to Jane Collins' grandmothers.
The historic design style does not take away from the house's practicality, however. Depending on the nature of your stay, the Henry's Townhouse team is able to transform any room as requested: bedrooms can become home offices and the pantry dining room becomes a board meeting room. Whether you're staying with family and friends or for business, the beauty of Henry's is that it can be adapted to any need.
Sleep
Able to sleep up to 14 guests, Henry's Townhouse offers seven bedrooms across four floors, including two twin rooms. Each of the bedrooms is individual in its character and design, having been named after and inspired by one of Jane Austen's relatives.
On the ground level is Henry, the bedroom of the townhouse's namesake. The incredible four-poster bed dominates much of the room and the color palette is dark, featuring rich burgundy, blacks and browns, reminiscent of a gentlemen's club. In contrast, at the top of the house is Phylly. Named after Austen's aunt Philadelphia, Phylly is a delightful room with a warm color palette and several pieces of 300-year-old furniture.
Each bedroom also has its own en-suite bathroom, with several featuring roll-top baths. Eliza is particularly special in this regard; known as the bridal suite, this room pays homage to Austen's socialite sister-in-law (Henry's wife) and has its own indoor tent. The pink and white silk framed structure houses the bathroom, complete with an opaque glass window and with mother of Pearl tiling. The tent – which was not allowed to touch the ceiling – is a truly unique way around the confines of modernizing a Grade II listed building.
While they might look like they've come straight out of the 18th century, every bedroom includes a range of modern amenities, from flat-screen TVs and Nespresso machines to air conditioning and Dyson hairdryers. All of these elements have been cleverly disguised, so they don't detract from the design, found hidden behind wooden panels or in elegant cupboards in each of the bedrooms. Whichever room you choose, expect an effortless night's sleep in a large Egyptian cotton bed, surrounded by 18th-century opulence.
Dine
[See also: The Best Restaurants in London]
One of the other special elements of staying at Henry's is the flexible nature of its cuisine options. The house works with a collection of catering companies and chefs, tailoring dining to guest requests depending on how often guests would like to eat in, the formality of the occasion, the number of guests in the party and even the type of cuisine they want to eat. Our chef for dinner and breakfast was George Parkes, of Holy Mackerel, who created a beautiful and thoughtful menu of courses using local, in-season British ingredients.
Meals are served in the stunning Monsieur Halavant's Pantry, a roomy space on the townhouse's lower ground floor. Set below street level, the pantry is perfect for private meetings and events, with light spilling through the large windows throughout the day. Depending on the nature of the event taking place in the room, everything in the pantry can be on show – for a more casual feel – or carefully hidden away.  Apart from the stunning Aga, that is, which acts as a statement piece in the room and makes you feel as if you've been transported from London to a sprawling country house.
Relax
As well as its seven bedrooms – two of which, James and Phylly, come with lounge areas – Henry's Townhouse has several spaces where you can kick back and relax. It would be easy to while away a whole weekend here without stepping outside the townhouse's polished black front door. Sunny mornings can be spent on the delightful second-floor terrace, Henry's hidden gem of outdoor space (that you're highly unlikely to find anywhere else in Marylebone).
Rainy days will make the Carriage Snug more appealing. A small well-appointed space, the Snug is perfect for curling up with a good book – there are first edition Jane Austen's in the cupboard if you forget – or losing a few hours playing board games. The largest lounge space is Jane's Sitting Room, found on the ground floor. By day, it the perfect place for watching movies or having a spot of afternoon tea; by night, with the chandelier bathing the room in an ambient glow, the room is ideal for pre-dinner canapes.
Explore
Henry's Townhouse is located in a prime spot in London's Marylebone with an array of shops, restaurants and other sights – including the West End – on its doorstep. Hyde Park is down the road if you fancy an afternoon stroll, while the bustling streets of Mayfair and Soho are only a short taxi ride away.
House manager Ann Grimes, a brilliant host full of stories and easy-going charm, lives in-house and is available for any recommendations or other requests you might have. Equally, if you prefer your own staff to join you this can be arranged.
Those staying at Henry's Townhouse for longer stretches will be pleased to know that the rest of the UK is in easy reach for exploration. The property is moments away from Paddington station, with direct links to southeast England (from Bristol and Bath through to Cornwall), Wales and beyond, as well as Heathrow airport.