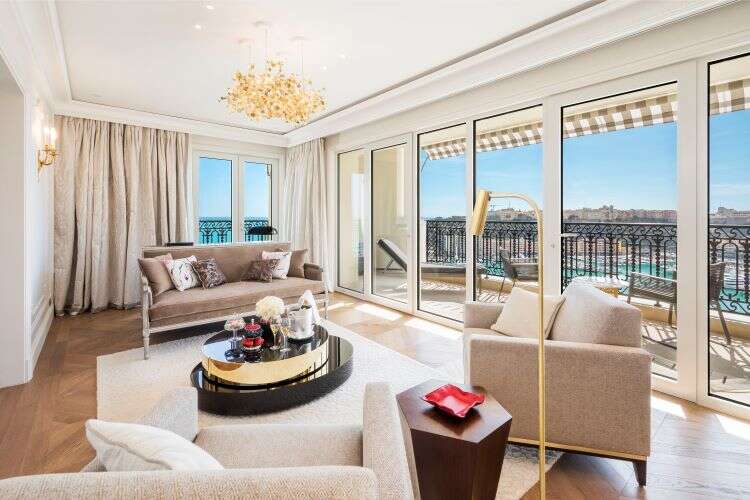 When you think of a vacation in Monaco, what springs to mind? Perhaps its superyachts? Maybe it's the opulence of Hotel de Paris or the historic Casino de Monte-Carlo? More likely than not, it isn't sustainability. 
This, however, could be set to change with Monaco undergoing somewhat of a green revolution. Establishing the Prince Albert II of Monaco Foundation in 2006, the Crown Prince committed to protecting the environment and promoting sustainable development at both a local and international level. With that came a pledge to cut Monaco's carbon emissions in half by 2030 (compared to 1990 levels) and carbon neutrality by 2050. 
Crucial in making Prince Albert's green ambitions a reality in the three-mile-long European nation is Monte-Carlo Société des Bains de Mer (SBM). The 160-year-old institution owns a large proportion of Monaco's most legendary hotels and Michelin star restaurants, not to mention both casinos, bars, events venues and luxury residences. 
Establishing its first Sustainable Development Charter 15 years ago, SBM has been meticulously transforming its properties and its practices with the planet in mind. From the sustainable produce it serves in its 33 restaurants to the Green Globe Certification of its four hotels and sustainable BREEAM-accredited construction projects —SBM, alongside Monaco's tourist board, has gone all-in with pioneering a new greener brand of luxury.  
[See also: A Luxury Weekend Guide to Santiago, Chile]
With the principality's sustainable evolution in mind, Elite Traveler has curated a luxury vacation guide to Monaco featuring some of its most sustainable (and luxurious) hotels, restaurants and destinations that deliver that unique variety of Monte-Carlo magic. And some of the locations may just surprise you.
Stay 
Hotel de Paris
Founded in 1863, Hotel de Paris is Monaco's most iconic hotel. In 2019 the Grande Dame completed a four-year $280m BREEAM-standard renovation. This included the makeover of its famed Princess Grace Suite and the addition of the Prince Rainier III Suite. The new 5,650-sq-ft suite is the hotel's biggest and boasts a 1,455-sq-ft, split-level terrace with an enormous infinity pool overlooking Place du Casino. 
Hotel Hermitage 
Elegant Hotel Hermitage stands handsomely next to Hotel de Paris with sparkling views of the Mediterranean and The Rock. Overflowing with Belle Epoque style, the Green Globe certified hotel is listed as a historic monument (its exquisite Winter Garden Dome designed by Gustave Eiffel is a must-see.) Neoclassical architecture blends seamlessly with 21st-century luxury in the top floor Prince Diamond Suite. Showcasing impressive views of the port, the sprawling three-bedroom three-terrace sanctuary can be extended to over 3,350-sq-ft and accommodate up to nine people. 
Monte Carlo-Beach 
If you're looking for a more laid-back Monaco vacation away from the crowds of Place du Casino, then SBM's Monte Carlo Beach hotel is for you. The Green Globe Gold certified seasonal retreat is open from mid-March to September and has made it its mission to care for its natural surroundings. Positioned in the flourishing natural environment, it stands between its own pine forest (which has been certified as a bird protection refuge) and its own private beach (which features a protected biodiversity reef dyke 100m from the shore). With interiors reimagined by designer India Mahdavi, the hotel's 40 rooms and suites are each unique and draw inspiration from the Mediterranean. The Diamond Sunshine Suite is the hotel's most luxurious and its 1,070-sq-ft roof terrace with jacuzzi is the perfect place to relax in the Riviera sun.
Dine 
Blue Bay 
At the helm of Michelin-starred Blue Bay at the Monte-Carlo Bay Hotel, you will find Martinique-born chef Marcel Ravin. The talented chef describes his cookery as a "mix of cultures", artfully fusing Caribbean flavors with the abundant produce from the Côte d'Azur. The hotel features a 4,300-sq-ft organic fruit and vegetable garden, along with a dedicated plot at nearby Le Jardin des Antipodes in Menton. It is here where Ravin sources all his fresh fruit and veg for Blue Bay, with the chef telling Elite Traveler: "The vegetable garden forms the center of my cooking." 
Elsa
In 2014, Elsa became the world's first 100% organic restaurant to earn a Michelin star. Located overlooking the riviera at the Monte-Carlo Beach hotel, you will only be able to sample the seasonal restaurant's delights during the spring and summer months, when the local Mediterranean produce is at its most sublime. Must-try dishes at the Ecocert-accredited restaurant include Squash and mushroom ravioli with herb-infused consommé and Mediterranean seabass, candied eggplant and harissa.
Pavyllon Monte-Carlo 
Famed French chef Yannick Alleno arrived on the Riviera last April to temporarily take the lead at Hotel Hermitage's Vistamar restaurant. For the occasion, the restaurant was renamed Yannick Alleno à l'Hôtel Hermitage. Now, Alleno has decided to stay and in April 2022 he will reopen the restaurant as Pavyllon Monte-Carlo. Serving cuisine inspired by the colors and flavors of the South of France, the new restaurant will remain committed to the previously signed Mr. Goodfish charter which ensures the protection of endangered fish and sustainable fishing practices.
Explore 
Oceanographic Museum
Opened over 100 years ago by the pioneering Prince Albert I — a keen oceanographer and explorer—  Monaco's Oceanographic Museum is well worth the visit on your vacation. Housed in a palatial building rising up from the edge of The Rock, the interactive museum is run by Institut Océanographique, a sovereign-led non-profit. It features cutting-edge immersive exhibitions and an impressive collection of historical artifacts — all dedicated to helping us understand our oceans and draw attention to climate change. Children and adults will delight as they journey through the museum's aquariums before visiting the turtle rescue center. The center features a clinic and open-air rehabilitation pond and provides treatment to injured sea turtles before releasing them back into the wild.  
One Monte-Carlo 
A vacation in Monaco isn't complete without a shopping trip. For your retail fix head to One Monte-Carlo, just off Place du Casino. The new development is not only architecturally stunning, it is also BREEAM certified. Home to 24 boutiques from the world's best luxury brands (from Louis Vuitton and Cartier to Chanel and Christian Dior) the destination offers some of the best high-end shopping in Europe. Of course, all that shopping builds up an appetite and Marcel Ravin's casual eatery Mada One provides the perfect pit-stop. Once you tire of the shops, head over to the newly opened Hauser and Wirth art gallery, which hosts a diverse array of exhibitions from international artisits. 
Casino de Monte-Carlo 
Okay, so casinos don't exactly scream sustainability but within the historic walls of Casino de Monte-Carlo hide some pretty impressive sustainable secrets. The casino, like the rest of SBM's buildings, gets its energy from renewable sources. This includes the air conditioning, which is in fact powered by geothermal sea loops just off Monaco's coast which convert seawater into electricity. The casino's games tables are all crafted locally from sustainable wood with upholstery created from natural wools and dyes. Currently undergoing a renovation, SBM has set its sights on BREEAM certification, which would make Casino de Monte-Carlo the first in the world to achieve the prestigious green accolade. 
The Gardens
At first glance, Monaco can seem a bit like a concrete metropolis but the principality is known for its array of gardens. Whether in search of zen at the eco-certified Japanese Gardens or family fun at the Zoological Gardens (home to 50 species of donated and abandoned animals), there is something for everyone. The Princess Grace Rose Garden is the most famous of them all. Located within Fontvieille Park, the tranquil space features 315 varieties of rosebush and was conceived by Prince Rainier III in memory of his beloved wife. 
Relax 
Thermes Marins Monte-Carlo
A temple of wellness in the principality since 1895, Green Globe-certified Thermes Marins is still Monaco's go-to destination for health and wellbeing (but you can also sip champagne poolside should the mood take you). If you're vacationing at Monaco's Hotel Hermitage or Hotel de Paris, you can enjoy direct access but if not, day passes are available. With an enviable position perched overlooking the Mediterranean, towering glass windows illuminate the enormous indoor seawater pool. For those in need of some TLC, an expert team of therapists are on hand to provide everything from holistic massage to cryotherapy. Tuck into a nutritious lunch on the terrace of the onsite L'Hirondelle restaurant in the comfort of your toweling robe, before grabbing a lounger on the spa's harbor-facing solarium.