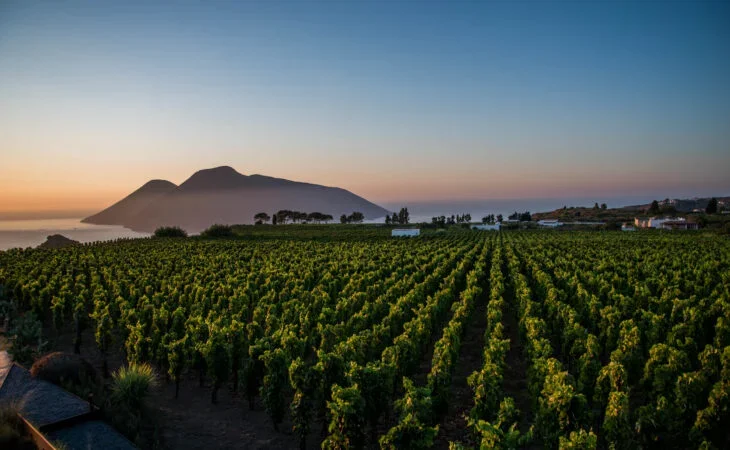 Named after the mythical god of the wind, the seven Aeolian islands off Sicily are a remote destination full of wild, rugged adventure. The lack of mass flights means the islands are blissfully peaceful, a time capsule of slow-paced Italian summer holidays that belong in an Elena Ferrante novel. To write an Aeolian Islands guide is not a matter of deciding what to include, but how to possibly encapsulate it all.
To get here, take a flight to Palermo or Catania, a taxi or train to Milazzo, and then a hydrofoil ferry out into the deep blue abyss of the Aeolians. Otherwise, five of the seven islands have helipads, with helicopter transfers available from Sicily and the Amalfi Coast. However, you decide to travel, daily life slips further away with each leg of the journey, until the striking volcanic islands loom on the horizon and time slows down a notch.
Of the islands, Salina is the most verdant and picturesque, with bougainvillea climbing against the whitewashed houses and villages. The wonder you feel stepping onto the island's ochre volcanic landscape, sprinkled with cacti and vibrant purple flowering caper plants, turns to delight as you discover boutique hotels with infinity pools and Michelin-starred restaurants.
Panarea meanwhile is the white-hot party destination, favored by Italian aristocrats, rock stars and designers – including Beyonce and Jay Z – in part because it's so hard to get to without your own means of transport. Aside from a handful of boho cocktail bars, there are shipwrecks and the sunken Roman settlement of Basiluzzo for diving, and various lava beaches to explore. The island is car-free, so hire a boat and anchor off Cala Junco beach for a swim.
[See also: A Luxury Guide to a Long Weekend in Malta]
In contrast to Panarea's white beaches, Stromboli and Vulcano are still active volcanos, the beaches an other-worldly black color. Stromboli has bubbled away almost constantly throughout history, a natural firework display that can be watched from the deck of your yacht. In Vulcano meanwhile, mineral-rich mud baths and hot springs at Faraglione della Fabbrica add another dimension to your holiday.
To avoid island fever, Lipari — the largest island — has a decent-sized town with restaurants and boutiques, as well as Malvasia vineyards and organic caper farms to visit. Lipari has been inhabited for at least 6,000 years, and relics from Neolithic, Bronze and Hellenistic ages remain. At the north of the island, the unique white pumice beach and luminescent aquamarine water of Spiaggia Bianca di Pomici is a destination in its own right.
Last but not least are Filicudi and Alicudi, the wildest and most remote of all the islands. With little to do other than walking through ancient vines and olive groves and swimming in the crystalline waters, these are places to hole up without outside distractions and pen that novel you've always wanted to write. In Filicudi, take a boat past La Canna rock and the Blue Grotto, home to monk seals and turtles.
What to do in the Aeolian Islands
Wine tasting at Tenuta di Castellaro, Lipari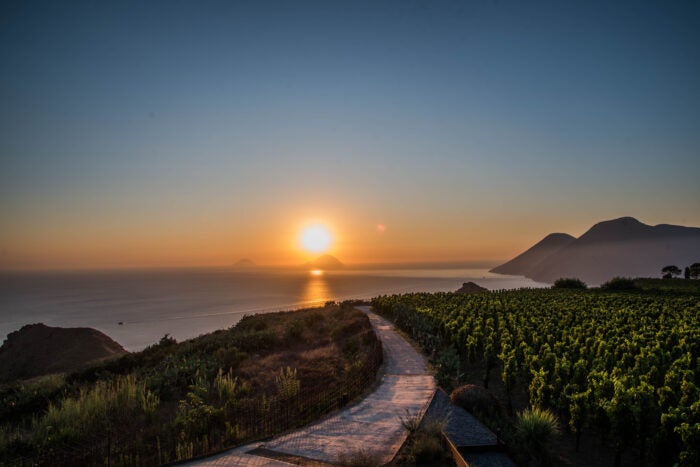 For a change from the Aeolian's myriad beachside activities, head into the hills of Lipari for a glimpse into the island's historic wine-making tradition. Beyond the classic Malvasia, the Corinto Nero selection is proof that excellent red wines can be made on these volcanic islands too (from vines that have grown here since Hellenic times, no less). Oenophiles can take a private guided tour of the 20-hectare vineyard and bio-energetic winery, a crash course in agronomic farming principles. Meanwhile, those of a more romantic disposition can book a vineyard picnic for two, or soak up the atmosphere with a sunset wine tasting, paired with some traditional specialties and the farm's own caperberries.
Tour to Stromboli at night
A number of locally-run businesses offer night trips to Stromboli, where on a clear night you'll see a fantastic display of lava spluttering from the top of the still-active volcano. Walking tours are prohibited since it blew its top, but the views from the water at night are equally spectacular. Local Sergio runs bespoke private boat trips from all the islands to Stromboli, leaving in time for sunset. If you do plan to stay on tiny Stromboli, the best beaches, restaurants and shops are found in Ficogrande and Piscità. Ginostra has the better harbor, but is on the far side of the island and can only be reached by boat.
Snorkeling and turtle watching in Filicudi
Putting your money back into local conservation efforts while experiencing a whole new side to the islands, Filicudi Wildlife Conservation runs regular boat trips from Filicudi. Some of these trips take small groups to remote spots on Alicudi, the ancient settlements of Seccagni, or the marine conservation park of Scoglio della Fortuna, where lucky visitors will have the chance to see and even swim near turtles and dolphins. If you don't have time for a boat trip, it's still worth popping into the turtle sanctuary in Pecorini a Mare, where locals and international volunteers rescue and care for turtles who've been caught up in fishing nets.
Lido Gharb Beach Club in Salina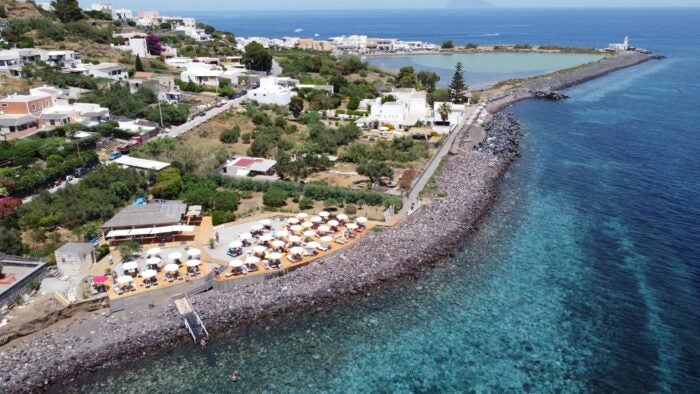 As adventurous as scrambling over rocky outcrops and into secluded coves is, sometimes a bit of Italian dolce far niente luxury is in order. The spot for this is Lido Gharb beach club on Salina, where vintage red parasols and stylish deckchairs are placed on a terrace overlooking the deep blue waters perfect for swimming. Lunch is a simple affair, Aeolian-style salads served to your sun lounger with cocktails, showers, and gentle music playing in the background.
Cocktail Hour at Hotel Raya, Panarea
The star-studded party scene on Panarea congregates each night at Hotel Raya, which for the last 50 years has been the hub of this boho-chic island community. While the hotel itself is a little dated, the terrace is an unbeatable spot to watch the sunset, accompanied by ice-cold champagne and well-stirred negronis. Later in the evening, things go up a gear as a DJ set gets the party going at the hotel's own open-air nightclub, the only one on the island. During the day, it's worth popping into Boutique Raya too for block-print kaftans and beach accessories galore.
Where to Stay
Capofaro, Salina
Nestled at the base of Salina's two long-extinct volcanos, Capofaro is the top choice for a few nights of total escapism on what's widely accepted to be the prettiest Aeolian island. From the first refreshing lemonade on arrival to the last bottle of Tasca d'Almerita Malvasia wine picked up in the tiny boutique before leaving, everything is understated yet perfectly executed. Of the 26 bedrooms, Room 21 stands out, its own cottage nestled within the 6-acre organic vineyards, offering prime sunset views from the spacious veranda. Days here consist of early morning yoga in the dappled light of the orchard, followed by a breakfast of still-warm bread and pastries, ricotta made that morning and fruit picked just a few metres away, as well as the usual lavish buffet options. In the afternoon, enjoy a wine tasting in the vineyards, followed by a leisurely swim in the green-blue pool.
From $365 per night. Contact Antonella Puglisi, general manager, a.puglisi@capofaro.it, +39 090 98 44 330, capofaro.it
Hotel Signum, Salina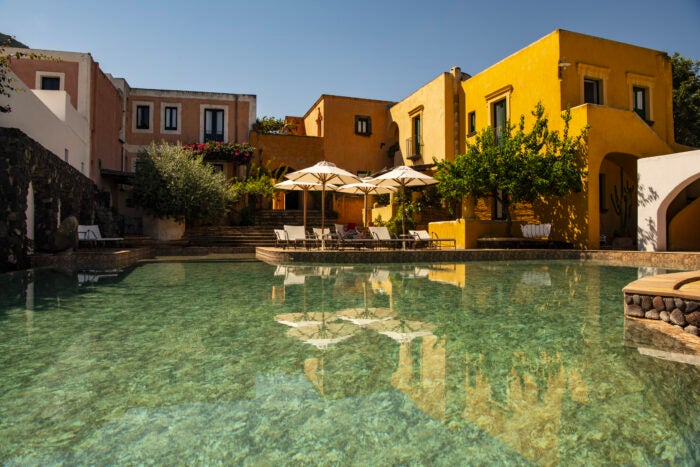 Despite its luxurious appeal, Signum is a family-run affair through and through. Founded by Clara Rametta and Michele Caruso in the eighties, their daughter Martina Caruso now heads up the restaurant (earning herself a Michelin star aged just 26), while her brother Luca is Maître D and Hotel Manager. The gastronomy is one of the island's main appeals, and her work with local fisherman and foragers to devise a local and strictly seasonal menu has earned her a coveted Michelin Green Star this year. Star dishes include Bagna cauda with raw sea urchins, and her favourite smoked mackerel, pomegranate, caper leaves and mint. The spa – the most glamorous in the Aeolians – uses Signum's own organic essential oils for alternative massages with things like sea salt, honey and oil from the island. Opt for Villa Suite number 26, which has a free-standing bathtub, living room and large private terrace looking out onto Stromboli and Panarea.
From $250 per night. Contact Luca Caruso, hotel manager, info@hotelsignum.it, +39 090 984 4222, hotelsignum.it
Tenuta Frantoio, Panarea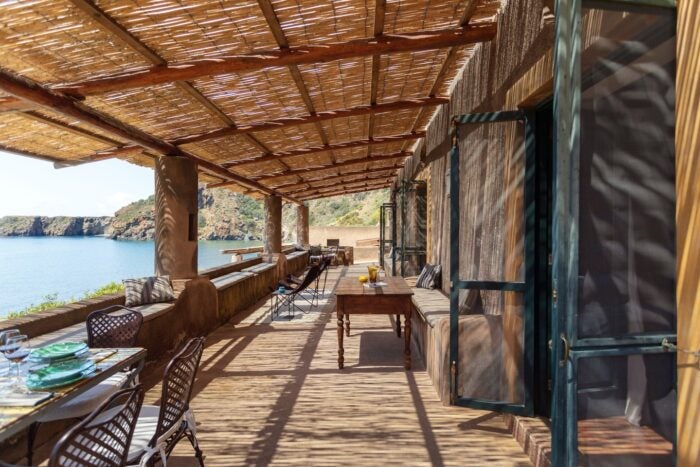 New on the market for 2022, this charmingly restored villa just meters from Cala Zimmari beach makes for a relaxing and private alternative to Panarea's hotels. The property was once an olive and wine pressf, and remnants of its history are woven into the chic interiors. It sleeps five guests across three ensuite bedrooms, with a huge wrap-around terrace perfect for lazy afternoon siestas and lunches looking out to sea. Panarea is the trendiest of the seven Aeolian islands, but it's also unapologetically laid-back: there are no cars, no dress codes and no streetlights.
From $6,322 per week. Contact Antoine Levy, sales & marketing director, info@thethinkingtraveller.com, +442081319261, thethinkingtraveller.com
Therasia Resort and Spa, Vulcano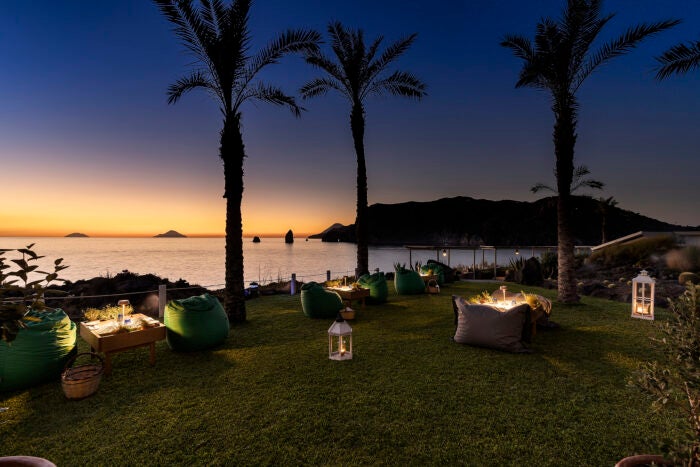 A Leading Hotel in the World, this five-star destination is more about pure luxe than pared back wilderness – you've got two infinity pools, four restaurants, a wellness and yoga center, and direct access to the hotel's private beach. It's also the only place in the archipelago where you can see all seven islands. The top room is the newly renovated Eolie Suite, with a living room and its own mini hydro-massage pool on the spacious sea-facing terrace. Michelin-starred Il Cappero is a must, with native Ischian chef Giuseppe Biuso bringing inspiration from one Italian island to another. I Tenerumi, the first purely vegetarian restaurant in the islands, also makes for a laid-back evening of mezze-style feasting, seated on cushions overlooking the water.
From $300 per night. Contact Pierpaolo Tiretti, general manager, info@therasiaresort.it, +39 090 9852555, therasiaresort.it
Restaurants in the Aeolian Islands
Capofaro, Salina
At the heart of the Capofaro estate, their produce-led fine dining restaurant is led by Sicilian-born Executive Chef Gabriele Camiolo. Overlooking the sea far below on one side and the steeply sloping vineyards on the other, Camiolo is fastidious about paying tribute to what's around him. At dinner, 70% of the food served comes from their own allotments and gardens, with the rest sustainably sourced around Sicily. Star dishes include a traditional and impossibly morish linguini with pistachio, bottarga and ginger, an Aeolian-style red prawn crudo with garden herbs, and lamb with grilled watermelon. There's a heavy emphasis on the wine, with world class Locanda & Malvasia wines from Tasca d'Almerita from their six estates across Sicily.
Ristorante Da Pina, Panarea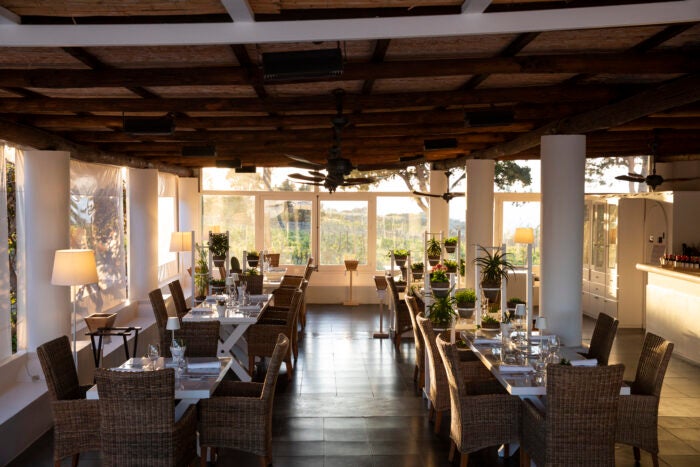 Despite Panarea's A-List appearance, guests are welcomed immediately as old friends at this simple yet elegant seafood restaurant. Sheltered under grape vines, the little Grecian courtyard is a wonderful spot for a long, languid lunch. Sample Sicilian specialities like caponata, pane cunzato and ricotta salata, as well as Mediterranean summer classics such as spaghetti frutti di mare, set among terracotta tiles and bougainvillea-clad walls. Don't leave without a lemon sorbet for dessert.
La Sirena, Filicudi
An exercise in laid-back island charm, the wooden fans whir slowly as guests return night after night to be delighted by fresh seafood and local Filicudian delights. Fancy and formal this is not. Just meters from the pebbled beach in the fishing village of Pecorini a Mare, locals and holidaymakers wander up barefoot from swimming to indulge in coupes of fresh mulberry granita with brioche. In the evening, large tables of friends gather for platters of fried calamari, homemade pasta and freshly caught lobster, washed down with Malvasia wine from neighboring islands. If you're sailing or renting a villa, it's worth popping into La Sirena for a breakfast pastry too.
[See also: Caymankind: Where to Discover the Real Cayman Islands]
This article appears in the 06 Mar 2023 issue of the New Statesman, Spring 2023