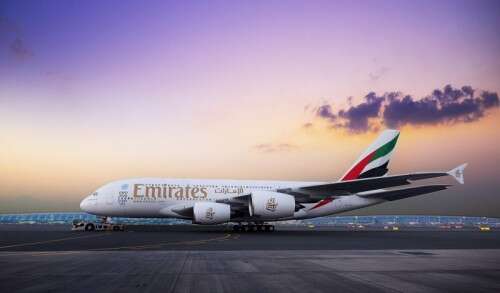 With over 250 aircraft in its fleet covering a total of 157 destinations (including 12 US airports), Emirates is an unchallenged giant in the world of commercial aviation – but, for the ultimate Emirates experience, first class is the only option.
Many frequent fliers regard Emirates' top ticket seats as setting the benchmark in first class aviation thanks to its attentive service, comfortable cabins and premium entertainment. The Dubai-based airline operates its first class seating across most routes on its fleet of Boeing 777s and A380s (with the exception of the Boeing 777-200LRs which only offers economy and business class), with slightly different on-flight experiences available on each.
Unfortunately, the aircraft used will depend solely on availability and your designated route; unlike private jet journeys, commercial flights don't offer the luxury of a choice of plane. However, with Emirates you can all but guarantee an impeccable standard of service and comfort, no matter which aircraft you are aboard. Discover the best perks below.
Airport Lounges
The benefits of flying Emirates first class extend far further than just the in-flight experience, with its worldwide lounges available to set the standard from the moment you arrive at the airport. Emirates' flagship airport lounge is at its Dubai base, where passengers will find a dedicated first class section within the larger business class lounge, which is so expansive that it is essentially a terminal in itself.
In the lounge you will find a range of amenities including showers complete with luxury toiletries, towels and hairdryers, boutique duty-free shops, a quiet area for a rest between nighttime flights, a dedicated cigar bar and a business center for making those all-important pre-flight calls. First class passengers are even privy to a complimentary spa treatment as they await their onward journey.
In true Emirates style, the food and drink offering in the airline's lounges is also second to none, with each area of the Dubai lounge offering a buffet as well as a dedicated dining room with table-service and an a la carte menu for a sit-down meal. Guests can also enjoy a range of premium spirits and wines as they wait for their flight, with Emirates dipping into its in-lounge Le Clos Wine Cellar to provide the best vintages.
Although Dubai is undoubtedly Emirates' largest and best equipped first class lounge, it also offers exclusive airport lounges at several other frequented destinations across the world including New York (JFK), Boston (BOS) and Los Angeles (LAX).
[See also: Top Private Jet Tips for First-time Fliers]
In-flight
Emirates' first class configuration will vary depending on which route you're traveling with certain aircraft only serving specific routes. However, you can expect a similar first class in-flight experience no matter where you're headed.
Emirates' A380 aircraft operate with 1-2-1 layout in the first class portion, with a total of 14 private suites. While this does mean every first class passenger has aisle access, not everyone will enjoy the pleasure of a window. The first class configuration on board the Boeing 777 is 1-1-1 with six suites, meaning that once again there is competition for a window seat. However, to combat this issue, Emirates has installed virtual windows that project real-time images of the outside view.
A specific benefit of the Emirates A380 first class experience is the onboard shower spa – a luxury that the Boeing 777 does not offer. Each guest is given a generous slot to use the shower, allowing them to arrive at their destination refreshed.
[See also: The Benefits of Flying American Airlines First Class]
Both aircraft offer optimum onboard comfort with reclining seats which can be transformed into beds, first class slippers, blankets and pillows, as well as a selection of luxury toiletries. For the Boeing 777 first class suites, Emirates worked closely with Mercedes to replicate the soft leather seats found in the Mercedes-Benz S Class.
Each first class suite also benefits from its own temperature and lighting gauge, allowing you to set the mood to suit your exact tastes.
In-flight entertainment is another key perk for which Emirates is famed, with its renowned ICE media center offering the latest movie releases, box set TV shows, sports and more. When traveling first class, all of these can be enjoyed from your personal widescreen, which when the doors to your suite are closed becomes a mini private cinema. To elevate the experience even further, Emirates provides each guest with a pair of Bowers & Wilkins E1 headphones for superior sound quality.
Food and Drink
In-flight food and drink is where Emirates really shines, with the culinary team working closely with world-renowned chefs and suppliers. The gourmet offering is inspired by the flight destination, with local produce taking the center stage. For example, if you're flying from to the UK during the summer months, you might find strawberry pastries on the menu, whereas if you're headed to Australia you can expect to enjoy Australian Angus beef.
The drinks offering is of an equally high standard, with Dom Perignon 2008 served as standard to Emirates first class passengers – absolutely no corners are being cut here. The full wine menu differs from flight to flight but expect to be presented with a succinct list of impressive vintages that could rival that of the world's finest restaurants, as well as a selection of cocktails, beers and premium spirits. Soft drinks, teas and coffees are also in plentiful supply.
Guests are invited to order from the extensive food and drink menu as and when they please, with the option to enjoy either in the privacy of their suite or in the company of other passengers in the exclusive onboard lounge.
[See also: The Best First Class Airlines in the World]
Service
Emirates prides itself on the impeccable level of service provided by its staff across all of its seating classes both on the ground and in the air, but naturally, first class is a cut above the rest.
The experience begins long before your flight departs, with Emirates offering a complimentary chauffeur service to and from the airport for all first class passengers. Once you arrive at the airport there isn't even a whisper of the long queues and crowded spaces that economy passengers are subject to, as first class guests are privy to priority boarding directly from the private lounge and designated Emirates check-in points.
Once on the aircraft, the cabin crew will show you around your cabin and ensure you have settled in for your flight. The onboard service can be as social or as private as you please; if you want to fly in peace simply shut the doors to your suite and relax – you can even order food and drink via video call to avoid any interaction. However, for those wanting a more sociable flight, the Emirates onboard team are known for their friendly yet courteous manner.
Emirates' skilled cabin crew are always on hand to help, whether you want your reclining seat made up into a bed or to get a wine recommendation. The team benefits from extensive training to ensure a comfortable, enjoyable and of course safe flight.