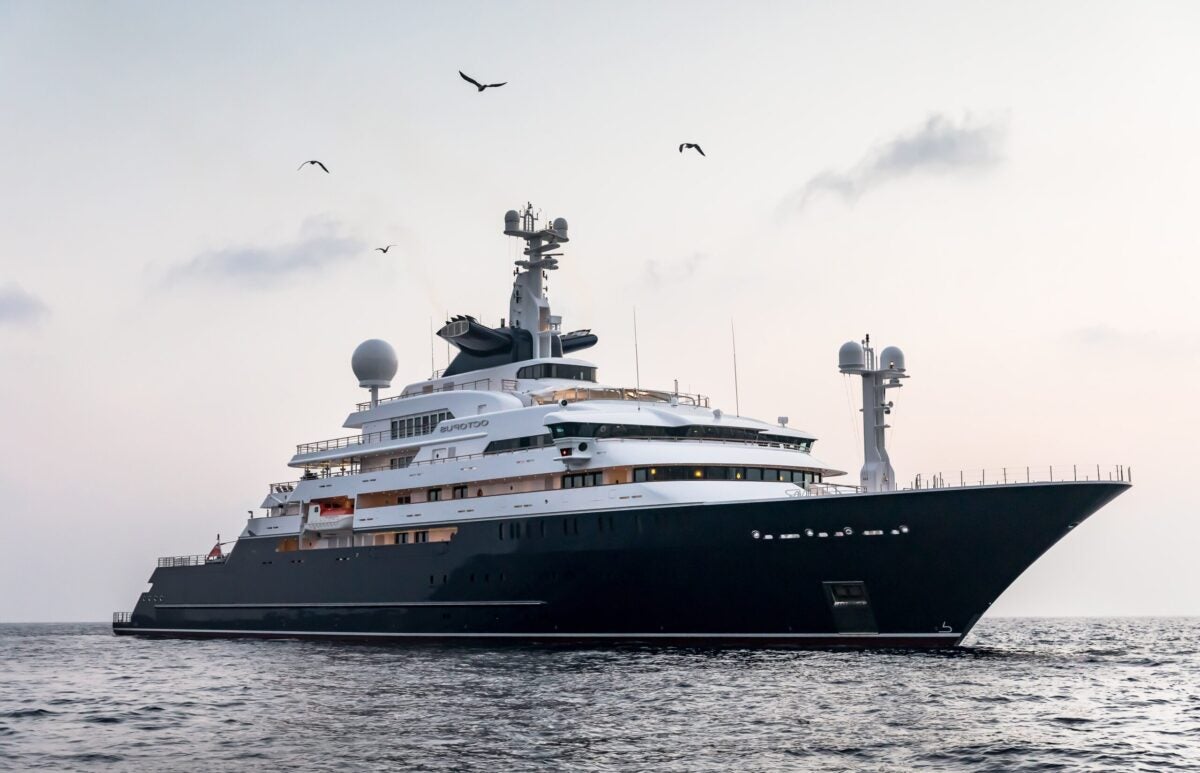 Built in 2003 for Microsoft co-founder, the late Paul Allen, and sold to her current owner in 2021, the 414-ft Octopus is one of the world's largest private yachts. At the time of her launch, she was the biggest explorer superyacht ever built. Little detail was known about her until she was first put up for sale in 2019. With Octopus now available for charter following a two-year round-the-world adventure, we take a closer look at one of the original explorer yachts.
[See more: The Best Luxury Yacht Builders in the World]
Construction
Effortlessly pairing adventure with high luxury, Octopus is the ultimate explorer yacht. She remains as impressive and timelessly stylish as the day she was launched 19 years ago. The work of a powerhouse design and build team, she was built in Germany by Lürssen, with naval architecture by Espen Oeino and an interior by Jonathan Quinn Barnett. "She is arguably the most iconic and versatile megayacht in the world," says her lead charter broker Gayle Patterson of Camper & Nicholsons. "There is nowhere on the four corners of the Earth that she cannot go."
Octopus's core purpose was to cruise extensively and see the world. A fast-growing number of explorer-style yachts have followed in her wake, but it would be hard to find many that were designed and equipped so well for this purpose, or many that have ticked off so many destinations. With a range of 12,500 nm, Octopus can go just about anywhere and she has certainly made the most of that ability.
[See also: How to Charter a Superyacht]
She was the first of the big explorer yachts and was also significant as one of the first major solo projects for her naval architect Oeino, who is today considered one of the masters of superyacht design. According to Oeino, one of the bigger challenges was meeting the owner's brief that that none of the many tenders, water equipment or helicopters be visible when the yacht was underway.
Oeino's resulting design was a timelessly elegant, yet hardy exterior with a distinctive blue hull and white superstructure. Equipped with an Ice Class 1A hull, Octopus can navigate through sea ice with ease. Other key design elements include two helipads, which are positioned on the bow and stern, and a huge hangar for storing the helicopters.
Interiors
Creating a yacht that still felt personal despite her gargantuan size was an important goal for interior designer Barnett of JQB Ltd. "It was a challenging task to make 9932GT over eight decks feel intimate and comfortable, safe and secure over every possible sea state for guest combinations from two to 24," says Barnett.
"We developed an overall theme of timelessness with warmth and security for family fun and security when exploring vast open oceans and unseen coastal landscapes; I used soothing and calming colors with open graining and limestone course, satins, and matte finishes for natural textures."
[See more: Twenty for 20: Innovative Yachts of the 21st Century]
When creating the interior, the JQB team were able to take full advantage of Lürssen's exceptional capabilities to create a very personal and visually stunning design. "The worst mistake, as far as I was thinking, would have been for us not to ask enough of Lürssen," says Barnett. "It was clear to me that their skills and technology could produce details and quality beyond even our ability to imagine it."
A core part of the interior design brief was to incorporate the owner's many passions and hobbies, which meant utilising and co-ordinating a large team of specialists in their field. "We called upon the expertise of recording artists, studio and art museum lighting techs, aviation and submarine operations techs, librarians, art curators, telecommunications experts and so many more," says Barnett. "Success looked like playing first violin with the greatest orchestra assembled by a living Einstein for Jimmy Hendricks and Captain Nemo."
Life on board
The resulting yacht is extraordinary. Spanning eight decks, with her length of 414ft and beam of 68ft, there is certainly no shortage of space or features on board. Able to host 12 guests across 13 cabins, with numerous different cabin configurations available, her 42 crew ensure no guest need ever lift a finger.
Those 13 cabins include an owner's master suite with its own elevator, two VIP cabins on the observation deck, seven doubles and three twins. Each cabin is its own private sanctuary, but it is the shared guest spaces that really shine.
Popular interior spaces include the entertainment deck with its large 15-person cinema, library, observation lounge, gym and wellness hub. Guest-accessible observation lounges are positioned at each extremity. "Deck Eight provides a window to the horizon and stars, while the underwater glass-bottomed observation lounge on Deck Zero gives wondrous glimpses into the watery depths," says Barnett.
[See also: These are the Yacht Interior Designers to Know]
A huge swimming pool is located on the bridge deck. "The spectacular pool area leading into the newly furnished beach bar is a well-used on board, as is the 7m pool, which has a retractable floor that can be raised to create a central dance floor," says Patterson. "This deck area also boasts a large Jacuzzi, a pizza oven, BBQ grill and Tandoori oven."
Throughout the yacht, numerous spaces for sunbathing and relaxing are found inside and out, with equally plentiful options for every dining style whether formal, relaxed or al fresco.
While her design features are impressive, so too is a vast list of toys and tenders which are testament to the fact that when it comes to exploration and enjoying the ocean, Octopus means business. These include no less than seven tenders, a full dive center with a hyperbaric chamber, an SUV for exploring onshore, electric foils and an ROV (remote operated underwater vehicle).
Where is Octopus heading?
As one of the world's most traveled yachts, Octopus has undertaken a lengthy list of expeditions, and frequently acts as a base for scientific exploration expeditions. Highlights include the recovery of the bell from the wreck of the historic HMS Hood and discovering the wreck of the WW2 battleship IJN Musashi off the Philippines.
The new owner is reportedly keen to continue this legacy of marine protection and discovery. It is therefore fitting that over the next two years, Octopus will be doing what she does best – traveling the globe once again. Fresh from a refit, she is in peak condition and ready to go.
"Notable destinations in the plan are Costa Rica and Cocos Island in spring 2022, French Polynesia and Thailand in summer 2022 and Antarctica this coming winter," says Patterson. "The world is her oyster."
Octopus is available for charter through leading yacht company Camper & Nicholsons from $2,200,000 per week. Contact camperandnicholsons.com
[See more: What are Explorer Yachts?]