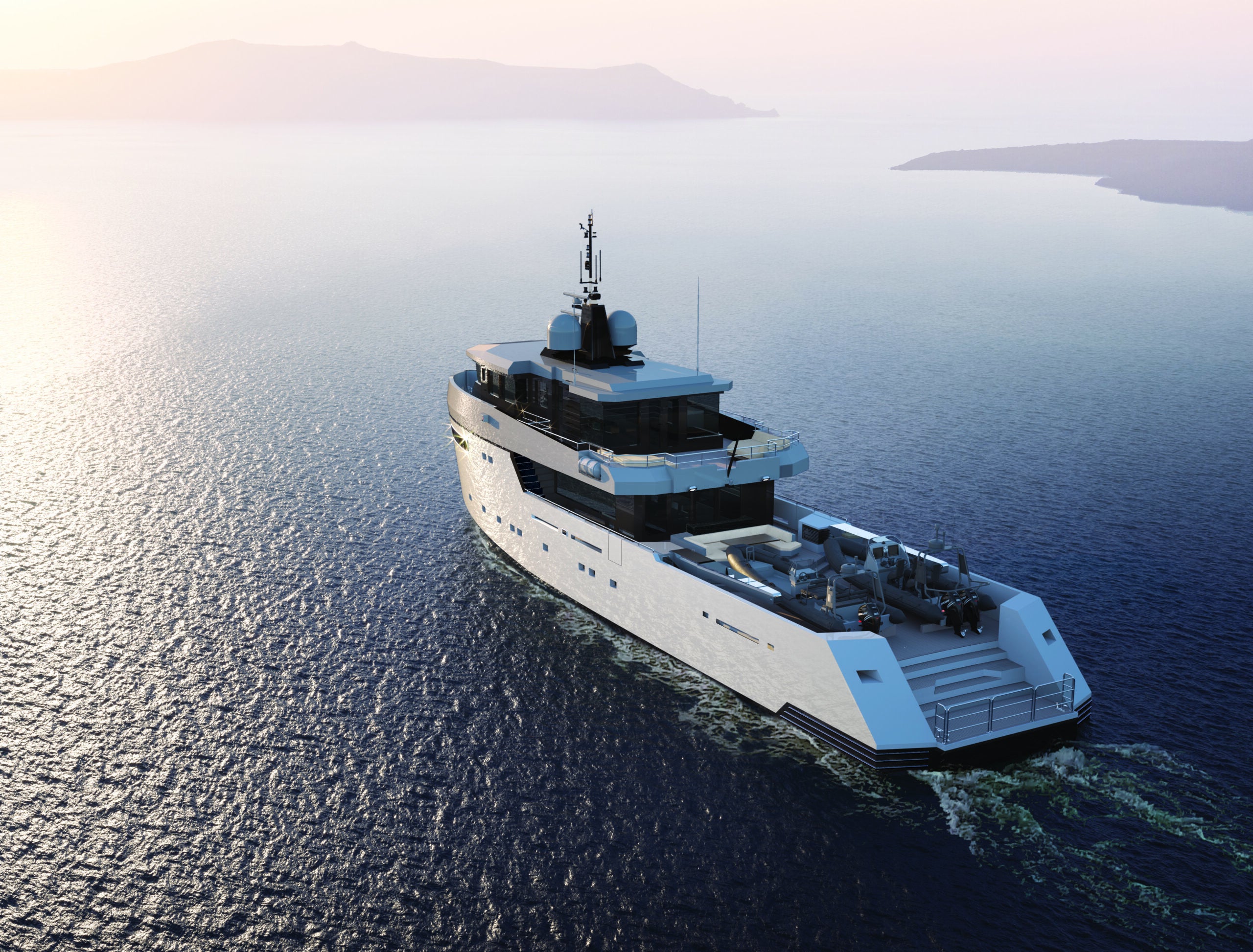 Despite the country's long and storied maritime history, bespoke shipbuilding is a rarity in the United Kingdom. Unlike its European neighbors over in the Netherlands, Germany and Italy, the UK has just one custom shipyard: Pendennis.
Tucked away in the picture-perfect town of Falmouth on the south coast of Cornwall, Pendennis has built a series of award-winning custom motor and sailing yachts since launching in 1989, but nowadays focuses the bulk of its resources on refit projects. "It's the refits that have enabled us to grow over the past 30 years," says chairman Mike Carr.
Pendennis's reputation for luxury refits is stellar, with a skilled in-house team and state-of-the-art facilities generating impressive loyalty from some of the world's highest-profile superyacht owners. In 2013, its refit capability expanded drastically with the commencement of works on two all-new 295-ft halls, which replaced the one previous hall. Along with new offices, workshops, hospitality suites and an 80,729-sq-ft wet basin, this upgrade cemented Pendennis's status as one of the best refitting outlets in the world.
But while the bulk of Pendennis's attention is usually focused on refits, the most exciting project currently in the works at the yard is Project Fox: an all-new expedition-style, 114-ft motor yacht.
[See also: How Much Does a Yacht Cost to Build?]
Unusually, Project Fox is being built on spec; although she is on track for an early 2023 delivery, she is still currently on the lookout for an owner, with Burgess leading the sales mission. While this isn't standard practice for Pendennis – in fact, she is the shipyard's first spec build – it presents an exciting opportunity for a potential buyer.
Instead of waiting years for a yacht to be built from scratch, a hopeful owner can join the build process of Project Fox now (the sooner the better) and ensure it is completed to their exacting standards and personal preferences.
[See also: Octopus: On Board the Original Explorer Superyacht]
[See also: The Maltese Falcon: A Timeless Icon of the Yacht Industry]
So far, she is being built as a blank canvas, all but inviting an owner to come on board and make her their own. "We took a theme of using the slightly masculine lines and the clean line on the outside of the boat to run through the interiors, which allows any client to come on board," says James Ratcliffe of Q London, who is heading up the design of Project Fox.
"Not having an owner has been a challenge. How do you develop an interior not knowing who will need to love it? The intent was to create an interior that no one can hate. It's neutral, it's clean and it's calm. It allows for personal tweaks."
While Pendennis and Burgess are obviously hoping that an owner will come on board sooner rather than later, the build will be completed regardless. "It's not a boat that is going to be built to a point and paused," says lead broker, Ian Sherwood. "If the yacht is not sold, she will still be lovingly built to delivery."
Her current layout offers space for eight guests across two master cabins and two twins. There's also a glass-walled lounge and plenty of space for toys, especially given her size.
[See also: How to Design an Amazing Superyacht Interior]
With Q London leading design and Pendennis responsible for the build, Project Fox is on track to become a symbol of what the British yachting community is capable of, hopefully marking the advent of more UK-made vessels.
And, as one of Cornwall's most significant employers, bringing the eyes of the yachting world to English soil is vital for Pendennis. Despite its status as a vacation hotspot for tourists from Britain and beyond, the southern county has historically struggled with poverty. Pre-Brexit, it was routinely a recipient of several grants from the European Social Fund, which supports impoverished communities.
While unemployment rates in the county are lower than the national average, lurking beneath that encouraging statistic is the fact that many employees are on seasonal, zero-hour contracts that offer limited security.
Pendennis, however, is offering an alternative employment route for the youth of Cornwall through its award-winning four-year apprenticeship program. Carr says: "Credit for [the scheme] goes to my wife, Jill, who challenged Hank [Wiekens, Pendennis co-managing director] and me by saying that if we really wanted to grow, we needed to formulate an apprentice program.
[See also: The 10 Biggest Superyachts in the World]
"We're unique in that as we're more remote than say, some of the shipyards in the Netherlands. We have to build our own workforce and we do that predominantly through our apprenticeship scheme."
While the scheme is open to applicants from further afield, the vast majority are local. Pendennis work closely with nearby schools to seek out the best applicants. Unsurprisingly, competition is fierce: "We usually get about 70 to 100 applications for 12 places," Carr says.
Each year, successful applicants embark on a deep dive into the Pendennis world. "In their first year they work in every single department," says Carr. "That includes sitting in reception, going out with the van drivers, working in health and safety, and working in accounts. It means they understand every element of the business."
And it's not just keeping the workforce local. As part of their training program at Pendennis, apprentices support the Falmouth community through a variety of initiatives and projects. One year's cohort painted the changing rooms of a nearby rugby club; another gave their time to a charity that supports young people with mental health issues. "Our aim is to not just make craftsmen and women, but to also make rounded humans," Carr explains.
[See also: Twenty for 20: Innovative Yachts of the 21st Century]
The scheme's success cannot be understated. In the 24 years since it was launched, over 240 young people have taken part, with an impressive 90% retention rate following graduation. And even those who decide to move on often don't stray far. "Those that have left have often gone on to join crews on superyachts," Carr says.
While this was initially an annoyance, there are clear benefits to sending Pendennis-trained craftspeople out into the world of yachting. "In the beginning, we thought we were spending all this money and time just for people to leave when they graduated," he says, "but while they are away, they are instant adverts and marketeers for Pendennis."
And being predominantly local means that in one way or another, those who leave are likely to return eventually. "What better feeling could there be than to sail back into Falmouth on your 40, 60, 80m yacht and proudly stand on the deck and look at your mates and say, 'I brought her back'?" Carr asks.
For those who do stay on, the progression opportunities are broad, with Pendennis's leadership team made up of 60% ex-apprentices. "There have been so many success stories," says Carr. "We've got multiple ex-apprentices across the board in manager positions; we've got a naval architect and we've got several project managers.
[See also: Superyacht Brokers Prepare for Record Summer Demand]
"Ex-apprentices are layered into our organization at all different levels. For me, the ultimate will be when one of them makes the board," he adds.
The result is that two decades since its launch, Pendennis's apprenticeship scheme still ensures that while the shipyard builds and refits luxury yachts for some of the world's wealthiest, it is, at its heart a product of the people of Falmouth. And this is something that Carr and his team are clearly keen to maintain: "The backbone of our company is our people… the sea really is in their blood."
Project Fox is for sale with Burgess for an asking price of €15.5m (approx. $17.2m), burgessyachts.com