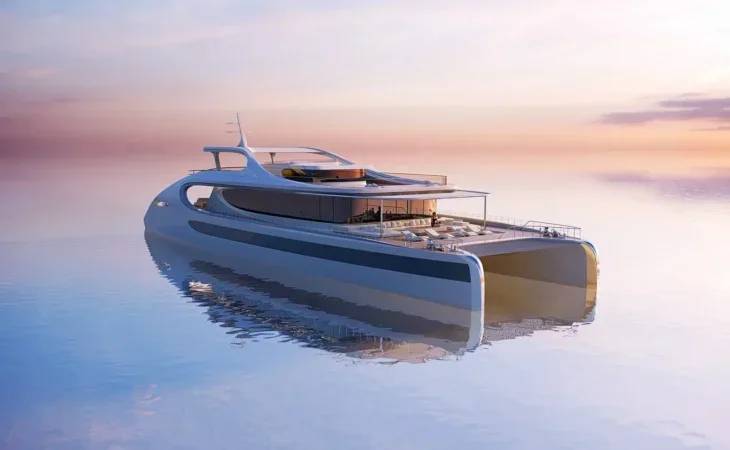 Italian shipbuilder Rossinavi has teamed with esteemed designer house Zaha Hadid Architects (ZHA) to reveal its latest futuristic catamaran yacht concept, Oneiric.
Acting as the flagship of Rossinavi's green-technology fleet, Oneiric will harness some of the shipbuilder's most advanced sustainable technology, including the impressive three levels of solar panels that ensure the boat can, on a single-day trip, cruise 100% emission-free relying solely on electric power.
For longer transatlantic trips, her credentials remain impressive, with the capability of up to 70% electric cruising. Rossinavi has also employed smart AI technology to both monitor energy usage, as well as observe external environmental factors to advise on the most sustainable behaviors.
[See also: Lürssen Reveals Climate-Neutral Yacht Concept]
In addition to the onboard technology, the physical build of the boat has been imagined as sustainably as possible too, with a multihull proven to be more efficient in comparison to a monohull thanks to its better weight distribution.
"Green is a vision, an education that drives us to develop sustainable technologies. This gives us the responsibility to provide the means to best enjoy the sea, immerse ourselves in its natural splendor and respect it," says Federico Rossi, COO of Rossinavi.
Honoring Rossinavi's deep desire to ensure travelers can explore the ocean with as little environmental impact as possible, ZHA has designed Oneiric's exterior to blend seamlessly with the ocean; the intention is for the line between water and boat to be all be indistinguishable.
This pursuit of sustainable yachting hasn't seen any compromise on the level of luxury, however. The expansive 144-ft catamaran boasts a multitude of interior and exterior spaces, including a roomy main saloon and a wide swim platform. ZHA's sleek design takes clear influence from Scandi minimalism, with neutral light wood accented only by cool flashes of white and blue.
[See also: Project Fox Pulls Spotlight Back to British Shipyards]
Accommodations will be made up of a total of four guest cabins and one exceptional owner's suite, which will boast 180-degree views of the surrounding ocean landscape, as well as direct access to the forward outdoor lounge. The interior also features an elegant media room, complete with advanced entertainment technologies.
The carefully created sense of onboard serenity is only enhanced by the use of Rossinavi's Zero Noice technology, which cleverly isolates all noise at its source. Not only does this create a more relaxing experience for guests, but it also mitigates noise pollution.
The revealing of Oneiric follows the successful launch of Sea Cat, Rossinavi's previous catamaran concept. Together, the two vessels are helping shape a new breed of futuristic superyachts, where ocean health takes top priority.
[See also: Twenty for 20: Innovative Yachts of the 21st Century]