With their beautiful decor, ultra-modern facilities, exceptional service and stunning views across the city, the best suites in Las Vegas are the height of sophistication and comfort. Whether you're trying your luck at the tables, taking in a show or just relaxing in style, here are nine of the best places to make the most of your stay.
Encore Three-Bedroom Duplex Suite, Encore at Wynn Las Vegas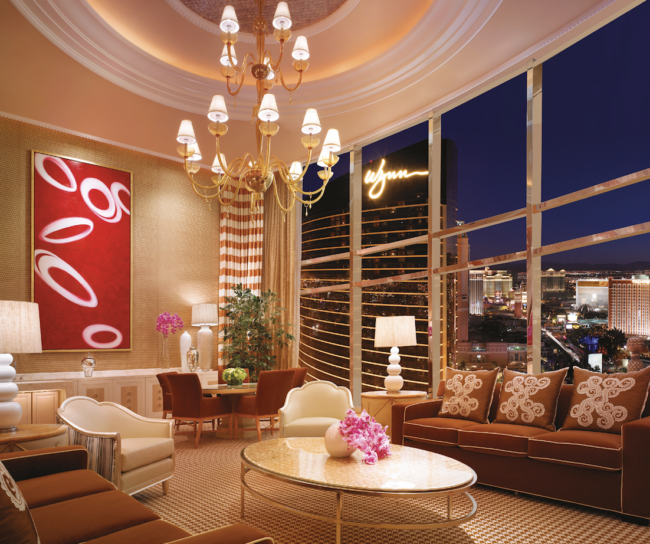 Sophisticated decor in soothing tones makes this suite one of Las Vegas' most relaxing respites from the hustle and bustle far below. Make a cocktail at the wet bar, or have your butler prepare one for you while you enjoy the endless views from the two-story living and dining room. All of the luxurious bedrooms could rightly be called the master; each has floor-to-ceiling windows (as do the marble bathrooms) and televisions that pop-up so the views can be enjoyed from bed. Also included
are a billiard room, plus a massage and exercise room which is perfect for unwinding after a hectic excursion in Sin City.
Special amenities Butler service, clothes pressing, in-suite elevator, butler's pantry with separate entrance, daily cabana, show and golf reservations, expedited nightclub entry, round-trip airport limo service, complimentary use of spa facilities
Size 5,829 sq ft
Number of bedrooms Three
Nightly rate From $5,000
Contact roomreservations@wynnlasvegas.com, +1 702 770 7077, wynnlasvegas.com
[See also: Top 100 Suites in the World]
Presidential Strip-View Suite, Four Seasons Hotel Las Vegas
This non-gaming hotel is located next to Mandalay Bay Casino, so guests can get the best of both worlds. In the Presidential Strip-View Suite, panoramic views await from the wraparound floor-to-ceiling windows. A departure from the hotel's Art Deco style, the suite features modern furnishings in bold colors. The living room has a separate desk area if you have to work during your stay. The suite is well suited to entertaining, with a dining room that seats eight and a kitchen pantry with separate entrance. Special amenities: Round-trip airport transfers, in-suite check-in, unpacking and pressing upon arrival, daily breakfast.
Size 2,225 sq ft
Number of bedrooms One
Nightly rate From $3,500
Contact Amanda Davis, reservations manager, amanda.davis@fourseasons.com, +1 702 632 5205, fourseasons.com
Sky Villa 12, Aria Sky Suites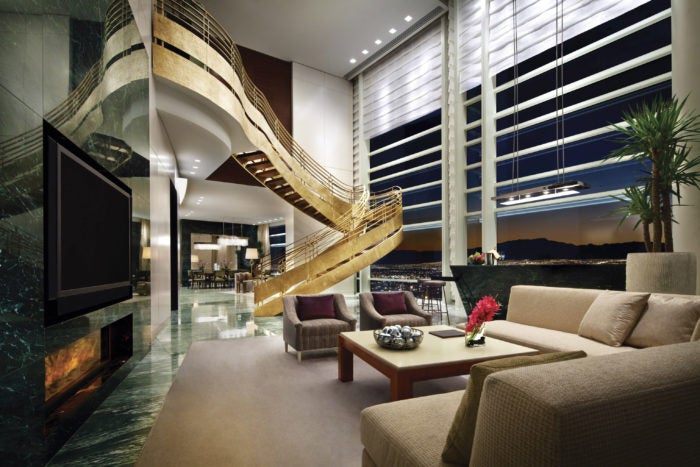 The Sky Villas are located within Aria Sky Suites, a luxurious hotel-within-a-hotel. Sky Villa 12 is our pick for ultimate Las Vegas luxury. The two-story three-bedroom retreat boasts a full kitchen, dining room, workout room, stylist room for in-suite blowouts, and billiards room. The show-stopping living room is decorated with green marble and features two-story floor-to-ceiling windows with panoramic views, a fireplace, bar and golden staircase. Special amenities: Round-trip airport transfers, private hotel entrance, in-suite check-in, personal concierge, preferred tee times, kitchen, dining room, workout room, billiards room.
Size 7,000 sq ft
Number of bedrooms Three
Nightly rate From $7,500
Contact Melissa Bailey, director of Sky Suites Operations, +1 702 590 9550, aria.com
Penthouse Suite, The Venetian Las Vegas
The Penthouse at The Venetian embodies classic Las Vegas elegance and glamour, starting with the double-door entrance and Italian marble foyer with Murano glass chandelier. From the formal living room with baby grand piano to dining area that seats eight, the luxurious Old World decor invites guests to order a martini while listening to Frank Sinatra. The marble-floored bathrooms feature jetted tubs and are as sumptuously decorated as the rest of the suite. Special amenities Complimentary valet parking, fireplace in master bedroom, workout room, cedar-wood sauna.
Size 2,900 sq ft
Number of bedrooms Two
Nightly rate From $2,500
Contact +1 702 414 1000, venetian.com
Empathy Suite, Palms Casino Resort, Las Vegas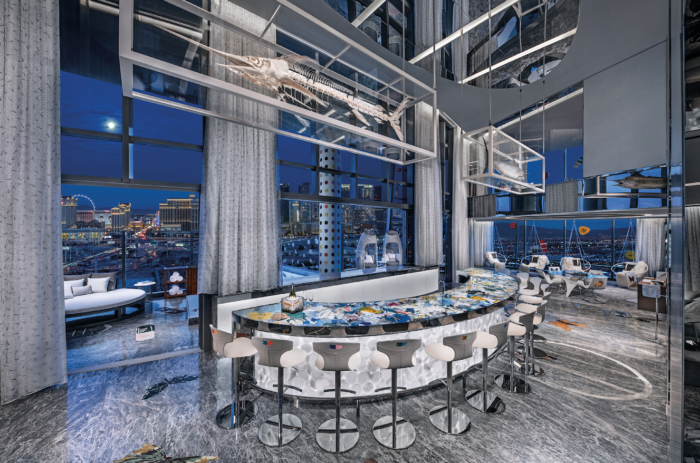 Guests love the Palms for its irreverent, fun vibe — the party here is nonstop, and the hotel constantly introduces new concepts. In addition to its classic casino, there are entertaining residencies, shows and myriad bars and lounges, plus non-party options such as the wellness-focused Spa at Palms, a recording studio, plenty of dining concepts and rotating art galleries featuring the world's most acclaimed artists. And just when you thought Las Vegas couldn't get any more extravagant, the resort debuted an over-the-top suite in collaboration with world-famous British artist Damien Hirst and design firm Bentel & Bentel for the world's highest rollers (it is surely one of the most expensive suites out there). The two-story, 9,000-sq-ft suite is laden with Hirst's most famous works and sculptures, including a tank of formaldehyde with two sharks in it — Winner/Loser (2018), plus specially designed furniture and decor. The contemporary-styled, two-bedroom suite is an adult's playground: There's a large outdoor cantilevered pool, salt-therapy room, gym, massage room and multiple lounges. Special amenities: Butler service, elevator, private terraces, media room, separate dining room, massage and fitness room, sauna.
Size 9,000 sq ft
Number of bedrooms Two
Nightly rate From $200,000 for a two-night minimum stay.
Contact reservations team, empathysuite@palms.com, +1 702 942 1222, palms.com
The One 80 Suite, Red Rock Resort
With its undulating walls, intricate lighting schemes, dark colors and rich materials, this is one of the sexiest suites in Las Vegas, making it worth your while to leave the Strip. It's designed for entertaining, and embraces indoor/outdoor living with floor-to-ceiling glass walls – even the six-foot patio walls are glass, so they don't obstruct the 180-degree views for which the suite is named. Both spaces offer massive bars, dining areas and multiple seating areas, and the outdoor sofa rotates to face either the view or the 103-in TV screen indoors. The terrace has a large hot tub, and in the master bedroom there's a whirlpool tub just steps from the bed. Special amenities Terrace, two balconies, butler service, theater with 103-in screen, two bars, pool table, surround sound system.
Size 7,500 sq ft
Number of bedrooms Two
Nightly rate From $10,000
Contact Jonathan Proffitt, hotel manager, jonathan.proffitt@stationcasinos.com, +1 702 797 7777, sclv.com
Nobu Villa, Nobu Hotel at Ceasars Palace
Private outdoor space is tough to come by in Las Vegas, so the enormous 4,700 sq ft terrace complete with Zen garden, Japanese onsen tub, full bar, pizza oven and barbecue pit at the Nobu Villa is unique. It's the only rooftop villa at Caesars Palace, and the modern Japanese decor designed by David Rockwell is serene and chic. The indoor space is equally impressive, including a media room, game room and sauna. With fine dining from Nobu brought to the villa, or made on the premises at the omakase sushi bar, there's no need to leave. Special amenities: Round-trip airport transfers, butler service, billiard room, media room, sauna, private elevator, art by Alexander Lamont.
Size 10,300 sq ft
Number of bedrooms Three
Nightly rate From $35,000
Contact +1 866 320 9855, caesars.com/anthology-suites
Skyloft 88, Skylofts at MGM Grand
On the top two floors of the MGM Grand, serviced by a private elevator, the Skylofts are perfect for high rollers and VIPs who want to play in Las Vegas's largest casino. The three-bedroom Skyloft is a duplex with floor-to-ceiling windows, complete with living room, dining room, pantry, wet bar, den, media room and billiard room, so it's perfect for a party or family gathering. The ultra-modern decor is complemented by the latest in-room technology. Stay in the master bedroom to enjoy the master bath, which features an "immersion chamber" with a luxurious rain and steam shower. Special amenities Round-trip airport transportation, butler service, packing and unpacking service, personalized stationery on request, preferred seating at MGM restaurants, access to Sky Lounge, in-room massage, in-suite check-in, dining room, pantry, wet bar, den, media room and billiard room.
Size 6,000 sq ft
Number of bedrooms Three
Nightly rate From $10,000
Contact Colleen Schmitz, director of luxury sales, +1 877 646 5638, skyloftsmgmgrand.com
Premier Presidential Three-bedroom Suite, Waldorf Astoria Las Vegas
Located in the heart of The Strip, Waldorf Astoria Las Vegas (formerly a Mandarin Oriental hotel) is everything you'd expect from the luxurious hotel brand, and more — this is Las Vegas, after all. The hotel has spacious rooms and sites, a spa, three pools, a fitness center with yoga and Pilates, a French restaurant, tea lounge, bar and beauty salon.  The Premier Presidential Three-bedroom Suite is the most impressive accommodation, and it has a residential-style feel, perfect for hosting nightly soirées or acting as a welcome reprieve from nonstop days. It has an Art Deco aesthetic and is full of sumptuous red fabrics, wallpaper and plenty of leather banquettes. Enjoy the in-room bar and spacious living room.
Size 3,650 sq ft
Number of Bedrooms Three
Contact +1 702 590 8888, waldorfastorialasvegas.com