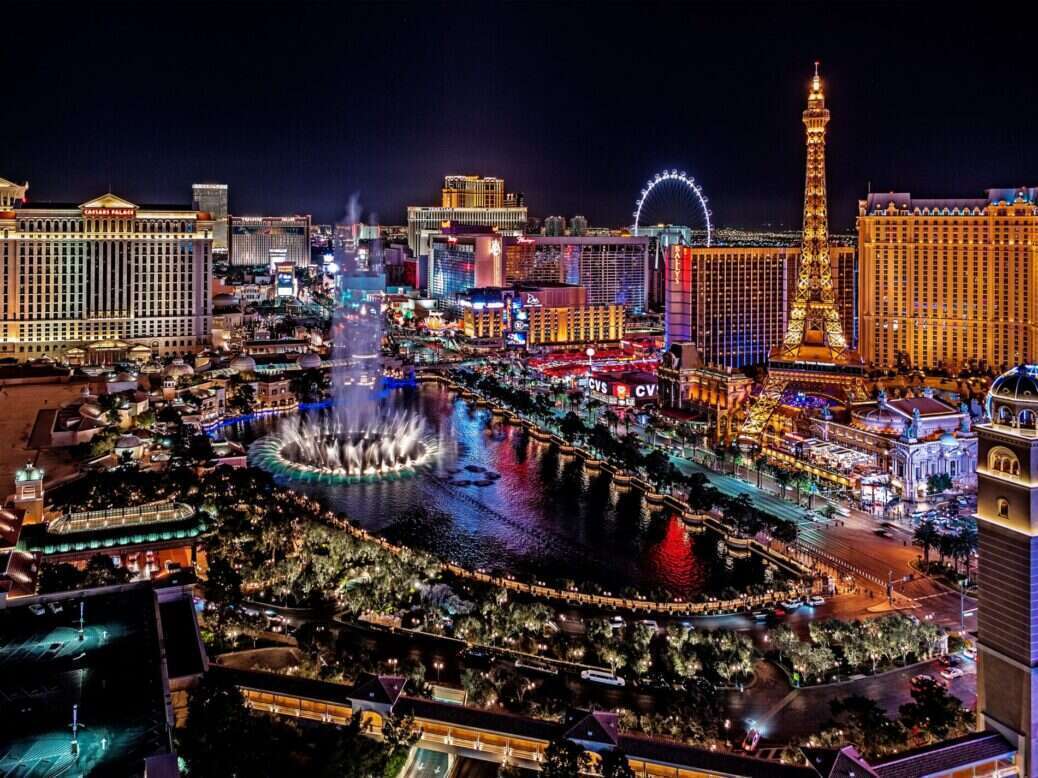 Thrust in the middle of the stifling desert lands of Nevada is the glittering Las Vegas, the country's – if not the world's – epicenter of epic hedonism and thrill-seeking indulgence. In a city where neon lights shine brighter than the clear sky stars, casinos stand proud next to churches, and no one can quite be sure what the next day will bring, a list of the best spas in Las Vegas might seem, at first glance, a somewhat random endeavor.
But is there any other location in which a luxury spa trip feels more necessary? Since its mafia-tinted inception in the 1930s – growing especially in recent years – the city's grandest hotels have been investing heavily into their spa scene, for a much-welcome respite from the extraordinary madness.
The line goes that happens in Vegas, stays in Vegas. Read on for our six best spas in Las Vegas, for luxury experiences that will stay with you long after the hangover subsides.
[See also: Luxury Property in Las Vegas Selling Faster Than Ever]
The Spa at Wynn & Encore Las Vegas
Treatments and facilities: Awarded the coveted Forbes Five-star Award, The Spa at Wynn & Encore boasts dozens of luxurious treatment rooms, with designs inspired by an exotic Moroccan retreat.
With the addition of two invigorating movement studios which offer spinning, yoga and private meditation classes, The Spa is a truly idyllic retreat. The elegance and tranquility inspired by the décor provide the perfect setting within which the elite traveler can relax and unwind. Offering separate women's and men's facilities including hot and cold plunges and a tranquil whirlpool, The Spa at Encore guarantees an immersive and emotive experience, alleviating the effects of the hectic Las Vegas lifestyle.
Signature treatment: Exclusive to Encore is the Polynesian-influenced Nalu Body Ritual, which helps encourage deep relaxation and balances the body's chakras through powerful energy work. This fusion massage begins with a relaxing massage followed by a body exfoliation and coconut oil scalp treatment. The scents and sensations (like waves) recall the waves of French Polynesian islands.
Waldorf Astoria Spa & Salon
Treatments and facilities: The world-class Waldorf Astoria Spa & Salon (formerly the Mandarin Oriental) is a 27,000-sq-ft oasis dedicated to total wellbeing.
The Spa's pièce de résistance is its Hammam, a tranquil steam room with beautiful mosaic tiles and glistening lights. Other facilities include vitality pools, ice fountains and Experience Shower Journeys. The calming, heated Laconium Room, complete with contoured bench seating and breathtaking views of the Las Vegas Strip makes The Spa a worthy recipient of the esteemed Forbes Five-Star Award.
Signature treatment: The Luxury of Time is a two- or three-hour massage tailored to your needs. This personalized escape combines massage, body and facial therapies so you feel relaxed, rejuvenated and your wellbeing fully restored. Choose from myriad massage therapies, like a warm stone massage, deep sports therapy massage or focus massage. There are plenty of facial treatments to choose from addressing various concerns and body wraps and scrubs to round out the treatment.
Qua Baths & Spa at Caesars Palace Las Vegas Hotel and Casino
Treatments and facilities: Inspired by ancient Roman traditions of relaxation, Qua Baths & Spa at Caesars Palace Las Vegas is a lavish spa accented by smooth stone flooring, dark woods and cascading waterfalls.
The serene setting is accentuated by the abundance of natural light which complements The Spa's use of water as a natural source of healing and rejuvenation. Along with the traditionally opulent Roman Baths, Qua Spa also features 51 treatment rooms, a Laconium Room, an Arctic Ice Room and a peaceful tea room.
Signature treatment: Tantalize your senses and deepen your awareness with a Stone Massage with Aromatherapy. The custom-blended aromatherapy and basalt volcanic rocks used in the treatment are chosen for their ability to transfer heat and diffuse the aromatherapeutic oils across your body. A Qua Spa artisan will then soothe away any remaining tension to leave you feeling peaceful and harmonized.
[See more: Nobu Hotel at Caesars Palace Las Vegas]
Canyon Ranch Spa at The Venetian
Treatments and facilities: With more than 90 treatment rooms and spanning more than 134,000-sq-ft, Canyon Ranch Spa at The Venetian is a can't-miss oasis next time you find yourself in Sin City. There are myriad lounge areas, an Aquavana Hydrotheraml Experience (including a crystal steam room, experiential rains, Finnish sauna, herbal laconium, hydro spa and igloo), Bridal Suite, salon, barber and healthy cafes, Truth & Tonic and Canyon Ranch Grill. There is also a fitness room and rock wall.
Signature treatment: You can't go wrong with any treatment on the comprehensive spa menu, but don't miss the 80-minute Fit Massage. A certified fitness trainer will perform a 30-minute Fusionetics Movement Analysis to gather data on your muscle strength and muscle groups that need further attention. Then, a massage therapist will perform a 50-minute deep-tissue massage on areas that you need it most. You can take home a plan to help you develop muscles that need work. Don't forget to visit the Aquavana Hydrothermal Experience, which is incredibly unique to Las Vegas. Water can be an incredibly healing treatment. Enjoy it before or after your treatment.
The Spa at Vdara
Treatments and facilities: The Spa at Vdara is a truly luxurious escape offering treatments tailored to the individual. The relaxation begins with their signature European heat experiences, taking you through a therapeutic journey of temperature changes and offering a multi-functional treatment room where you can retreat and enjoy a full day of pampering.
The Spa at Vdara offers a vast collection of results-oriented natural treatments in an intimate spa setting over two floors. Expert therapists are hand selected and trained extensively to achieve the spa's luxuriously serene ambience.
Signature treatment: On the Rocks is a 110-minute chakra-balancing treatment designed to treat the elite traveler from head to toe with expert techniques and soothing scents. The treatment begins with body brushing and a spearmint body polish, followed by a calming massage using essential oils and volcanic stones, finished off with a light facial and scalp massage.
The Spa at ARIA
Treatments and facilities: From the moment you step foot inside the spa at ARIA it's impossible not to feel a sense of tranquillity. Inspired by nature, the modern light-filled interiors are the perfect setting to escape the strip and indulge in a few hours of me-time. Set across two floors, it's hard to beat the facilities at the 80,000 sq ft spa. Highlights include the Shio salt room where you can relax on a vibrating chair while the salty air works its wonders to give you a dewy glow and the heated Japanese Gabanyoku beds which help increase your circulation and accelerate your metabolism.
Signature treatment: The Ashiatsu Massage takes its name from ashi which means 'foot' and atsu which means 'pressure' in Japanese. Choose from a 50, 80 or 100 minute session during which your expert therapist will carry out a deep tissue massage on your back, neck, and shoulders with their bare feet while using bars on the ceiling to aid their balance. Blending Shiatsu and Swedish massage techniques the treatment helps any tension melt away leaving you feeling completely relaxed and refreshed.