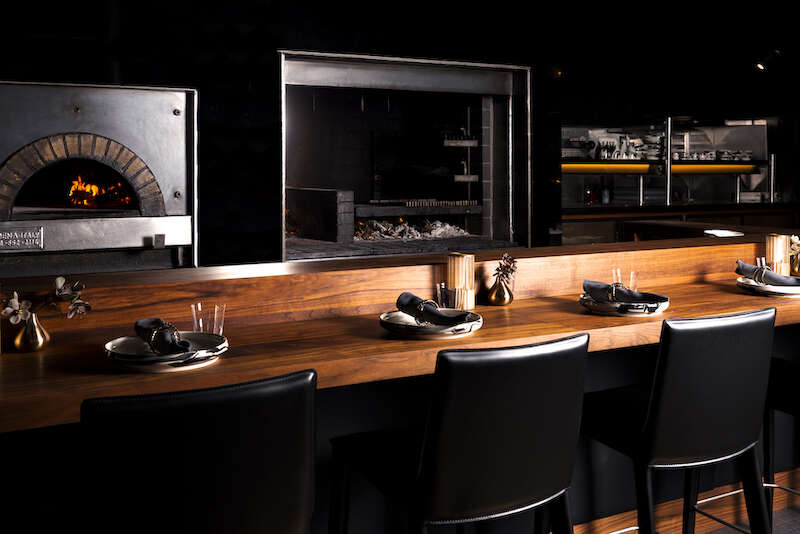 Landmarks, nightlife and cuisine come together to make San Francisco one of the US's most vibrant cities. Its restaurant scene is ever-changing and ever-exciting – and one of its most exciting new additions is Aphotic from chef Peter Hemsley. 
Aphotic opened its doors just off 4th Street in SOMA as a seafood-focused fine dining destination, celebrating the best of North American oceanic produce in an elevated setting.
While the restaurant is, of course, primarily about the joy of dining, there is an undercurrent of hospitality experimentation. "Aphotic was born out of necessity" reads the restaurant's website – a necessity to operate in a sustainable way that works for the good of the oceans, not just those who enjoy its bounty.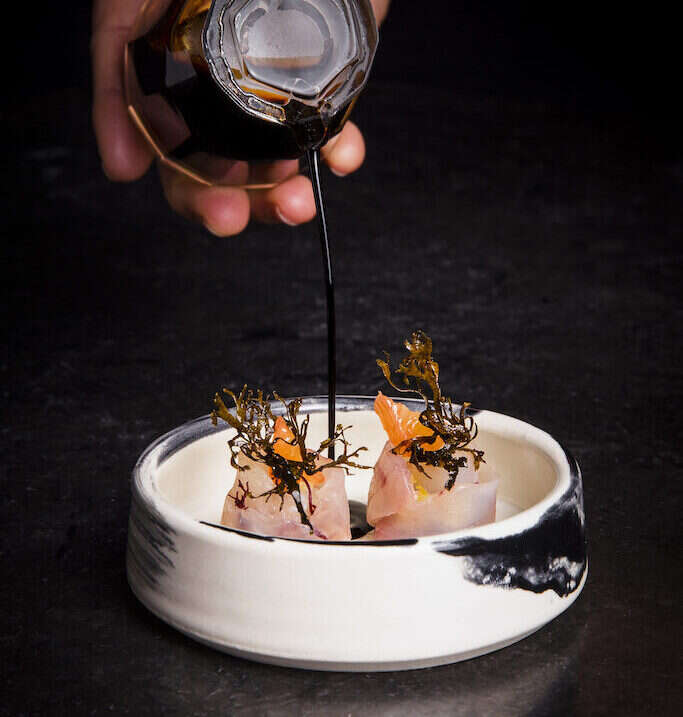 As part of this, chef Hemsley prioritizes fully transparent and traceable seafood procurement and, unusually, sources directly from aquaculture practitioners and fishermen rather than via middlemen. Not only does this guarantee the freshest, finest produce but also gives him and his team a more thorough insight into the industry's daily challenges.
Chef
Although originally hailing from the Midwest, Peter Hemsley is now an honorary Bay Area native, having cut his teeth in the kitchens of Michael Mina before proudly being part of the senior team that secured the Italian-inspired Quince its third Michelin star.
On the back of this experience, in 2019 Hemsley went it alone and opened Palette – a restaurant-meets-gallery space intended to bridge the gap between art and fine dining. It was at Palette that Hemsley really began to home in on his signature cuisine, which namely focused on locally and sustainably sourced seafood. 
Palette announced its closure in February this year but mere months later, Aphotic was there to fill the hole it left in San Francisco's culinary landscape. 
[See also: The Most Beautiful Wineries to Visit in California]
Menu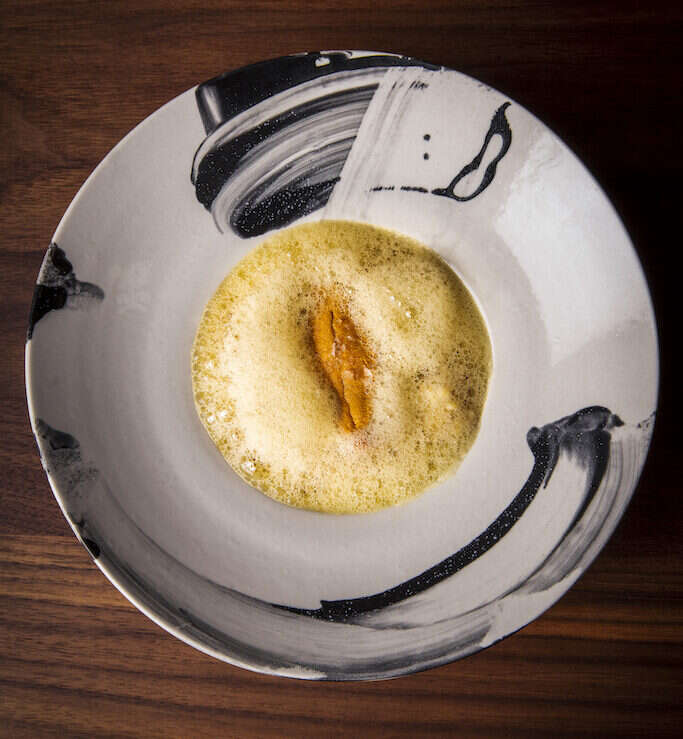 While Aphotic's menu is firmly rooted in the vibrant produce of the Pacific Ocean and the Californian landscape, the dishes themselves (mostly) take inspiration from Japanese flavors and techniques. These dishes slowly reveal themselves throughout a seasonally led, multi-course experience.
To start, there is sweet Japanese milk bread, gently sprinkled with coarse salt with a generous bowl of North American Dungeness crab curry hollandaise. Later, Raw Bodega Bay rockfish, which is caught using a traditional Japanese fishing method, is served with salty garum sauce and fiery wasabi. The prawn risotto (made using shellfish from TransparentSea Farm – a sustainable indoor farm in Downey, CA) is enlivened with uni and a crab head foam.
The dessert courses follow the same vein with the likes of an intriguing Tomales Bay oyster ice cream palette cleanser followed by a mochi chiffon with strawberry and a sweet sake. 
[See also: 1 Hotel San Francisco: A Sanctuary of Sustainability]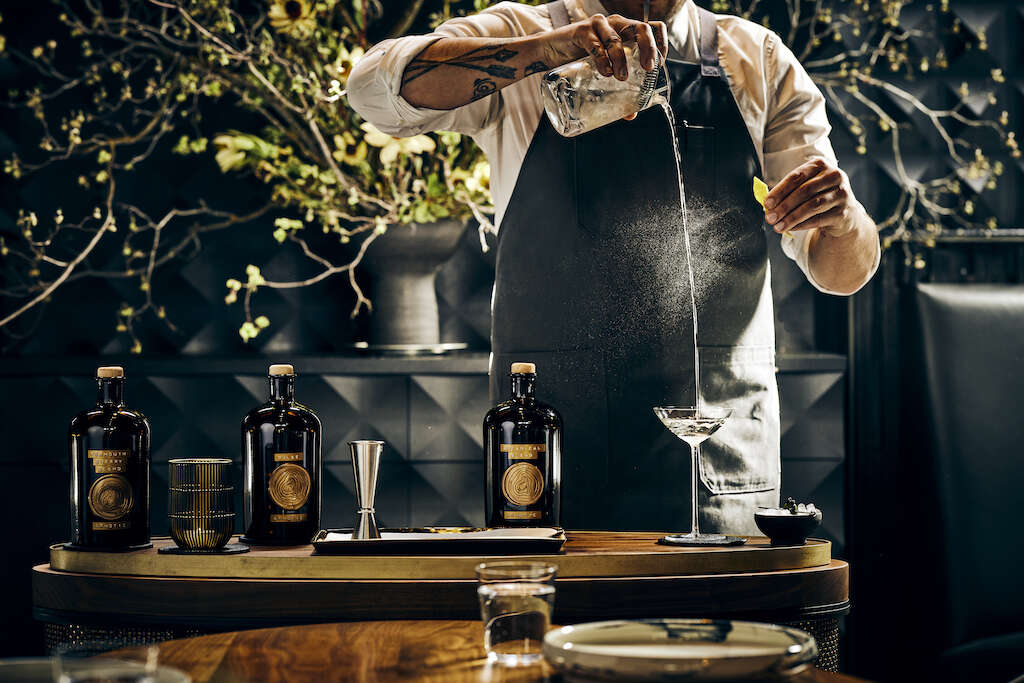 Aphotic has paid close attention to its beverage program, too. Not only is there a 7,000-strong list of predominantly coastal wines, but also a serious cocktail list centered around the restaurant's in-house distillation efforts. Come for the food but stay for the eight-course cocktail tasting menu.
Interior
Aphotic's name – which is derived from an Ancient Greek phrase for 'without light' – is artfully brought to life in the restaurant's interior design. Created by chef Hemsley in collaboration with designer David Middleton, the space is atmospherically dark with black walls and custom walnut woodwork cast even further into shadow by the moodily dim lighting.
In the main dining room, which leads on to an open kitchen, bronze details by David Whippen and unique Shou Sugi Ban cladding by local designer John Liston steal the limelight. In the bathrooms, the ocean is once again artfully yet subtly referred to with the near-2,500 pounds of recovered driftwood that lines the walls.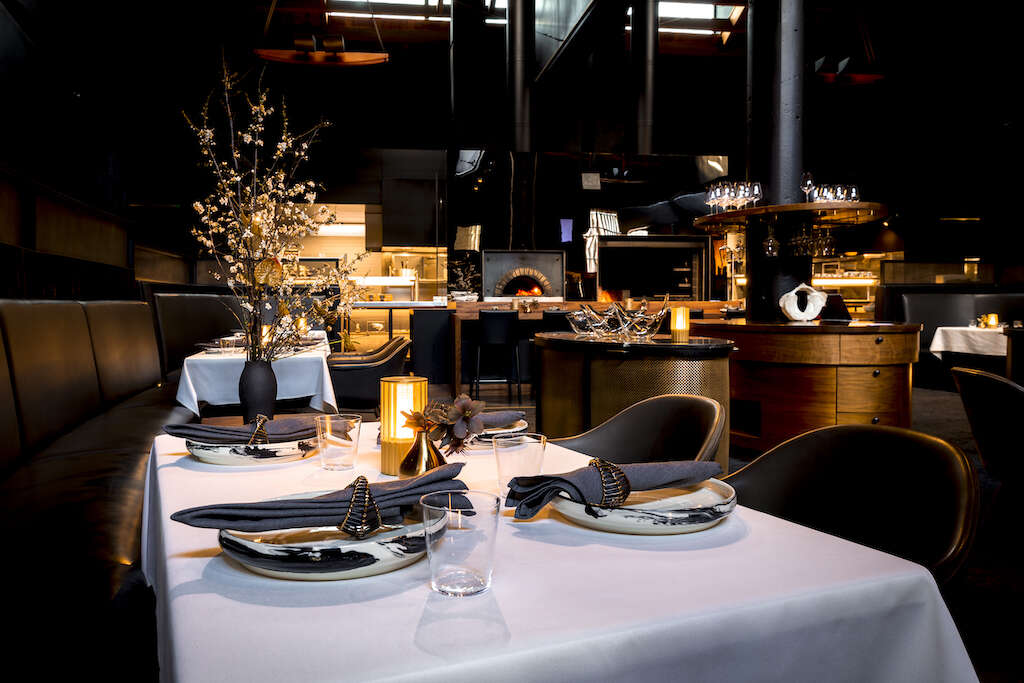 Aphotic, 816 Folsom St, San Francisco, CA 94107, aphoticrestaurant.com