Tucked away on the Mont d'Arbois slopes in the heart of the French Alps, Four Seasons Megève is about as luxe as ski hotels get. However, aside from its wonderous potential for Alpine adventure, it is also a culinary destination in its own right, with no less than three restaurants despite its petite size. Its crowing jewel, however, is La Dame de Pic – Le 1920 – the newest outpost from the incomparable Anne-Sophie Pic.
While the hotel has been welcoming guests since 2017, its flagship restaurant only re-opened under the Pic name in June 2021. Within nine months, it had received its first Michelin star, only adding to chef Pic's ever-growing tally of accolades.
Like all of Pic's restaurants, La Dame de Pic – Le 1920 is an experiment in bold flavors, with an emphasis on bitter, smoked and roasted elements, all executed through a lens of classic French techniques. However, the real difference between her many outposts lies in the ingredients themselves, with each destination calling on the native goods of its surrounding landscape.
But, despite the level of prestige (and indeed the price), the restaurant is neither fussy nor formal. The team is professional but welcoming and friendly, and doesn't shy away from a joke or two. La Dame de Pic – Le 1920 proves that fancy fine-dining and unpretentiousness aren't mutually exclusive.
[See also: Yannick Alleno Brings Pavyllon to Monte Carlo's Hotel Hermitage]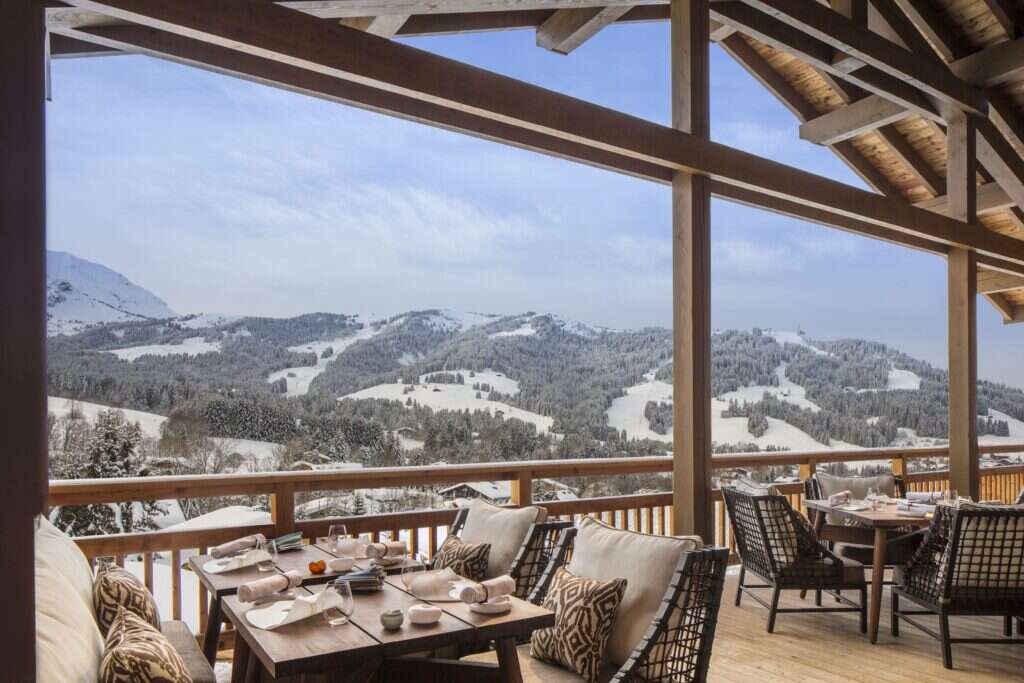 Chef
It wouldn't be an exaggeration to say everything Pic touches turns to culinary gold. With nine Michelin stars across five restaurants – including three at her flagship destination in Valence – she takes the title of being the most starred female chef in the world.
Culinary skill runs strong in the Pic line, with both her father and grandfather achieving the maximum three Michelin stars at the family restaurant, Maison de Pic, which first opened in 1934. However, it was only following the unexpected death of her father, and the subsequent loss of his restaurant's stars, that Pic took the helm in the kitchen.
Having previously studied business, Pic did not have any formal culinary training, yet still she restored the family restaurant to its former glory. In 2007, she earned three stars of her own and has gone from strength to strength ever since, with restaurants across France, as well as in London and Singapore.
However, while it is Pic's name on the menu, the dishes that leave the kitchen each day do so under the watchful eye of chef de cuisine Alexandre Alves Pereira. Working closely with Pic, Pereira's dishes carefully reflect not only the namesake's signature and recognizable style but also the unique bounty of the Alpine landscape.
[See also: Eneko Atxa on a Dedication to Green Gastronomy]
Menu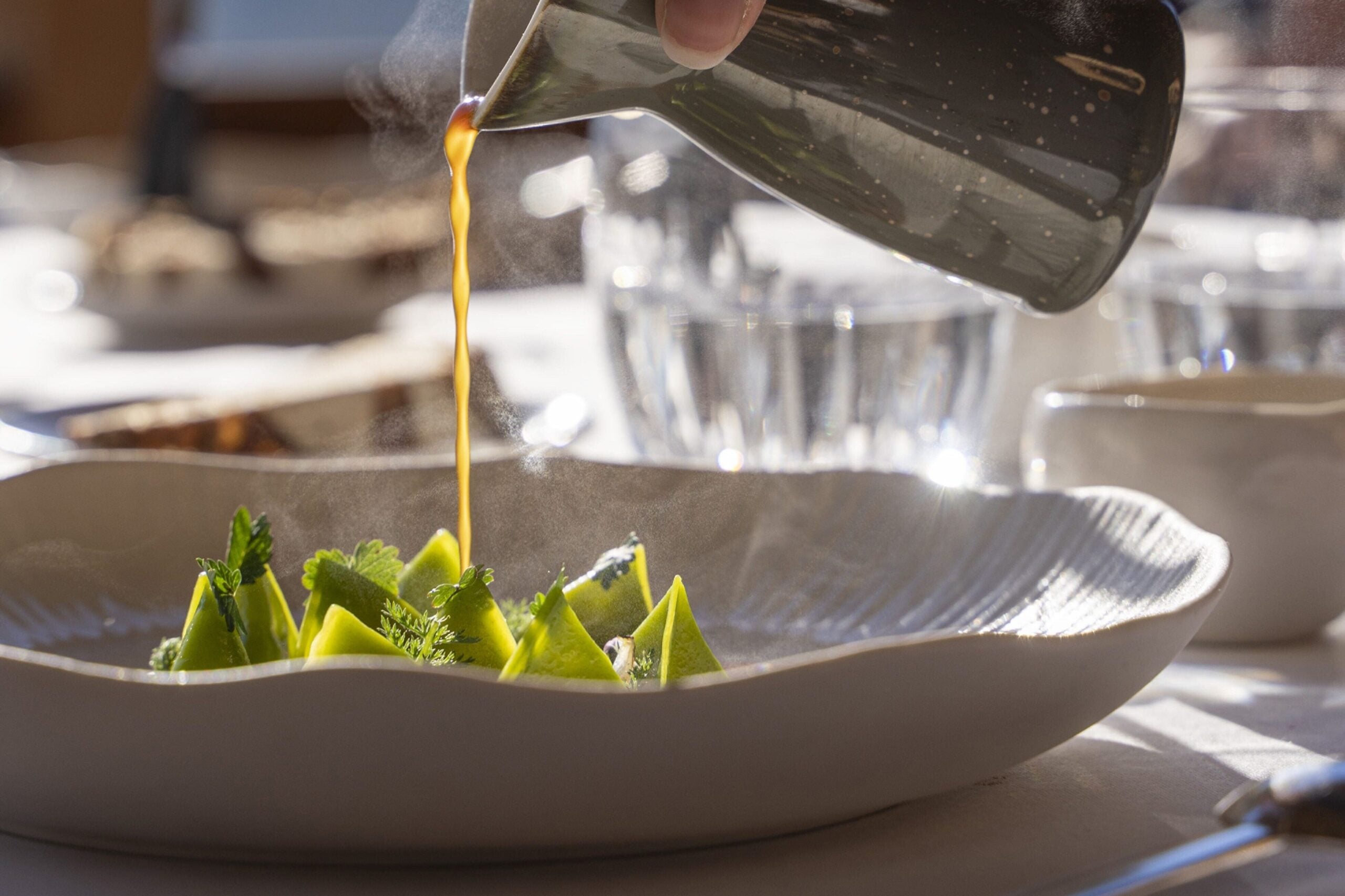 An a la carte offering is available, but as always, La Dame de Pic's tasting menu is the best way to get to grips with the restaurant. The wine accompaniment is an adventure in itself too, with sommeliers Samy and Alexis carefully delving into Four Seasons Megève's vast cellar to create an intriguing pairing. Of course, almost every label is French, but expect a few surprises like a funky Alpine Gringet, a white Châteauneuf-du-Pape and a homemade black-tea-inspired concoction.
The (about) seven-course menu kicks off with a popping yuzu and geranium ball and a delicate tomato tartlet, setting the stage for the gourmet experience yet to come. Of the three appetizers, the delicate rosettes of gin-cured fera and hunks of pickled cucumber sitting in a milk vinaigrette are the highlight, but a special mention goes to the Les Berlingots.
The dish is a permanent fixture in all of Pic's restaurants, but each features different colored tiny pasta parcels, as well as different fillings. Here in the French Alps, green striped berlingots are filled with creamy Beaufort and Abondance cheese (the same as typically used in fondue in Megève), with a surprising hit of absinthe. The lip-smackingly tart tomato broth they sit in is vital to cut through the knockout Beaufort cheese.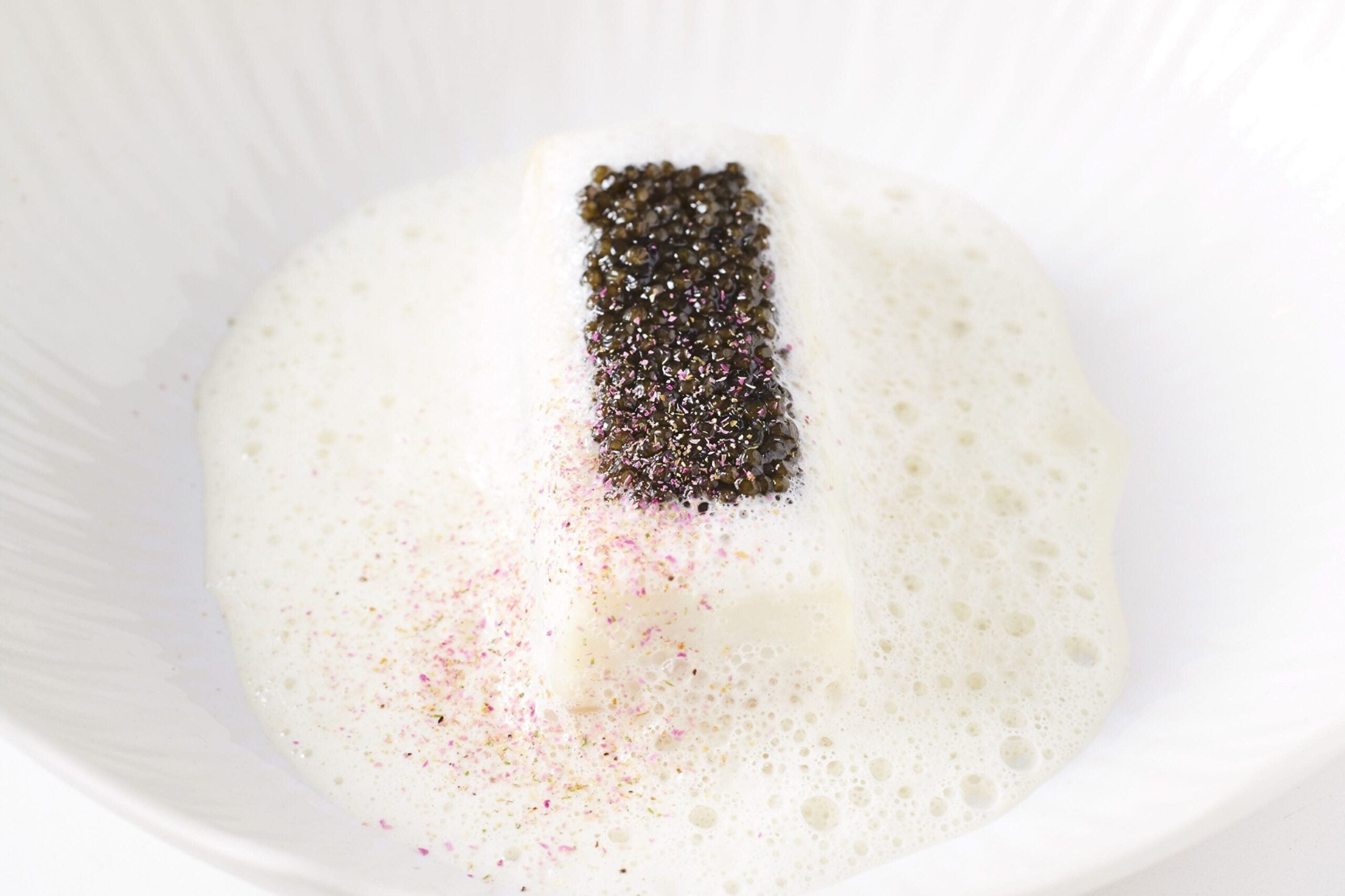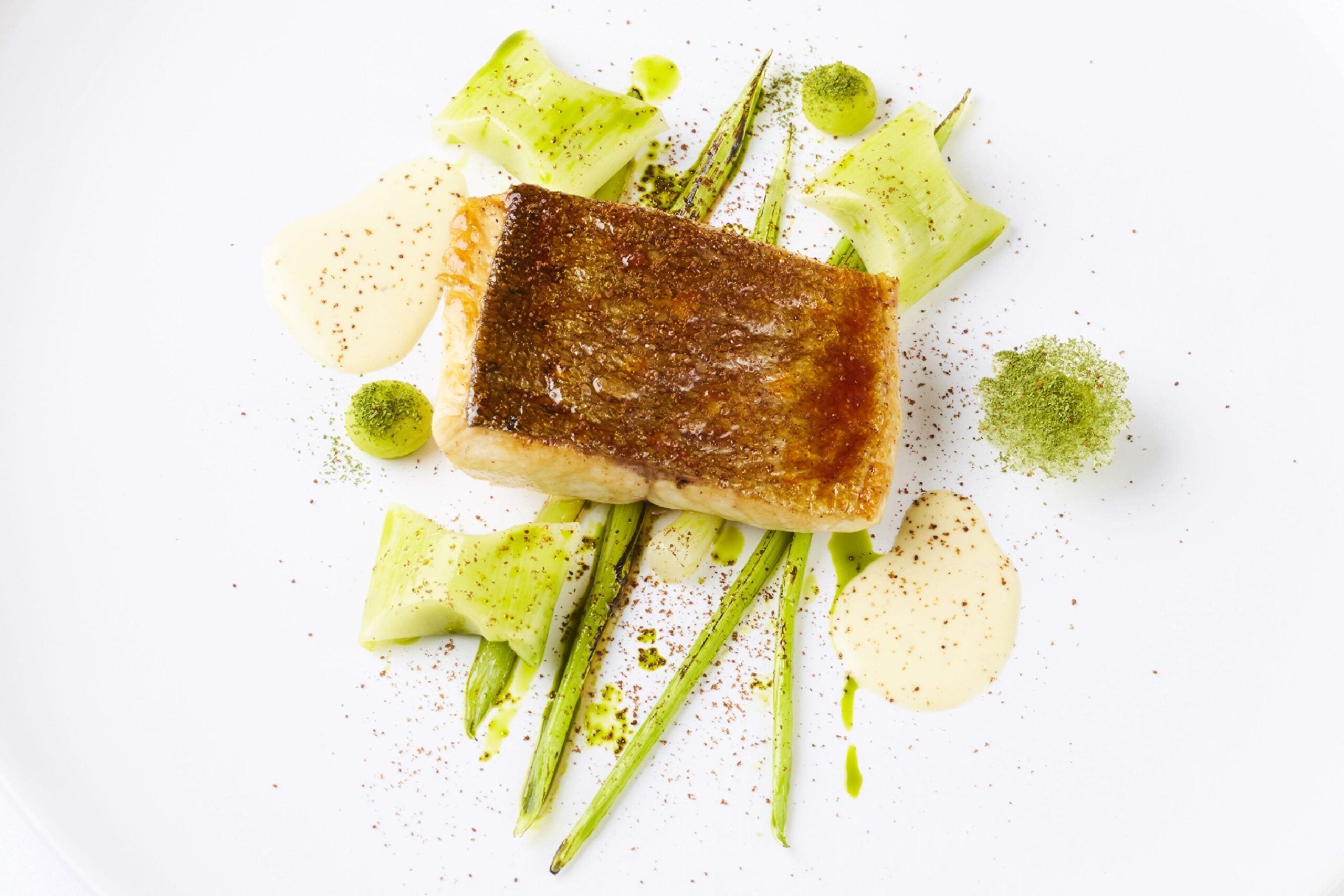 Mains continue to showcase the best of French produce. There's a flakey slab of Arctic Char, doused in whisky and served with grilled leeks, as well as a hunk of Aubrac-Wagyu (on the blue side of rare, of course), infused with mint and cognac, and accompanied by candied eggplant.
One dish that remains the same across La Dame de Pic restaurants is the extravagant Sea bass with caviar. First served by Anne-Sophie's father in 1971, the delicate poached seabass is served amidst a cloud of champagne foam and finished with a generous dollop of caviar. Anne-Sophie's updated version adds an extra level of flavor to that fluffy sauce with sake and rose.
The cheese course is a real crowd divider, with foamed vanilla-infused brie not to everyone's tastes. It makes a lot more sense when slathered on top of a slice of nutty, malty bread though. Dessert offers a choice of three dishes, but the Le millefeuille blanc (another Pic signature) is a must. A light meringue mousse flavored with leatherwood honey shrouds the hidden layers of flakey, buttery pastry and tart blackcurrant within. It's a millefeuille like you've never had it before, and the perfect end to an evening of gourmet delight.
[See also: The Most Iconic Restaurants of the Elite Traveler Era]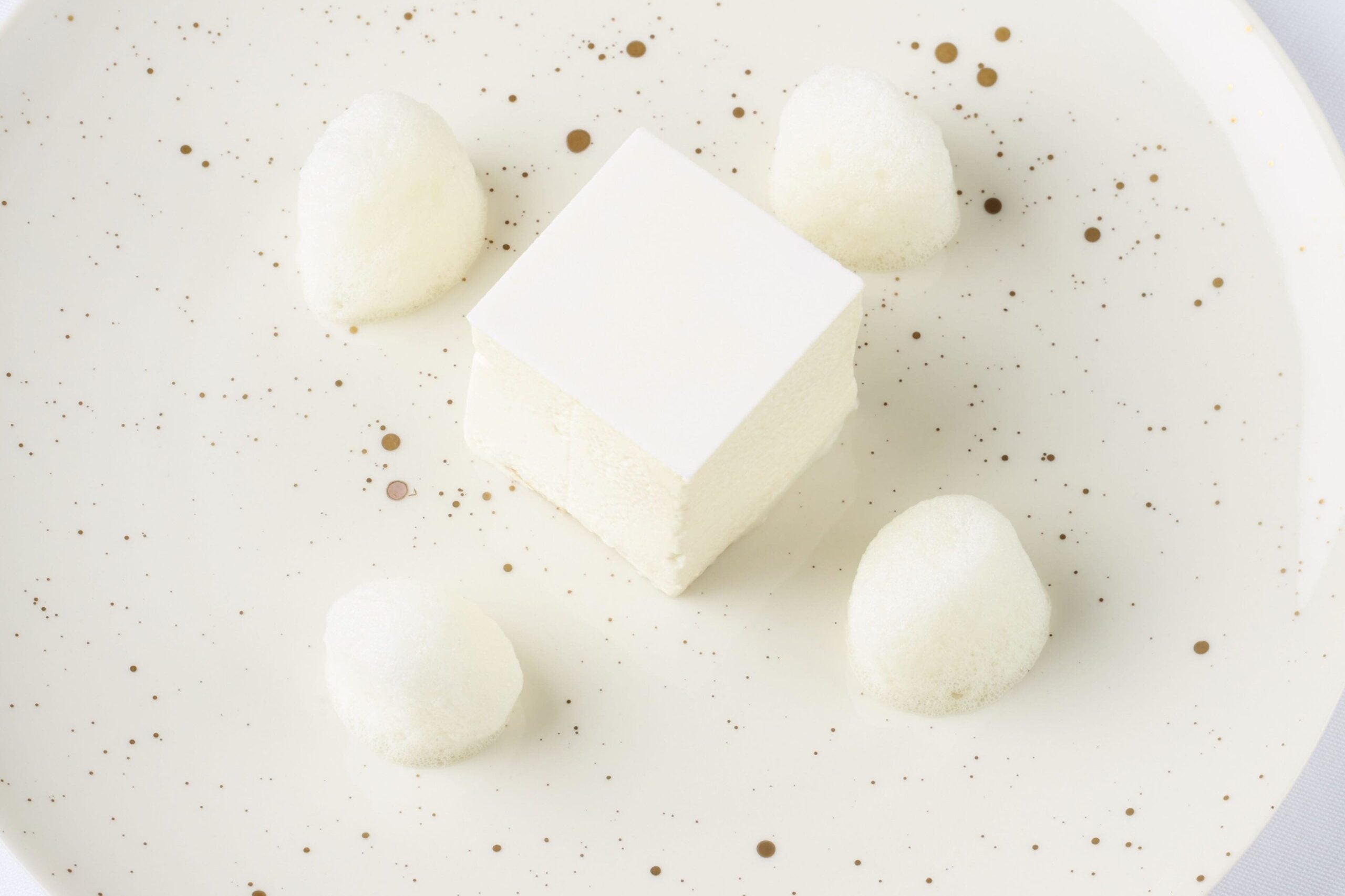 Interior
Like the rest of Four Seasons Megève, La Dame de Pic 1920 was outfitted by interior designer, Pierre-Yves Rochon. The restaurant's layout is clever, with diners invited to walk past the sparkling open kitchen where chefs are prepping from the early hours, on their way to the beautifully finished, 40-seat dining room.
Designing a space that stands up to the unbelievable Alpine views beyond is no mean feat, but Rochon has done so artfully. A delicate neutral color scheme with subtle flashes of orange complements the elevated chalet-style finish, while art is suitably pared back in order to allow the view, framed by staggeringly high windows, to take center stage.
For when the weather is fine, there is also an inviting outdoor terrace. The result is stylish and undeniably accomplished but still exudes that lovely coziness that the Alps are so famous for.