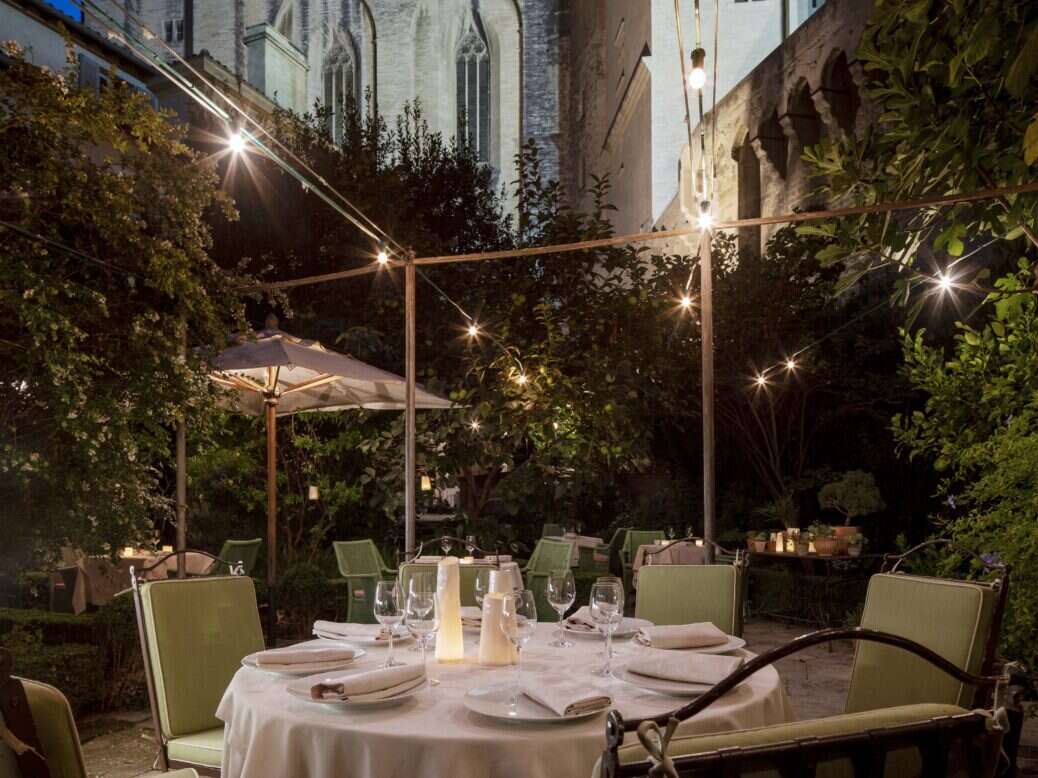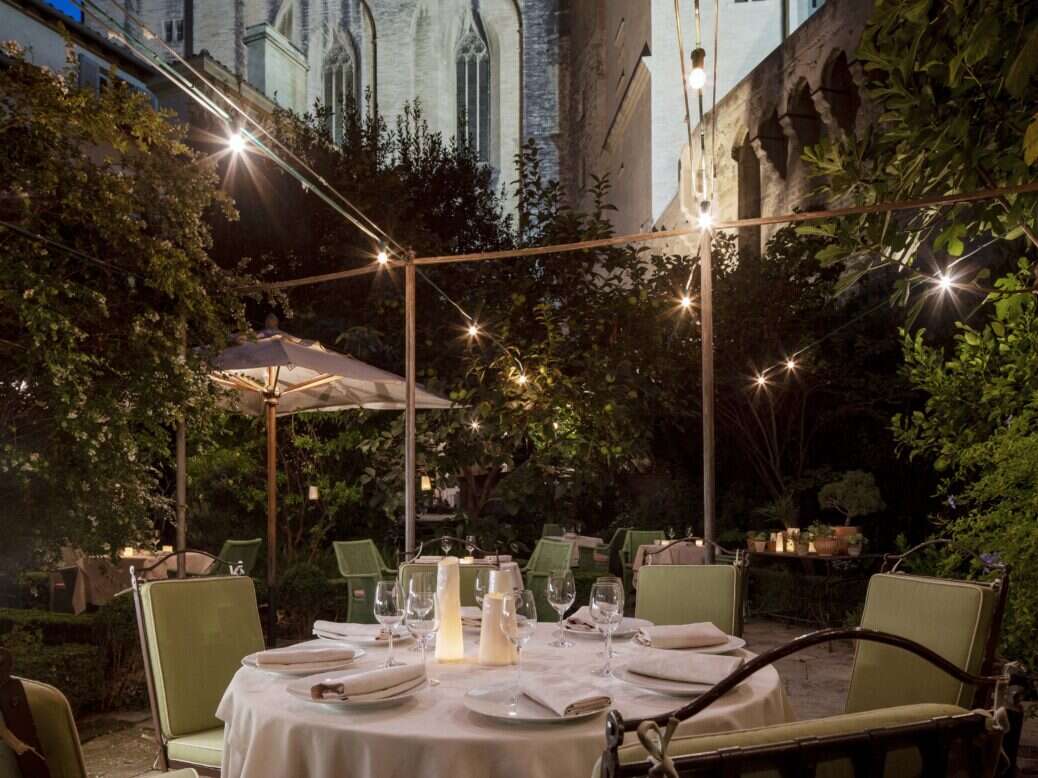 In the heart of Avignon, one of France's most captivating provincial cities, with its famously truncated bridge jutting out into the River Rhône, lies Le Palais des Papes (the Palace of the Popes). Europe's largest medieval gothic palace, home to the papacy during the 14th century, dominates the Avignon skyline with its spectacular other-worldly presence. Right next door, in a former cardinal's 700-year-old residence, sits La Mirande, Avignon's premier hospitality address, subsumed within which, amidst a sprawling warren of brocaded interiors, stone staircases, and polished parquet, is the hotel's gastronomic restaurant.
Outwardly La Mirande appears unapologetically traditional, though it's endearingly quirky with it. The restaurant had held a Michelin star for many years but by the time chef de cuisine, Florent Pietravalle, arrived in 2016, four star-less years were smarting the sensibilities of an establishment long used to an exalted position within Provençal gastronomic circles. Cooking classes are an established tradition at La Mirande while visiting chefs continue to make regular appearances.
Some of the most revered names within the global wine universe are also located within the surrounding countryside, not least Châteauneuf-du-Pape, and La Mirande has always enthusiastically embraced this pre-eminent vinicultural heritage.
The extremely comprehensive wine list, with its emphasis on organic and low-intervention producers, has five pages of Châteauneuf-du-Pape references alone. Representatives from these local winemakers also visit La Mirande regularly to conduct tastings, to elucidate and educate.
With its seductive timeless aura of French grandeur, the restaurant at La Mirande owns its place at the epicenter of Avignon gastronomy with nonchalant patrician aplomb.
The chef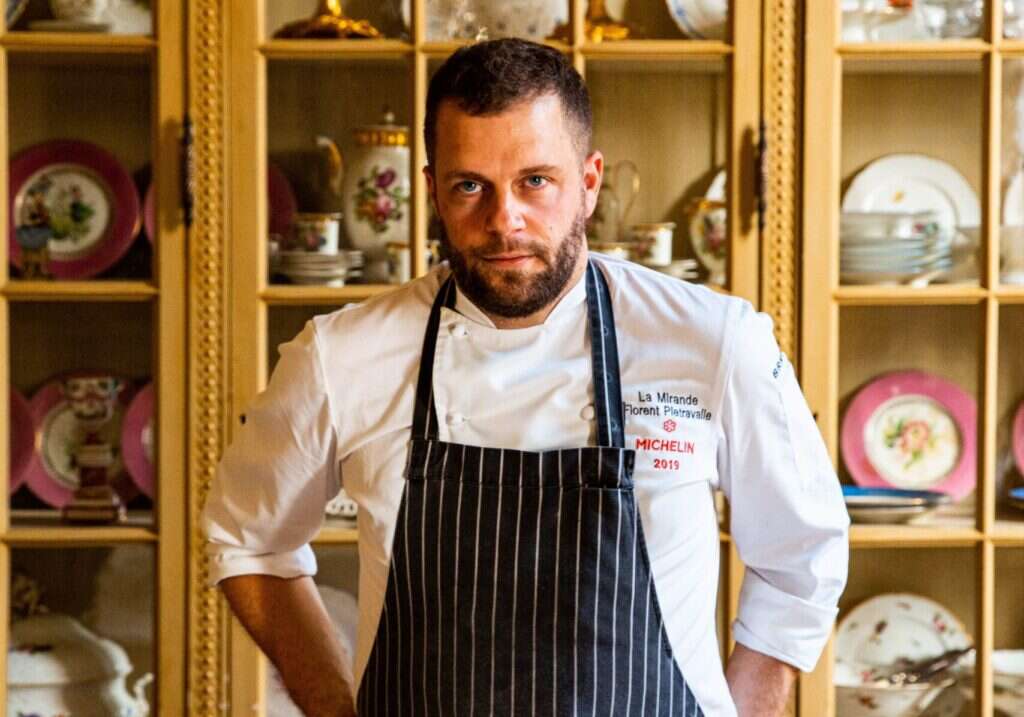 The only thing Pietravalle has ever known from the age of 17 when he was already in a Michelin-starred kitchen, is a pathway to a deeper refinement of his culinary skills. His youthful romp through some of the most distinguished dining addresses in France incorporates stints in Paris with the most Michelin-starred chef of all time, Joël Robuchon, and latterly, four years at Pierre Gagnaire's three-starred flagship in Rue Balzac. 
So far so pedestrian. There is, however, absolutely nothing pedestrian about the innovative contemporary cuisine he's currently wowing diners with at La Mirande. If letting a 28-year-old loose in La Mirande's kitchens for his first chef de cuisine position was a gamble, it's one that's paid off in spades.
His years with some of the most acclaimed cuisiniers to ever wave a whisk around a French kitchen, coupled with the diligent absorption of top-flight technique, all coalesced into a sturdy launch pad when it was time for Pietravalle to fly. And he flew.
His self-effacing demeanor and quiet disposition belie a deeply creative, highly instinctive, almost anarchic approach to his craft, with no qualms whatsoever about pushing a boundary or two. Seek insight into Pietravalle's methodology and he'll talk of spontaneity, of nothing set in stone, and of anything being possible.
[See also: Alpine Delights at Anne-Sophie Pic's La Dame de Pic – Le 1920]
A recipe for disaster in underqualified hands, but for this naturally gifted chef, the irrepressible inclination to flirt with off-the-cuff flamboyance merely suggests that those seated at the top table of French haute cuisine might soon need to squeeze up and make a bit of room.
By 2018, calls, with which I readily concurred, for Pietravalle's achievements to be acknowledged by Michelin, were growing louder. A Michelin star arrived in 2019, followed in 2021 by one of the new green stars, awarded for sustainability. Since then, plaudits from the gastrosphere have rained down like parmesan shavings onto white truffle ravioli.
In 2021, he claimed the Revelation of the Year Prize at Omnivore Paris and was feted as a New Talent by the influential La Liste, which collates the world's top 1,000 best restaurants. In 2022, the Gault & Millau guide – less well known than Michelin outside of France, but still influential within it – awarded Pietravalle a Grand de Demain trophy, a star of the future.
Many feel that Pietravalle is already a star of the present and La Mirande under his tutelage is a two-star restaurant in waiting. I wholeheartedly agree, and neither would I anticipate that wait being a long one.
The menu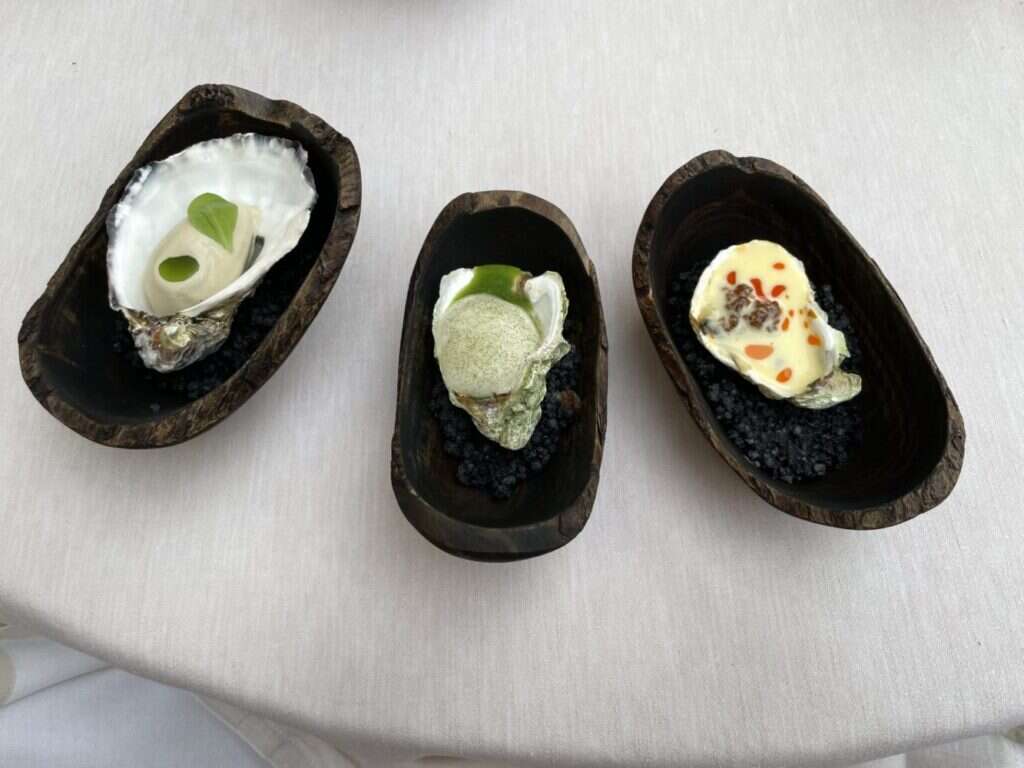 Oyster ice cream anyone? Not just any oysters, mind. As with all produce entering La Mirande's kitchens, they'll be of impeccable provenance and won't have traveled far. In this case, Migliore oysters from the Étang de Thau, one of the brackish inlets along the nearby Mediterranean coast, close to Montpellier, Pietravalle's hometown, and cultivated to meticulous old school standards by Pascal Migliore.
Should oyster ice cream seem a gastro-step too far, then the three different oyster options I recently enjoyed will satiate the desires of the most exacting mollusk aficionados: with XO sauce, with samphire, and horseradish. Anything from his old friends in Grau-du-Roi, the Camargue's main fishing port, is regarded as a culinary challenge. Anything that is – preferably with its fishy demise calibrated in hours rather than days  – as with a recently caught sea anemone, instantaneously metamorphosed into haute cuisine.
[See also: Granite: Paris's Latest Must-visit Restaurant]
Or how about pigeon cooked in a thick crust of coffee grinds… where did that idea come from? Whilst casually eyeing up surplus coffee grinds, apparently, of which there's probably a lot. Pietravalle partners with a local organization, Cyclo'Compost, which collects waste coffee grinds from Avignon's restaurants and cafes. He uses the compost to grow mushrooms in the cellar with the help of a similarly oriented organization – Comme Des Champignons.
The subterranean mushroom farm is so prolific, surplus funghi are donated back to the city's hospitality industry. His support for these low-key localized initiatives, along with other notable sustainability commitments such as the banning of plastic in his kitchen, was doubtless instrumental in the awarding of the green star.
A highly recommended tasting menu presented as "sequences", each consisting of a few variations on a theme, as per my trio of oysters, can produce pretty much anything depending on what's to hand, and wherever inspiration is inclined. Fermentation features prominently, as is evidenced by the huge wall of fermentation jars in the kitchen, all perfectly aligned like a modern-day apothecary.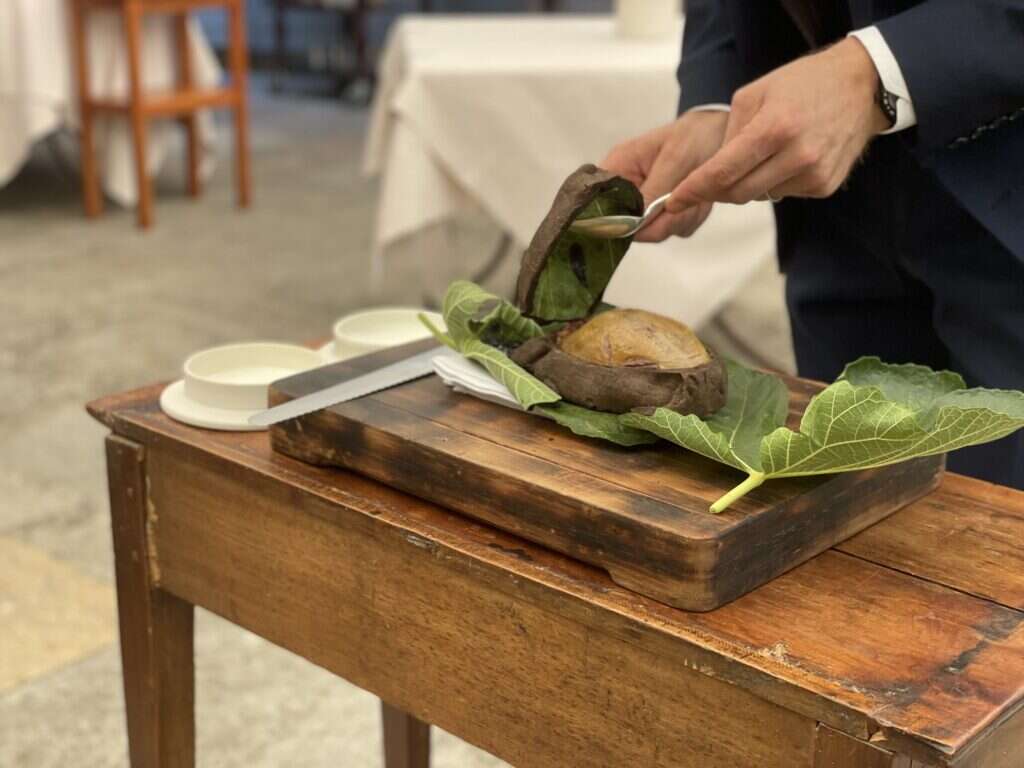 Japanese and Korean influences abound. He makes his own kimchi, though a commitment to locally sourced ingredients means it won't taste like an authentic Korean original. Pietravalle even produces his own garum – the intensely flavored fish-based sauce, the origins of which supposedly date back to the Phoenicians.
Amongst other manifestations of Pietravalle's extraordinary culinary dexterity to follow my oyster sequence, were caviar with garum and buckwheat, beetroot with smoked yogurt, wild crevettes, and "murex, pêche de la Pomette". A murex, it transpires, is a sea snail that lives in a conch-like shell, and La Pomette? That's just the name of his friend's fishing boat that caught it. Boat-to-table cuisine?
A supremely sophisticated and innovative gastronomic experience of the highest order. As for coffee grind pigeon… I'd have to confess to being previously unacquainted with the genre, but as with everything to glide across the table, it was incontrovertibly delicious.
The interiors
Was that a furtive-looking John Malkovich sliding into the shadows? La Mirande, where the overriding style statement is a richly embroidered riff off the age of enlightenment, can induce a serious attack of Les Liaisons Dangereuses at any moment.
At the heart of this atmospheric film set of a property, sits the capacious Cardinalice Room with its renaissance coffered ceiling, where cardinals once entertained popes. A 17th century tapestry dangles from the walls, and during the cooler months, fires crackle contentedly away in a grand evocation of 18th century splendor – the perfect canvas, perhaps, for a very 21st century culinary artist to deploy his disruptive talents.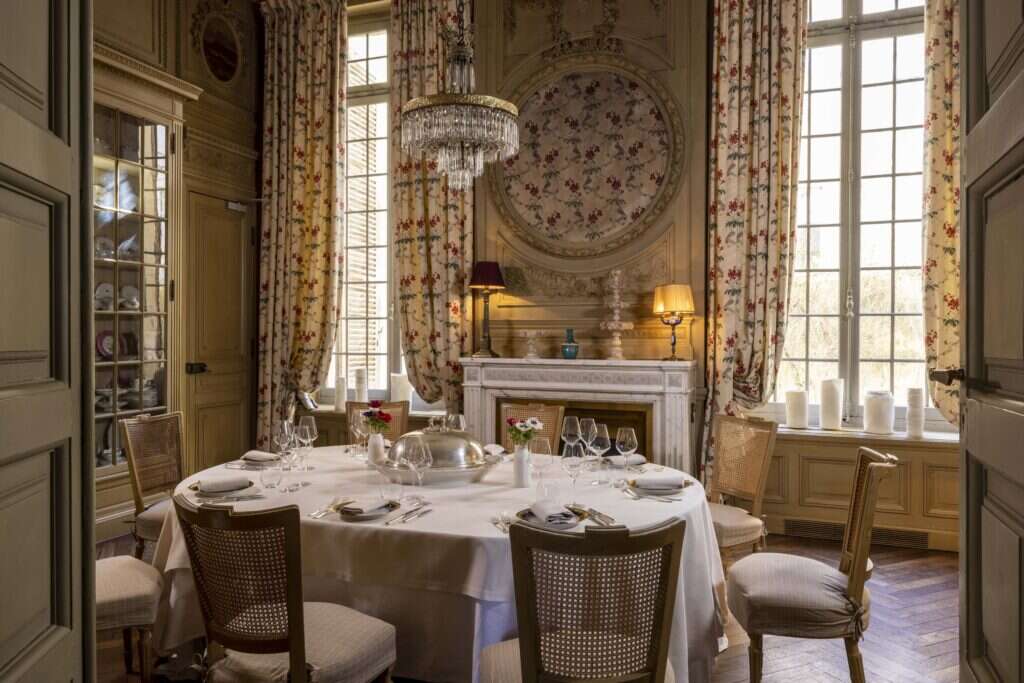 Directly off the Cardinalice Room is the smaller Napoleon III Room, so named because the emperor was a frequent visitor to the property during the late 19th century. Exquisitely decorated in sumptuous detail and seating up to a dozen, it's a particularly covetable private dining space, not least for lovers of period drama.
With summers in Avignon increasingly feeling like summers in Algeria, as the climate crisis continues to turn up the heat, La Mirande's gorgeous, terraced garden (into which Barack Obama was ushered by Michelle and daughters, Malia and Sasha, for his 2019 Father's Day lunch) exerts an ever-greater allure. As the world on the other side of the hotel's beautiful baroque frontage succumbs to the scrum of over-tourism, the view of the Palais de Papes from inside the garden sits unmolested and magnificent.
Picture-perfect and peaceful, La Mirande's terrace, enveloped in a verdant bucolic charm, remains oblivious to the frenetic activity unfolding outside. A true sanctuary of understated style and sophistication, scented with subtle wafts of honeysuckle and jasmine, amidst the shade of ancient chestnut trees and potted lemons. Embellished by Florent Pietravalle's exceptional cuisine, it undoubtedly ranks among the most alluring of Provence's alfresco dining destinations.