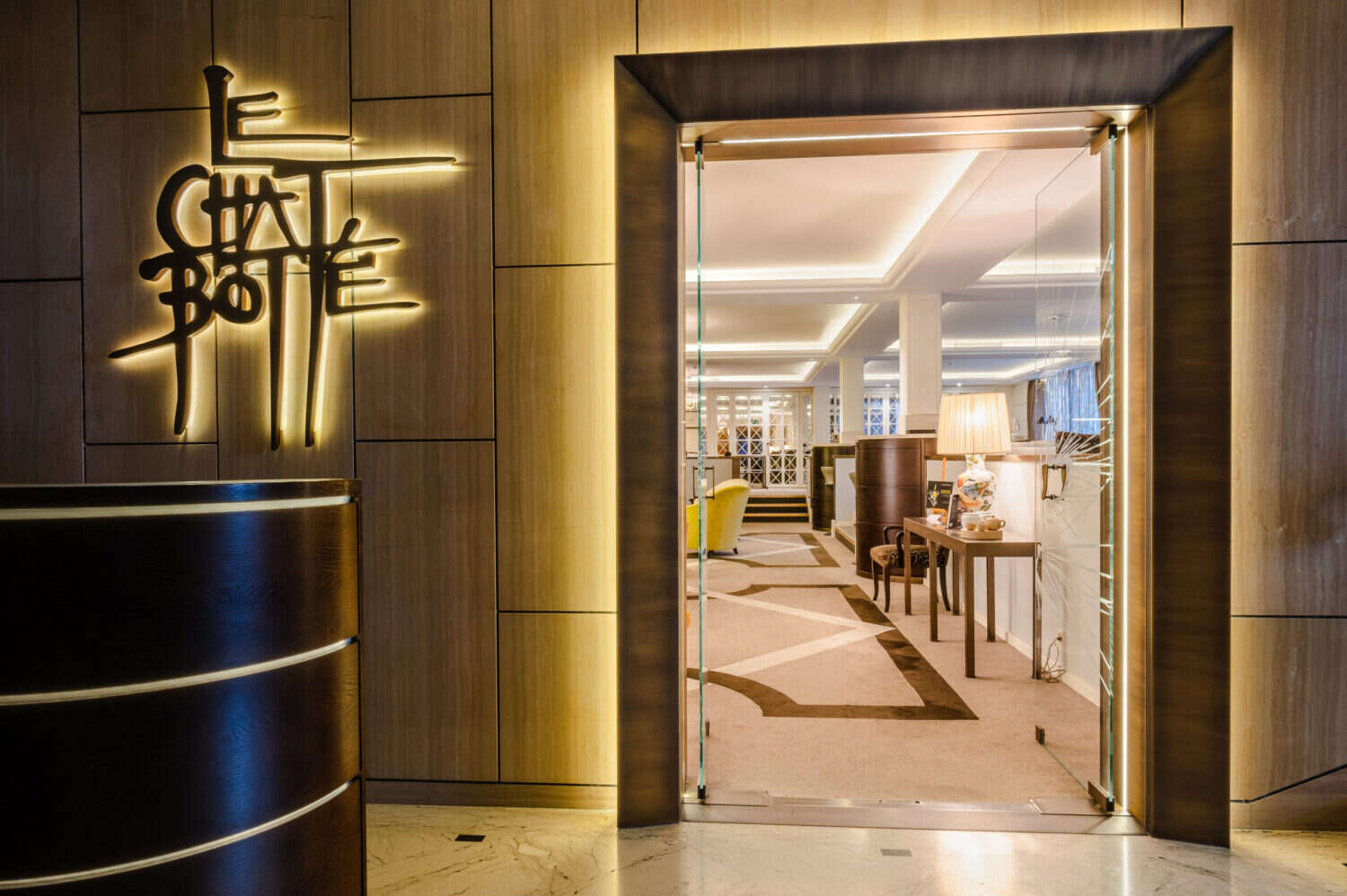 The Beau-Rivage is one of Geneva's most storied hotels. A family-run hotel since 1865, its prime lakeside position allows the restaurants inside breathtaking views of Lake Geneva. The dream of Fred Mayer – the third generation of the original family – this seasoned epicurean wanted to bring fine dining to luxury hotels, making people travel not just for the accommodation but for the culinary outlets inside.
And so, in 1967, Le Chat-Botté was born. Since opening, a slew of awards have been won (it has retained its Michelin star since 2011, as well as receiving 18/20 by Gault & Millau) and it has made its name as one of Geneva's finest gourmet restaurants.
The hotel's legendary service extends down the stairs and into the restaurant, with the discreet and attentive waiters emulating the ancestral high standards of the Beau-Rivage. But there is nothing old and stuffy about Le Chat-Botté. While it has retained its exemplary reputation for over 50 years, the constant innovation from the chef and the ever-changing menu keeps things fresh and exciting.
[See Also: Louie London: New Orleans Charm in the English Capital]
Chef
At the Beau-Rivage since 1992, Dominique Gauthier is celebrating his 30th anniversary this year. One of the most exciting culinary talents in Switzerland, Gauthier's aim is to bring seasonal ingredients to the table, the result being exquisite French gastronomy with a focus on locally available ingredients.
"This morning a local guy came and offered me eggs for our menu, so we have an agreement to get fresh eggs. For honey, I work with a local producer and it's fully organic. Chicken, vegetables, meat, almost everything is locally sourced," Gauthier explains.
Originally coming to the Beau-Rivage kitchens as part of a two-year training program, he never imagined he would be here all this time later. But Geneva is a city hard to resist, and he has been at the helm of Le Chat-Botté since 2001.
[See Also: The Most Anticipated Restaurant Openings of 2022]
Menu
Serving modern French cuisine inspired by Gauthier's travels and his memories of working as a young chef, the menu is refined. Understated and authentic are the two words that come to mind, with everything revolving around your experience with the food (you are even offered a choice of knives).
The uncluttered menu showcases star ingredients such as asparagus and mushrooms, as well as crafted meat and fish suggestions. There is also a wealth of vegetarian options (easily adapted for vegans) that are just as delicious and creative as the alternative.
The tasting menu was fresh and beautifully presented with surprising combinations and flavors. Highlights include Poultry with morels and white asparagus, and Cauliflower with mango and lime. Dessert also pays tribute to the seasons, with rhubarb in different textures being the ultimate summery end to round out a delicious lunch.
There is also an a la carte option, where the ingredients couldn't be found any nearer. Both pike and trout are from Lac Léman (the official name for Lake Geneva), and the former served with quenelle, green asparagus from Provence and Gold Imperial caviar and the latter with fleur de sel and cherry blossom vinegar.
Don't forget to finish with the selection of Swiss and French cheeses selected by their master cheesemonger. This is Switzerland, after all.
[See Also: The Most Iconic Restaurants of the Elite Traveler Era]
Interior
Dressed in elegant neutral hues with crisp white tablecloths, Le Chat-Botté oozes sophistication. Bathed in soft lighting, the restaurant feels welcoming and intimate. Split over two levels, the lower section is a comfortable lounge that features a unique wine pavilion (the Beau-Rivage has one of the oldest wine cellars in Geneva, filled with some of the rarest vintages).
The upper level is home to the dining area or, for epicureans who like to be at the center of the action, opt for the Chef's Table. Located within the kitchen, you'll feel like you've got a backstage pass as you watch the chefs at work. A truly memorable experience.
Le Chat-Botté, Beau Rivage, 13 Quai du Mont-Blanc, 1201 Geneva, Switzerland