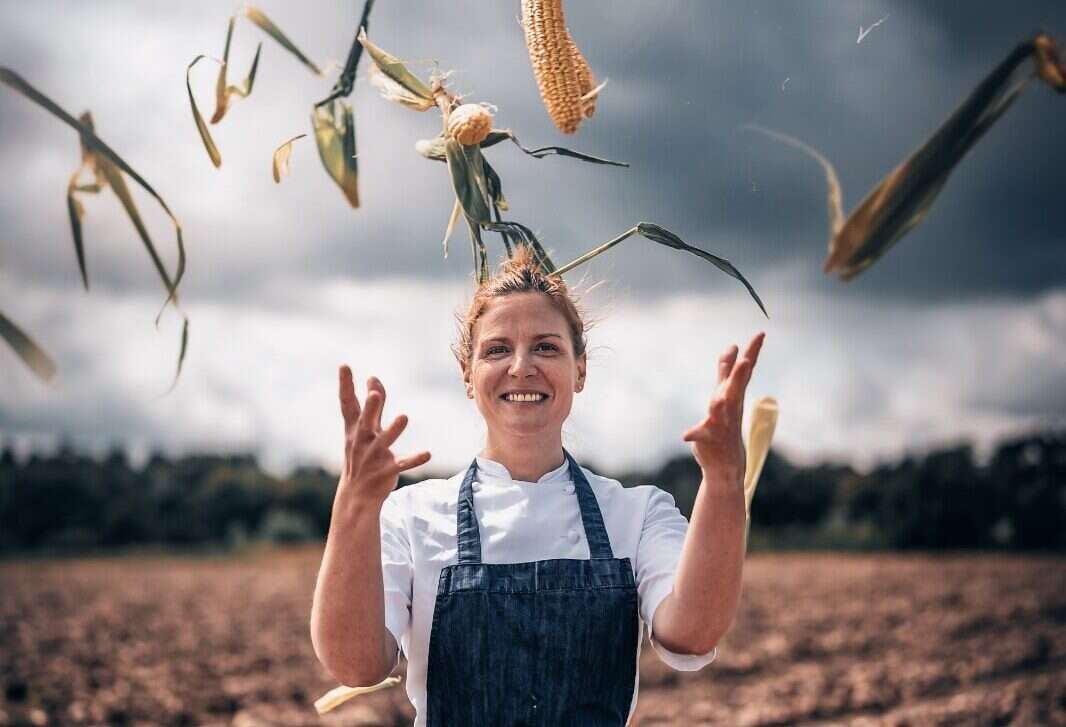 Ahead of the launch of her new London restaurant, Apricity, chef Chantelle Nicholson spoke to Jenna Campbell about joining the ever-growing wave of fine dining with a conscience.
Sustainability has become something of a buzzword in hospitality circles over the past few years, leading to a steady increase of eco-friendly restaurant concepts, bolstered by locally sourced produce and zero-waste practices.
But for a growing number of chefs, sustainability is much more than a tick box exercise. It's something deeply ingrained in their approach to food and drink, and now, after two years of pandemic disruption, those individuals are using their platform to fly the flag for a more progressive food system.
For award-winning chef Chantelle Nicholson – former chef-owner of Tredwells and pandemic pop-up All's Well (a venture launched to save jobs during lockdown) – growing up in New Zealand provided an early education regarding the importance of seasonal produce.
"It was something that was entrenched in me from quite a young age, I was always surrounded by so many kinds of amazing produce," she recalls. "It was very much part of family life, we would always have a vegetable garden and herbs outside, and my aunt and uncle had a stone fruit orchard."
[See also: The Chefs Fighting to Make Fine Dining Sustainable]
Nicholson originally trained as a lawyer before turning her passion for food and cooking into a full-time career – a move that has taken her from the finals of the Gordon Ramsay Scholarship competition to the kitchens of The Savoy Grill working as a commis chef under Marcus Wareing.
"I loved the fact that I could learn every day," she says. "Having worked in law where there's a really long time span on a project and you don't necessarily see the impact of it. Food and restaurants, in contrast, show you the daily impact of what's happening."
From commis chef to senior sous chef in a matter of years, Nicholson was instrumental in the operational shift towards the creation of Marcus Wareing Restaurants and in 2014 oversaw the opening of sustainability-focused eatery Tredwells – a role that would see her taking on full ownership of the venture in 2017.
Driven by her upbringing, and also the health benefits of vegetables and whole grains, Nicholson's time at Tredwells saw her place plants front and center. Standout dishes of miso roasted cabbage with aioli and crispy kale, and ravioli made from discs of kohlrabi, filled with creamed avocado earned the establishment a strong legion of fans.
Though the restaurant shuttered its doors in September last year, Nicholson's veg-forward cooking philosophy and commitment to seasonality earned the restaurant a green Michelin star in January 2021 – quite the accolade to go out on and a sure sign of things to come.
[See also: Trivet Restaurant, London: A Post-pandemic Success Story]
And as one door closes, another opens. Cue Apricity, Chantelle Nicholson's newly-opened restaurant concept, which works in alignment with the principles of a circular economy. Its name, meaning the warmth of sun in winter, symbolizes regeneration, warmth, generosity and light, which is reflected in the space and menu.
"The last few years have been a real rollercoaster, as for many, and when I opened All's Well, it really showed me the scope of what is possible," notes Nicholson.
"Taking what we were doing at Tredwells and All's Well, we're seeing how we can work with our supplies in a more cohesive way, so we're looking at how produce gets to us and how we can be net-positive."
Designed by London-based sustainable restaurant specialists Object Space Place, the venue follows a restorative design framework, in keeping with the concept of a circular economy. By day, the dining room will be flooded with natural light from the floor-to-ceiling windows overlooking Mayfair's Duke Street and transformed in the evening with low-level golden-hued lighting.
[See also: The Most Iconic Restaurants of the Elite Traveler Era]
"It's certainly a less is more approach and that's very much my ethos with food in many ways," says Nicholson, who has made sure to restore as many elements of the original space as possible. "We're not disrupting the beautiful wooden floors, instead we're sanding them back and sealing again and there's also a lot of quirky details – chairs are made from recycled coke cans, the sinks are all different and have come from reclaimed yards and the tiles have really high amounts of recycled materials in them."
Moving downstairs, a chef's table will host small groups of diners who will be able to enjoy the action up close from the open kitchen. "Compared to Tredwells it's going to be a lot more feminine and its energy and look a lot warmer," shares the chef. "For me this isn't about a vibe as such but about finding great stuff to make the space work well because it's the people and the food and drink that will create the experience more than the place itself."
Continuing to champion a veg-forward approach, Nicholson is working closely with head chef Eve Seemann to create a menu that will be centered around hyper-seasonal, sustainable produce from small-scale farmers and locally foraged ingredients.
"For us it's about using the whole product and finding ways of using it that we potentially wouldn't have in the past or that people typically don't use," notes Nicholson, who has been working closely with a number of biodynamic farmers in the UK.
[See also: The Best Restaurants in London]
"We're still continuing to search out those really interesting suppliers that are doing important work, especially methods that haven't been done traditionally. It's about homing in on what we've got around us and the people that are doing great things who we can also support, especially small businesses."
While menus will constantly evolve to cater to what Nicholson describes as the restaurant's "moving feast" mentality, guests can expect dishes such as Cornish mackerel and Shetland mussels with sambal butter and pickled pear; roasted Kuri squash with fermented fire flame chillies, miso aioli, squash seed crumb and Thai basil; and crispy brussels sprouts with spent beer vinegar and rosemary.
"For me, it's about championing whatever the ingredient is, be it a scallop or a carrot, finding the most delicious version of it that we can and then not doing a huge amount to enhance the natural flavor," she says. "I want people to get the same pleasure I get out of eating vegetables, so it's about making it as delicious as possible."
A dedicated tasting menu celebrating British vegetables, as well as one featuring the very best meat and fish from across the British Isles will also feature and will be accompanied by an extensive list of low-intervention wines, which champion English vineyards, as well as a selection of innovative zero-waste cocktails.
For Nicholson, her time working in luxury hotels and fine dining establishments has taught her a great deal about the guest experience, as well as areas for progression where sustainability is concerned: "We're so ingrained in a particular way of doing things that it's going to take time to change that," she admits.
[See also: Gusbourne's Laura Rhys on the Rise of English Sparkling Wine]
"But if there's a way I can make it easier for people moving forward then that's got to be a good thing. The whole point is to learn and share those learnings rather than keep that knowledge to myself – hopefully that will help the whole system move forward."
Beyond the large-scale restaurant groups and hotel chains though, the chef understands that for many small businesses the resources required to foster a more sustainable way forward may not be within reach just yet, but a shift in consumer mindset could also make meaningful change possible.
"We talk about shifting a system that has been around for many years and I think a lot of it comes down to the consumers because things only really change with demand," she explains. "On the one hand you have people saying, 'yes, I want to eat sustainably and only want to eat this and do that', but if it costs a lot more, the old way is still going to happen."
Ultimately though, she remains optimistic about the next phase of restaurant dining and her role in her industry's sustainable future: "I always say to people, just start with one little step and then gradually you'll be able to move on to the next, nothing is too little. If I can inspire us to do a little bit more [in terms of sustainability] then that's really great."
Apricity, 68 Duke Street, London, W1K 6JU
[See also: 1 Hotel Chef Denevin Miranda on Making Dining Sustainable]