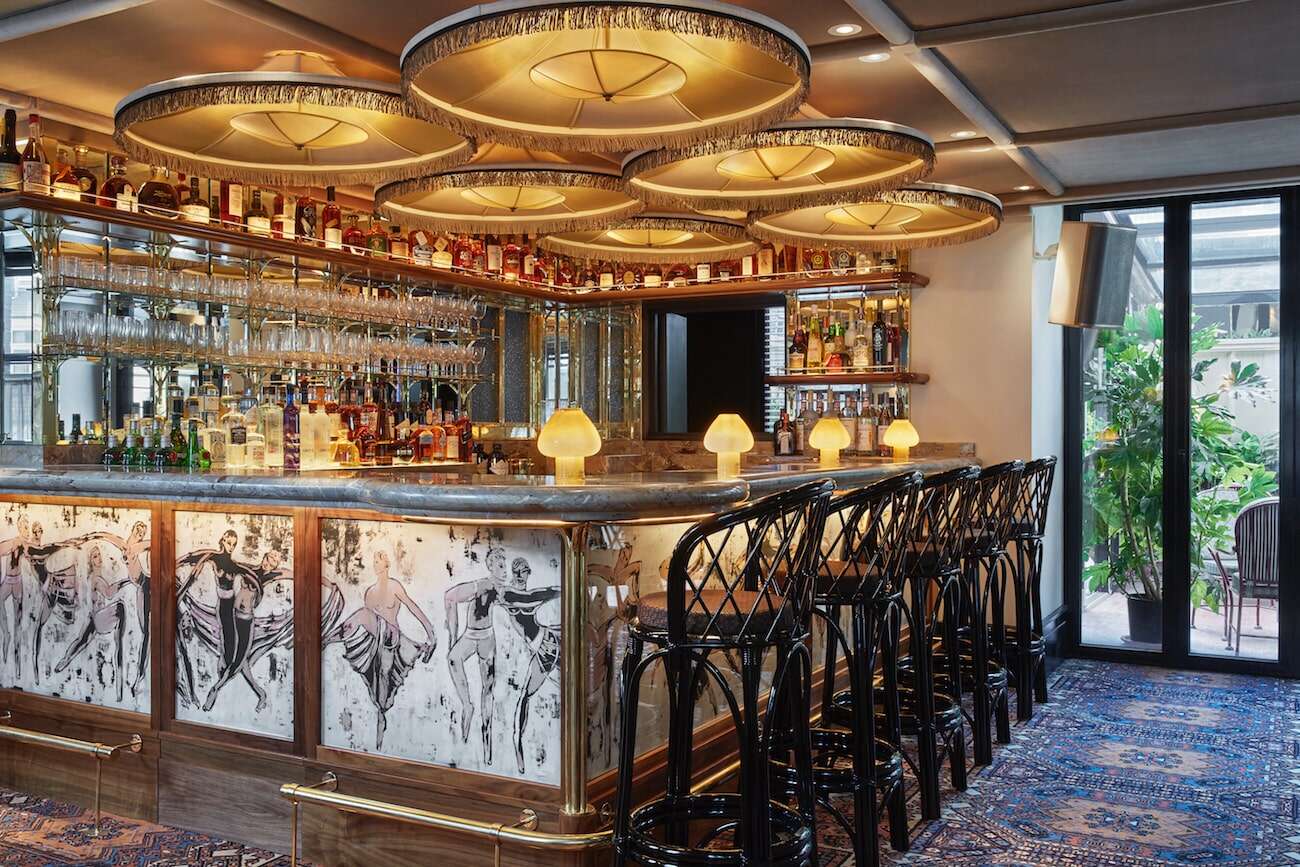 The story of Louie is an all too familiar one. The restaurant's initial April 2020 launch was set back by the onset of the pandemic, with the next eighteen months dampened by continuous lockdown threats. However, just over two years on from the ill-fated planned opening, Louie is making a real mark on central London's thriving food scene with its cool take on New Orleans-inspired cuisine.
Found on 15 West Street in the heart of Covent Garden, Louie marks the latest opening by serial restauranteur and London hospitality legend, Guillaume Glipa, who has the likes of Zuma, Chiltern Firehouse and Annabel's on his resume. Guided by the cuisine and cultures he encountered on his travels, the concept here is decidedly eclectic, but it works.
Taking guests on a journey from effortlessly sophisticated Paris to gutsy New York, with a generous helping of New Orleans soul thanks to executive chef, Slade Rushing, and back over the Atlantic to elegant London, Louie is a mishmash of some of the world's most iconic cities.
[See also: The Most Anticipated Restaurant Openings of 2022]
The space is separated into multiple dining and lounge areas, which are connected by a warren-like set of stairs and elevators. On the lower floor, there's a bright, breezy area perfect for lunch; one set of stairs up is a more formal dining room for cozy dinners; somewhere else there's a bar with a verdant outdoor terrace. There's even a cinema room hiding out in the building. It would be easy to get lost, particularly after a cocktail or two, but that seems to be the point.
"We think of Louie as a set," says Glipa. "Imagine: hidden in plain sight behind a black brick façade, a famed townhouse on 15 West Street, Covent Garden will call itself home to Louie. Only the sly gaze of a dancing alligator adorning the flag outside hints at what lies beyond its doors. Upon entering, you discover a place unlike any you've been before, transported into a time you've only ever known from black and white films."
This sounds borderline bonkers and undeniably bold, but as we head into another summer, a daring restaurant with elevated cuisine, a curated playlist and impeccable service might be just what London needs.
[See also: The Most Iconic Restaurants of the Elite Traveler Era]
Chef
Hailing from rural Mississippi, some 90 miles from New Orleans, southern culinary traditions were ingrained into Rushing's upbringing. He made the decision to turn his love of food into his career and went on to study culinary arts at the prestigious Johnson & Wales University.
His early career saw Rushing working under Daniel Bonnet at Chez Daniel, where he gained invaluable insight into the melting pot of French-inspired southern cuisine, as well as stints in San Francisco and New York, where he first met Glipa.
Rushing eventually returned to his roots, opening several of his own restaurants back in New Orleans, before taking the helm at the city's iconic Brennan's, where he added a more contemporary feel to the menu, elevating it to its former glory. The spot is now a must-visit for any foodies visiting the city.
Given that the chef's base was then 4,600 miles from London, Glipa initially only asked him to join Louie as a consultant. But Rushing wanted all-in and relocated not only himself but also his wife and children to the UK, so he could take on the role of Louie's executive chef. And with him came that incomparable New Orleans charm, with the chef artfully delivering the distinct flavors of Creole cuisine on his menu.
[See also: Dani Garcia Makes London Debut with BiBo]
Menu
Calling upon the food of four very different cities gave Rushing and Glipa a fair bit of poetic license when creating Louie's menu. You will find some southern classics such as Seafood gumbo, packed with juicy tiger prawns, andouille sausage and meaty monkfish, New Orleans-style BBQ lobster, and Langoustine grits but there are also some New York favorites in there too, like strip steak and a burger.
Desserts are a serious affair too, with head pastry chef Michel D'Angelo following Rushing's lead in clever fusion. You'll find a traditional Tarte Tatin with tonka bean ice cream on the menu next to S'mores with hot chocolate sauce, and a Southern pecan pie with maple curd and cream tuille. Make sure you save some room.
While carefully and thoughtfully executed, the food offering is intended to be super casual in order to suit the ever-changing fancies of guests. During the day, this might be a light bite with colleagues; in the evening, this could turn into an indulgent dinner with your nearest and dearest. There are even New York-style pizzas and other late-night snacks to be devoured at the bar and a recently launched brunch menu.
[See also: Trivet Restaurant, London: A Post-pandemic Success Story]
And, as Louie smoothly transitions into a bar after the evening dinner service, the drinks menu is naturally very impressive too. The cocktail offering is extensive, so be sure to ask your bartender for some recommendations. The wine list is equally as extensive, ranging from some entry-level options through to some big-hitting labels. There's even a cigar menu to end your evening with.
Interiors
Responsible for Louie's gorgeous interior is French design duo, Maxime Dion and Florence Arles of Dion et Arles. Like the food, the space is artfully eclectic, with each area brandishing its own unique personality. The ground-floor bar and restaurant is all white walls, brass accents and muted greenery, while the first-floor restaurant is a little more formal, with pristine white tablecloths and moodier lighting.
Weave your way up to the second floor and you'll find an intimate bar crammed with gently clashing furnishings and a carpet so garish that it's chic. Leading on from here is an irresistible terraced seating area, with oversized plants promising to offer shelter come summer. And finally, up on the secret top floor is the Cabana – a speakeasy-style bar that doubles up as a cinema and is perfect for private parties.
While the space has clearly been designed to within an inch of its life and no decision was made lightly, it still manages to exude a welcoming, comfortable atmosphere. Stepping into Louie – particularly the more intimate upper floors – feels similar to arriving at an impossibly stylish friend's home, where every painting, chair or cushion has been carefully selected from their travels. It's a beauty of a restaurant.
Louie, 13-15 West Street, London, UK, WC2H 9NE, louie-london.com