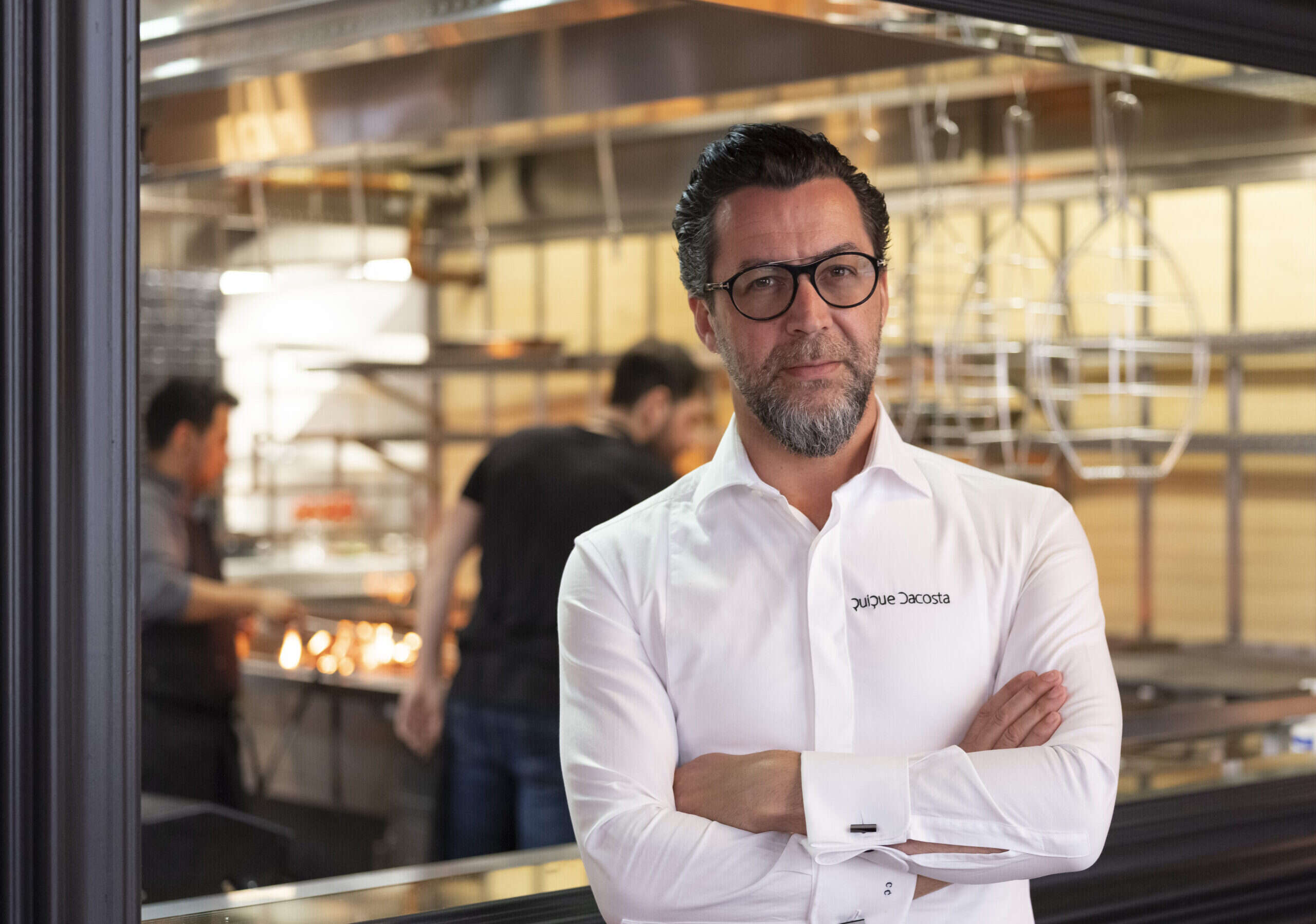 Imagine opening a brand-new restaurant in one of the culinary capitals of the world, only for it to plunge into lockdown mere months later. That was the case at Arros QD, which marked the first UK outpost in the Michelin-star-studded portfolio by Spanish chef, Quique Dacosta.
Having opened in London in the June of 2019, the restaurant enjoyed less than a year of normal service before having to shutter its doors in March 2020. The UK's first lockdown quickly turned from weeks into months, with the next year punctuated by an unpredictable series of restrictions: openings turned into closings; curfews and group limits were dipped in and out of; and to-go cuisine turned into the new normal. In short, 2020 will go down as the most challenging 12 months that hospitality has ever seen.
"It has been tough," Dacosta tells Elite Traveler from his home in the Spanish town of Denia via Zoom. "The times we have lived, and I think we're still living, are tough, and they have been tough for every single industry, but obviously in our industry it has been probably a bit tougher."
The past-faced nature of hospitality makes prolonged closures especially tricky. "You do not store wealth [in a] restaurant," Dacosta explains. "We are a circular economy that relies on guests."
[See also: The Best Restaurants in London]
"Personally, we were lucky," he continues. "We used furlough schemes and grants, but it was a collection of lucky moves [and] support from our investors that helped us through turbulent waters. But now we are in a safe harbor, so it's time to move on and look [forward]."
Fortunately, unlike many others, Arros weathered the storm. The restaurant fully re-opened for indoor dining in May 2021, ready to welcome Londoners back to enjoy its flame-cooked Valencian paellas once more.
And so, what world did Arros finally reopen its doors to? A changed appetite for one thing. No longer are diners so preoccupied with the excitement of trying food from around the world that they are prepared to remain blissfully ignorant of the environmental impact of the latest fine dining fad.
For many, sustainability was the new priority: The Green Michelin Star had been launched; Eleven Madison Park announced plans to go vegan; and the zero-waste Silo was settling into its new London home. But is Dacosta planning on making any drastic changes in his restaurants in the name of the environment?
[See also: The Chefs Fighting to Make Fine Dining Sustainable]
Probably not is the answer. "What Eleven Madison Park is doing is great. But I don't think it would work at Quique Dacosta [restaurants]," the chef says. The truth is, he probably doesn't need to. Unlike many of its culinary contemporaries, meat doesn't take center stage at Arros – or indeed in most paellas. "The traditional [dish] is around 80% vegetarian," Dacosta notes. "I understand the trend, but we have been veggie-focused from the beginning."
What really positions Dacosta and his empire of restaurants as leaders in green eating is the traditions of the cuisine he serves. The classic Valencian paella is rooted in a 'zero-mile' policy, whereby every ingredient was sourced hyper-locally – most likely from yours or your neighbor's farm. If you couldn't get it, you replaced it.
"This is an ancestral philosophy I would dare to say in every single culture around the world," says Dacosta. "We used to have to be zero-mile, because we didn't have fridges, we didn't have fast transportation and we often didn't have ways of conserving food, so you had to cook with what was close to you."
Of course, transferring this philosophy to a 21st-century, inner-city restaurant is no mean feat, but Arros, like many of the other capital's forward-thinking restaurants, is making it work. The restaurant proudly features some of the finest British ingredients, from Kentish lamb and Cornish scallops to Berkshire pork and Galloway beef on its menu.
[See also: Inside Deessa, Quique Dacosta's First Madrid Restaurant]
While this does stretch the traditional zero-mile policy, it's the only logical approach: "[We] give priority to what [we] have locally. You have great chicken in the UK, so why am I going to take chicken from Spain to London? It just makes no sense," says Dacosta.
The traditions of paella also lend themselves neatly into carefully selecting who the restaurant sources ingredients from, not just where. "You grew it, and you ate it," Dacosta says. "Nowadays we can't have a livestock producing farm with [every restaurant], so we buy ingredients from third parties, but how you choose those third parties should be just like you did before."
"The farmers and the fisherman, they're all part of what we do. They're just an extension of the restaurant team," Dacosta explains. And every supplier that Dacosta works with across all of his restaurants is carefully selected to ensure their values align. "We even go as far as knowing where the flour comes from, and we're not going to be associated with [suppliers] who have no respect for the environment. Sometimes that has an impact on price, as usually those products are a bit more expensive, but you have to be respectful."
And, of course, this respect for both tradition and the environment shines through in the food. Arros' signature paellas (Arros translates into English as rice) are served sharing-style, directly to your table, with a beautiful wooden spoon on the side for a help-yourself type meal.
[See also: The Most Iconic Restaurants of the Elite Traveler Era]
This is the type of food with the power to transport you straight out of bustling London to far-away Mediterranean shores; rabbit might be the most traditional topping, but the juicy prawns and delicate sweetness of seabream on Arros's Mediterranean paella can't be missed.
The best part of every paella, however, is the socarrat, which is the crispy crust that forms on the bottom of the dish. No, this is not burnt rice, this is a deliberate caramelization that, together with a deep stock, creates the paella's rich flavors. Accompany it with a vibrant Spanish white from Arros's impressive wine cellar and you've got the recipe for a near-perfect dinner.
The overriding message from Dacosta and indeed his food is that in order to move forward, we need to look back. Culinary sustainability can be achieved through high-tech approaches or drastic changes, but inevitably, to limit the environmental impact of our gourmet indulgences, we need only look at tradition. Source locally, source carefully, and the rest will come naturally.