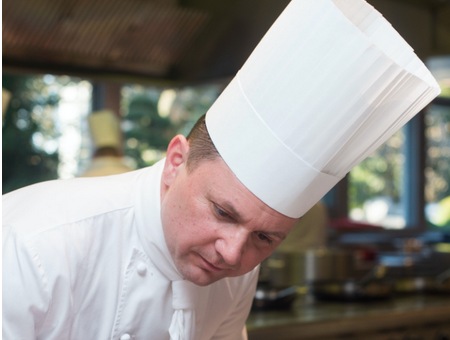 Switzerland's three-Michelin-starred Restaurant de l'Hôtel de Ville is the culinary domain of chef Franck Giovannini, who continued in the accomplished footsteps of the late chef-owner Benoît Violier. In this celebrated restaurant just outside Lausanne, Giovannini cooks up inspired plates that take you on a sensory journey.
What is your approach to cooking? We not only use the local produce but also respect each ingredient for its flavor. This means you can have fewer flavors on the plate, and that's what we want our guests to understand. Texture is also very important.
Do you have any favorite dishes? There are so many it's difficult to say. We pay attention to each season, changing the menu five times throughout the year, and we never make the same dishes as the year before. I enjoy coming up with new menus according to the changing seasons because it gives a lot of freshness to the food.
What is it about your food that people respond to so well? Coming here should be about enjoying what's on the plate. What people love about eating here is that the food looks great, and then the fact that they enjoy the produce. When I see my guests after the meal, that's always what they say. The flavors are spectacular, but it's also real, honest food.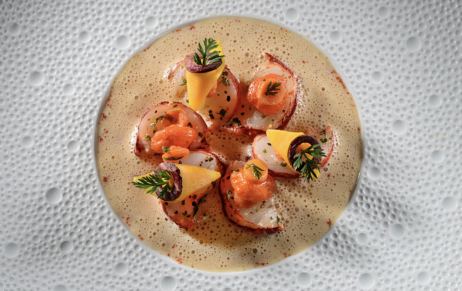 What kind of experience do diners have? We focus on the food, but I'm here every day so diners always see me in the restaurant too. I talk to all of the guests after their meal, and they can see inside the kitchen to understand the process behind what's on their plate.
What inspires you most? My inspiration comes from here, and from nature. When I create a dish I have to be at the restaurant because that's where I am at my best. I have my produce and I have my plates, so I have everything I need to play with the ingredients.
What is your greatest achievement? That I've been able to maintain the restaurant's ambiance and quality since Benoît Violier passed. I'm really proud of what we've done in the last two years, and my aim is to keep improving what we do. I feel lucky to be here. This is a special restaurant with a lot of history.