One of the Scotch whisky industry's biggest strengths is its ability to attach a narrative to its product. At a time when true luxury is increasingly elusive, Scotch retains a level of authenticity that cannot be bought. It is no surprise that the distilleries that enjoy the richest histories and strongest traditions also boast the biggest bottom lines.
But no single distillery is the be-all and end-all. While it may be comforting to purchase your favorite expression year after year, for a growing number of whisky enthusiasts, it is no longer enough to quench a thirst for exploration.
With more HNW drinkers searching for new discoveries, whisky companies have created eclectic collections that include the rarest whiskies from deep within their stocks.
The whiskies are, for the most part, genuine one-offs; innovative experiments that cannot be repeated. They offer an insight into the creative minds of whisky makers from bygone eras and celebrate a time when innovation was king. These whiskies provide a more authentic and immersive experience into whisky's true potential.
Some of the collections featured here give a platform to the misfits whose stories cannot be distilled into slick marketing campaigns. Many of them might not have ever seen the light of day. It is ironic that, through a perceived lack of marketability, today these whiskies find themselves at the top of collectors' wish lists.
[See also: The Glenturret: A Long History and an Exciting Future]
House of Hazelwood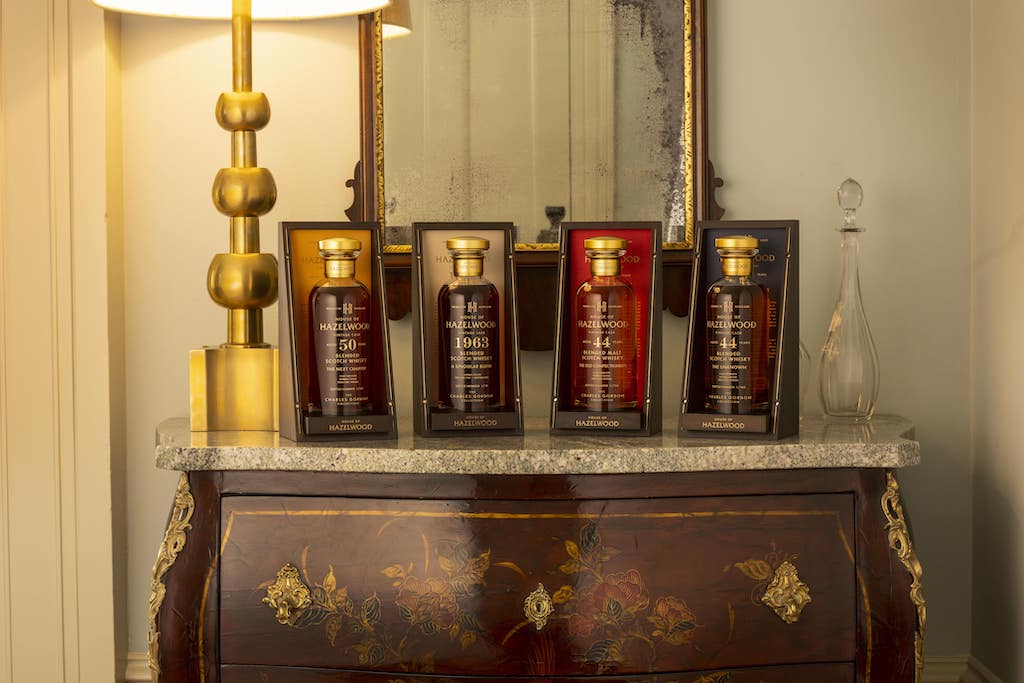 William Grant & Sons introduced the world to single malt whisky in the 1960s. Today, single malts dominate the luxury end of the market and account for most of what is considered highly collectible. Ironically, it is now William Grant & Sons, or at least a subsidiary of it, that is attempting to shine a light on less appreciated variations.
House of Hazelwood, launched in 2022, is a collection of whiskies taken directly from the owning family's private stock. The family kept miscellaneous casks aside for personal consumption, gifting and flight-of-fancy experiments. Before House of Hazelwood, these casks sat idle in warehouses, decades into their maturation, with no plan for their future.
The eight whiskies released to date are all distinctive, ranging from light and refreshing grain whiskies to heavy malt blends aged for almost 60 years. They are also vanishingly rare, with one release, A Singular Blend, limited to just 74 bottles.
A Singular Blend forms part of the prestigious Charles Gordon Collection, reserved for the oldest and rarest casks that House of Hazelwood can find.
However, our pick comes from the Legacy Collection, which is for the younger, more available expressions. The Eight Grain is a remarkable whisky made up of liquids taken from eight of Scotland's closed and active grain distilleries.
Massively underrepresented in Scotland, grain whiskies can accomplish tremendous complexity at this age. This has all the hallmarks of a vintage blend with butterscotch, banana and tropical fruits. It features a silky texture on the palate with only the faintest notes of wood, even at cask strength.
For marketing director Jonathan Gibson, a collection model was the only way to showcase such distinctive whiskies. He said: "The great thing with House of Hazelwood is that we can take people on this incredible flavor journey that goes over the entire Scotch whisky flavor profile. It's a journey of discovery."
The Last Drop Distillers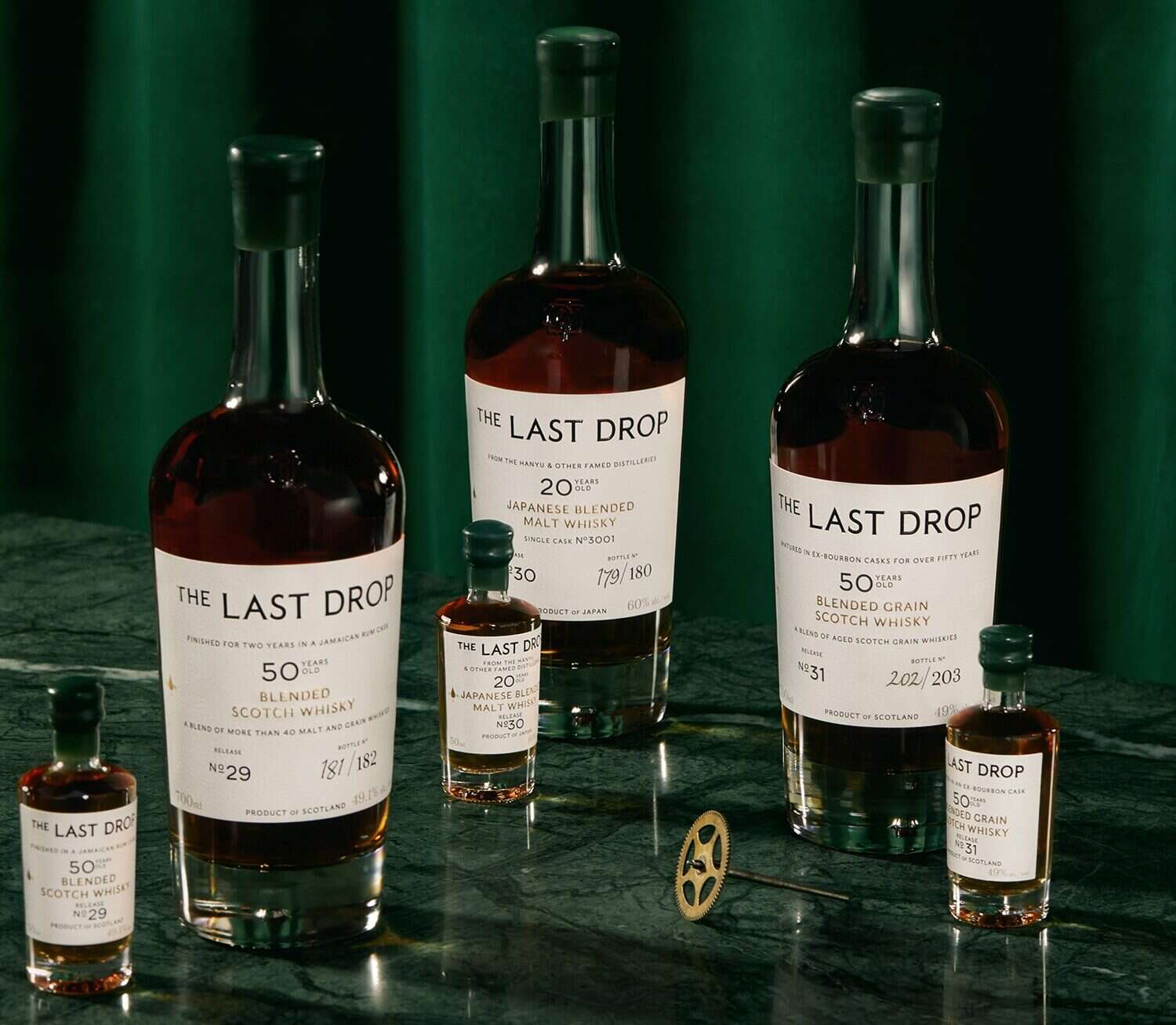 Few have been championing the misfits of the spirits world longer than The Last Drop Distillers. Founded in 2008, the self-proclaimed 'curators of remarkable spirits' have traversed the globe finding incredible casks of whisky, rum, bourbon and cognac.
Some of the discoveries are remarkable, such as a 1925 cognac that spent much of its life hidden behind a brick wall (stored there to protect it from occupying Nazis).
Testament to managing director Rebecca Jago's discernment, Last Drop Distillers has released just 31 expressions in 15 years — its main limitation being that they only bottle the extraordinary.
While the pace of releases has historically been slow, it has ramped up in recent years as the company's reputation has grown and the spirits begin to find them rather than the other way around.
[See also: Drew Mayville on Creating the Last Drop Distillers Kentucky Blend]
"The whisky industry is built on collaboration more than anything," Jago told Elite Traveler in 2022. "It's one of the most wonderful things about it. We've made a lot of contacts and spread our web so that people know what we're looking for. I hope that in a very small way, people start to see us as a natural home for their oddities, rarities or something that is never going to be a mass-market release.
"We are confident in and supportive of the idea of showcasing other people's work. We halo things that might not otherwise have their moment in the spotlight."
The 2023 collection is true to form, containing an experimental 50-year-old blended Scotch whisky finished in Jamaican rum casks, a 50-year-old grain whisky and a blended Japanese whisky made up predominantly of spirit from the revered ghost distillery, Hanyu.
Glenfiddich, Archive Collection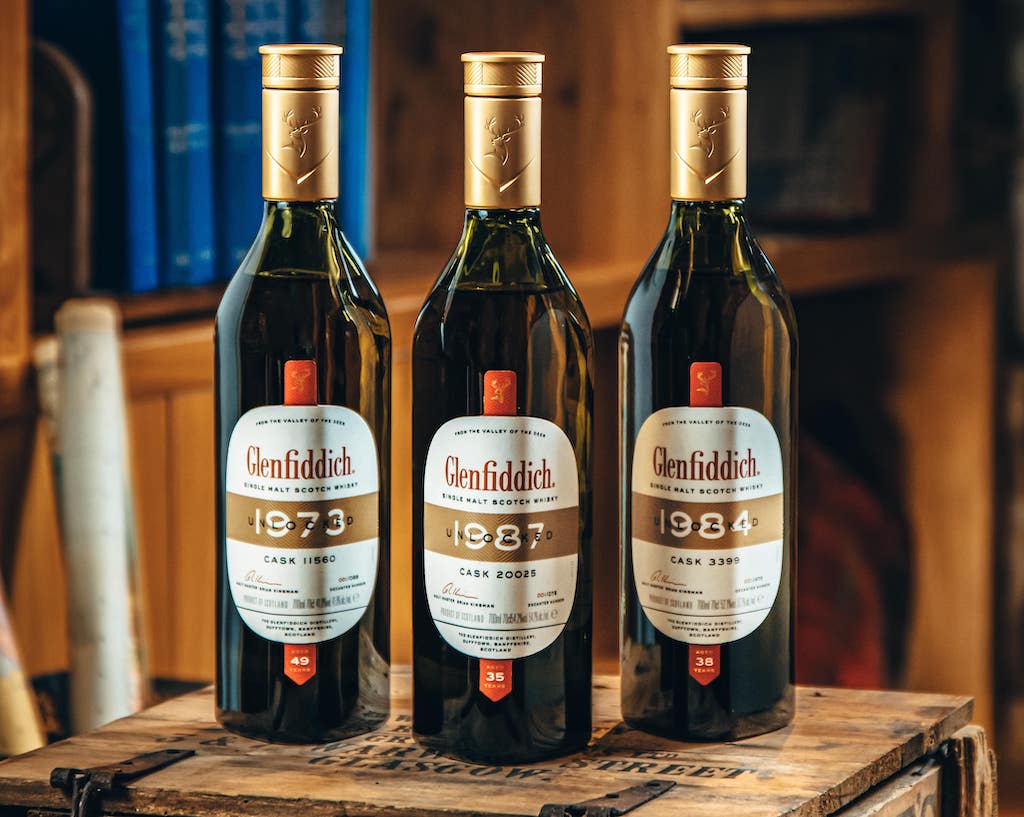 There's nothing like standing in a cold and damp warehouse drinking whisky straight from the cask. Add in some torrential rain and you've got my dream summer vacation. But seriously, it is something people travel across the world for.
The Glenfiddich Archive Collection promises that immersive experience in a bottle with three hyper-rare single malts. The Archive Collection is a new series that, at the time of writing, consists of three rare bottlings taken from deep within the warehouses. All come from single casks and are bottled at cask strength: nothing added, nothing taken away. It is the truest reflection of the distillery's character.
The most notable of the three whiskies is taken from a cask filled by the owning family on Christmas Day in 1987 in celebration of the distillery's centenary year. Limited to just 75 bottlesa nd priced at $4,500, the whisky will be sold exclusively at the distillery shop in Dufftown, Scotland.
In fact, collecting all three founding expressions in this collection will present a challenge for even the most determined connoisseur. Another whisky, taken from a 1973 cask and priced at a hefty $40,000, will be available exclusively in the UK, while yet another taken from 1984 and priced at approx. $5,600 will only be available in Taiwan and China. Collecting all three will be a remarkable achievement.
Diageo, Prima & Ultima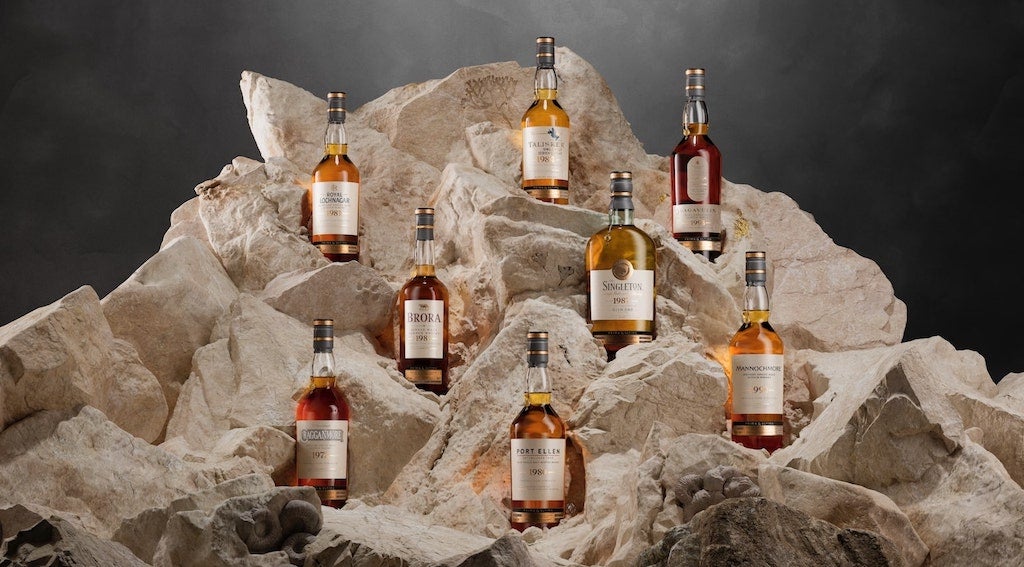 Owner of nearly 30 Scotch distilleries, Diageo is a major player in the market from top to bottom. With iconic brands such as Lagavulin, Mortlach and Talisker under its umbrella, the multinational has access to an incredible array of whiskies.
First launched in 2020, Prima & Ultima is an annual collection that puts the company's power and influence in plain sight. Released in batches of eight bottles, Prima & Ultima is the modern-day interpretation of the Rare Malts series, which ran from 1995 until 2005 and is now widely coveted by collectors.
While Rare Malts were sold for a pittance compared to today's prices (a fine investment for early adopters), a full collection of Prima & Ultima stretches north of $30,000. The price, however, is justified.
The collection usually includes the rarest casks within Diageo's huge portfolio. The whiskies are of the highest quality, but they all come with backstories that are as powerful as the cask-strength liquids inside the bottles. For instance, the Auchroisk 47 Year Old, released in the 2021 series, was drawn from the very first cask filled on the very first day of operation when the distillery opened in 1974.
Most notable of all was the Cragganmore 48 Year Old, released in the debut series in 2020, which came from the last remaining cask of whisky filled before its famous coal-fired stills were turned off forever. The whisky has an intense smokiness that was ingrained at the moment of distillation and retained inside the cask for almost half a century.
James Mackay, global private client director at Diageo and one of the leading figures behind Prima & Ultima, told Elite Traveler: "Today, there is a certain type of whisky connoisseur who gets particularly excited about something that has a very distinct provenance. They see it as a moment in time that can be collected and treasured, but can't be replicated, which is very different to any other kind of luxury purchase."
The Macallan, James Bond 60th Anniversary Collection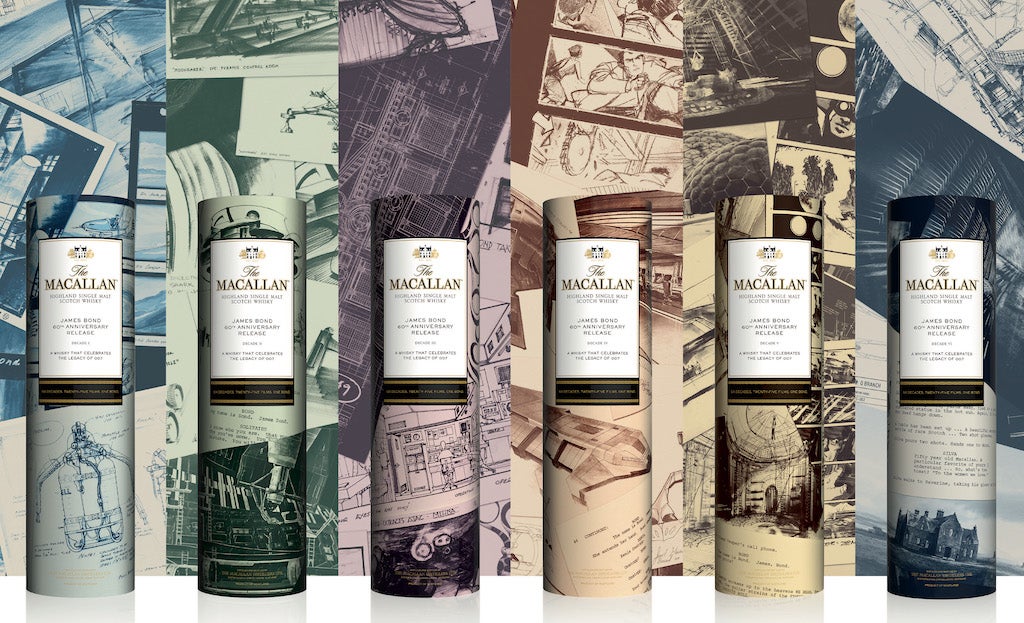 This six-bottle series from The Macallan differs from the rest, as each bottle contains the same expression of whisky.
The separating factor is in the bottle design and its packaging. Each one marks a different decade of the James Bond franchise with colors that encapsulate the era and design details that resonate with 007 fans. The Macallan has a long-lasting relationship with Bond, with some of its most famous whiskies appearing in the films.
Celebrating this partnership and the Bond franchise's 60th anniversary, The Macallan developed a new whisky that is as strong and punchy as the MI6 agent. Like all things from The Macallan, the collection is incredibly sought-after and difficult to acquire. On its launch day at Harrods department store in London, lines snaked around the block.
Why is it worth the effort? One collection recently sold for over $28,252 at auction, four times the SRP. That did, however, come complete with one of just 300 Globe-Trotter trunks designed specifically to house the six exclusive bottles — the ultimate prize for The Macallan and Bond fanatics.
[See also: Kirsteen Campbell on Making the World's Oldest Whisky]
This article appears in the 05 Jun 2023 issue of the New Statesman, Summer 2023