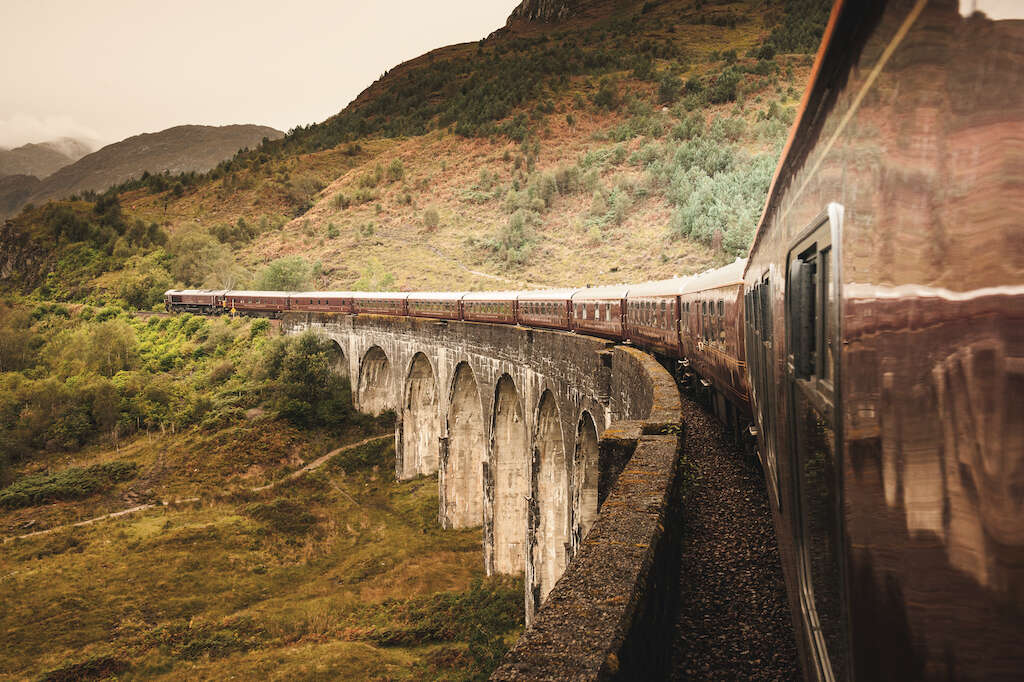 The train journey has gone through many a rebrand. Once upon a time, it was the epitome of elegance, with wealthy travel makers hopping aboard to leave cityscapes in their wake. Slowly, it molded into the carriage of the commuter, with train travel becoming more associated with lengthy delays and seat-hunting than luxury pursuits.
Nowadays, however, we are in a fresh Golden Age of train travel. Yes, those cramped quarters still exist for some, but the re-emergence of luxury trains more akin to a hotel on wheels has transformed the allure of slow travel.
With more and more people trying to adopt slow-travel habits (as well as those pursuing new luxury experiences), the popularity of train travel has spiked exponentially in recent years. We have chosen a selection of the best luxury trains in the world, each of which not only offers spellbinding onboard experiences but also the promise to see new lands from an alternative perspective.
[See also: The Most Anticipated Hotel Openings of 2023]
Venice-Simplon Orient Express, Europe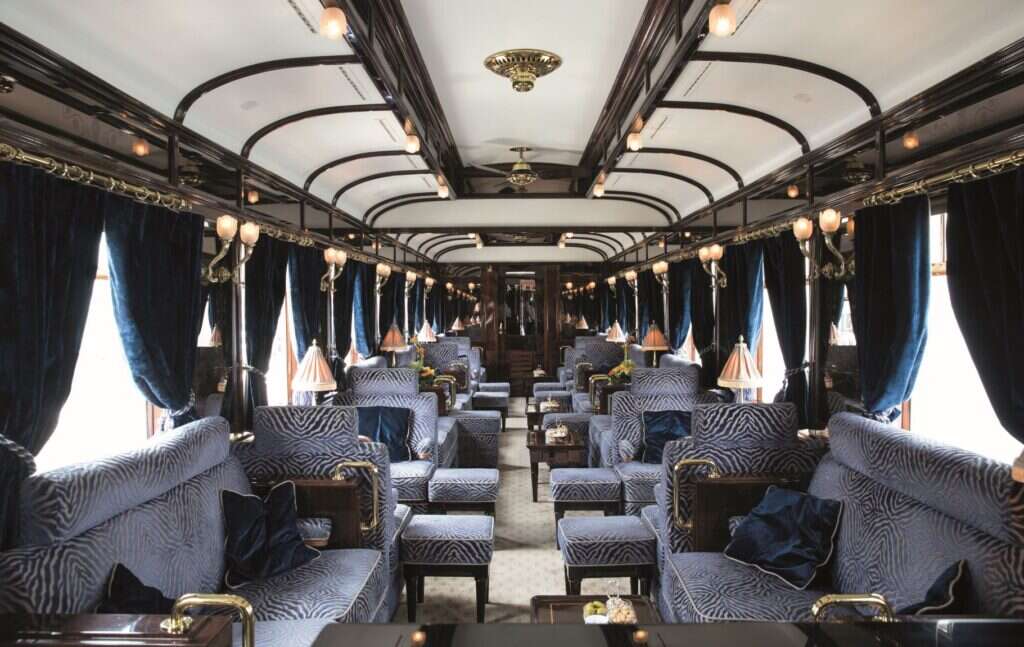 The Venice-Simplon Orient Express's reputation precedes it. The iconic train – which is owned by Belmond – is made up of carriages from the original Orient Express, which dates back to the late 1800s (in other words, the heyday of rail travel). The present-day iteration still exudes the same level of glamor and prestige (as well as notoriety for sleepless nights of partying). 
Following a continuous route through Europe (with the option to book just one night or tag multiple destinations together), Venice-Simplon Orient Express is a vision of Art Deco glamor. The original carriages have been meticulously restored and now offer lavish suites, a lively bar car (which hosts Midnight Brunches), and three dining carriages with fine food courtesy of Jean Imbert. This is about as decadent as train travel gets.
From $4,370 per person, belmond.com
Royal Scotsman, Scotland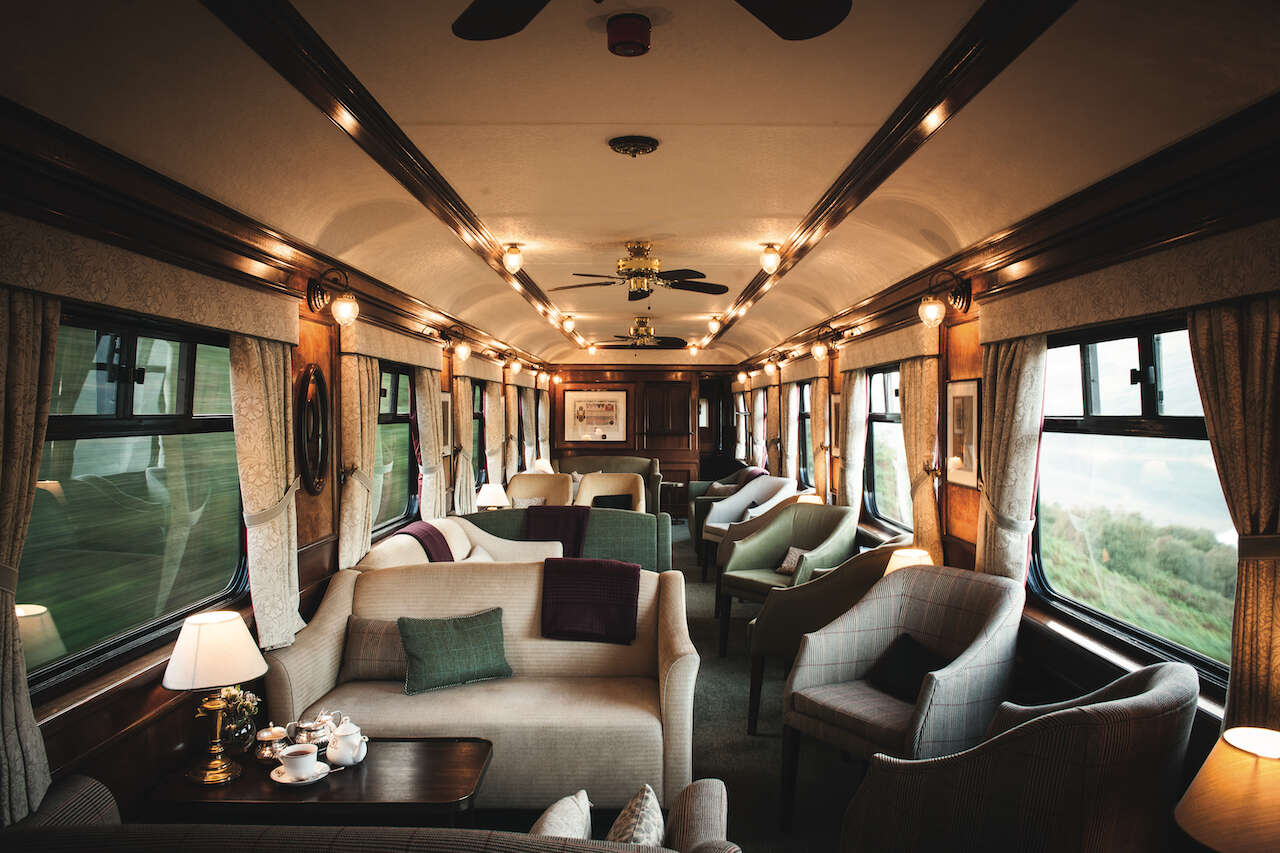 Scotland is adored for its stunning scenery, and the famous Royal Scotsman, a Belmond Train is the perfect way to see it. As you'd expect of a Belmond-run operation, the train is about as luxurious as they come with private cabins decked in glossy wood paneling (including all-new Grand Suites, set to launch next year), two dining cars, an observation lounge and even a spa carriage. 
The Royal Scotsman offers a variety of itineraries through the nation's wild landscape, from adrenaline-fueled survival adventures to week-long tours of the famous highlands. Stops along the way will highlight the very best of Scottish culture and history, including wild swimming, whisky tasting and castle visits. 
From $4,890 per person, belmond.com
[See also: The Best Luxury Literary Hotels Across the World]
British Pullman, UK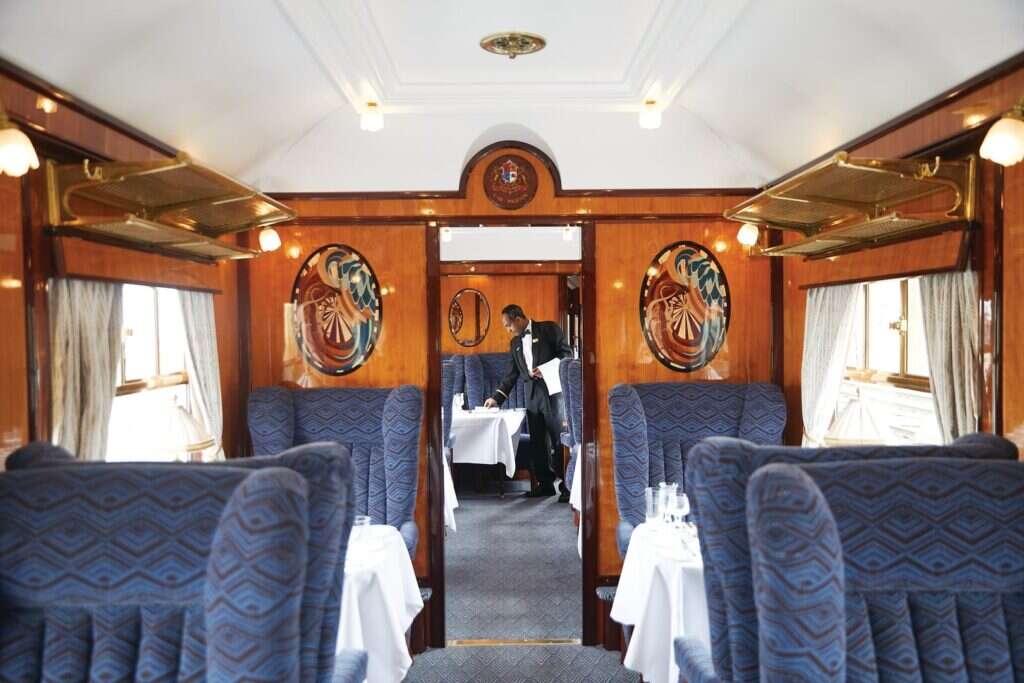 The British Pullman is a classic of its own time, regularly shuttling the country's most respectable folk into the depths of the pretty English countryside. Leaving from London Victoria station (i.e. a commuter's hell) might feel odd initially, but the minute the train pulls away from the station, luxury envelops. The British Pullman has 11 carriages, each of which offers a unique interior theme, from the emerald Wes Anderson-designed space to the Phoenix car, which is said to have been the favorite of Queen Elizabeth II.
Unlike other luxury trains, the British Pullman doesn't offer multi-day trips, instead opting for single-day jaunts to various corners of England. Onboard, guests are treated to a multitude of glam dining experiences, from champagne-laden afternoon teas to Michelin-starred guest chef evenings.
From $490 per person, belmond.com
Maharajas' Express, India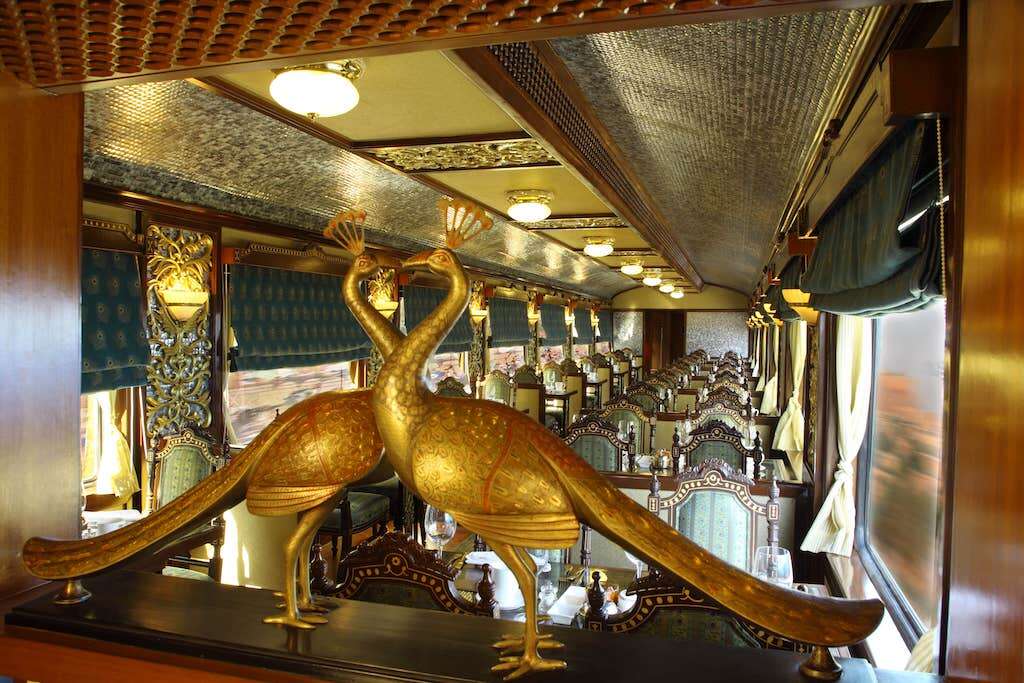 Mainly centered around the royal state of Rajasthan, the Maharajas' Express offers a tantalizing glimpse into the majestic country that is India. The luxury train's four distinct itineraries spread across northwest and central India, calling at over 12 destinations including Mumbai, Jaipur, Agra and Udaipur.
At almost half a mile long, onboard space is plentiful on the Maharajas' Express. Fine dining is offered in two distinct restaurants, with a further two lounge and bar carriages. There are four cabin types, but for the height of luxury, the Presidential Suite is a no-brainer. Covering 448 sq ft, the sprawling suite has two bedrooms, a private living room and two bathrooms. Access to a private chauffeured car for off-board excursions sweetens the deal. 
From $3,850 per person, the-maharajas.com
[See also: The Best Luxury River Cruises]
Napa Valley Wine Train, USA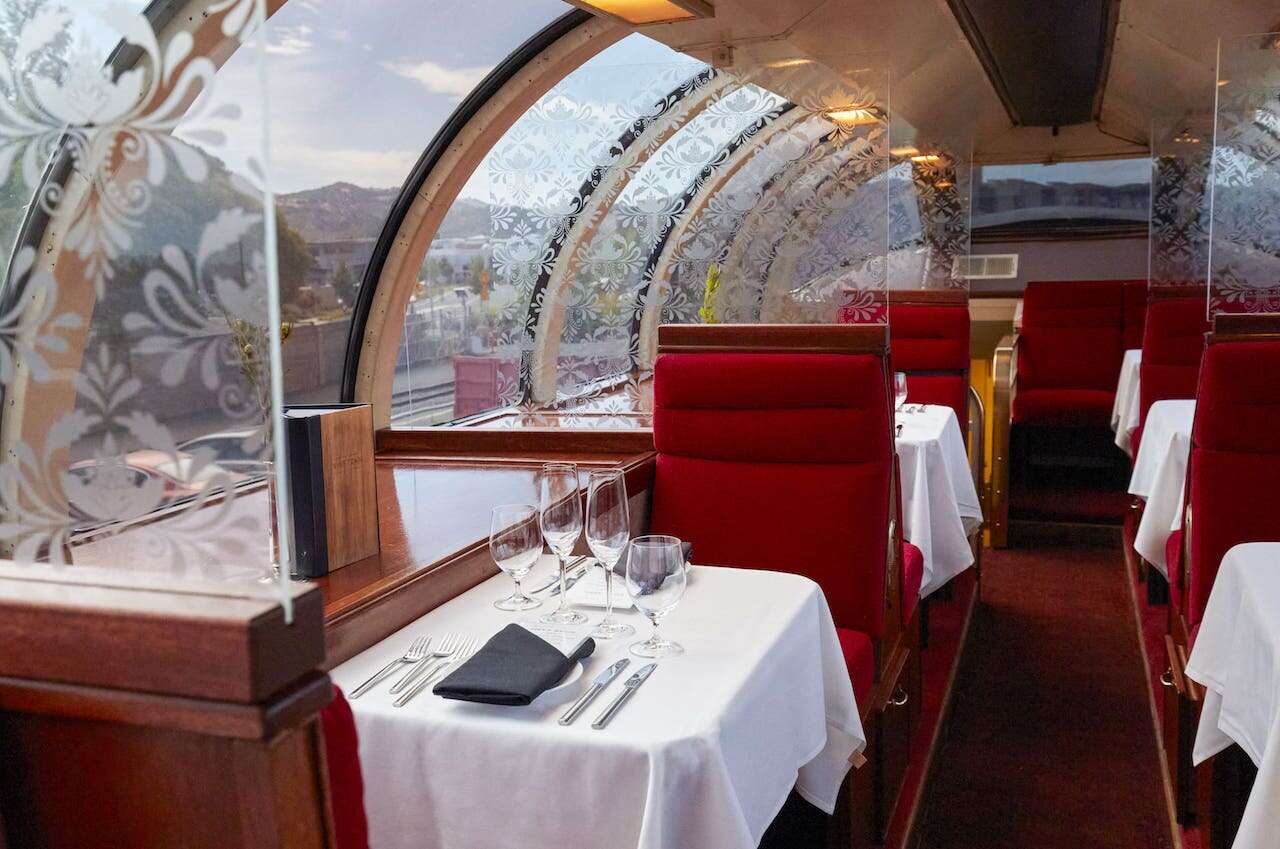 The best way to see Napa? By train, of course. The Napa Valley Wine Train cruises its way through the famous wine region, offering a variety of one-day excursions including gourmet lunches, afternoon teas and themed murder mystery dinners. For a full immersion into wine country, go for The Legacy Experience which, as well as a four-course meal, includes stops at several wineries for immersive tastings.
The train itself is suitably glam, with a series of vintage carriages reformed to their former glory. Each features its own distinct style, from the plush décor of the 1015 Pullman Dining Car to the amazing vistas of the two-story Dome Car. There's even an open-air carriage to breathe in that fresh wine-country air.
From $225 per person, winetrain.com
Belmond Hiram Bingham, South America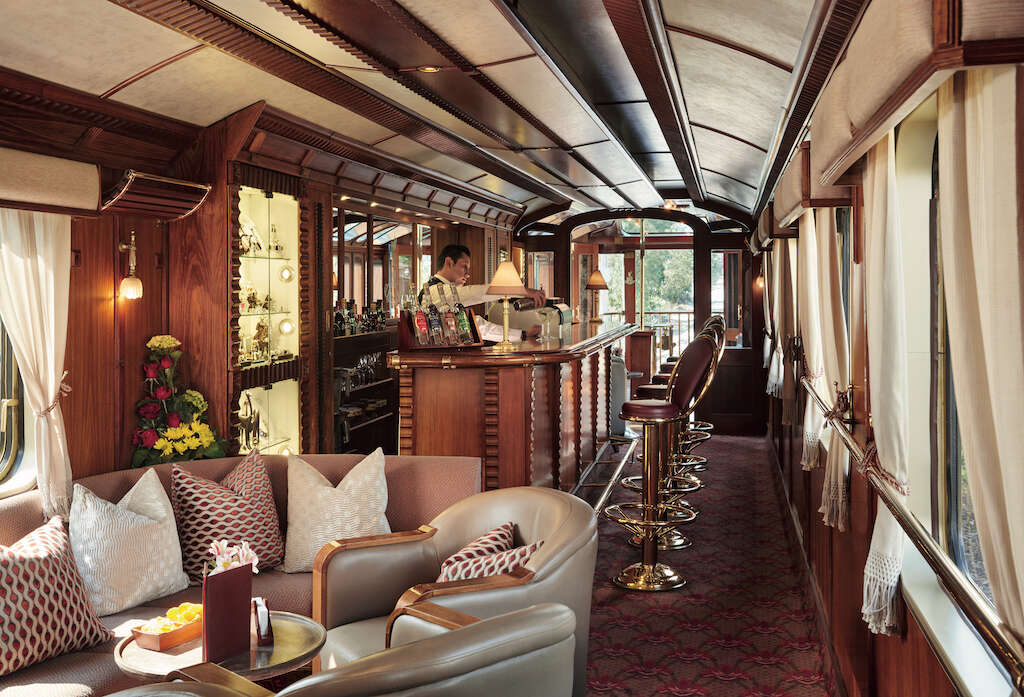 Belmond's Hiram Bingham train only covers one specific route, but it's a good one. Departing from the city of Cusco, Hiram Bingham takes a leisurely route through the Sacred Valley on its way to Machu Picchu, where guests can disembark for a tour of the ancient Incan citadel. A hearty lunch is served on the outward journey, while a four-course Peruvian feast (and a serious selection of cocktails) awaits on the return portion. 
Onboard, the carriages are as luxe as you'd expect, with glam Art Deco style dining carriages, as well as more informal bar cars. Your Hiram Bingham train journey can also be combined with stays at Belmond's other properties in the region to create an unforgettable South American adventure.