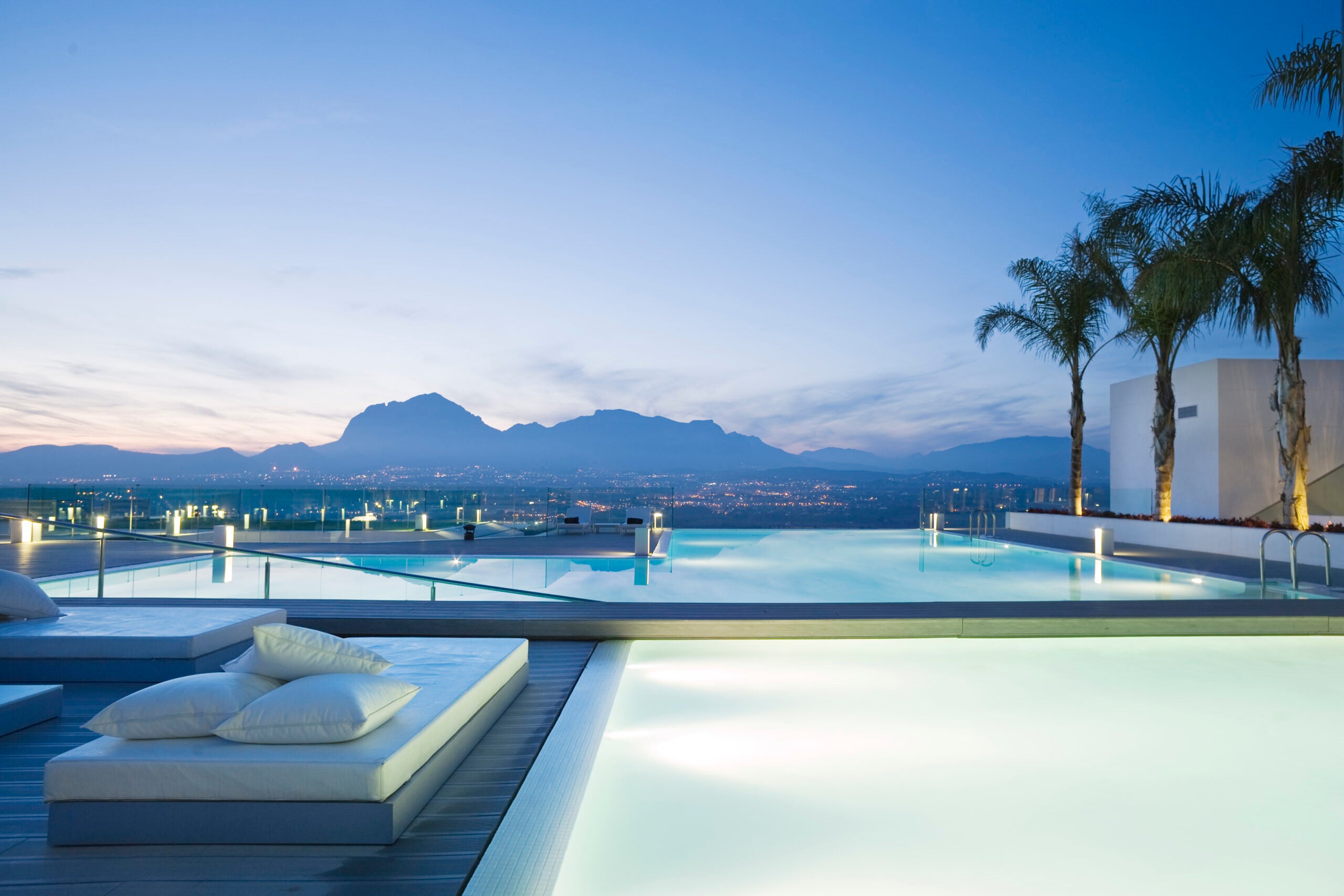 Today more than ever, we are seeing the value of health. The tragic events of 2020 have taught us that nothing is more valuable than our wellbeing. Travel and vacations have historically been associated with excess, but you can also use precious holiday time to soothe and improve the mind and body.
There are a huge number of luxury wellness retreats around the world, none more so than Spain. The country is reopening its doors following months of lockdown and the exclusive wellness retreats are ready to welcome guests once again, offering more privacy and serenity than before. Here, Elite Traveler takes a look at some of the luxury wellness retreats in Spain that have cut out their own corner of paradise.
SHA Wellness Clinic, Spain
The SHA Wellness Clinic is one of the most renowned retreats in the world, let alone in Spain. Located in Alicante, SHA Wellness Clinic offers a range of specifically targeted programs to achieve personal health and growth. The clinic has more than 30 doctors and over 300 treatments that have been meticulously developed by world-class professionals. The treatments range from weight loss to smoking cessation, insomnia and something called 'life reset'. Guests can choose one of five programs that are tailored to their specific needs.
With more than 64,580 sq ft of treatment facilities, there's something for everyone. In addition to health-focused treatments, indulge in massage, facials and other relaxing pampering sessions to complement your new healthy routine. The clinic's location on the shores of the Mediterranean Sea and five-star accommodations make it easy to focus on nothing but your wellbeing.
Marbella Club, Spain
Guests are encouraged to be their 'best self' at Marbella Club. Through a range of deeply nurturing wellness programs, they have all the tools required to help you achieve that. Located between the Sierra Blanca Mountains and the healing waters of the Mediterranean Sea, Marbella Club is an Andalusian sanctuary protected from the influences of the outside world. It utilizes its natural surroundings at its sea-facing thalassotherapy spa, which offers an extensive sensory experience optimizing the strengthening, revitalizing and beautifying powers of mineral-rich seawater to relieve stress and energize the mind and body. There is also a dynamic seawater pool with a variety of massaging high-pressure jets.
Marbella Club has also recently introduced the new Holistic Studio, which is perfectly located in tranquil botanical gardens and offers integrative holistic health practices. These targeted treatments identify root causes to provide long-lasting relief from adrenal burnout and insomnia. There is also a daily agenda of wellness activities range from aerial yoga and Pilates to meditation and nutritional wellbeing workshops. Wellness programs range from one to seven days.
Anantara Villa Padierna Palace
This lavish Marbella property offers the very best in luxury accommodation with an exceptional spa and wellness program on top. The hotel itself is situated within a Tuscan-inspired building, but the beautiful courtyard and grounds remind guests they are still very much in Andalucía.
The Balance Wellness by Anantara Spa offers guests a personalized path to wellbeing. Those seeking weight loss can sign up for the Slim & Detox Program, which combines a healthy Mediterranean diet, exercise and spa treatments. The resort has a team of on-call medical experts including physiotherapists and osteopaths to ensure guests can always get the treatment they require.
7Pines Kempinski Ibiza
This beautiful resort is situated between fragrant pine forests (hence the name) and the Mediterranean Sea. As a result, just sitting by the beautiful infinity pool feels like a healing experience.
A lot of time and energy has gone into the resort's Pure Seven Spa, which sits at the heart of the property and offers stunning views across the Med. The extensive treatment menu offers an array of treatments inspired by the Mediterranean lifestyle and energy of Ibiza. They use pioneering techniques from advanced cosmetology and ancient practices from every corner of the world; from Mayan volcanic stone massage to Indian Ayurvedic medicine and from Oriental methods to massages with European influences. We recommend the Wellness Detox, which is available as either a two- or six-day program. It focuses on stress management and healthy lifestyles and includes sessions with a qualified life coach as well as a range of stress-relieving treatments.
Océano Tenerife
As the most popular of the Canary Islands, Tenerife can sometimes seem like a busy and hectic place for a wellness retreat. But Océano Tenerife manages to cut out a tranquil corner on the north of the island. The year-round climate means you can enjoy a warm welcome in all four seasons and many guests see early spring as the perfect time to rejuvenate the mind and body.
The resort is best known for its world-class detox programs, which use the F.X Mayr method that focuses on therapeutic fasts to rest and restore the digestive tract. The spa also takes advantage of the fresh Atlantic waters with a protected sea pool situated right outside the resort and another sea-water pool inside.
Océano Tenerife is closed for the summer but is planning to reopen on October 1.
YogaRosa Retreats Ibiza
YogaRosa Retreats is the brainchild of Rosa Klein, who discovered the healing powers of yoga following a life-changing car accident. The retreat aims to help people in a similar position and offers specific courses and classes for those living with and suffering from illness or injury.
The retreat itself is a beautiful haven of calm. Surrounded by Ibiza's lush pine forest, it is made up of two guesthouses and two swimming pools. The outdoor yoga platform is naturally central to everything. The retreat also puts a big emphasis on the healing power of food and even grows its own produce on-site. The kitchen serves only vegan and vegetarian meals that are high in nutritional value. Each guest will get a specific diet plan according to their goals and their preferences.