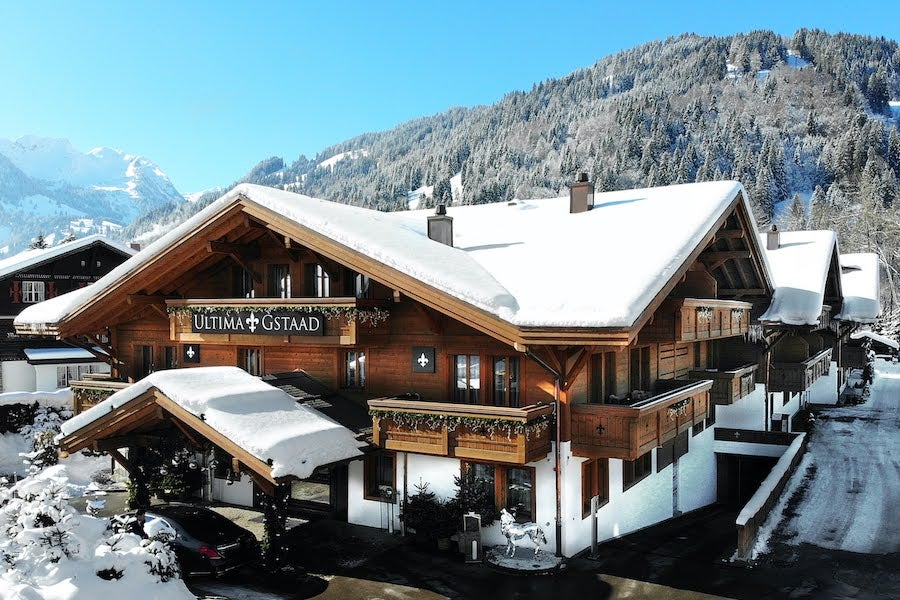 Since its launch in 2016, Ultima Collection has risen to become the gold standard in luxury accommodation. With multiple private residences dotted across Europe as well as a five-star boutique hotel in Gstaad, Switzerland, the luxury collection is committed to delivering an elevated vacation experience, with guest needs acting as a driving force behind its operations.
It is the heightened level of privacy and exclusivity seen across the entire portfolio that has ensured that despite the obvious challenges of 2020, Ultima has had a remarkably positive year, punctuated by a series of new openings and a steep increase in long-stay guests.
Now, as it prepares for the beginning of a new year and another opening in France, Elite Traveler checked in with Ultima Collection managing partner Michala Chatel to discuss the rise of private travel, her career highlights to date and how Ultima is disrupting the luxury hospitality market.
[See also: Dan Rose-Bristow on Running The Torridon Hotel in Scotland]
Could you tell me about the highlight of your career to date?
From starting in 2018 with just one beautiful pearl of a hotel in Gstaad to about to open our sixth property this winter in Courchevel, the last three years have been fueled by great accomplishments.
Working towards the goal of the public listing and seeing our company listed on the BX Swiss Stock exchange in August 2019 has been the most gratifying highlight. In addition, our exciting and strategic move to London to set up our new headquarters with new sales and marketing teams (with some of the best leaders in the industry!) has been an enormous highlight for me.
You've been with Ultima Collection for almost three years. What is the most valuable lesson you've learned in that time?
With a clear vision from the founders, hard work towards a common goal and good ethics, anything can be achieved.
Ultima Collection aims to disrupt the traditional hospitality industry. What about the industry do you think needs disrupting, and how does Ultima do so?
Until now, private residences have been very generic, with a standard service and with luxury touches, and not unique. Ultima Collection is a completely different product, combining unique and tailor-made experiences with services our clients wouldn't find elsewhere, especially in a private residence.
Imagine being in the comfort of your second home whilst having access to services such as clinics, completely private spas, tailor-made experiences and more. Everything is completely tailored to each client, family member or group.
You've reported that 95% of your 2020 guests flew in privately. Is that a rise from the previous year, and do you anticipate that this trend will continue into 2021?
One of the attributes our clients have in common is that they are time-poor. The combination of flying privately and staying at Ultima Collection's private properties really enables our clients to take advantage of the limited time they have to spend with their families and friends. This has certainly been the case this year during the pandemic, as we can ensure the highest levels of safety and security.
2020 showed an increase in first time private flyers looking for a "door-to-door escape," and I believe this proves the projections that UHNW and HNW individuals are keen to spend more to feel safer and make every second count more.
I personally do believe this trend will continue to increase in 2021: both the demand for private aviation as well as private-property rentals.
[See also: Ultima Collection Launches Two New Luxury Properties]
What other travel trends do you think we will see over the next year?
Keeping in mind that we have both a hotel and private residences, we really see the difference in the trends. Both in the hotel and the residences, the average stay duration per reservation has significantly increased. Clients tend to book more rooms (often privatizing parts of the hotel) or private properties to be able to host family and friends, and the services really are the key factors.
Clients staying in our hotel often ask to have a dedicated hotel team during their stay, and we have had an exponential increase in repeat bookings across the entire collection due to our service levels and staff. We pride ourselves upon the fact that our clients feel safe, and this is what they come back for; our first priority is the collection and service, and our second priority is the destination.
Although the levels of privacy and seclusion at all Ultima destinations has ensured a successful year, that doesn't mean there haven't been challenges along the way. What has been the biggest hurdle of 2020, and how did you overcome it?
For Ultima Collection, the biggest challenge in 2020 was the change in mindset and adapting to the new ways of planning. We have always worked fast, efficiently and anticipatingly; however, we suddenly had to change our mindset to be reactive and comply with the unknown whilst not being able to look ahead.
What can guests expect from the newest destination in the collection, Ultima Courchevel, that is set to open at the end of 2020?
Ultima Courchevel is really combining the best of the two worlds of our business: the private chalets and the numerous facilities of a hotel. Our clients will be able to enjoy the seclusion and privacy of their own space but simultaneously combine it with friends or families in neighboring chalets, and benefit from the restaurant, lobby, cinema, kids' room and spas.
Moreover, Ultima Courchevel is situated in the most unique location, as it sits directly on the slope. Clients can access the slope from their own terrace or, if they would rather, they can get suited and booted in our Bernard Orcel ski room and leave directly from there.
[See also: Grant Campbell on Bringing Nobu Portman Square to Life]
Following the Courchevel opening, can you reveal any other exciting Ultima news for travelers to look forward to as we head into 2021?
We have most recently acquired a very historic and unique property in Gstaad, The Chesery, on the famous promenade, which from now on will be known as Ultima Gstaad Promenade. Our clients, in majority, seek properties away from the crowds, but over the last couple of years we have received a number of requests to open a property in a more central location, so we are thrilled to be able to integrate this product into our portfolio to extend the choice to clients.
Secondly, we of course have Ultima Grand Jardin in Cannes. This will be one of the most extraordinary properties in our portfolio, in my opinion, due to it being the only private property on the island.
Can you reveal any information about Ultima Cannes?
I'm afraid we can't reveal too much at this stage, but I can reveal the project will be very focused on organic methods and preserving and protecting the gardens. We will work towards the self-provision of seasonal fruits and vegetables, and create a very olfactory experience for clients with extensive rose bushes and blooming flowers. Our pools will be organically filtered using a very innovative plant filtration system, and we will let clients select produce from the garden for the ultimate gastronomic experiences.
How would you describe the quintessential Ultima experience?
The quintessential Ultima Experience is living the most effortless, luxurious lifestyle whilst enjoying the multiple Ultima destinations and properties we operate. More importantly, it is exploring a new destination or property whilst knowing that whichever Ultima property you are staying in, your house manager knows your preferences and will ensure your stay is absolutely seamless.
From unwinding in Greece and enjoying the Mediterranean sun to flying directly to the Swiss Alps for a month of skiing, our clients can truly enjoy their stay and leave all the logistics to our team. And our clients don't just move between our properties; we have guests who seek to combine their stay at Ultima Corfu with a private yacht, for example. Our level of service extends across other luxury experiences, whether it be private jets, yachts or in other destinations.