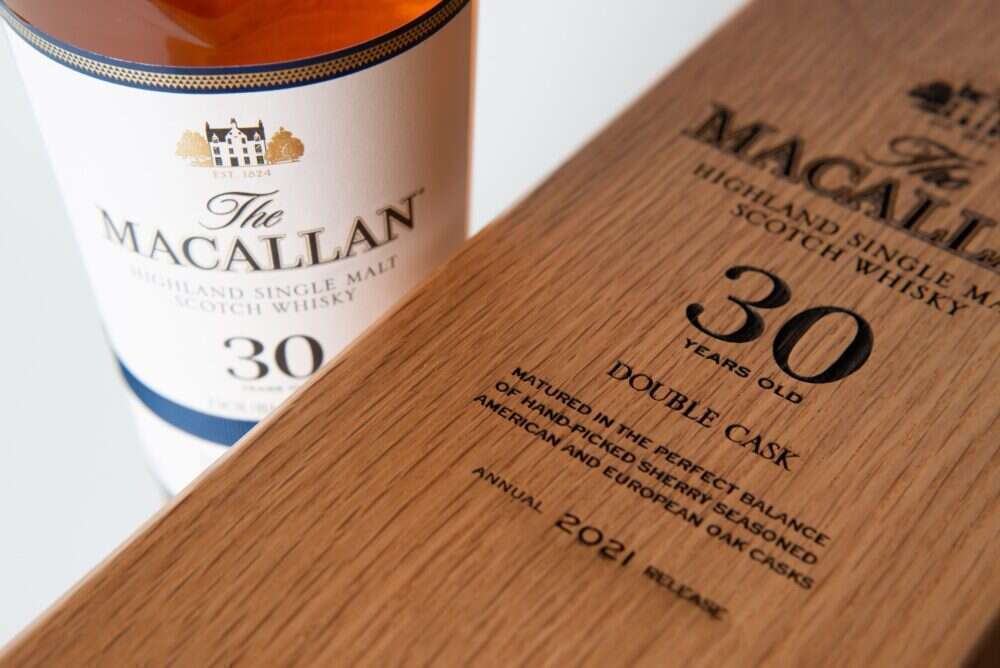 The holiday season is the perfect time of year to crack open that special bottle to share with friends and loved ones. In this gift guide, we offer a list of luxury alcohol gifts from the wine and spirits sector ranging from charming stocking stuffers to highly sought-after collectibles. No matter who you are buying for, you will find the perfect gift for them here.
Redbreast, Pedro Ximénez Edition
We start this year's wine & spirits gift guide with quite possibly the bargain of the century. Whereas many of the inclusions in this list are priced well into four figures, this charming Irish whiskey doesn't even break three. Still, it is an exceptional dram and one that true whisk(e)y lovers can open and enjoy throughout the holiday season without worrying about the potential lost investment gains. This single pot still whiskey was initially matured in bourbon and Oloroso casks before aging in Pedro Ximénez hogsheads. It is delectably sweet and wonderfully complex; a perfect balance of fruit and spice that will fit perfectly with seasonal fare.
$86, redbreastwhiskey.com
The Singleton, 39 Year Old
Why choose between wine and whisky when you can have both? Pushing the trend for second maturations to extremes, this latest release from Singleton spent more time in its second cask than its first. After an initial 12 years in refill bourbon casks, master of malt Maureen Robinson rehoused this whisky in a selection of European Oak casks which had previously held port wine, red wine and a blend of Pedro Ximénez and Oloroso wines. And there it stayed for 27 years – the longest second maturation in the distillery's history. Those whiskies were then married in rare Bordeaux wine casks for several months to add another dimension to an already complex liquid. The resulting whisky is wonderful, boasting several decadent layers of dark fruits and warming peppery spices with the distillery's floral character. Created with epicureans in mind, this is the perfect Scotch for the gourmand in your life.
$2,680, malts.com
The Macallan, Double Cask 30 Year Old
Turning our attention to the other end of the scale, The Macallan Double Cask 30 Year Old is the latest edition to a highly-coveted range. The Macallan Double Cask releases invariably offer a rich depth in flavor, complex character and an interesting story. American and European oak casks are seasoned with sherry wine for 18 months in Jerez before traveling to The Macallan Estate to be filled with new make spirit. This 30 Year Old is a harmonious balance between these two casks. The liquid imparts aromas of fresh honeycomb, sweet toffee, red apple and figs. On the palate, it is a symphony of cinnamon, ginger, vanilla, sweet oak and toffee. The bottle is presented in a solid oak presentation box, making it a fine addition to anyone's collection.
$4,000, themacallan.com
The Craft Irish Whisky Co, The Brollach
Inspired by one man's love and respect for his father, The Brollach would be the perfect gift for anyone looking to show their dad how much they mean to them. The third release from the impressive Craft Irish Whisky Co, The Brollach is a non-age-statement double-distilled whiskey matured in 200-liter ex-bourbon casks and finished in rare French oak Madeira barrels. The result is a rich and sweet liquid offering flavors of baked banana and caramel. Just 661 decanters are available, each coming in a handcrafted wooden presentation box complete with obsidian whisky stones, a gold-plated pipette and two drinking glasses. The presentation box also has a taster of the whiskey, so even investors can experience the flavor before adding it to the collection.
$6,500, craftirishwhiskey.com
Last Drop Distillers, Colin JP Scott's 50 Year Old Signature Blend
Last Drop Distillers are self-proclaimed spirit hunters. Experts in their field travel around Scottish distilleries looking for truly exceptional casks. Rarely does one meet their incredibly high standards, but when it does, they ensure it is bottled in one of their unassuming decanters. This Signature Blend is the company's first-ever blended whisky, created with whiskies aged for at least half a century. To create a balanced profile with an array of complex liquids requires a lifetime of skill, which they found in Colin Scott. With 30 years of experience as Chivas Regal's master blender, no one in the industry can claim to have as much blending expertise as Scott. He used some of Last Drop's oldest stocks to create a blend inspired by his own journey through the industry. Just 500 bottles of the final blend exist, making it preciously finite.
$4,250, lastdropdistillers.com
Glenfiddich, Grand Couronne
The Dufftown distillery of Glenfiddich can claim to be at least partly responsible for Scotch whisky's incredible success in the 21st Century. When most of the industry was betting on blends in the 1960s, it put all its chips in the single malt basket. Today, it is the single malts that command the most respect and the biggest prices. Now, Glenfiddich is setting a new trend for unusual cask finishes. This is the practice of placing whisky in a different cask for the last years of its maturation, usually giving it a new dimension of flavor. The Grand Couronne is its latest experiment, a 26 Year Old whisky finished in rare French cognac casks. This final flourish adds a lavish layer of sweet toasted oak and velvety aromas of café crème, brown sugar and soft spice.
$600, glenfiddich.com
Clase Azul, Sabores Limited Edition
We are huge fans of Clase Azul. Not only do they make some of the world's finest tequila, they also change the lives of many locals by offering employment in low-income areas. As you'd expect, Mexican heritage runs through the heart of everything they do. The Clase Azul Sabores Limited Edition was released in celebration of Día de Muertos and is the company's first single estate agave tequila. This rare practice means the agave used to create the tequila was harvested from a single field, in this case a mountaintop in Los Altos de Jalisco: Cerro de Viboreo. The area was chosen for its unusual soil and weather conditions, allowing the tequila to take on a life of its own. The liquid is presented in a stunning decanter that is both hand-sculpted and hand-painted.
$750, claseazul.com
Dom Pérignon, Lady Gaga Limited Edition Rosé Vintage 2006
Two icons at the pinnacle of their creative industries, Dom Pérignon and Lady Gaga came together earlier this year in a celebration of limitless creative exploration. The first collaboration saw the release of a limited-edition sculpture designed by the musician. Now, Lady Gaga has put her name to one of the Champagne house's famous vintage rosés. The 2006 vintage is presented in an exclusive case designed by the multi-award-winning artist. The champagne comes from a warm and dry 2006, which included a July heatwave and unseasonably cool and wet August.
$399, domperignon.com
Krug, Les Creations de 2008
Krug has long known the unbreakable link between sound and taste. To celebrate the release of its highly anticipated 2008 vintage, it collaborated with Chloe Flower on two musical pairings. The year 2008 is known as a superb vintage throughout the industry and Krug's unusual blend of grapes makes it one of the most exciting releases of the year. Released alongside the Krug Grande Cuvée 164th Edition, the 2008 vintage has already earned critical acclaim. Flowers created two songs designed to enhance the unique flavor profiles of both champagnes. With both songs available on Spotify and Apple Music from November 5, the whole family can enjoy this sensory experience.
$590, available for purchase via privateclient@moethennessy.com
Armand De Brignac, Ace of Spaces La Collection
LVMH obviously has a taste for Jay-Z's ultra-premium champagne brand. The leaders in luxury bought a 50% stake of the US rapper's brand in 2021 in a deal valued at $630m. The Moet-Hennessey owners will certainly bring a lot of market expertise to the table, although Jay-Z seemed to be doing fine without it. Armand De Brignac has been voted the best champagne in the world at blind taste tests and continues to grow as a status symbol. Nothing can be more symbolic than owning its entire collection of six bottles, presented in a piano finish wooden flight coffret. The labels on each bottle are made of real pewter, polished and applied by hand for a luxurious finish.
$8,200, armanddebrignac.com
Ruby, Double Diamond x Joe Doucet
New York-based designer Joe Doucet has collaborated with Double Diamond Wines to create the perfect statement piece for the wine lover in your life. A contemporary tabletop sculpture designed to hold a bottle of wine in a perpetual tilt. The minimalist design is in line with Doucet's other works, which include collaborations with Montblanc and Whirlpool. You can buy the sculpture along with a bottle of Double Diamond Cabernet Sauvignon, one of the region's finest examples of the variety.
$225, doublediamondwines.com
The Players' Retreat, True Scotsman Membership
Opened in 1951, The Players' Retreat is the oldest bar in Raleigh, North Carolina. That's not its only claim to fame; it also houses the largest selection of Scotch in the state. As you may guess, owner Gus Gusler is quite the aficionado and has amassed 186 single malts. Now, he is giving you the opportunity to try them all with one membership. Its True Scotsman package includes a dram of every Scotch on the menu, including those costing up to $175. In fact, on the back of the menu prices, this level of membership grants access to over $2,500 worth of whisky. And just in case it wasn't obvious, he won't make you drink them all in one sitting.
$1,500, playersretreat.com
Louis XIII, N°XIII Experience
Not satisfied with already being one of the most exclusive spirits in the world, Louis XIII unveiled the ultra-rare N°XIII red decanter that will only be available in, of course,  the world's most exclusive nightclubs. The striking decanter has been created by Saint-Louis, Europe's oldest glass manufacturer, and comes with six bespoke glasses. Those enjoying the experience will see their cognac served with a special pipette, emphasizing the preciousness of every drop. Of the 200 in existence, 25 have been set aside for the US.  The experience has already begun in Las Vegas, but expect appearances at nightclubs in Los Angeles, New York and Miami soon. Those who already own a bottle of Louis XIII can book an experience through the Louis XIII Society or directly with the nightclub when nights are announced.
POA, louisxiii-cognac.com
Louis XIII, The Miniature
If you don't want to go to a club to enjoy the world's most celebrated cognac, then bring it home in miniature form. The beautiful 50ml decanter is an exact replica of the bigger version and is crafted from the same crystal by the same master artisans. The miniature is presented in a delightful box like a fine piece of jewelry. Once the cognac has been enjoyed, the decanter can be used as a hip flask or become a fine addition to any crystal collection.
$660, louisxiii-cognac.com