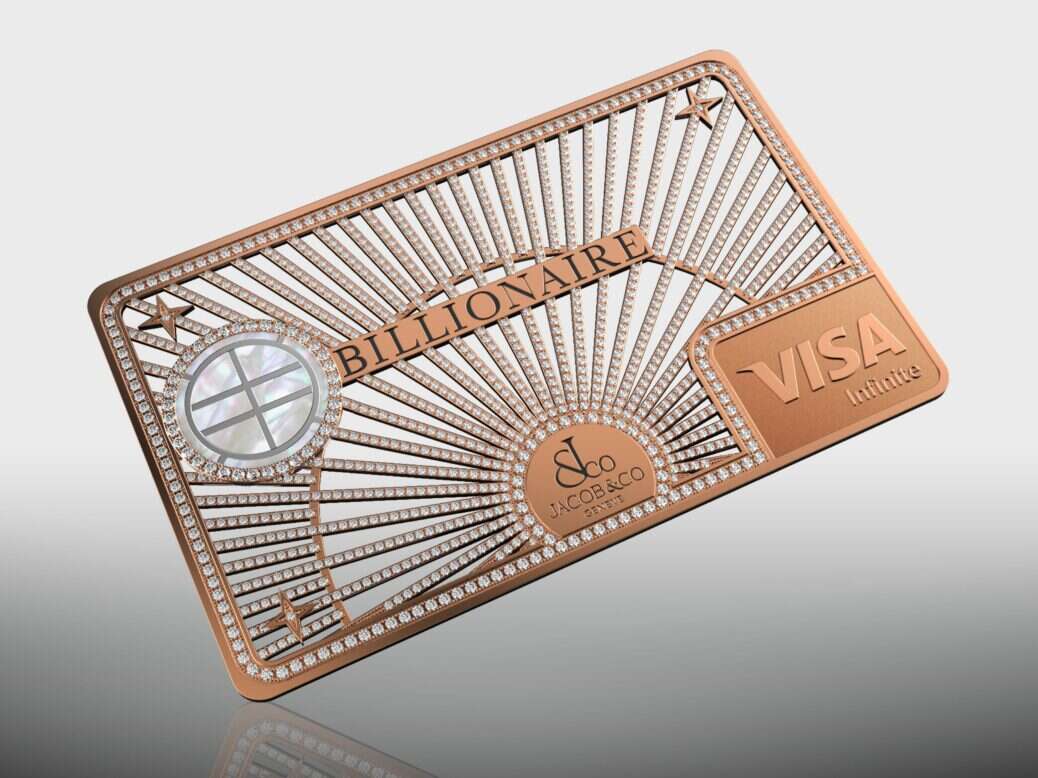 Jacob & Co. and Billionaire have once again joined forces to launch the Billionaire Card, a totally luxurious Visa credit card that comes with unparalleled amenities. Also created in conjunction with luxury card company Insignia, the card is reserved to a mere 150 holders worldwide, rendering it as exclusive as it is opulent.
For this card may just be the glitziest wallet addition across the globe. Openworked, and set with diamonds, the Billionaire Card has been crafted with the utmost precision from metal and subsequently gold-plated for an overall pattern that is both radiant and graphic.
The card, which is designed by Jacob & Co, also presents a jewelry variant, which is adorned with a constellation of pavé diamonds.
[See also: Jacob & Co to Build Ultra-Luxe Skyscraper in Dubai]
Naturally, there's reason beyond the pursuit of pure glitz and gild aesthetic to desire a Billionaire Card. Cardholders can enjoy unrivalled access to desirable and exclusive experiences and events across the world, each personalized to the individual member's interests.
For with partner alliances ranging from Aston Martin, Ginori 1735, and – of course – Jacob & Co. itself, cardholders can gain exclusive access to internationally revered events that include the Super Bowl, Coachella, Burning Man, New York Fashion Week, and even the Oscars ceremony.
This uber-exclusive community, in which membership is by invitation only, will also be able to enjoy a series of benefits courtesy of Insignia. These include a round-the-clock personal assistant; the Insignia Jets' instant booking app, which grants priority access to aircrafts; preferential rates through the coveted Luxury Hotels Collection; and, once more, VIP entry to exclusive worldwide events.
[See also: How the World's Leading Jewelry Houses Shape the Industry]
Lastly – but certainly not least of this star-studded menu of privileges – cardholders can look forward to direct and privileged access to all Majestas events and venues, including an annual invitation to vacation at the Billionaire Resort & Retreat in Malindi.
The Billionaire Card will be launched at the Billionaire venue in Dubai in November 2023, which neatly coincides with the Abu Dhabi Formula 1 Grand Prix.
[See also: The Best of Couture at Vegas Jewelry Week 2023]