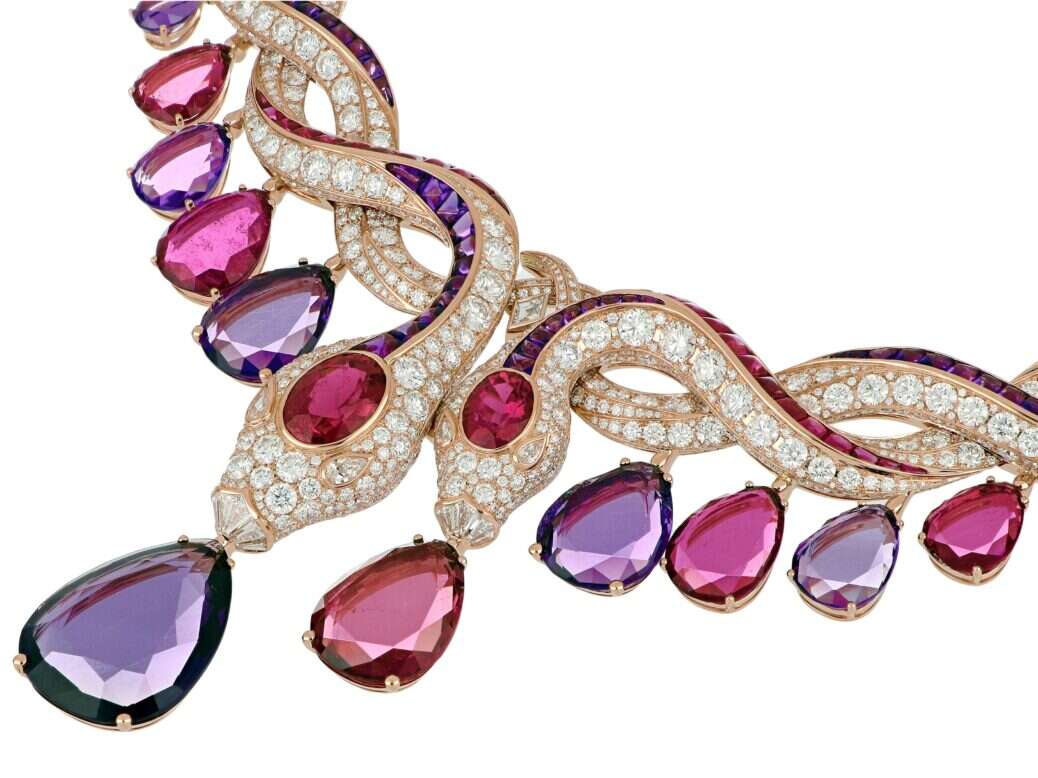 Many of the world's leading jewelry houses have a rich history and a fascinating heritage behind them. It is this legacy that shapes the present collections, innovative ideas and jaw-dropping designs.
From Harry Winston purchasing an emerald for 25 cents and reselling it for $800, to Coco Chanel's early days as a circus cabaret singer, we look at the four biggest names and delve into their past — as well as take a closer look at their most stunning pieces.
[See also: Louis Vuitton Reveals New Deep Time High Jewelry Collection]
Graff
Graff also procured the 47.39-carat brilliant yellow Star of Bombay diamond in 1974, the largest Flawless Fancy Blue diamond in the world in 1984 (a 39.31-carat Imperial Blue diamond), and the famed 603-carat Lesotho Promise diamond unearthed in 2006.
Founded in 1960 by Laurence Graff in London, Graff has long acquired, cut and set some of the most beautiful and rare diamonds and gems in the world. The brand is also, though, a master at setting those stones into remarkable jewelry.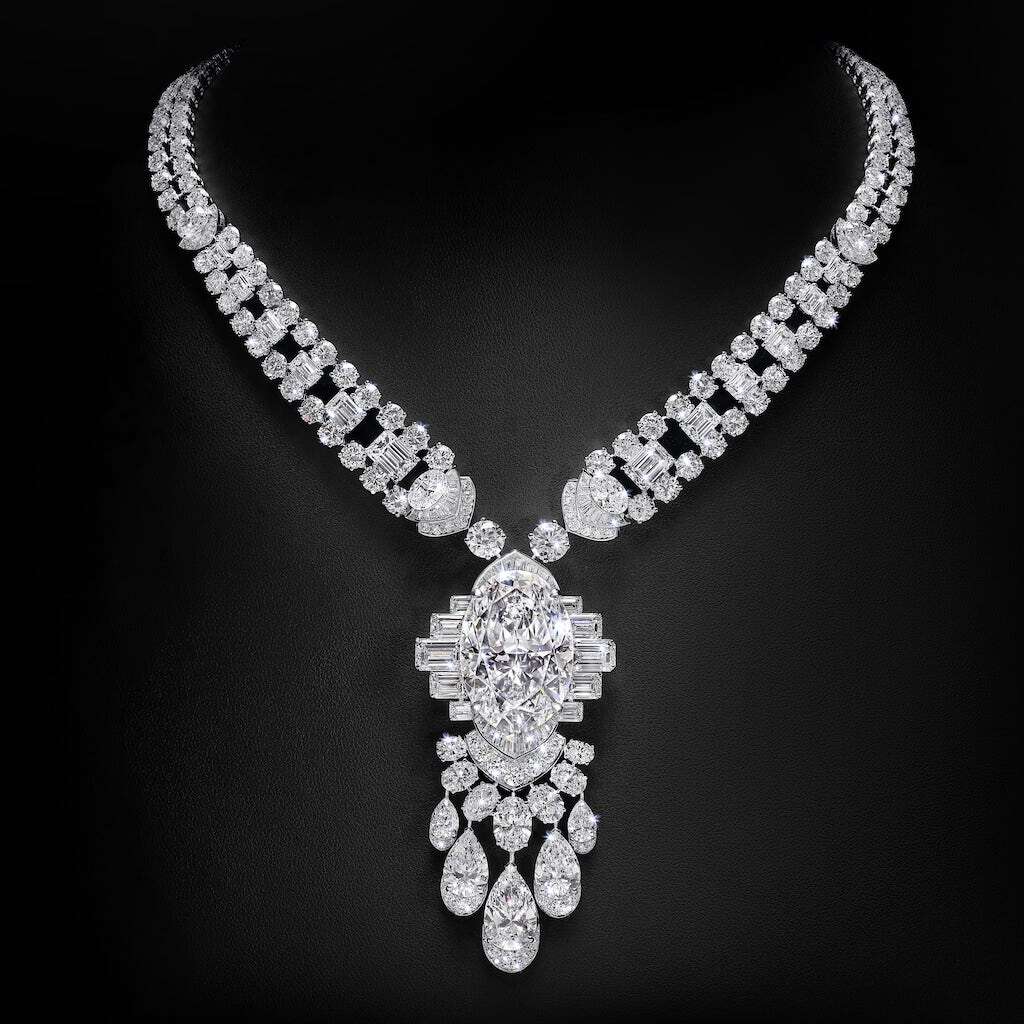 Graff has, since its inception, followed a motto that quality comes first and foremost — especially when setting a legacy stone. After all, the family-owned Graff operates at the pinnacle of the high jewelry realm and has procured some of the most famous jewels such as the 1,109-carat Lesedi La Rona rough diamond discovered in Botswana, which Graff cut to reveal the 302-carat Graff Lesedi La Rona diamond — the largest square emerald-cut diamond in history.
Owning these rough stones is one thing, but knowing precisely what to do with them takes a master's eye, a master cutter and a master polisher. Additionally, once those polished diamonds are in hand, the creation of magnificent jewelry designs takes a master artist, master craftsmen and master jewelers. Vertically integrated, Graff is all of this and more, and routinely creates spectacular pieces.
Such is the case with the exceptional necklace the brand unveiled earlier this year at Paris Couture Week. The high jewelry piece is a superb three-row fancy-cut diamond necklace that culminates with a 50-carat D Flawless oval diamond — accented all around with more diamonds for one of the most scintillating works of wearable art. The incomparable piece features another 100 carats of pear-, emerald-, oval-, round- and baguette-cut diamonds.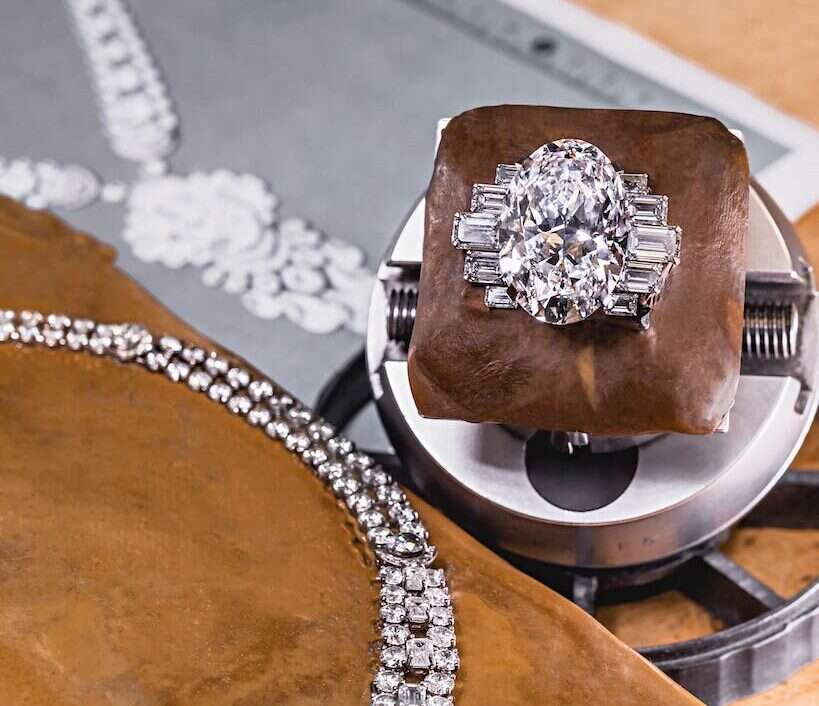 This necklace is a revolutionary expansion of Graff's Tribal collection. It utilizes different sizes and layers of diamonds, mixing unusual fancy-cut shapes and setting them in an abstract way so they capture and reflect the most light. According to Graff, the concept is to focus on that center 50-carat oval diamond that was discovered in Lesotho as a stone that, when tossed in water, evokes ripples outward.
The majestic necklace is a work of geometrics, of tribal influences that combine Graff's unique and visionary design ideas with its unparalleled craftsmanship. It displays the house's passion for fabulous jewels and commitment to creating invaluable, visionary museum-worthy pieces.
Harry Winston
When Marilyn Monroe sang Diamonds Are a Girl's Best Friend in the 1953 film Gentlemen Prefer Blondes, she pointedly said: "Talk to me Harry Winston, tell me all about it!" That is, of course, because this legendary man — and his eponymous brand — was a purveyor of some of the most magnificent diamonds and gemstones, and a creator of some of the dreamiest diamond jewelry.
Born in New York City in 1896 to emigrant parents from the Russian Empire, a young Winston and his family moved to Los Angeles, where his father opened a jewelry store. Winston grew up around jewels and had an uncanny knack for spotting stones. In fact, when he was 12, he saw a tray of junk jewelry in the window of a pawn shop, with a sign reading "Take Your Pick — 25 Cents." He was sure he saw a real emerald in a ring and bought it.
That quarter yielded him a two-carat emerald that he sold two days later for $800. It may have been the stone that set him on a journey to becoming the King of Diamonds. In his teens, Winston returned to New York and started his own diamond company in 1920 at the age of 24.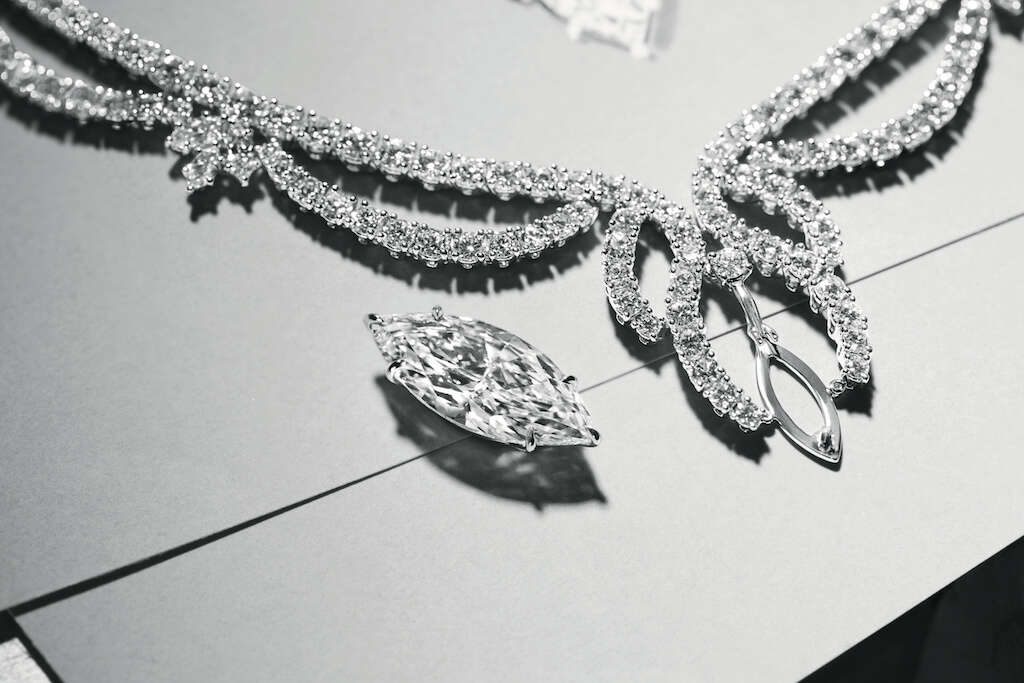 He would buy estate jewelry on the affordable side, remove the stones and resell them to jewelers. One day, he opted to start doing this for himself and offered his services to the wealthy for acquiring their estate jewelry.
In 1932, after having been involved in millions of dollars' worth of transactions, he opened his first Harry Winston store in New York City. He would go on to purchase such important diamonds — including colored diamonds, which he referred to as the "ultimate gift of nature."
Among his most famous purchases: the 45.52-carat Hope Diamond that he acquired in 1949; it is considered one of the most valuable diamonds in the world. Winston donated it to the Smithsonian National Museum of Natural History in 1958.
He also owned The Star of Independence diamond, a 75.52-carat D Flawless diamond that he cut from a 204-carat rough diamond in 1976. It is said that he carried the diamond in his pocket for a while.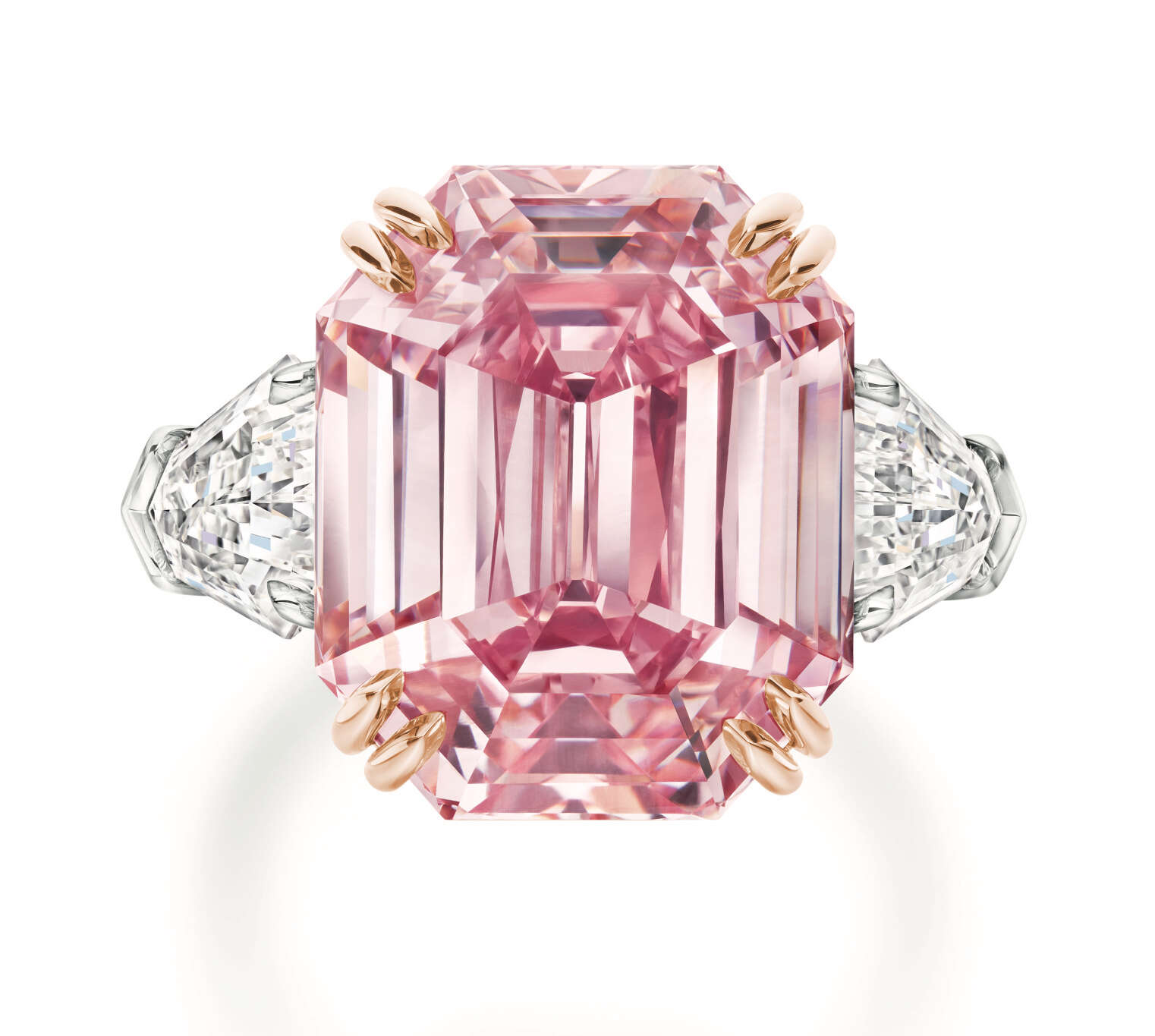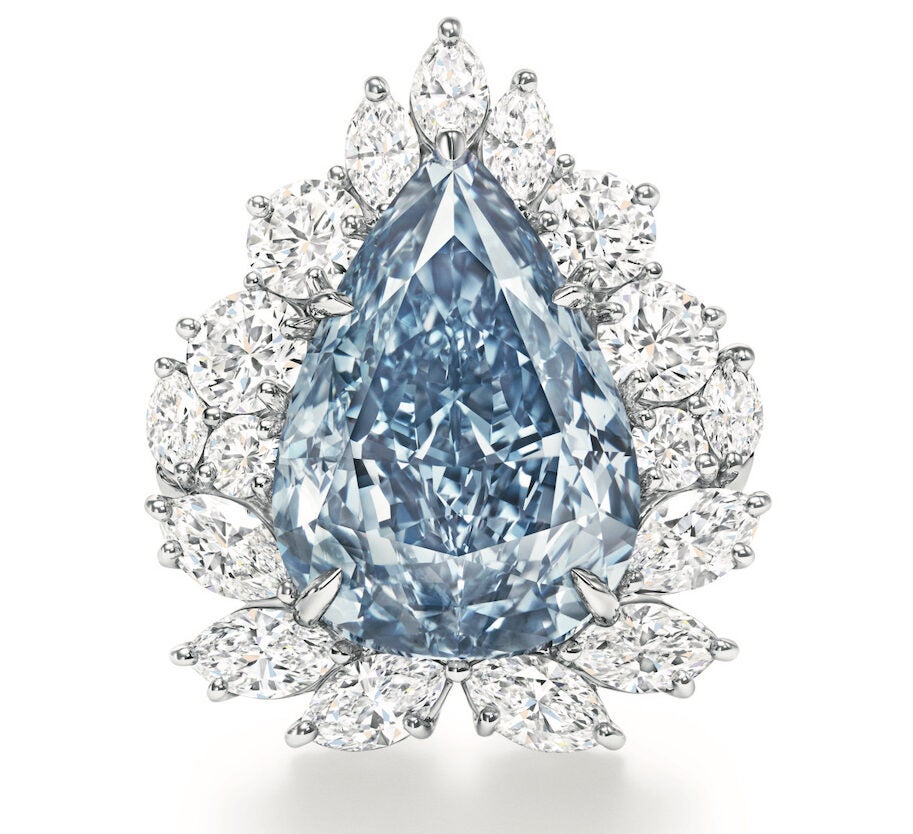 Winston was not just a buyer of stones but also a premier jeweler. Often referred to as the 'ultimate jeweler,' Harry Winston's pieces are famed for their fluidity, grace and dramatic appeal.
The list of stones he bought, of the socialites and celebrities that wore Harry Winston jewels, and of the masterfully elegant works of wearable art he created goes on and on. While Winston died in 1978, the company continued and is owned and operated today by the Swiss luxury conglomerate, Swatch Group. Under the vigilant eye of Nayla Hayek, the brand continues to create magical diamond and gemstone jewelry and watches worthy of their namesake.
Within its high jewelry collection this year are several fantastic pieces, including the Spectacular Diamond Legacy Necklace crafted in platinum and set with diamonds with arcs of diamonds that hang like lace from the main strand and culminate in the center with a 10.72-carat marquise-cut diamond.
Working similar magic with colored diamonds, the brand presents the Incredibles Yellow Diamond Necklace set with colorless diamonds all around except for the center pendant drop: a 40.81-carat fancy yellow diamond.
With pink and blue diamonds even harder to find in large sizes, the house of Harry Winston naturally wanders in that direction.
This year it introduces the Winston Pink Diamond Legacy Ring with an 18.96-carat fancy vivid pink diamond in the center and the Winston Blue Diamond Ring with a 13.22-carat flawless fancy vivid blue pear-cut diamond taking center stage.
Bulgari
Long known for its mastery of high jewelry, exquisite craftsmanship and bold designs inspired by its Roman roots, Bulgari is an expert at crafting art for the body. Founded in Rome in 1884, Bulgari has grown to legendary status.
It is in the world of haute joaillerie that the brand brings its incredible penchant for color, passion for quality artistry and prowess in visionary techniques to the forefront; the brand is known for its exceptionally colorful suites of jewelry that boast some of Earth's most beautiful hues in cabochon cuts and whimsical designs.
[See also: The Best of Couture at Vegas Jewelry Week 2023]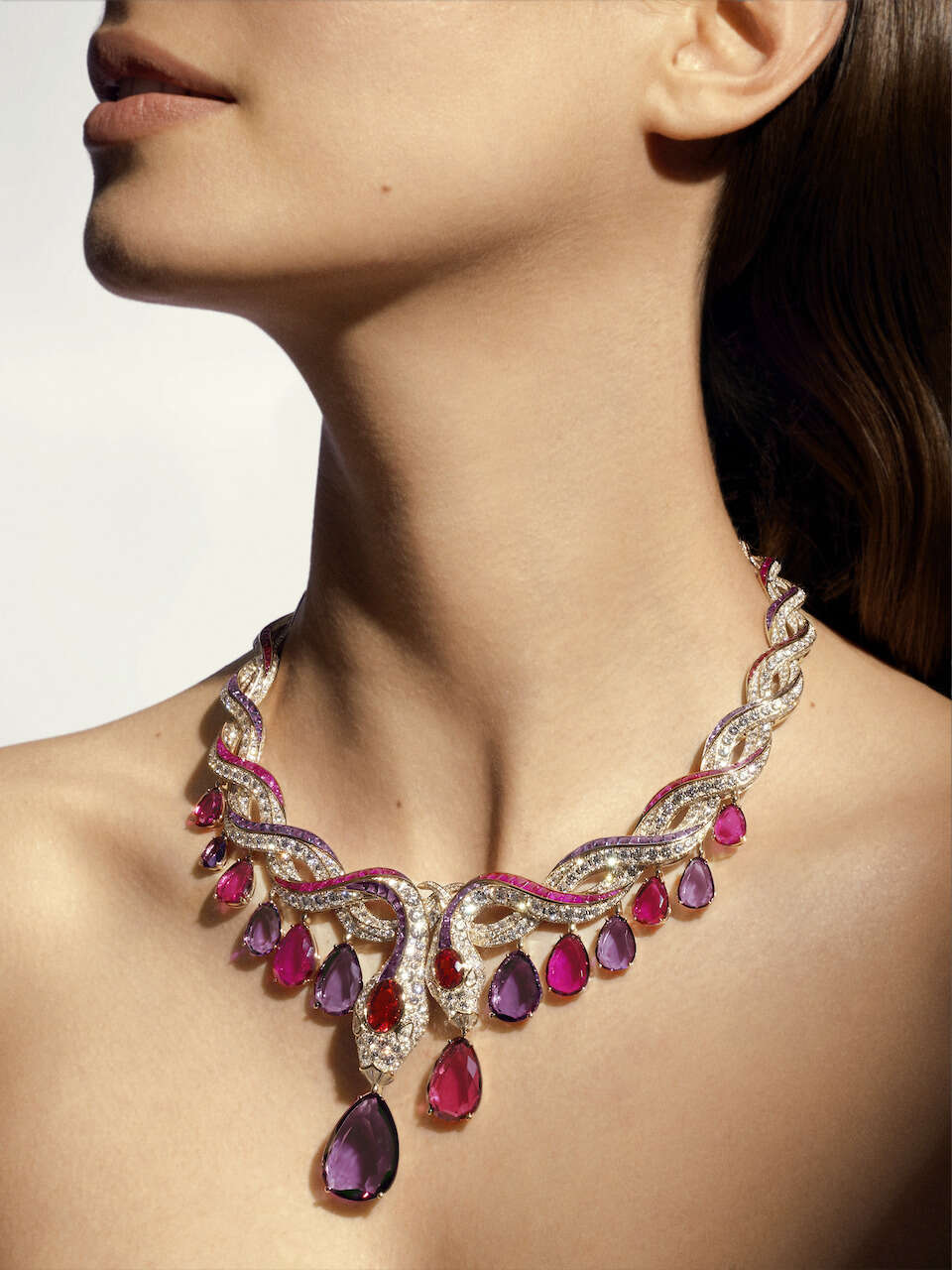 Bulgari is also known for its iconic, timeless Serpenti jewelry. Inspired by the serpent, the Serpenti collection was first unveiled in 1948, and this year celebrates its 75th anniversary. From jewelry and watches to accents on Bulgari leather goods and more, the Serpenti is adored by men and women around the world.
Serpenti transcends time and creativity. Over the decades, Bulgari has created it in precious metals, set it with nearly every gemstone imaginable and has even presented the beloved snake on gold sinewy, flexible Tubogas bracelets that coil around the wrist. In fact, Elizabeth Taylor wore a Serpenti on her wrist when she starred in the 1963 movie Cleopatra. After all, in the Rome of 2,000 years ago,
Cleopatra had her own affinity for the serpent, as well as for gold and gemstones. This year, to celebrate the 75th anniversary of this icon and Bulgari's inexhaustible design ideas, the brand breaks out — teaming with a variety of artists around the world for collaborations that yield mind-boggling Serpenti results.
The Serpenti by Refik Anadol, for instance, was on display in Madrid from February to April, and subsequent partnerships will produce new results and new exhibitions around the globe. At the same time, Bulgari is launching a campaign, 75 Years of Infinite Tales, that showcases the captivating evolutions of the Serpenti.
And, of course, Bulgari creates enthralling new Serpenti jewels and watches. Easily one of the most alluring is the high jewelry Serpenti Fruit Garden Necklace crafted in 18-karat pink gold and meticulously set with diamonds and gemstones that features two snakes — their bodies entwined to form the necklace — whose heads meet at the center of the necklace and form a dramatic drop.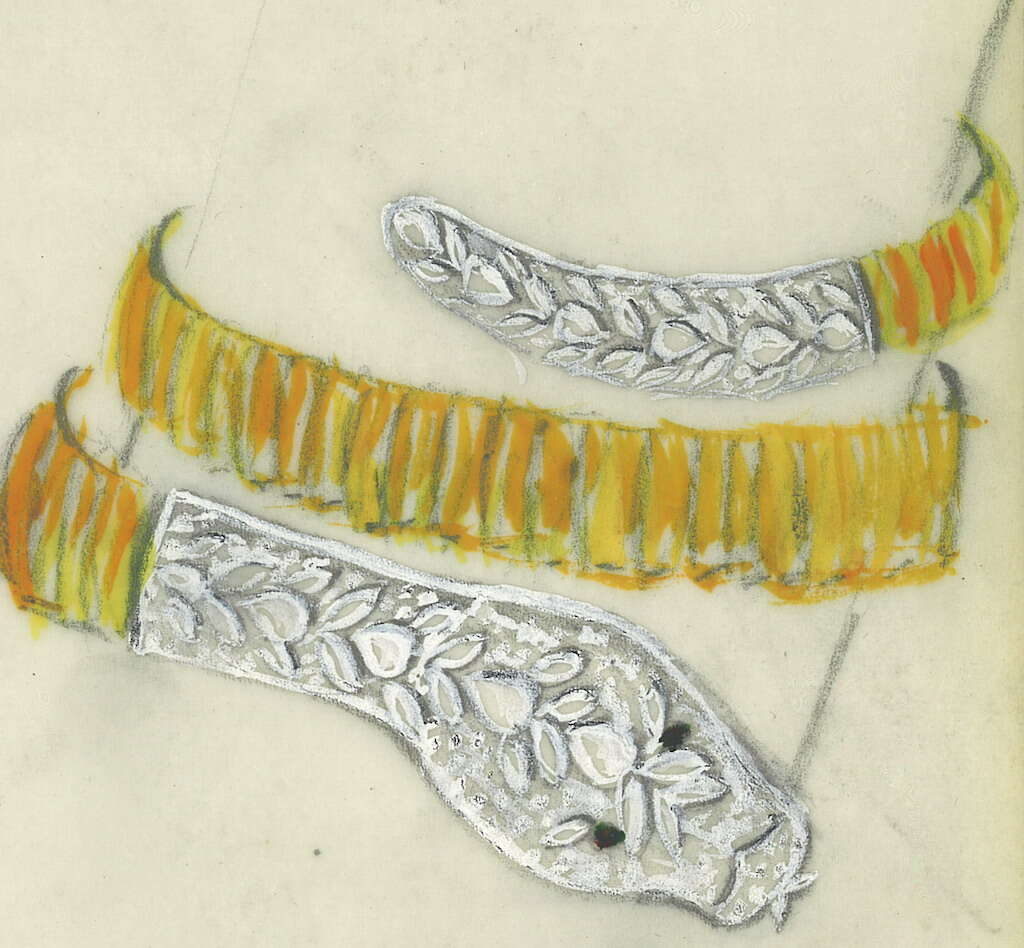 Each head features a faceted brilliant step-cut red tourmaline (weighing 5.41 carats) on the top of the head, and each boasts a bold, faceted gemstone hanging from its mouth. On either side of the snakes graduated larger to smaller stones also drip from the snake coils to just about where the necklace starts to wrap around the neck.
Crafted using a breathtaking medley of purple, pink and red, the necklace also consists of seven pear brilliant-cut pink tourmalines (28.35 ct), seven pear brilliant-cut amethysts (35.82 ct), 87 fancy buff-top rubellites (9.81 ct), 86 fancy buff-top amethysts (7.57 ct), four pear brilliant-cut diamonds (D-F VVS weighing 0.34 ct), 13 fancy shape step-cut diamonds (D-F VVS weighing 0.91 ct) and pavé-set diamonds (D-F IF-VVS weighing 34.73 ct).
In total, the extravagant masterpiece weighs more than 122 carats. Readying the gold necklace for the setting of the stones takes hundreds of hours, while the stone setting matches, if not exceeds, that preparation work. The entire process takes more than 1,400 hours.
However, one of the most difficult challenges in creating a museum-worthy piece such as this is the collecting of perfectly sized, perfectly matched colored gemstones. This is just one of the pieces being released this year in the brand's high jewelry and Serpenti collections. In short, it is but one example of the quality craftsmanship and the pioneering spirit of this luxury leader.
Chanel
Little did she know in 1909, when Gabrielle Chanel began her first accessories shop on Rue Cambon in Paris, that the name Chanel would become legendary — synonymous around the world with elegance and sophistication. Raised in an orphanage after her mother died, Chanel learned to sew at an early age and vowed to create clothing that made women's lives easier.
She went on to create the famed little black dress and the Chanel suit. She made fabrics like jersey and tweed incredibly desirable and luxurious. She garnered the nickname 'Coco' (short for coquette) at the age of 18 when she became a cabaret singer at a circus, a job that led her to meet the people who would propel her into tailoring and couture fashion.
The name Coco was one that she embraced and later gave to some of her creations. One of the most legendary names of the 20th century, Chanel designed hats before clothing, and envisioned her brand as a complete couture house. Within two decades of opening that first shop, she had already created fragrances and jewelry.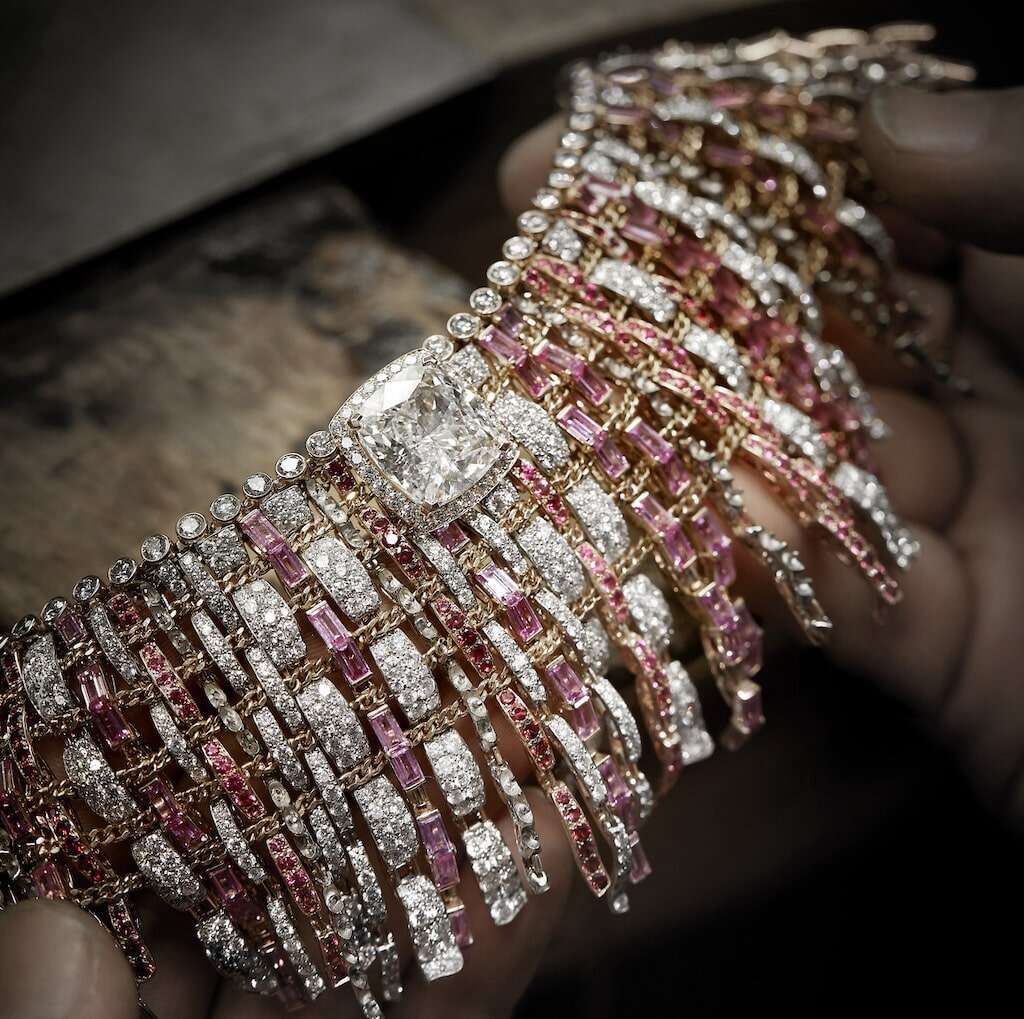 Handbags made their debut in the mid-1950s. Inspired by Byzantine and Egyptian art, as well as Art Deco and, later, Asian art, Coco Chanel began creating jewelry as early as the 1920s, incorporating elements like the powerful lion and magnificent flowers and birds.
She turned to pearls and diamonds for jewelry that could transition from day to night, often by layering for a dramatic effect. While Chanel died in 1971 at the age of 87, the house of Chanel continued, bringing the famed Karl Lagerfeld on as creative director.
Today, with Patrice Leguéreau as the director of the Chanel Fine Jewelry Creation Studio, Chanel designs are continually reinterpreted. In fact, in 2020, Leguéreau took inspiration from Chanel tweed jackets (which Chanel first created in the 1920s when she had a love affair with the Duke of Westminster and discovered his tweed jackets), creating the first 45 high jewelry pieces dedicated to the woven fabric.
For 2023, Leguéreau recreates tweed in an all-new necklace that is being donated to the Chanel High Jewelry Patrimoine. The biggest challenge was transforming the hard metal and jewels into a soft, supple feel. The new Tweed Couture necklace has radiant lines crafted of gold, gemstones and pearls that evoke a sense of tweed fabric.
The making of the necklace involves a host of different techniques, including weaving gold and platinum into rings and joints that enable the exceptional necklace to be flexible and embrace the curve of the neck.
Created in platinum and rose gold and set with different cuts and sizes of pink sapphires, spinels, cultured pearls and diamonds, including a 10.20-carat cushion-cut diamond in the center, the Tweed Couture necklace is a perfect tribute to Coco Chanel.
[See also: Chopard Announces Flagship New York Boutique Opening]
This article appears in the 05 Jun 2023 issue of the New Statesman, Summer 2023