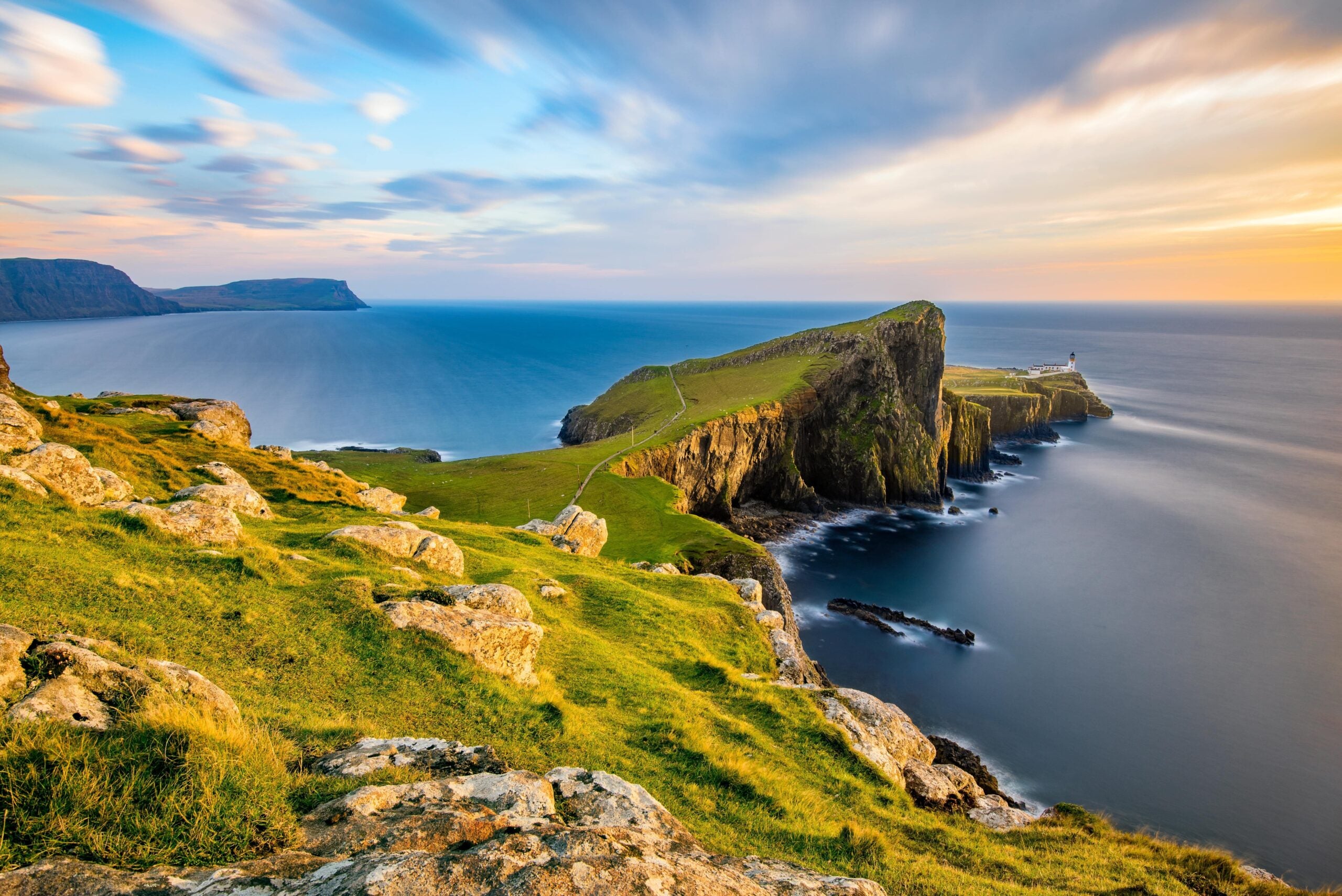 Luxury private travel consultancy Curated Touring has recently unveiled details of its latest itinerary, which takes guests on a varied and immersive tour across the diverse landscape of Scotland. A host of Scottish celebrities and luminaries will be on hand to guide different portions of the tour, contributing to an authentic, not to mention exclusive, snapshot of the country.
Curated Touring operates on the belief that by immersing travelers in a deeper and more responsible adventure into Europe's cultural heritage, it can be safeguarded for future generations. Each of the company's tours aims to provide unrivaled experiences while simultaneously bringing value to the areas they explore. This luxury Scotland itinerary has been developed in partnership with the Scottish Wildlife Trust, the Architectural Heritage Society of Scotland and the Jura Development Trust, all of which work to protect the country's environment and heritage.
The vast itinerary celebrates multiple facets of Scotland, with an impossibly eclectic schedule spread over eight days. Guests are first invited to enjoy a private tasting of one of the country's most famous exports with actor Sam Heughan, star of hit TV show Outlander. As well as sipping on some of the rarest whisky labels Scotland has to offer, guests will be guided on an exploration around an Outlander set.
[See also: A Luxury Guide to a Long Weekend in Edinburgh]
From there, a helicopter will transport guests to Gleneagles, where they will join PGA champion Paul Lawrie on the world-famous King's Course before enjoying a tasting lunch at the double-Michelin-starred Restaurant Andrew Fairlie. The itinerary next travels to the Isle of Jura, where guests will embark upon a sporting adventure at the country's newest golf course, guided by a second PGA champion, Russell Knox.
The itinerary's gastronomic adventures are numerous, with special dining experiences provided courtesy of several Michelin-recognized chefs, including Tom Kitchin and Martin Wishart. Both acclaimed chefs will host intimate and exclusive culinary experiences that showcase the best of Scottish produce as well as their enormous respective skills.
The Caledonian tour's culinary escapades continue with a visit to the home of Nick and Julia Nairn. Nick has previously acted as the mastermind behind the Queen's milestone birthday dinners, making him one of the most sought-after chefs in the world. In this once-in-a-lifetime experience, guests will enjoy a meal cooked by Nick in the intimate and relaxed setting of his own Scottish home.
Another of Scotland's beautiful islands is explored with a nautical adventure to the Isle of Islay. Here, travelers will witness each stage of whisky production at a private distillery visit that includes access to areas never before opened to the public as well as a tasting of rare vintages straight from the cask.
[See also: Dan Rose-Bristow on Running Scotland's Most Northerly Five-Star Hotel]
Scotland's rugged natural landscape will be witnessed via a helicopter excursion with acclaimed photographer Colin Prior. From this vantage point, guests may be lucky enough to spot some of the country's bountiful wildlife species in their natural habitat, including orcas, dolphins, otters and seals. Back on land, guests are invited to get up close and personal with nature and try their hand at falconry, grouse and red deer stalking, and horseback riding.
Topping off this awe-inspiring trip is a hands-on look at Scotland's diverse history during an out-of-hours visit to Edinburgh Castle, including a private viewing of the Crown Jewels and access to restricted areas of the historic fortress. The royal theme continues as the itinerary reaches unheard-of levels of exclusivity with high tea at Holyrood Palace, the Queen's official residence in Edinburgh.
Across the eight-day trip, accommodations will be split between the majestic Borthwick Castle (which acted as home to Mary, Queen of Scots) and the sprawling Ardfin Estate, both of which will be fully bought out for exclusive use, promising the utmost privacy and luxury.
Prices from $1.56 million for 10 guests. Itinerary is fully customizable, and dates are flexible. To book, visit curatedtouring.com.