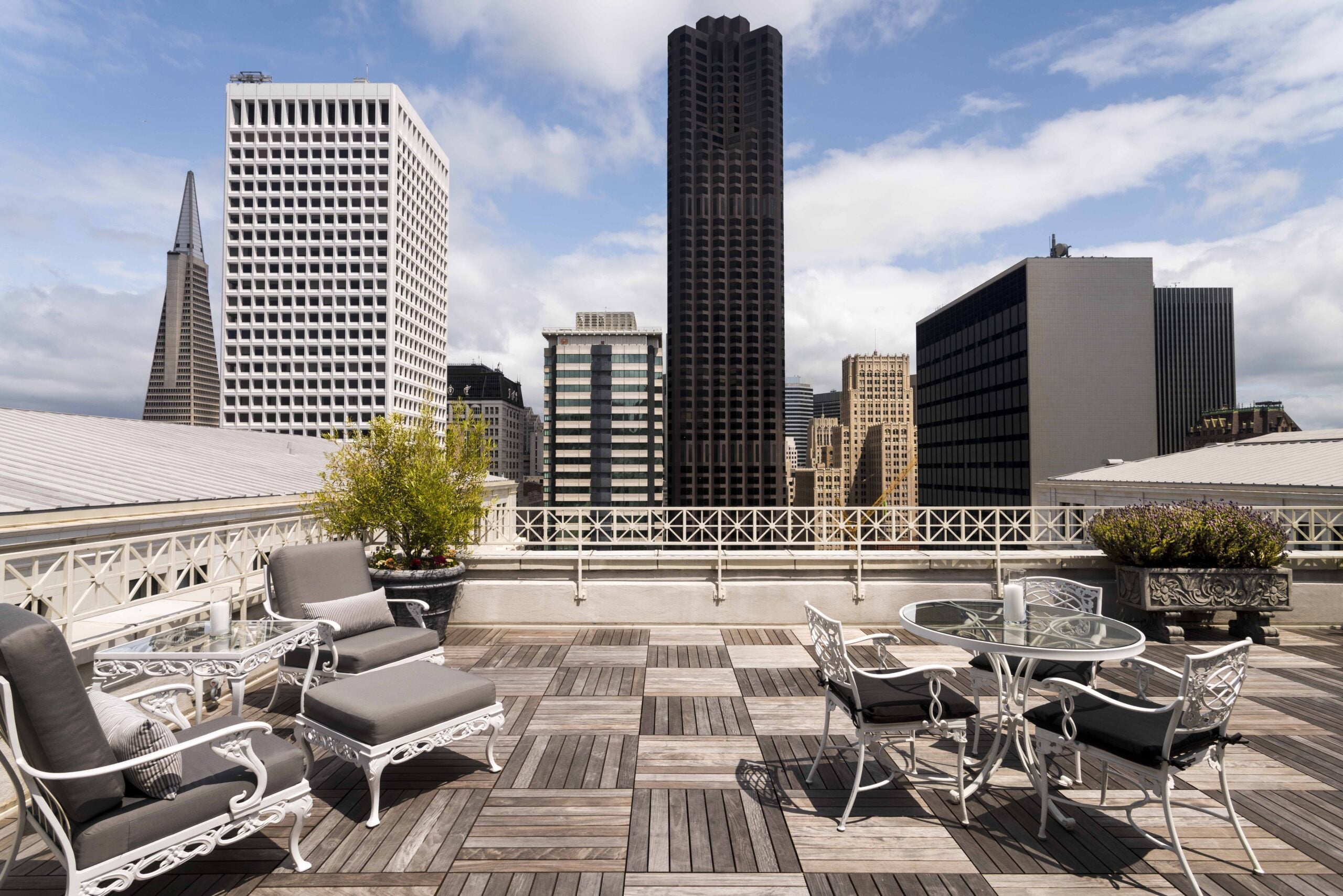 San Francisco proudly bears a reputation as one of the most diverse and quirkiest cities in the US.
The city and the neighboring Silicon Valley are the epicenter of global technology; there is a strong cultural presence with world-class museums and art galleries; its Chinatown is the oldest and largest in the US.  There is no shortage of incredible sights in and close to the city, including the Golden Gate Bridge, Alcatraz and the nearby Muir Woods, home to an ancient redwood forest.
It embraces its unusual weather — there's a famous quote that says, "The coldest winter I ever saw was the summer I spent in San Francisco" — and its denizens have even named the fog, which goes by the name Karl. If Karl is visiting, you'll need to have an opulent hideaway. You're sure to find exactly what you're looking for in our roundup of the city's most over-the-top suites.
The Ritz-Carlton San Francisco – Presidential Suite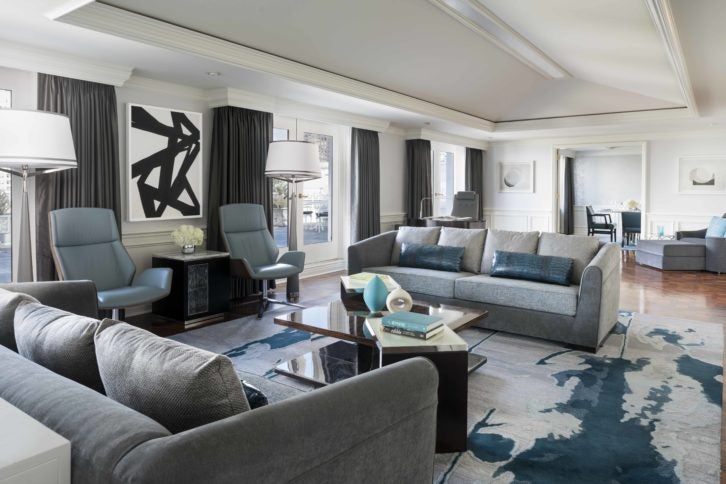 In a landmark building dating to 1909, The Ritz-Carlton San Francisco sits at the edge of charming Nob Hill, where it takes advantage of its enviable location at the center of it all. It's a short walk to The Embarcadero and Union Square, and the city's cable cars stop right out front. Inside, the property blends history with contemporary elegance, from its stunning lobby filled with imposing marble columns and crystal chandeliers to its refined restaurant, Parallel 37, and its traditional and opulent lounge, which pairs a red-lit bar with a carved marble fireplace.
On the ninth floor, the highlight of the impressive Presidential Suite is undoubtedly the enormous 1,200-sq-ft furnished terrace with pristine views of the Financial District. With its penthouse location and the hotel's position up in Nob Hill, you'll have a unique vantage point for gazing at the top of the city skyline.
The suite's expansive living room is well-appointed in blue and gray with modern furniture and art. On one side, French doors open to an elegant dining room with a large, oval-shaped marble dining table. On the other, they lead to the beautifully decorated master bedroom — where you can also admire the city views from bed — and the marble-clad bathroom, which has a large whirlpool tub and rain-forest shower.
San Francisco Sights
If you don't have time to get to Napa Valley, be sure to visit the JCB by Jean-Charles Boisset Tasting Lounge. (Boisset has won numerous accolades including being deemed one of the 50 most important people in the wine world for over a decade.) The dark and sexy space is awash with purple velvet, gold accents and more chandeliers — it's the perfect space for an intimate wine-flight tasting.
Rate: From $8,000 per night
Contact: Taylor Lee, director of sales, taylor.lee@ritzcarlton.com, +1 415 296 7465, ritzcarlton.com
The St Regis San Francisco – Presidential Suite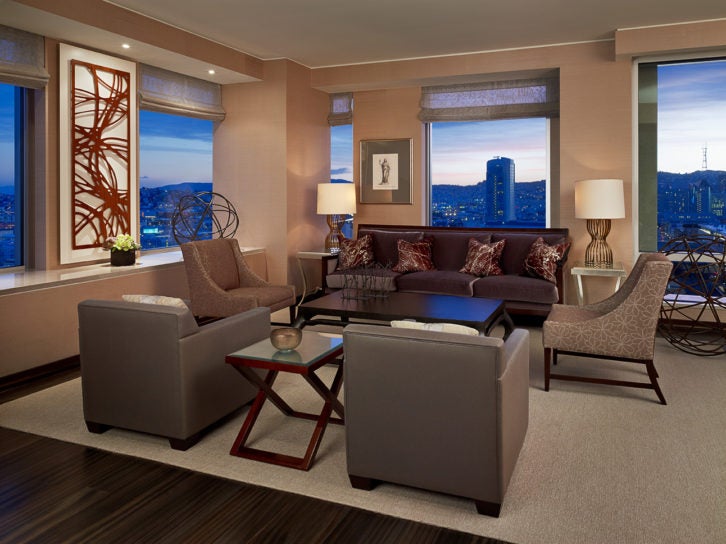 A St Regis hotel conjures ideas of old-school glamour, filled with over-the-top crown molding and opulent fabrics. The St Regis San Francisco turns that idea on its head, while maintaining the impeccable service and luxury the brand is known for. When building the hotel, the architects must have taken inspiration from its neighbor, the San Francisco Museum of Modern Art, as the decor is contemporary, and the artwork and installations are, well, modern.
As expected, the pampering remains top-notch: The house car is a Bentley, the Remède Spa is among the best in the city and the hotel has a 50-ft heated saltwater pool. The one-bedroom Presidential Suite occupies a prime corner of the building and features floor-to-ceiling windows overlooking the verdant Yerba Buena Gardens. The large, light-filled living area has two sitting areas filled with contemporary furnishings and modern art.
For those traveling on business, there is a separate, elegant office with a leather-topped desk and a printer. It's easy to entertain in the 3,200-sq-ft suite: There's a dining table for 10, and a butler will arrange every detail from a discreet post in the butler's pantry. The butler can arrange any type of custom experience for you and will greet you each morning with coffee or tea.
San Francisco sights
If it's a beautiful day, head to a park near the Golden Gate Bridge for a picnic in true St Regis style. A butler will head to the park early and set up a table, complete with white tablecloth and an umbrella, where you can enjoy a delectable meal while admiring uninterrupted views of the Bay and the city's famous landmarks.
Rate: From $16,000 per night
Contact: Lilian Wagner, director of sales and marketing, lilian.wagner@stregis.com, +1 415 284 4000, st-regis.marriott.com
The Palace Hotel – Presidential Suite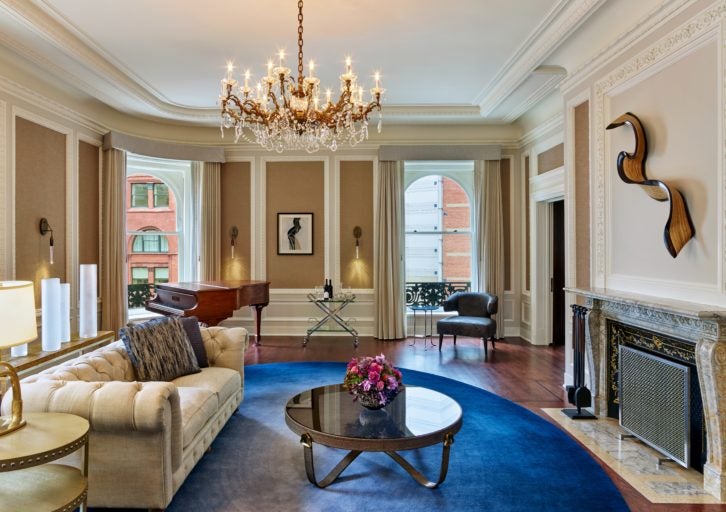 Step back in time to 19th-century San Francisco's glamorous post-Gold-Rush heyday at the Palace Hotel. It has a prestigious history dating to 1875, when it opened as the city's first luxury hotel. Since then, the grande dame has undergone several renovations (the most recent in 2015), keeping its service and offerings in line with its royal pedigree.
Its impressive public spaces include an enormous marble promenade, a gracious lobby with arched ceilings and the iconic Garden Court, which is the city's only indoor historic landmark. The breathtaking Paris-inspired court is filled with mirrors, gold, ornate marble columns, a domed glass ceiling and more chandeliers than you can count. It's a dreamy spot for brunch or a tea service.
The Presidential Suite naturally also showcases the hotel's storied past. The living room has large arched windows, a baby grand piano, a carved marble fireplace and beautiful moldings throughout. There's a formal dining room for six, a cozy media room and one elegant bedroom in the 2,000-sq-ft corner space. A few pieces of modern art and several brightly colored carpets keep the suite firmly planted in the 21st century.
San Francisco Sights
Choose your favorite grape varietal and let the hotel's well-connected concierges arrange a special day trip to Napa Valley. A private driver will take you to the US's premier wine country, where you'll embark on a hot-air balloon ride to admire the rolling hills and vineyards, and enjoy VIP tours and tastings at exclusive wineries.
Rate: From $7,500 per night
Contact Nicole Fondry, marketing manager, nicole.fondry@marriott.com, +1 415 512 1111, marriott.com
Fairmont San Francisco – Penthouse Suite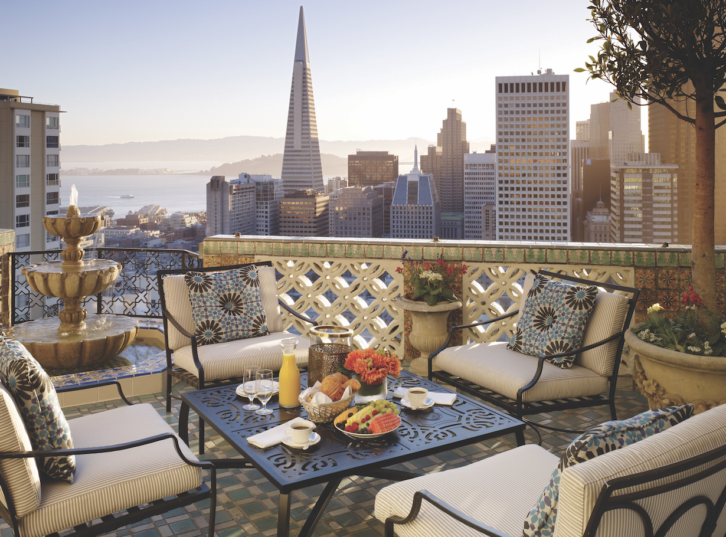 High atop Nob Hill, Fairmont San Francisco, the city's grande dame, overlooks the sprawling metropolis below. The charming Beaux-Arts white facade of the main building is instantly recognizable to locals and travelers alike. Its illustrious history is honored in a hallway, where the walls are lined with images of famous travelers, scenes from famous movies filmed there, and quotes from luminaries who adore the hotel — like Anthony Bourdain, who was obsessed with the tiki bar, The Tonga Room.
The most famous suite in San Francisco has a residential feel, which makes sense: The hotel's previous owners called it home for over 30 years. The entire 6,000-sq-ft space, from the grand library of original books, to the Alhambra-inspired billiards room and large living room, makes you feel like you're stepping back in time, visiting a very well-appointed home.
The suite has three bedrooms, each with unique decor; the most charming has walls painted with an antique map from 1927. There's a large catering kitchen, which the staff will fully stock to your exact specifications. Best of all is the stunning terrace, which has played a starring role in many movies, and that offers superb views of the city skyline and the Golden Gate Bridge.
San Francisco Sights
Oracle Park, home to the San Francisco Giants, is one of baseball's most beloved stadiums. Head behind the scenes on a private tour of the stadium, where you will explore the dugout, clubhouse and museum, as well as get the chance to take a turn around the bases. And if you're looking for the perfect space for that big moment, you can rent out the stadium so the Park and Jumbotron are yours and yours alone.
Rate: From $18,000 per night
Contact Colleen O'Neill, director of individual travel sales, colleen.oneill@fairmont.com, +1 415 772 5489, fairmont.com
Image credit: Matthew Millman
The Battery – The Penthouse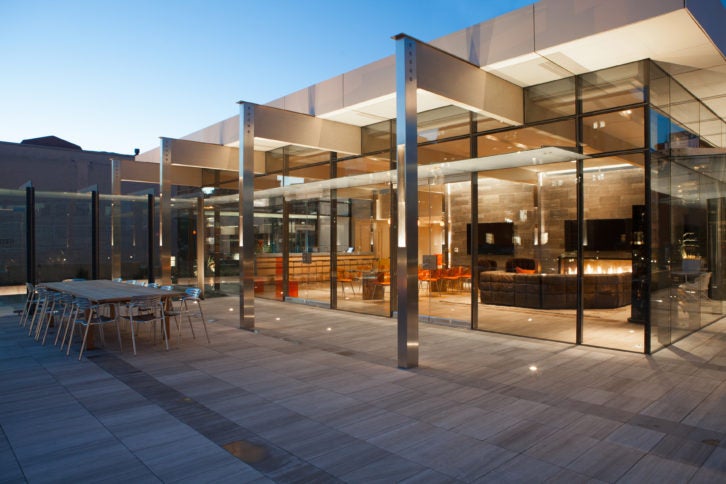 Nestled inconspicuously on Battery Street near Jackson Square and the Financial District, The Battery is an exclusive members' club and hotel founded by husband-and-wife tech entrepreneurs to create the ultimate hideaway for Bay Area and Silicon Valley tech gurus. The only way for non-members to get in the door is by booking one of its 14 hotel rooms — but even guests must abide by its rules, including a strict no photos and no social-media sharing policy.
The chic, modernly appointed hotel has four dining venues, including the rooftop hotspot, Garden Bar, and a wine cellar headed by a member of the Société Nationale des Meilleurs Ouvriers de France (he is one of only 22 sommeliers in the world with this honor). The 6,200-sq-ft Penthouse is one of the most exclusive in the city.
You will be hard-pressed to find an accommodation as epic as this: The living room is encased in floor-to-ceiling glass windows with contemporary design elements (like exposed steel beams) and connects to an incredibly spacious patio that doubles as an events space when the Penthouse isn't in use. Outside, a fire pit and infinity hot tub are the perfect vantage points for taking in the panoramic city views.
San Francisco Sights
Become a Resident Member for the duration of your stay with exclusive access to member activities and events. No matter when you go, you will have access to contemporary art exhibitions, concerts, member showcases and discussions on politics and activism from notable Bay Area figures.
Elite Tip: You can rent out the other two suites on this floor for a completely private experience.
Rate: From $10,000 per night
Contact: Anna Kuhn, hotel director, anna@thebatterysf.com, +1 415 230 8000, thebatterysf.com
Four Seasons Hotel – Presidential Suite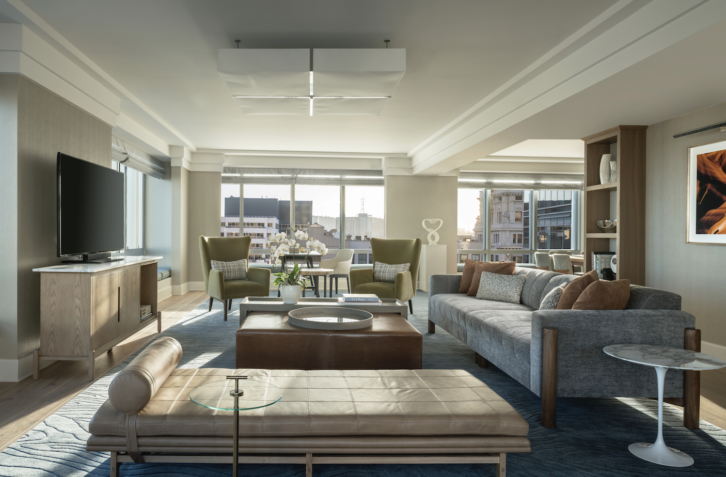 The centrally located Four Seasons Hotel San Francisco has nearly everything you need within a two-block radius, making it the perfect place to stay for business travelers and vacationers alike. Though it's situated on bustling Market Street (home to the iconic cable cars that take you through the city), the hotel is ideally located on floors five to 17 of a 42-story building, so most of the noise disappears the moment you step foot in the wood-paneled lobby.
The hotel boasts Four Seasons elegance through its contemporary, clean design and has thoughtful details that evoke the unique spirit of San Francisco — abstract art sculptures; pale color palettes that recall the fog, ocean and redwood trees; and light-oak flooring and wispy curtains. This sensibility is also reflected in the hotel's crown jewel: the Presidential Suite. Its chic design is as pristine as its views through the floor-to-ceiling windows that encircle the suite.
Vistas of Yerba Buena Gardens and San Francisco Bay act as the backdrop to your perfectly polished one-bedroom suite, which boasts metal and mirrored accents in the spacious living room, marble bathroom and guest powder room. Take advantage of the dining area, full pantry and wine refrigerator, which holds more than 30 bottles hand-selected by the hotel's resident sommelier. You have the option of expanding the suite from one bedroom to three bedrooms during your stay.
San Francisco Sights
The best way to see San Francisco is via a luxury yacht, of course. Sail around the bay as you view the city's best attractions from the water, including the Golden Gate Bridge and Alcatraz. During the private tour, a Four Seasons chef will prepare lunch or dinner with wine pairings.
Rate: From $10,000 per night
Contact: Joerg Rodig, general manager, joerg.rodig@fourseasons.com, +1 415 633 3494, fourseasons.com
Image credit: Don Riddle Images
Clift Royal Sonesta – Private Apartment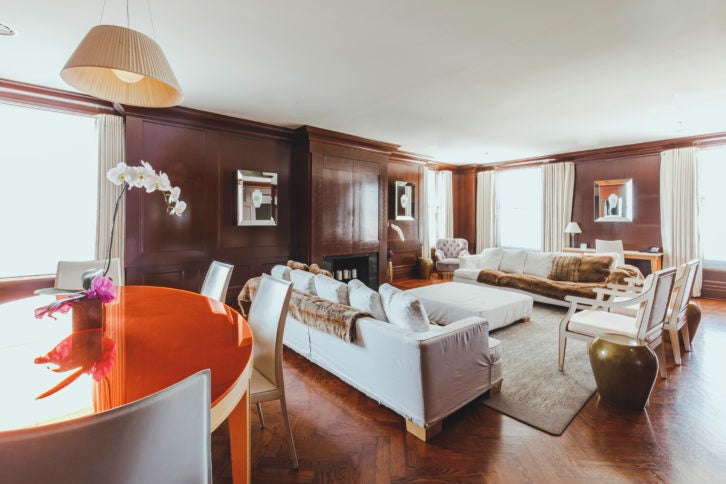 The century-old hotel, dating back to 1915, has had many lives (it was formerly a Four Seasons and boutique hotel) and, in 2018, it officially reopened as the Clift Royal Sonesta. The hotel was designed by French interior designer extraordinaire Philippe Starck and boasts a glam Art Deco influence with avant-garde sculptures and furniture. Pieces from cult label Ray and Charles Eames and artwork by Salvador Dalí are dotted throughout the hotel.
Its notable history is referenced everywhere, especially in the 1934 former nightclub turned bar, the Redwood Room (perhaps the most famous bar in the city). We suggest ordering the Gold Rush cocktail, an homage to San Francisco's gold-mining era, in the legendary bar before retreating to the sumptuous Private Apartment. The one-bedroom apartment evokes a Parisian sensibility with clean walls and simple decor, as well as a neutral color palette of white and ivory with pops of color like orange lucite side tables and pastel purple chairs.
Its understated glamour really shines in the details, such as Venetian Murano glass and Starck-designed custom English sycamore furniture. The apartment perfectly pairs modernity with the rich history of the building.
San Francisco Sights
Guests of the Private Apartment can dine on a four-course meal during an exclusive dinner. End the night with a tasting of Louis XIII — white-glove service included. This is one of the few hotels in the city where you can sip on the beloved cognac.
Rate: From $2,500 per night
Contact: Jill Plemons, director of sales and marketing, jplemons@sonesta.com, +1 415 929 2365, sonesta.com
InterContinental San Francisco – Presidential Suite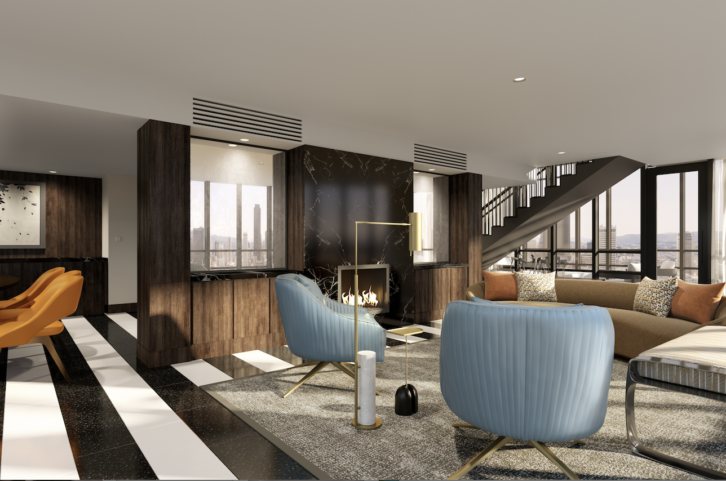 The InterContinental San Francisco in the SoMa (South of Market Street) neighborhood is housed in a 32-story, blue-glass tower within walking distance of Union Square, Yerba Buena Gardens, Museum of Modern Art and plenty of sightseeing.
While it's a hot spot for business travelers, it still manages to feel inviting for families and friends with its ultra-modern design: think mirrored Art Deco-style tables, gray velvet sofas, funky art and towering flower arrangements. Locals and tourists alike come here for the Michelin-starred, New American-style restaurant, Luce, and the hotel's swanky lounge, Bar 888, known for its comprehensive grappa list. If you spend even a few nights here, you must stay in the newly renovated Presidential Suite.
The bi-level penthouse's updates include stone flooring, a stone-slab fireplace, new world-class art, accent walls, and a larger living and dining area to give it a residential feel. The one-bedroom suite has two private outdoor terraces where you can take in prime San Franciscan vistas, as well as two master bathrooms, each with a walk-in closet and soaking tub. Encompassing more than 2,000 sq ft, the stylish and contemporary space feels like your own apartment in the sky.
San Francisco Sights
Thanks to InterContinental's central location, you'll have close proximity to the city's main shopping districts, including the designer boutique-laden Union Square. Your concierge will arrange a private shopping experience at your boutique(s) of choice.
Rate: From $3,500 per night
Contact: Gail Gerber, area director of sales and marketing, gail.gerber@ihg.com, +1 415 616 6622, ihg.com
JW Marriott San Francisco Union Square – California Suite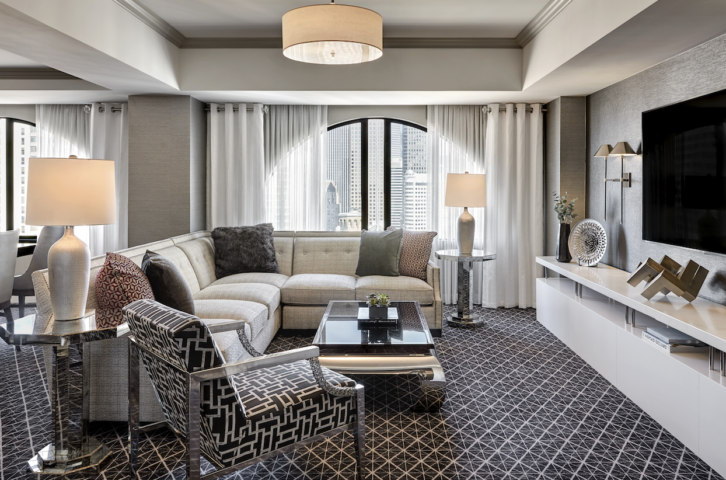 With a prime location in the heart of the city, Union Square, JW Marriott is perfectly positioned for exploring. You could even spend a day wandering around the square itself, visiting its myriad shops or salivating at the Museum of Ice Cream. Back in the hotel, you're greeted by a modern lobby with an inviting fireplace and a bronze-and-marble fountain.
There's a well-equipped fitness center, and the hotel conveniently offers complimentary laundry for workout clothes. Up at the top, the one-bedroom California Suite channels the bygone era of silver screen stars' most glamorous days, but with a modern twist. Shades of gray and silver permeate the entire suite, offset with luxurious furniture and finishings, including rosewood, quartz, geometric carpets and textured walls.
The elegant dining area is dominated by a stunning contemporary chandelier, and large windows allow the glittering city skyline to add extra sparkle to your evening. The opulence continues in the bathroom, which has a marble shower so large it could be called its own room and a very large television, so you won't miss a thing if you linger (which you probably will).
San Francisco Sights
Hop in a motorcycle sidecar and let your guide take you on a thrilling ride through San Francisco's notoriously steep, hilly streets. While the city is known for its quirky personality and characters, motorcycles with sidecars aren't that common, so you can expect to become a bit of an attraction yourself.
Rate: $2,000 per night
Contact: Mari Takamura, luxury marketing account manager, +1 415 771 8600, jwmarriott.com
Image credits: SONNY+ASH, wsphoto.net