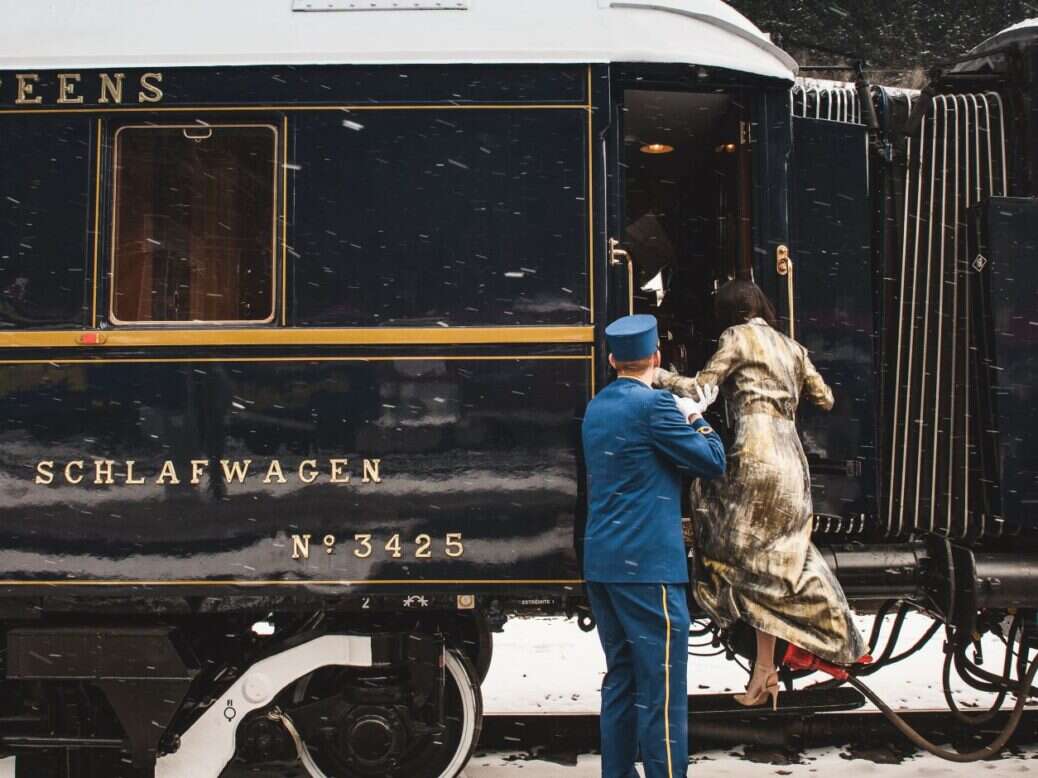 "No one comes aboard the train to sleep," says the white-gloved barman, as he floods round after round of Laurent-Perrier into cut crystal.
It's well after midnight but spritzes and sours still clink. The train jolts from side to side sending out shrieks of delight from glamourous girls in stilettos and gentlemen with undone bow ties. A tuxedoed band belts retro Italian tunes off a grand piano and gleaming brass trumpet with all the frenetic vigor of the musicians on the sinking Titanic.
Champagne corks arch in the air and the French countryside blurs by outside the window, all but hidden behind a curtain of night. It's Gatsby gone off the rails; a Roaring Twenties gin palace on wheels.
When does the party end and the bar carriage close? "Not until the last guest leaves," says the barman with a wink.
Welcome aboard Belmond's legendary Venice Simplon-Orient-Express, a veritable time capsule of coal burners and chinoiserie lacquer work, René Prou marquetry and Lalique glass; where each carriage has its own story and history — some dating as far back as the 1920s.
In its current iteration, the 17-carriage train has been crisscrossing Europe for 40 years since its relaunch in 1982, but it will be climbing to new heights next winter with a new route to the French Alps.
[See also: A Night of Fine Dining on the British Pullman, a Belmond Train]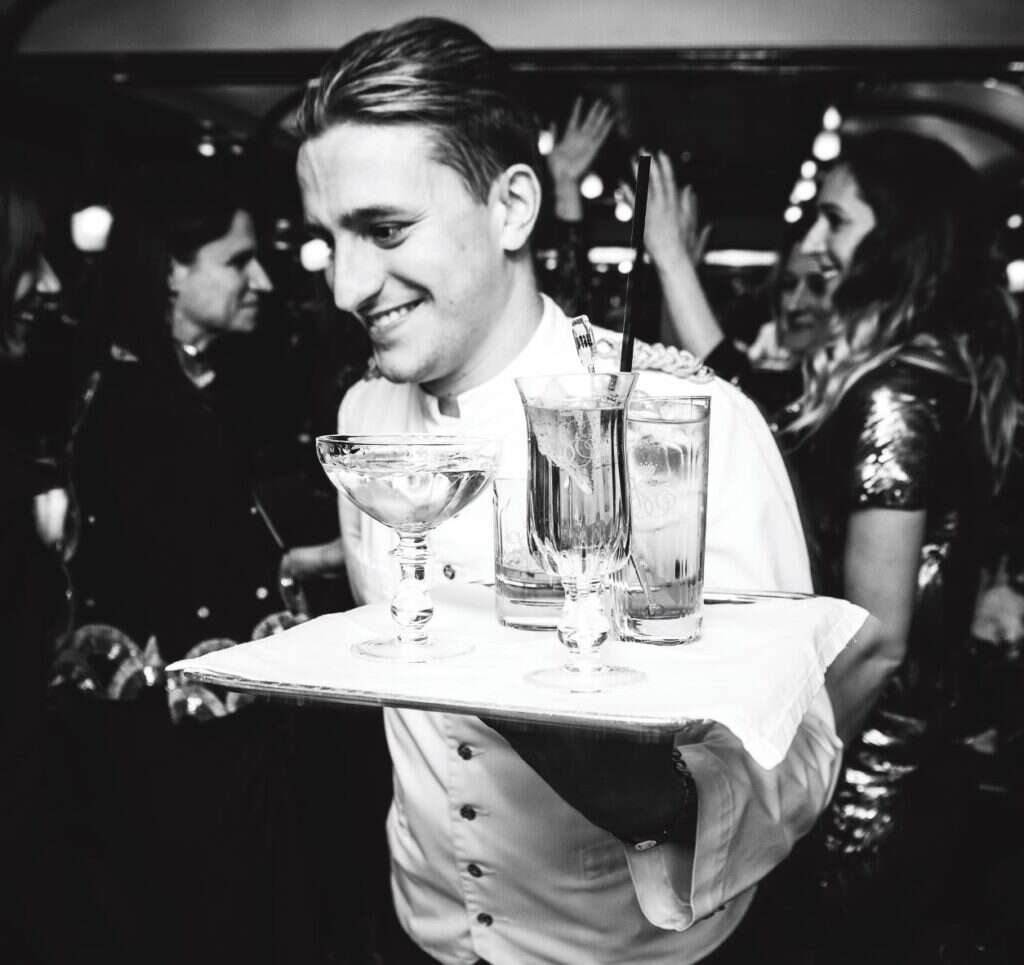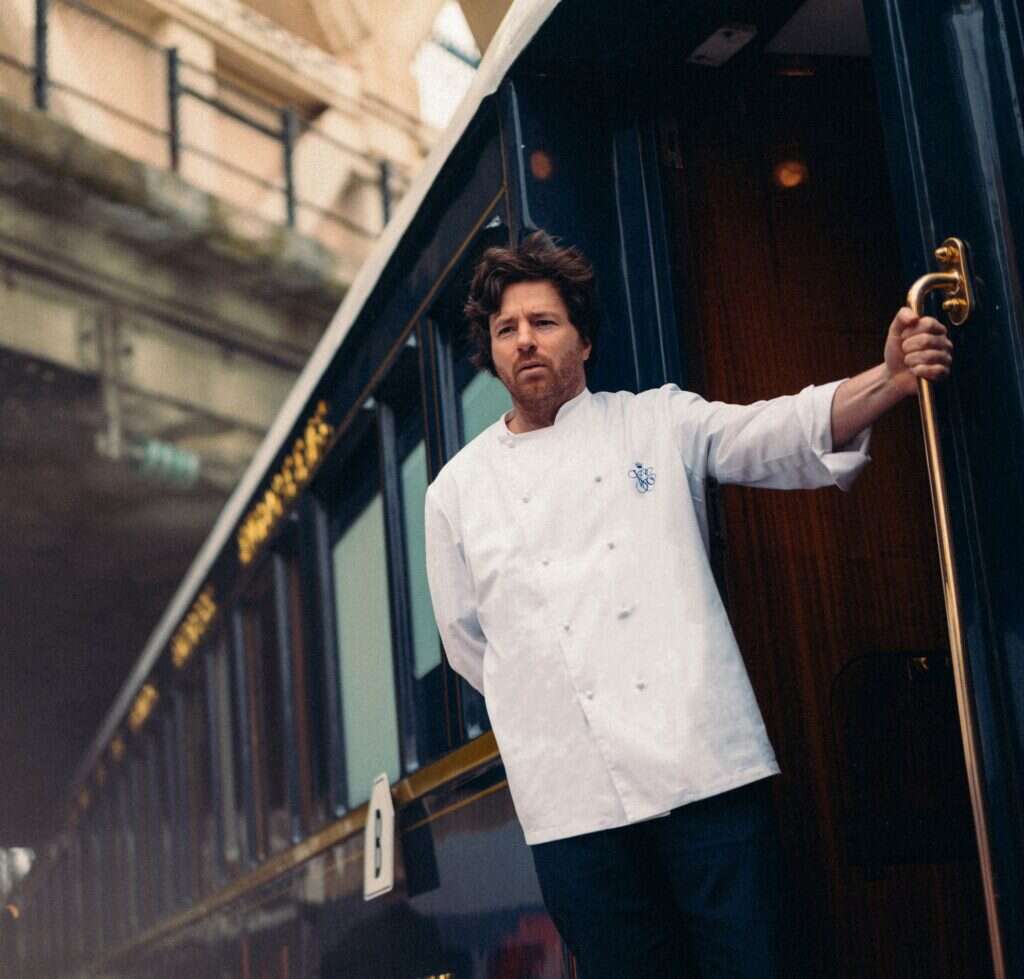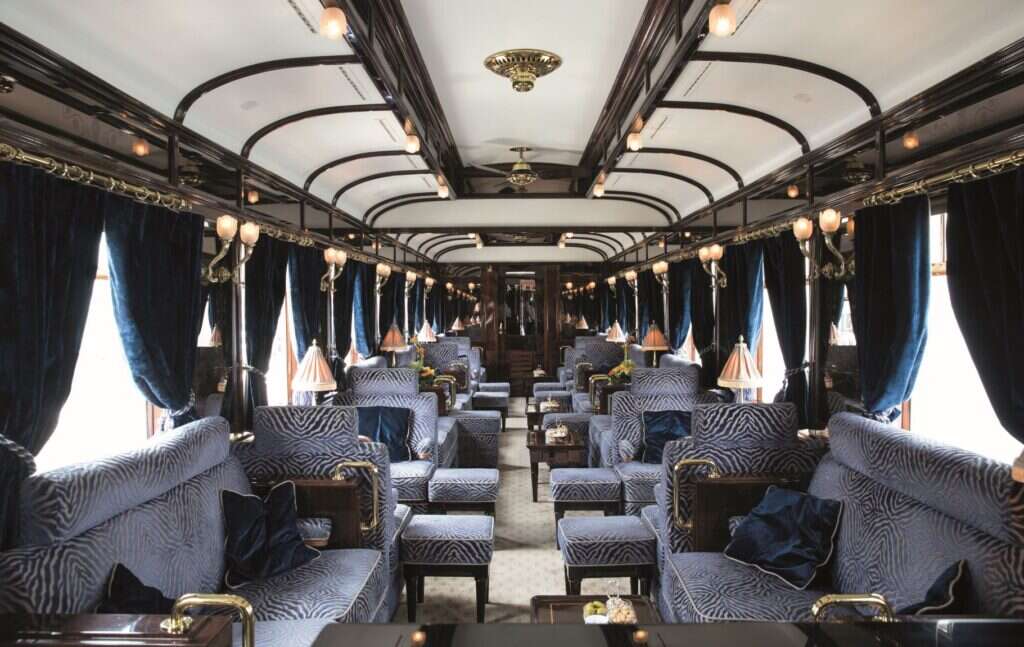 Debuting in December 2023 with four dates to choose from, the train will travel between Paris' Gare de l'Est and three stations in the heart of the Alps, Albertville, Moûtiers, and Bourg-Saint-Maurice, all within easy reach of the glamourous ski resorts and winter snow hotspots of Megève, Courchevel, and Tignes-Val d'Isère.
The party in Bar Car 3674 — the train's dramatic deco blue and gold bar carriage — is part of a press preview of this new route, which also includes a sumptuous seasonal supper of oysters smothered in sabayon; chestnut-topped Chapon de Bresse (a breed of French poultry with its own appellation d'origine contrôlée status); and an impeccable Bûche de Noël infused with hazelnut and coffee.
[See also: The Best New Hotels in Paris You Cannot Miss]
The opulent winter menus come care of Jean Imbert, the luxury train's new chef who came aboard in April 2022 and is famed for taking the helm at Plaza Athénée after Alain Ducasse's departure. Expect nods to the golden age of rail travel with all the traditional gastronomic luxuries like foie gras and imperial caviar, but reworked with Imbert's signature, modern twist (which already won him a Michelin star at Plaza Athénée).
No matter how comfortable the cozy, lamplit sleeper cabins, as the wise steward said: no one is here to get a good night's sleep, so the wintertime gastronomy is a real highlight of the trip. However, there is plenty more to enjoy — even on just a short overnight jaunt from Paris.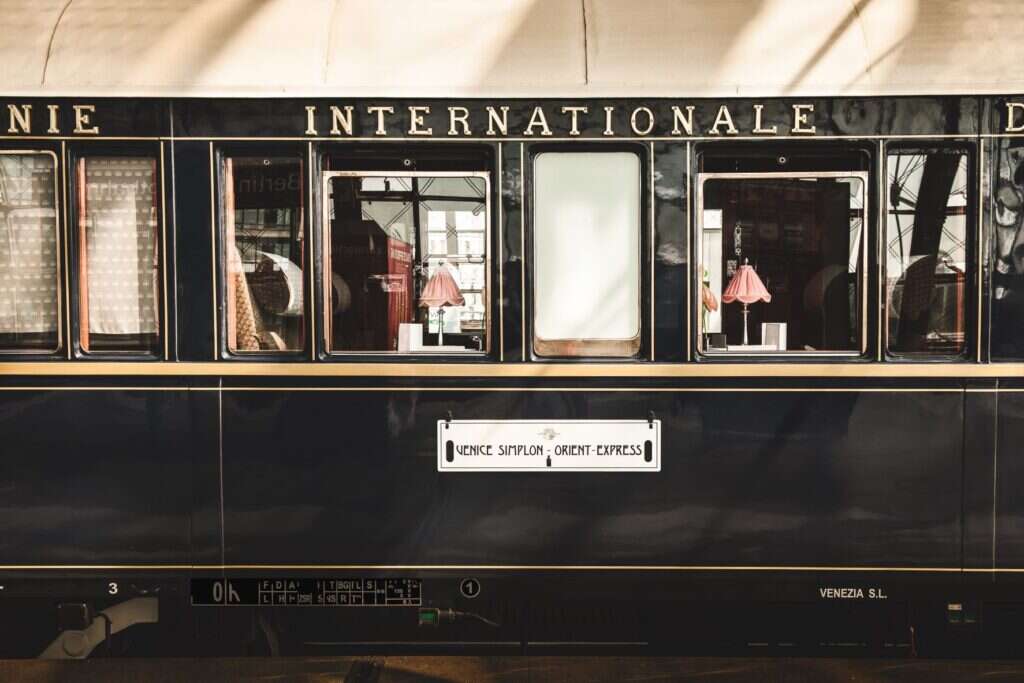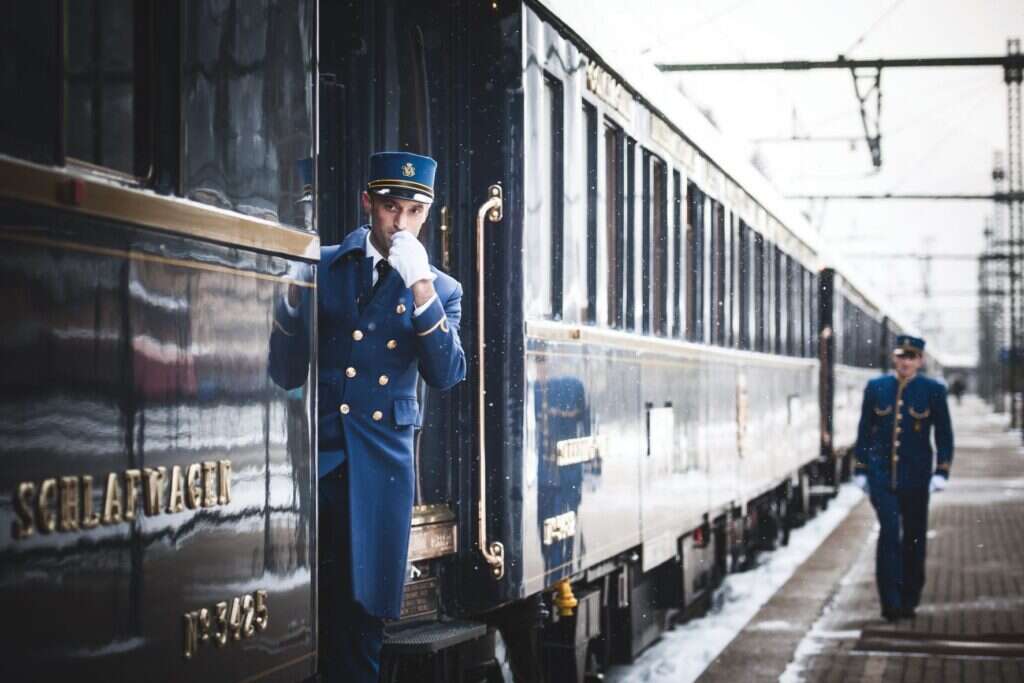 Set aside a few moments to spend your morning swathed in the chic (and complimentary) Prussian blue kimono and slippers in the quiet of your sleeper cabin, watching the scenery grow snowy and the mountains come into view or scribbling postcards. (Venice Simplon-Orient-Express stationery is also complimentary, along with a mailbox service with special stamps.)
Breakfasts — as simple as fresh baguettes slathered in Bordier butter or as decadent as lobster rolls and vintage blanc de blanc — can be served in your compartment or taken in one of the three dining carriages (don't miss the original mounted glass panels by René Lalique in Dining Car 4141.)
[See also: A First Look Inside the New Orient Express Train]
In addition to the new winter route, Venice Simplon-Orient-Express is also debuting eight new Suites — an entirely new cabin category — this spring. Drawing inspiration from Europe's everchanging countryside of mountains and meadows, the sumptuously dressed new Suites will also have marble-bedecked ensuite bathrooms — something that's missing from the Historical Cabins.
The new Suites category will be positioned between the two existing cabin categories: the entry-level Historic Cabins, with twin bunk beds and wash basin (but no private bathroom), and the six, top-end Grand Suites, with ensuite bathrooms and over-the-top glamourous style, each inspired by a key city on the train's route (Paris, Venice, Istanbul, Vienna, Prague and Budapest). What better cabin to book for a once-in-a-lifetime trip?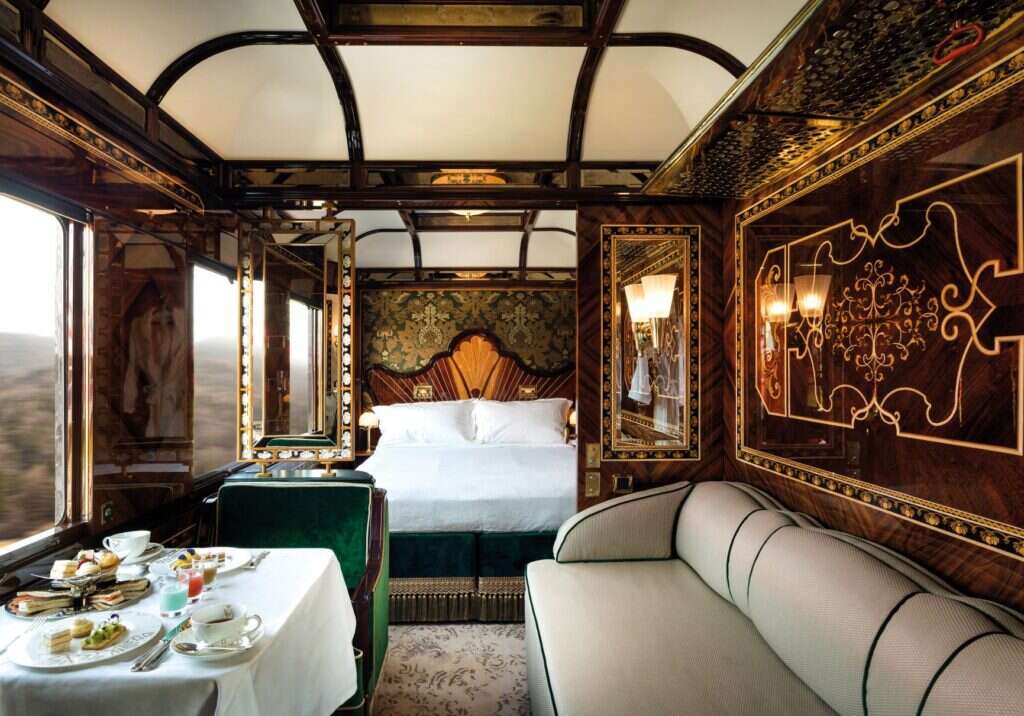 Venice Simplon-Orient-Express' new Suites are available on journeys from June 15, 2023 with rates starting at approximately $8,000 per person. The new French Alps winter route will be launching with four overnight journeys in December 2023 with rates starting at approximately $4,070 per person in a Historical Cabin. belmond.com
This article appears in the 06 Mar 2023 issue of the New Statesman, Spring 2023