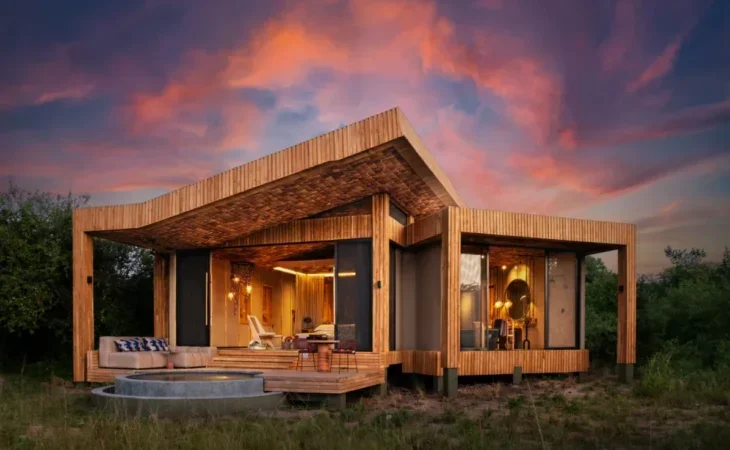 Luxury experiential travel company andBeyond has reopened its Grumeti Serengeti River Lodge property in northern Tanzania following an extensive refurbishment.
Situated within the remote western reaches of Serengeti National Park on the banks of the Grumeti River, the lodge is the perfect setting for guests to fully immerse themselves in the wilderness and catch a glimpse of the region's famed wildlife. Out front, hippos cool off in the water, while lion prides and clans of hyenas roam the plains beyond.
During their stay, guests can take part in a range of experiences including a slow safari on foot (ideal for bird watchers and photographers), early morning yoga classes and fishing day trips to Lake Victoria on the Kenya-Tanzania-Uganda border.
[See also: Exclusive African Safari Camps Championing Sustainability]
The lodge itself consists of 10 ultra-exclusive revamped suites overlooking the river, complete with private plunge pools and terraces. Inspired by traditional Masai Manyatta (the cultural homesteads of the Masai people) the spacious interiors feature plenty of natural wood beautifully contrasted with bright, colorful details.
At the heart of the property is a brand-new open-air circular bar topped with woven Kitenge fabrics and glass light installations – the ideal location to soak up the stunning views and watch the wildlife on the riverbanks below.
During the renovation, andBeyond took the opportunity to install a 130kWh solar power system, enabling the Grumeti Serengeti River Lodge property to run on 80% renewable energy. In a further sign of its commitment to sustainability, the luxury travel company also replaced all the old hot water systems with new, energy-efficient water heating.
Other efforts to minimize the lodge's impact on the environment include recycling wastewater from the laundry, harvesting rainwater to fill the plunge pools and installing a borehole meter to monitor the underground water level.
These initiatives fit in with andBeyond's wider environmental strategy which aims to lower each property's environmental impact without compromising on luxury. Each year, the 29 lodges and camps go through an intensive sustainability audit with monthly measures taken of overheads including water use, electricity consumption and waste production. In turn, this data is used to set targets and to reduce their impact.
Alongside this work, andBeyond's independent charitable arm, The Africa Foundation, carries out valuable work with conservation partners and communities surrounding the lodges to support local people. Current projects underway include the Community Leader's Education Fund providing bursaries for young people across South Africa, Tanzania and Kenya; the Yes4Youth job creation initiative, and the Oceans Without Borders marine conservation program.
[See also: Beyond Green and andBeyond Partner on New Travel Platform]