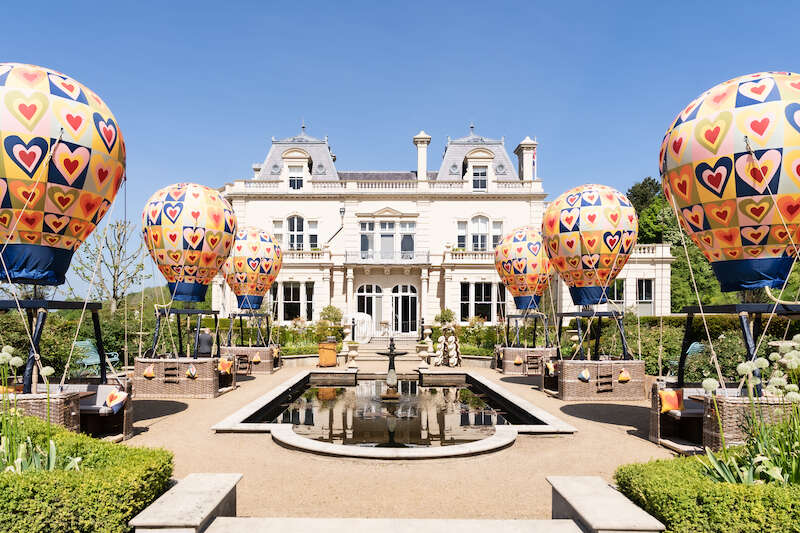 Come summer, the English countryside is, by all standards (provided you are in the right postcode), a vision of romance: Picture abundant flower beds, long sunny evenings, and a gentle soundtrack of the buzz of bees. Cashing in on this whimsical reputation is Beaverbrook Hotel, which has relaunched its popular balloon dining experience, with this year aptly taking the theme of 'Love is in the Air.'
The hotel sits just outside the borders of the notorious M25, less than two hours from London city center but emotionally a million miles away: a sprawling estate gently fringes the line between manicured and rewilded, with a sun-drenched terrace overlooking the Surrey Hills beyond, and an 18-hole golf course sitting behind. It is, if you'll excuse the cliché, an oasis. 
First visible to guests as they conclude the journey along Beaverbrook's long, winding driveway, the six completely stationary hot-air balloons in miniature sit in Beaverbrook's pretty Italian garden, with a view of the majestic manor house hotel. Designed in partnership with table dressers Summerhill & Bishop, each balloon is embroidered with a 70s-style patchwork display of colorful hearts.
[See also: The Best Outdoor Restaurants and Bars in London]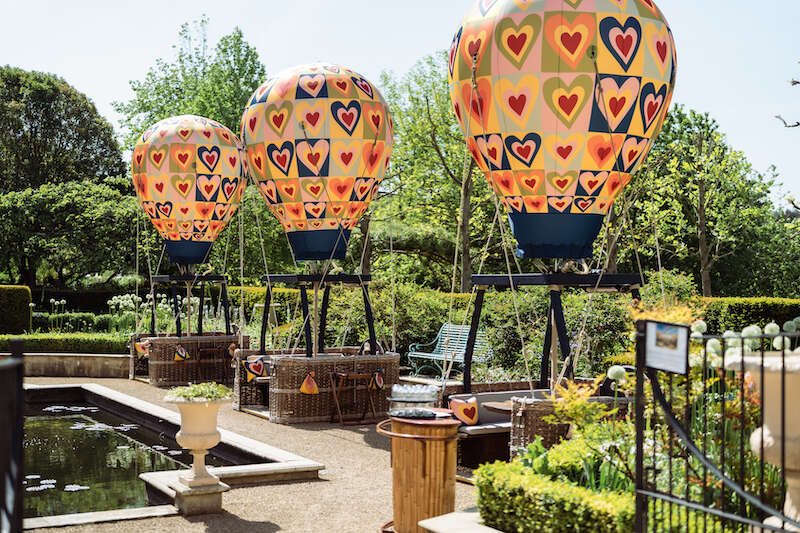 But, while the balloons themselves are a special spectacle, guests are really here for the food – and at a not-insignificant £245 ($312) per person the pressure is on for that food to deliver. Fortunately it does, in bucketloads. Created by Beaverbrook's executive development chef Wojciech Popow, the menu borrows flavors from the hotel's signature Japanese Grill restaurant, with each course delivering a new, intriguing surprise.
To begin, there is a traditional handcrafted sandangasane box, wrapped up in Summerhill & Bishop napkin. Each layer of the box reveals a different component: A dainty tin of dry-aged beef tartar topped with caviar sits at the top, another layer holds a bowl of peppery nasturtium petals, and at the bottom, rice crackers to spoon it all onto.
The main event, however, is the Yakiniku. A miniature grill – heated by hot coals straight from the barbecue – is delivered to each table, and with it a picnic box full of raw delicacies. There are slithers of Iberico pork; parcels of the finest A5 Sakura wagyu, filled with yet more wagyu; marbled slabs of Kobe beef; and chunks of rare bluefin tuna and Japanese red bream.
[See also: Michael Caines's Lympstone Manor: A Delight for the Senses]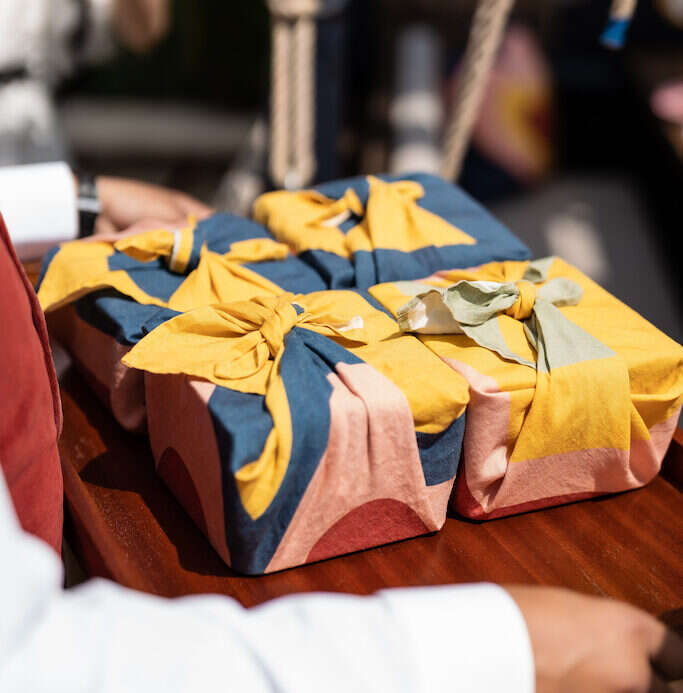 In a DIY approach to fine dining, guests are invited to cook each meat themselves, with careful instruction on the best method for each (just a quick sear for that Wagyu but a little longer for the pork). On the side, there's a creamy sesame sauce, a smoky whisky-laden BBQ dip, and tangy ponzu, as well as custardy cured egg topped with bonito flakes.
There are two desserts, but of the two, it is the gelato course that steals the show. Made in-house by pastry chef Thanos Linardarkis, the gelato is served from a traditional ice cream cart. Ask to switch the courses around to have it last, and take it to go – either on a stroll around the grounds, or sitting over at the nearby garden terrace.
The 2023 iteration of Beaverbrook's Balloon Dining experience launches alongside an exclusive Love is in the Air overnight package, which includes a night in one of the hotel's sumptuous suites (with a bottle of sparkling rosé awaiting post-check-in) and balloon dining for two.
[See also: Inside Beaverbrook Townhouse, London]