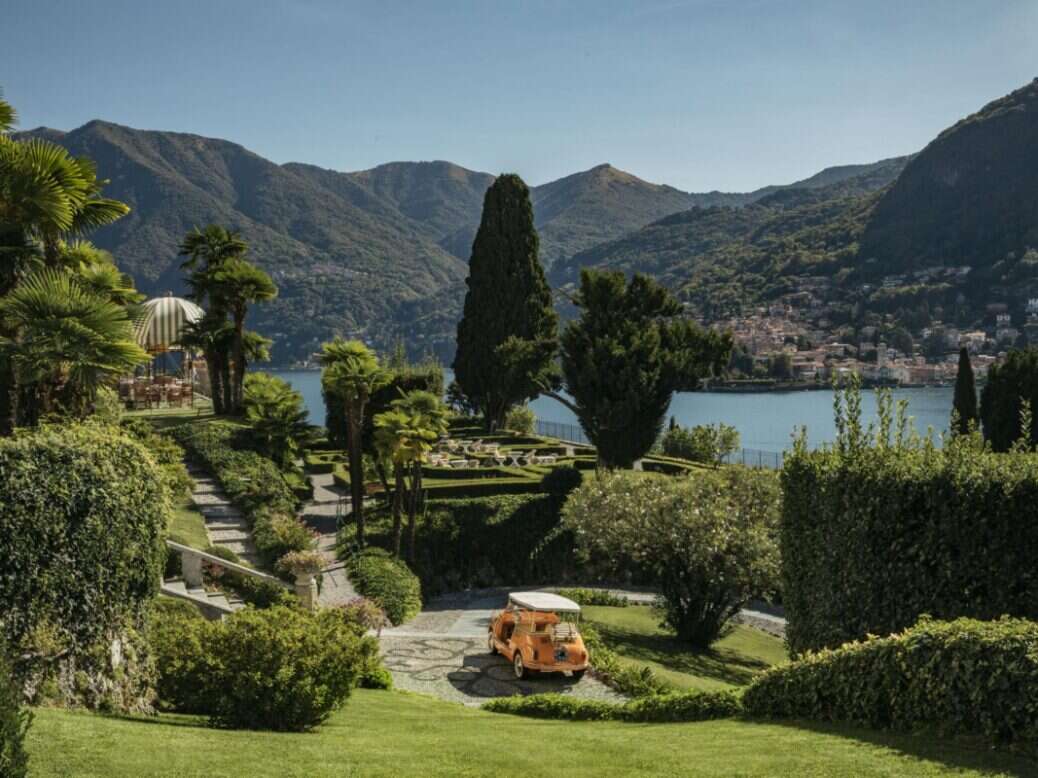 "Nowhere else than on the Lake of Como can there be found such a paradise of tranquil repose," wrote Mark Twain in 1867. The American author became infatuated with the picturesque Italian lake during a trip to Europe, staying on its southeastern shores in Bellagio and Lecco before traveling to Venice.
He's not the only one to fall under its spell. Every year, well-heeled travelers flock to Lake Como to stay for a week or two in the beautiful hotels and villas that pepper its shores. Among its ever-growing list of famous residents are George and Amal Clooney who own a stunning 18th-century property in the sleepy village of Laglio.
Set against the foothills of the Alps in northern Italy, the Y-shaped lake has three distinct branches that intersect in the towns of Bellagio, Menaggio and Varenna (all three are connected by a boat service that operates on a triangular route).
[See also: The Most Enchanting Hotels on the Amalfi Coast]
When planning your trip to Lake Como, you'll first need to choose when to visit; the high season begins in late June and runs through early September – we recommend visiting in April or May to avoid the crowds.
As for deciding where to stay, you're spoilt for choice with pretty lakeside towns. Como, Bellagio and Veranna are among the most popular spots, but Bellano is lovely if you're looking for somewhere a bit quieter.
To help plan your trip, we've curated a list of our favorite Lake Como hotels. From grand art nouveau palazzos to glossy boutiques, these are the very best spots to experience la dolce vita.
The best hotels in Lake Como
Grand Hotel Tremezzo, Tremezzina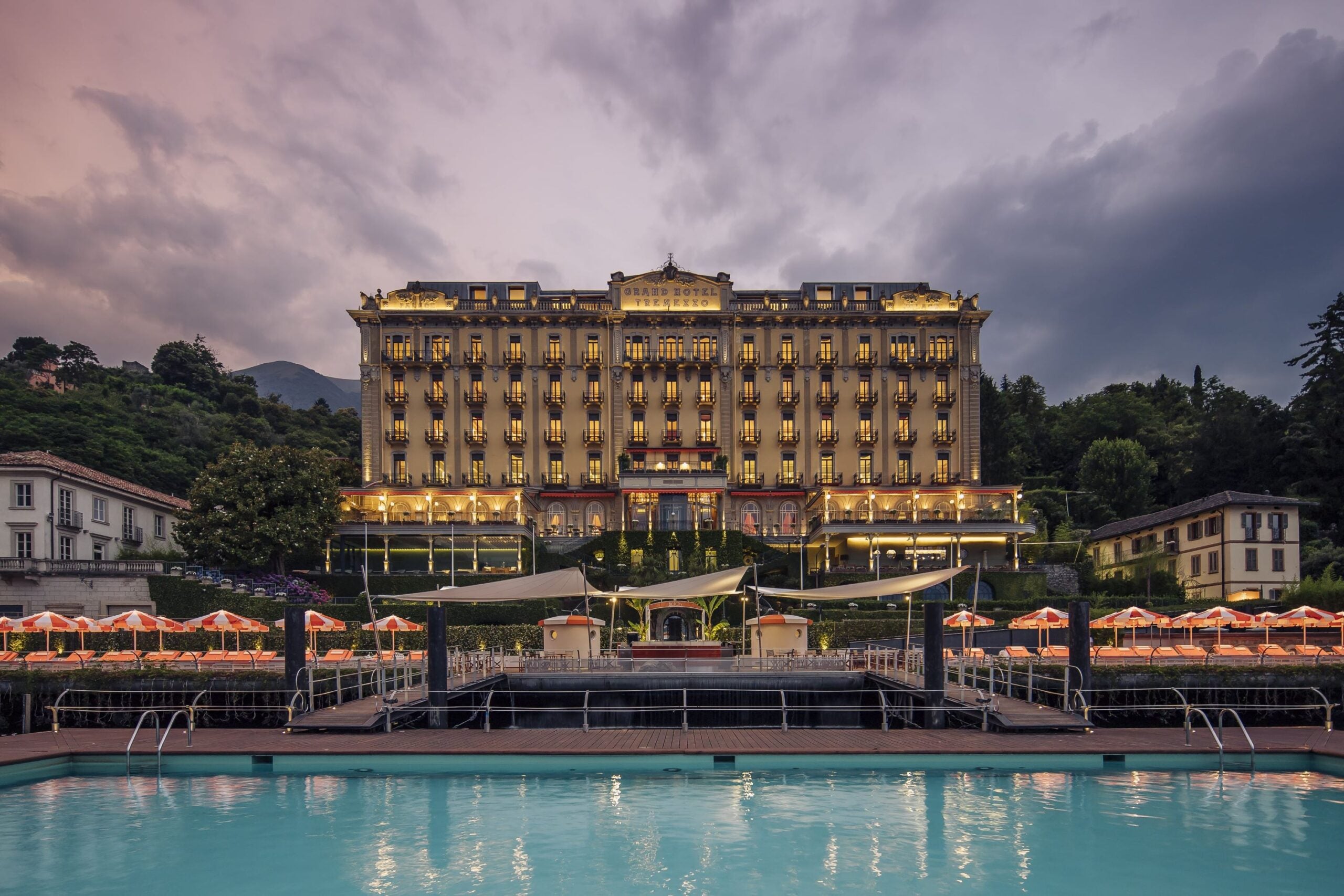 This century-old hotel sits just off the scenic road on the western shores of Lake Como looking out across the water to Bellagio. If you're looking for somewhere with buckets of old-school glamor, this is your place.
The art nouveau gem welcomed its first guests back in 1910, quickly becoming a popular haunt among Italian high society. In 1975, the De Santis family bought the hotel – they've been at the helm ever since.
All 90 of the elegant rooms boast breathtaking views of the lake; our favorite is the 970-sq-ft Saint Emilia Suite which features a gorgeous marble bathroom complete with a steam room, double rain shower, and whirlpool tub.
Elsewhere at Grand Hotel Tremezzo, you'll find an exceptional spa and a romantic restaurant where you can dine by candlelight on the outdoor terrace overlooking the lake.
Passalacqua, Moltrasio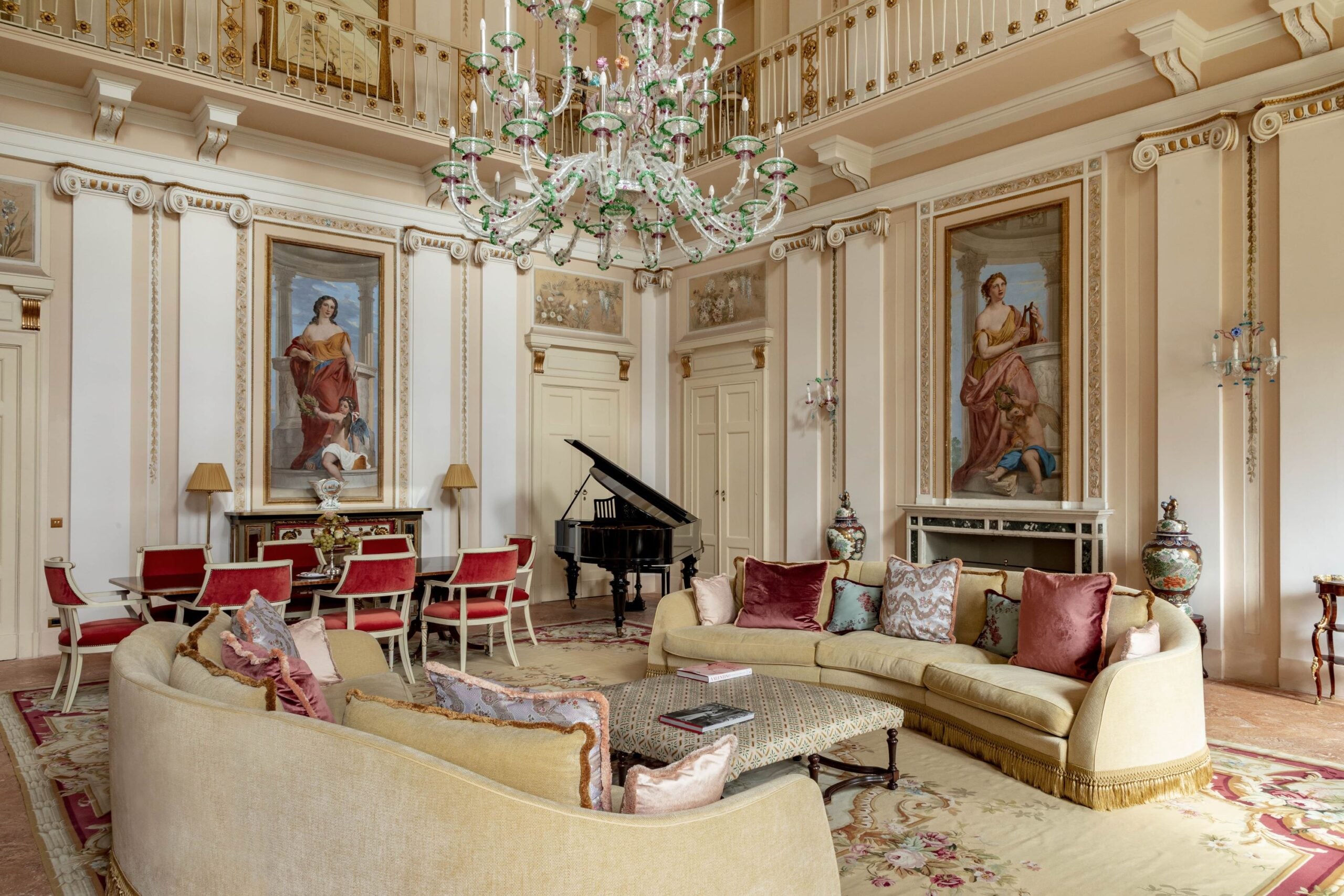 Last summer, the De Santis family opened a second hotel in Lake Como to great fanfare. Set within a meticulously restored 18th-century villa in Moltrasio, Passalacqua is considerably smaller than the Grand Hotel Tremezzo – but just as luxurious.
Set within a meticulously restored 18th-century villa, the boutique has just 24 elegant rooms split across the main villa, the Palazz (the former stables) and the Casa al Lago (a four-bedroom house by the lake).
Our favorite is the Suite Bellini – a palatial abode where Vincenzo Bellini composed two of his most famous operas. The 2,700-sq-ft suite features a jaw-dropping reception room with double-height vaulted ceilings and a grand piano in the corner.
There's also a lovely spa (including a sauna and steam bath in a stone chamber beneath the hotel), and a gourmet restaurant helmed by Alessandro Rinaldi. Be sure to head down to the jetty where Beppe the boatman can take you out for a day trip to visit the neighboring towns.
Villa d'Este, Cernobbio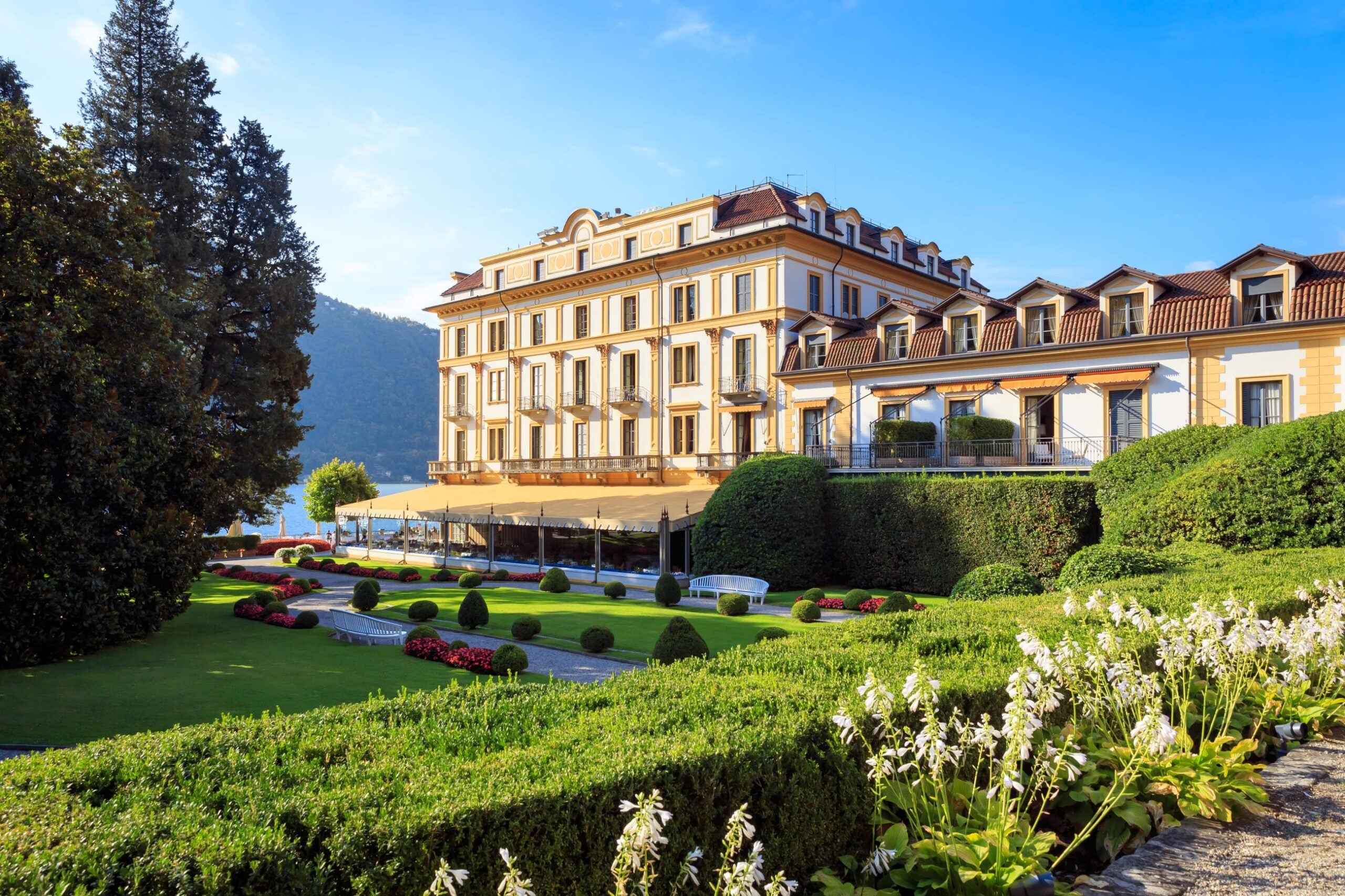 Our list of the best Lake Como hotels would not be complete without mentioning Villa d'Este. Situated just a few miles from Como in Cernobbio, the property was built as the summer home of Cardinal Tolomeo Gallio in the 16th century and changed hands several times before being transformed into a hotel in 1873.
Since then, Villa d'Este has become a favored spot among A-listers: Alfred Hitchcock, Elizabeth Taylor and Robert de Niro are among the names in its star-studded guest book.
Set within 25 acres of perfectly manicured gardens, the hotel features 152 rooms spread across the Cardinal Building and the Queen's Pavillion, plus four 19th-century villas ideal for those looking for a bit more privacy.
We love the hotel's unique floating pool out on the lake – the perfect spot for soaking up the views with a glass of bubbly.
Il Sereno, Torno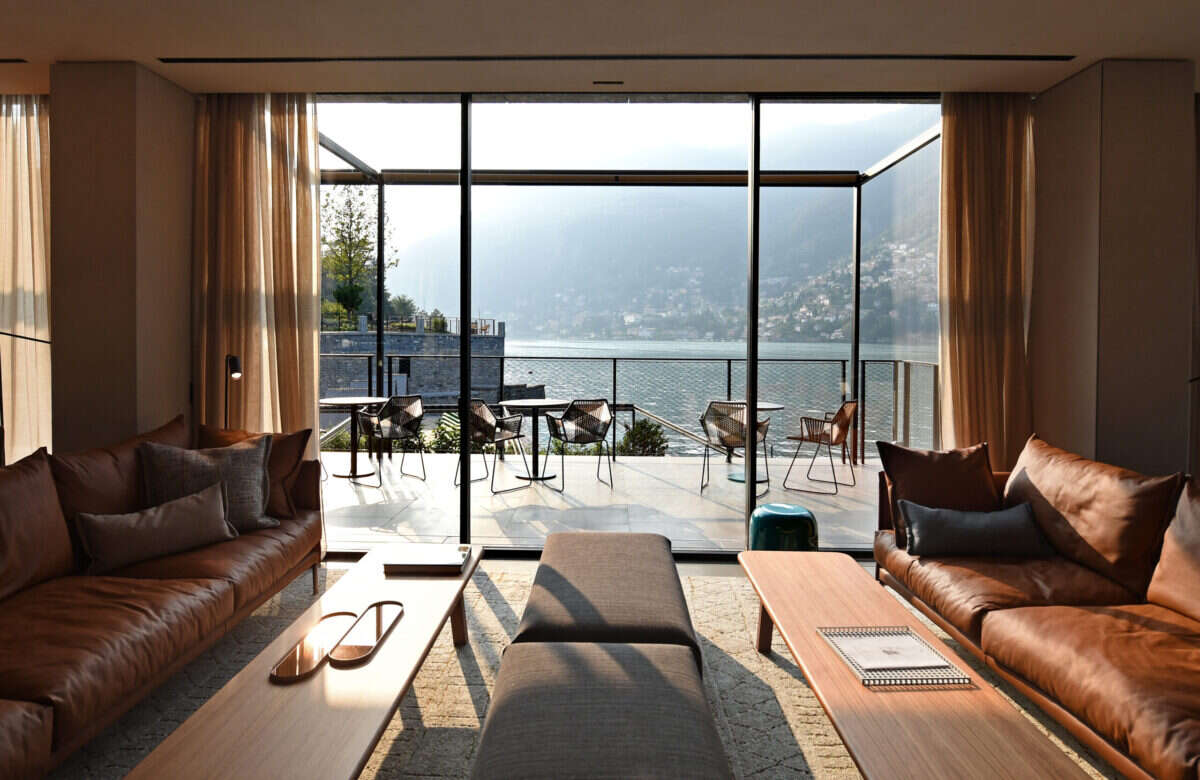 Next, we head to the picturesque town of Torno on the lake's southeastern shore – the home of Il Sereno. New buildings on Lake Como are always going to be met with a bit of apprehension but this contemporary hotel stands out for all the right reasons.
Designed by revered Spanish architect Patricia Urquiola, Il Sereno features just 30 spacious suites decorated in shades of gray and blue in a nod to the lakeside setting. Up on the top floor lies the Penthouse Suite – the sprawling outdoor terrace is one of the best spots for taking in the views.
Perhaps most enticing of all is Il Sereno's Michelin-starred restaurant helmed by Neapolitan chef Raffaele Lenzi. Expect delicious, down-to-earth cooking with a focus on seasonal vegetables and fish from the lake.
Grand Hotel Villa Serbelloni, Bellagio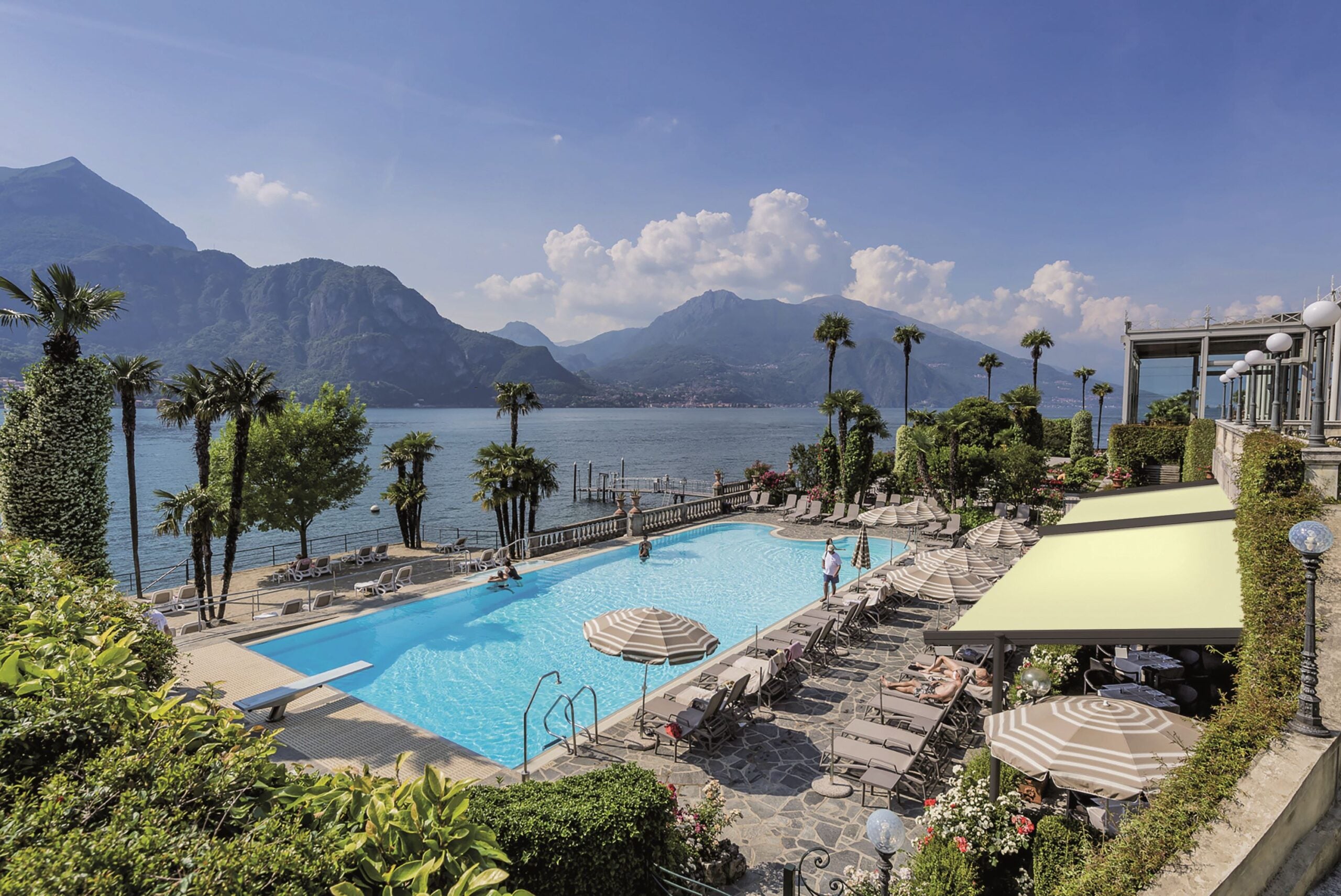 As is the case with many of Lake Como's most beautiful hotels, the next entry on our list was originally built as the summer house for an aristocratic Italian family. Transformed into a hotel in 1873, the neo-classical Grand Hotel Villa Serbelloni is brimming with glittering chandeliers, marble columns and antique rugs: it doesn't get much more opulent than this.
Situated in the heart of Bellagio – a small medieval town known as the 'pearl of the lake' – the location is difficult to beat. Of the 95 rooms, the 3,659 sqft Imperial Suite is the most extravagant – Winston Churchill, Al Pacino and J.F. Kennedy are among its most notable guests.
Grand Hotel Villa Serbelloni also boasts two restaurants – Mistel – where you can sample chef Ettore Bocchia's seven-course tasting menu, and La Goletta – a laid-back eatery serving traditional Italian cuisine.
Villa Lario Resort, Mandello del Lario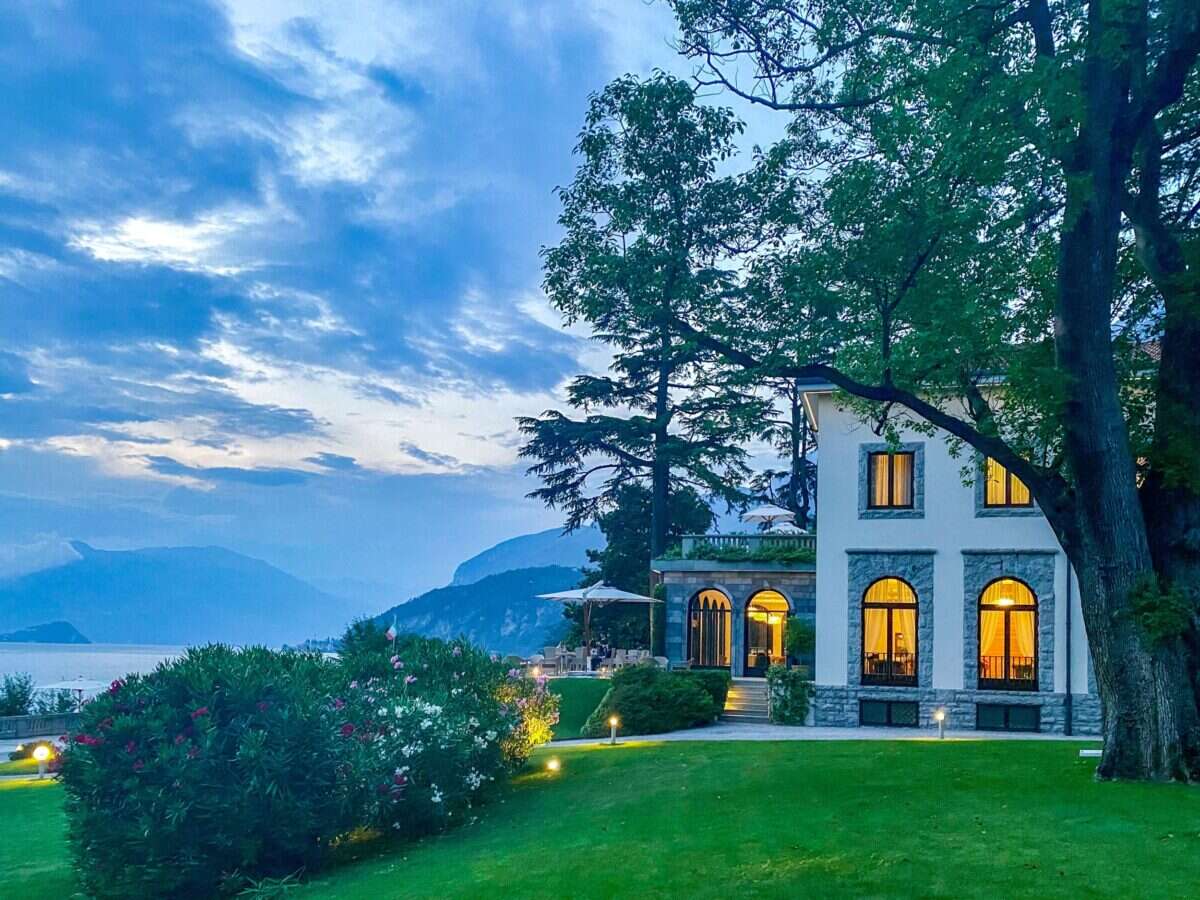 If you're looking for somewhere a little off-the-beaten-track, Villa Lario might just be your place. Located on Lake Como's quieter – but equally as pretty – eastern shore in Mandello del Lario close to Lecco and Varenna, this boutique hotel comprises just nine suites.
Earlier this year, Villa Lario announced plans to add a collection of brand-new Cave Suites built into the natural caves overlooking the water (the rest of the suites are split across the main villa and the dock).
When you can bring yourself to leave your suite, the concierge is on hand to organize an array of bespoke experiences from private boat trips to helicopter tours over the lake (the hotel has its own helipad).
Casa Sull'Albero, Malgrate
Last but by no means least on our list of Lake Como's best hotels is Casa Sull'Albero – an eco-friendly retreat tucked away on the quieter Lecco branch away from the throngs of tourists.
The modern, glass-fronted hotel features 12 suites, each with a view either over the gardens or the lake. Casa Sull'Albero has put sustainability front and center; natural materials abound throughout while solar panels keep down energy use and there's a 24-hour 'honesty kitchen' stocked with tasty snacks and drinks sourced from the local area.
Elsewhere, you'll find a saltwater swimming pool dotted with loungers, a spa that can be booked for exclusive use, and a tranquil outdoor massage area. The hotel is in the ideal spot for those that love hiking with plenty of trails to explore nearby.
[See also: A Long Weekend in Lake Como]