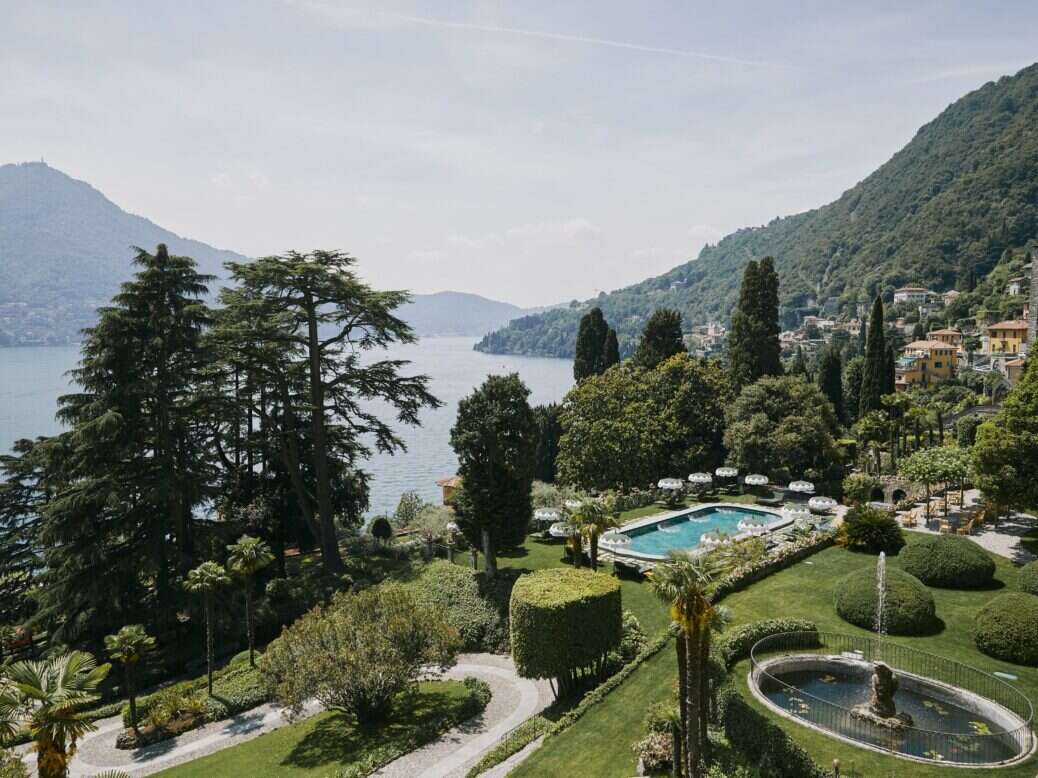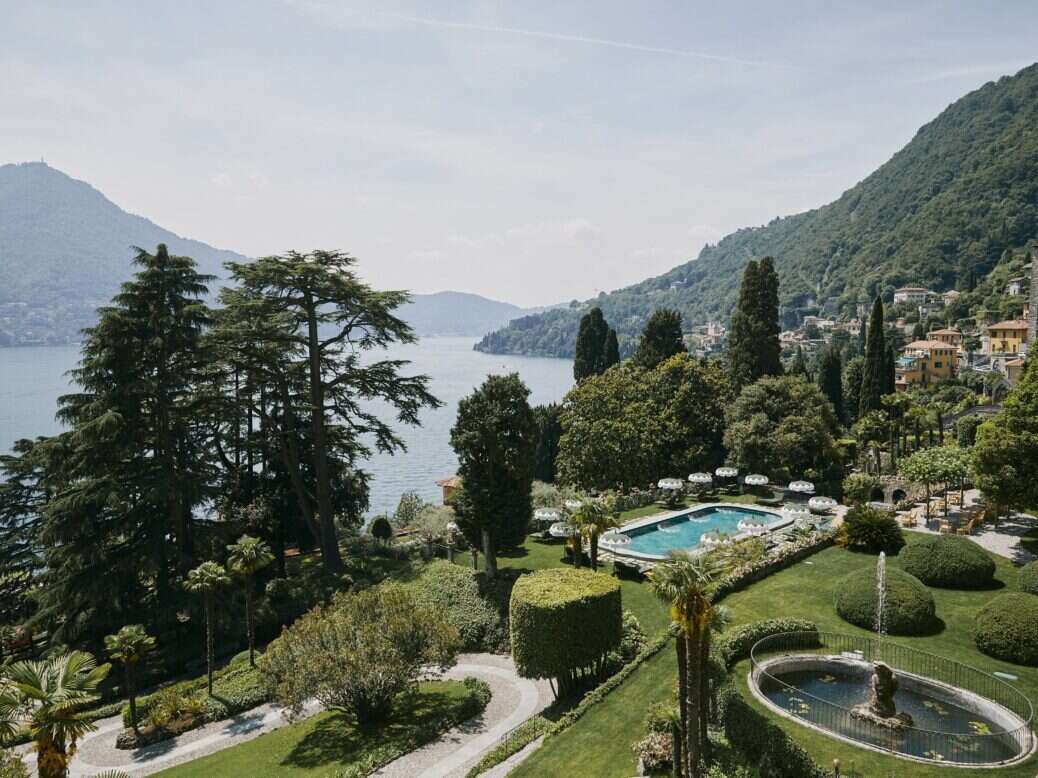 Is there, has there ever been, an expanse of water anywhere, so laced with centuries of celebrity endorsements, and imbued with such historical significance? Known to the ancient Romans as Lario, and to us as Lake Como, it drifts into the 21st century with the same Patrician confidence in its own unassailable allure, as when Roman author, Pliny the Younger, constructed his two villas, the commedia and the tragedia (both lost to time) on the lake's shores, in the 1st century AD.
To stand above the lake amidst the cedars and cypress trees and imbibe all of its shimmering silvery serenity is to understand what all the fuss is about. And there are few better vantage points from which to do that than the bend in the lake affording a spectacular dual aspect perspective, where the latest addition to Lario's long list of premium properties cascading down the ages, has just made a dramatic debut; Passalacqua.
Constructed by Count Andrea Lucini Passalacqua in 1787, on land originally owned by Pope Innocent XI, this gorgeous palazzo whose storied journey embraces Napoleon, Churchill, the composer Bellini, and more recently, Rosemary Clooney's nephew in a nearby village, had remained a private property until now. In truth, whilst technically a 24-room hotel, it still has the air of a very private, very refined home. That is surely the intention of the owners, Valentina De Santis and her parents Paolo and Antonella, well known since 1975, as the owners of one of Como's foremost Grande Dames, the Grand Hotel Tremezzo.
[See also: Mandarin Oriental Palace, Luzern: A True Grande Dame Revived]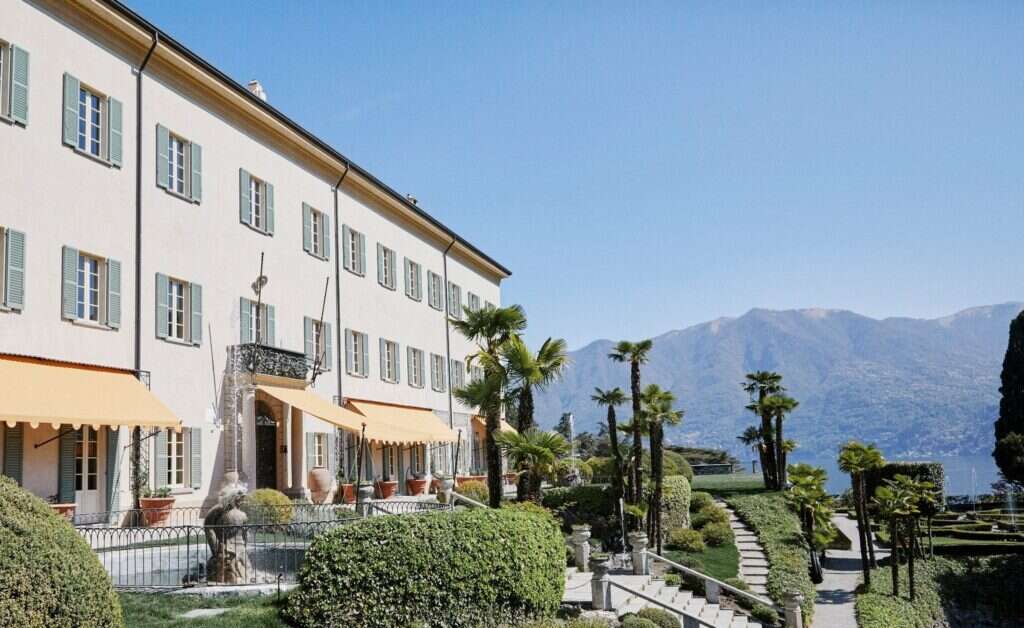 Almost accidental proprietors, having randomly popped in to view the property days before its 2018 auction, the De Santis's were soon sucked into the vortex of a meticulous $20m, three-year renovation. With Valentina immersing herself in the redesign, and her parents scouring auction rooms the length and breadth of Italy, the project was very much a family affair. The truly mesmerizing result bears testimony to their unrivaled suitability for the task in hand; hardly surprising after almost half a century seated at the top table of Italian luxury hospitality.
Stay
There are 12 rooms and suites within the main villa, including the enormous Suite Bellini, within which, as a frequent guest in the early 19th century, the composer produced two of his greatest operatic works, La Sonnambula, and Norma. At around $10,000 per night and covering a capacious 2,700 sq ft, it is as expensive as it is expansive.
The former Salla Della Musica with its ornate frescoed ceilings is one of two double-height reception rooms incorporated into the suite, with a grand piano positioned where Bellini's supposedly once was, and from where, he watched for the candle in the window of the villa opposite. This signified his lover, the opera singer Giuditta Pasta, was alone, at which point he would traverse the lake for "rehearsals". Simultaneously conducting an affair with another married Giuditta in the adjacent villa, whose husband threw her out as a result, Bellini's quest for artistic inspiration on Como, was clearly far from uneventful.
[See also: Vista Palazzo: Unapologetic Opulence in Fair Verona]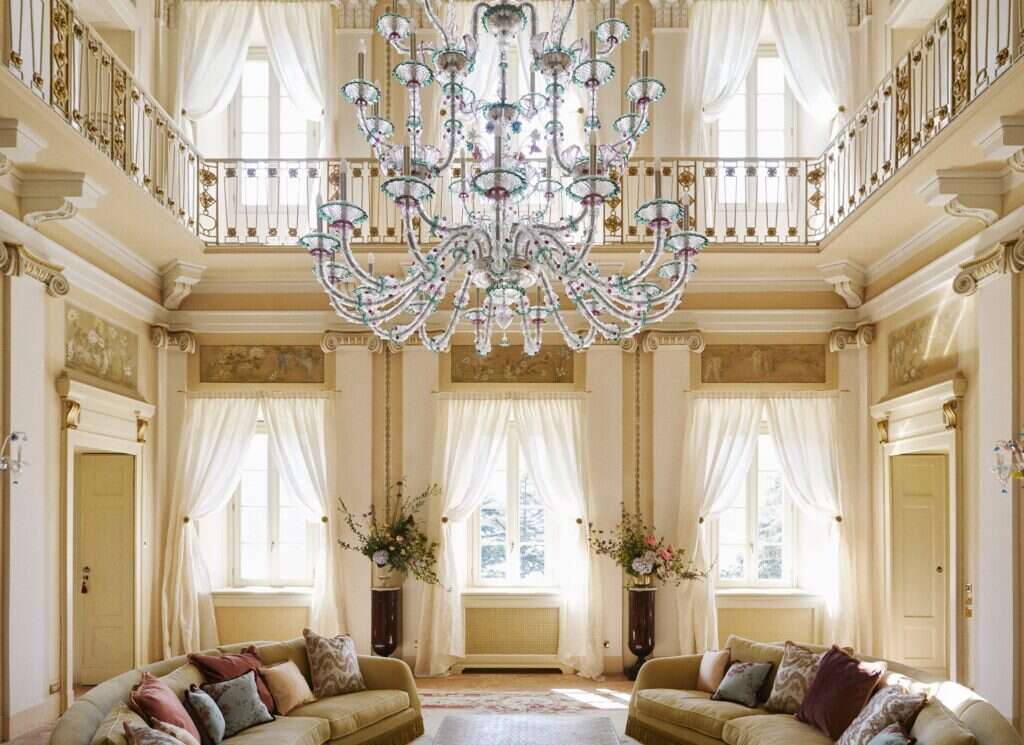 A former stable block to the rear of the main building, Palazz, is tastefully repurposed to convey a further eight rooms, with an atmospheric spa area crafted from the vaulted cellars and passageways below that run in an underground labyrinthine network right down to the lake. At the bottom of the gardens, close to the water, Casa al Lago, which can be reserved in its entirety, encompasses a further four rooms.
Ensconced in five acres of secluded grounds, unlike many of Como's villas set away from the lake's conurbations, Passalacqua sits in the center of the heart-stoppingly pretty village of Moltrasio. The manicured gardens, liberally interspersed with fountains and water features, descend via a sinewy sequence of terraces and gravel-crunched pathways, down to the road alongside the lake, underneath which a tunnel leads to the private jetty and a waiting vintage motor launch.
There's a delightful, dreamy, heated pool big enough for proper lap swimming, with tennis and bocce courts, along with outdoor dining spaces affording vistas of breathtaking beauty. Stylishly conceived contemporary elements are subtly woven into what outwardly presents as a traditional Italianate Garden, up and down which, an electric-powered classic Fiat Cinquecento transports the weary and the elderly. 
Dine
In keeping with the concept of a grand private house, the appointment of Passalacqua's head chef, Mauro Verza, appears inspired. Whilst Mauro's experience embraces all aspects of the gastrosphere, he's predominantly worked as a private chef to some of Milan's wealthiest families. Consequently, he segues seamlessly into the informal approach to dining. Embellished by the ministrations of a knowledgeable sommelier and an excellent cellar, mealtimes at Passalacqua manage to be simultaneously very low-key and very high-end.
The De Santis's also have a Michelin-starred restaurant, Kitchen, harbored within their collective of Como hospitality interests, 10 minutes away in the relentlessly charming town of Cernobbio. If a culinary venture outside of Passalacqua's verdant cossetting confines is to be contemplated, then Kitchen should be at the top of any list.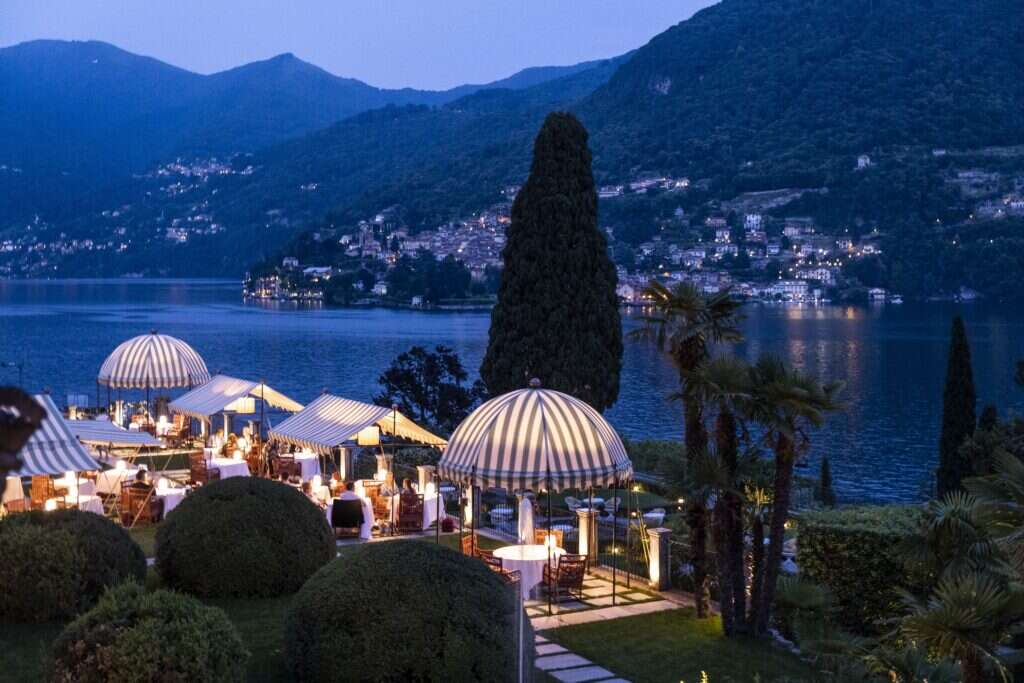 The young and self-effacing chef, Andrea Casali has had the Michelin star first awarded to him at the age of 27 in 2021, reaffirmed for 2023, and it doesn't take long inside his clean-lined temple of contemporary cuisine to realize why. There is a gestating talent here with the disruptive tell-tale trademarks of a thrusting young cuisinier well to the fore; not least with dishes like "Beetroot Wellington" and a dessert entitled "Not The Usual Tarte Tatin", which it wasn't.
With Mauro's classically interpreted traditional cooking on hand inside Passalacqua, and Andrea's modern creative cuisine lurking just outside, two different, but equally delectable expressions of Italian gastronomic dexterity remain at the disposal of guests.
[See also: Airelles Gordes, La Bastide: The Epitome of Provençal Chic]
Design
The degree of individually curated design input from the De Santis family is considerable. There are professional contributions, as with the old greenhouse next to the pool, skilfully repurposed into a light and color-filled ultra-cool bar by JJ Martin, the California-born maximalist designer, resident in Milan since 2001.
In the main, though, the family's innate sense of style and their embrace of an artistic and artisanal heritage that's weaved its way through Italian culture from Da Vinci and Canova to Dolce & Gabbana, propelled them into a project of personal passion. The resultant subtle meldings of on-trend Milanese design with the palazzo's heritage-compliant restorations have been masterfully accomplished. It really is like being invited into an opulent private home.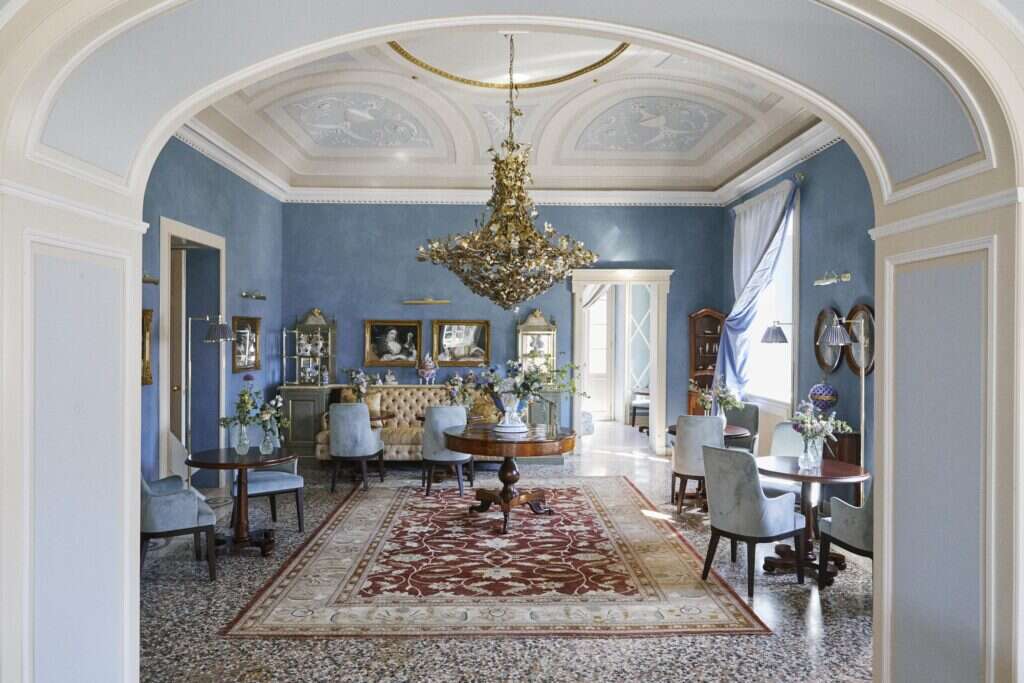 Murano glassware from the renowned Barovier & Tosso is evident throughout, most notably, the magnificent chandelier in Suite Bellini. At over 16 ft tall, it was painstakingly assembled with the assistance of a specialist lighting designer. At the bottom of each bed is a trunk manufactured by Umbrian leathersmith, Stefano Conticelli, up from which pops the TV.
Textiles and furniture are from Rubelli, silks and lamps from Fortuny, tableware by Ginori, and engraved mirrorwork from Barbini. Acres of exquisite marblework are lavished across the bathrooms, with the huge shower in Suite Bellini draped in sumptuous and meticulously crafted deep red Brecia Pontifici, a favorite material of Baroque maestro sculptor, Bernini, so named because of its extensive use in the Vatican. It's as if the De Santis's are singing an ode to Italian design supremacy. Be in no doubt, they're definitely on song.
Explore
The temptation to place oneself under house arrest is overwhelming. Passalacqua is a particularly relaxing environment where every whim is catered for, from Barbara Sturm treatments in the spa to the intermittent thwack of tennis balls beckoning from the court below. That revered Italian art form, dolce far niente (doing sweet nothing), is actively encouraged. An afternoon by the pool keeping an eye on the ferries puttering back and forth as time ticks languidly down toward the negroni witching hour is probably as strenuous as it needs to be.
Having access into Moltrasio, right outside the gates, presents a wonderful opportunity for a stroll around its artisanal gelateria, tumbling Alpine streams, and atmospheric trattorie. Should any unwelcome hints of over-tourism manifest themselves, guests can be back under the radar and inside their secret slice of heaven before you can say selfie stick.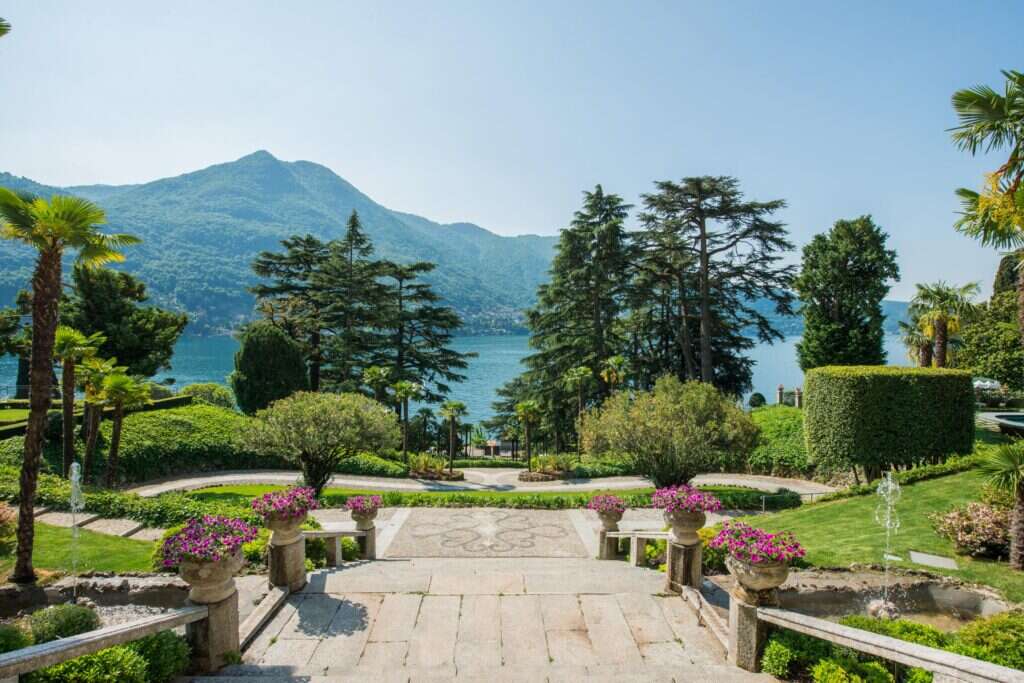 The trip down to the jetty to see Beppe the boatman, however, involves zero interaction with the outside world. For the incorrigibly indolent it can even be done by Cinquecento, and from there, the lake in all its aristocratic aquatic magnificence awaits. Trips might be tailored as desired and incorporate the many points of interest such as Villa Carlotta, Bellagio, or Villa Del Balbianello, with Beppe proffering suggestions and advice amid his litany of Lario anecdotes.
The lake's principal city, Como, easily accessible by either road or motor launch, is in many respects an authentic counterpoint to more celebrated (and visited) Northern Italian cities. Italians throng the streets at weekends, tugging fluffy little dogs, jabbering away over industrial-strength espressos, and perusing the shop windows of Milan fashion brands.
Its 14th-century cathedral and exquisite Teatro Sociale, constructed in 1813, can alone, make the trip into town a worthwhile urban diversion. The theater, with a history encompassing the likes of Paganini, Liszt, and Toscanini, is where Milan's La Scala relocated during WWII. It might not have La Scala's glamorous cachet, but then again, who cares about cachet when the road home after a night at the opera is the most famous lake in the world? And Beppe's waiting to drive you down it.
Suite Bellini from $10,000 per night. Contact Silvio Vettorello, general manager, silvio.vettorello@passalacqua.it, +39 334 858 2575, passalacqua.it
This article appears in the 06 Mar 2023 issue of the New Statesman, Spring 2023