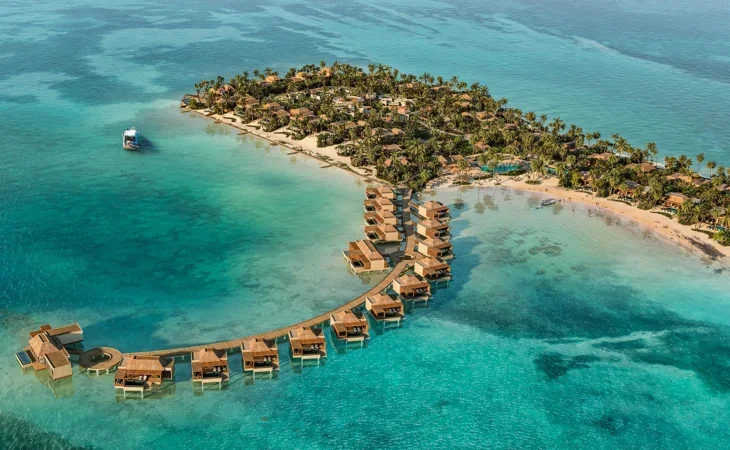 Engulfed in a protected marine wildlife preserve on the edge of the Belize Barrier Reef is the private island of Caye Chapel. This area of untampered naturalness is the largest of its kind in the Western Hemisphere and a UNESCO World Heritage Site, making it the perfect hub for espying natural beauty and wildlife. In order to preserve its naturalness, only 10% of the island will house structural development, including a new Four Seasons, Caye Chapel resort. The remainder of the island will be utterly dedicated to the preservation and conservation of the island's natural treasures.
One of the most compelling of the structural developments that will be featured on the island is the new Four Seasons Resort & Private Residences Caye Chapel. In keeping with the island's natural essence, the island will feature a Fabien Cousteau Nature & Conservation Centre where, led by Fabien Cousteau and his team of leading scientists and researchers, efforts will be devoted to fortifying reef systems.
[See also: Luxury Travelers Prioritizing Sustainability, Study Shows]
Lectures from marine biologists, conservationists and environmental thinkers will also thought-provoke the guests at Four Seasons Caye Chapel and the island's residents. Children's ocean expeditions will ensure that sustainable awareness is passed on generationally, as they will embark on ocean expeditions and witness the wonders of the underwater world. In addition to these expeditions, Caye Chapel will offer children education and adventure through wildlife treks, stargazing sessions, organic gardening and cooking classes as well as diving lessons at the resorts SCUBA school.
Both children and adults can also experience a curated diving experience with Cousteau himself, as well as do a range of water sports including kayaking, paddle boarding, kiteboarding, jet skiing and sailing. Snorkeling day trips to the Belize Barrier Reef, the Great Blue Hole and shallow water swimming with wild nurse sharks, sea turtles, manatees and rays will also be on offer.
[See also: Why Turks and Caicos is a Prime Location for Divers]
As well as trips into the vast outdoor space of this island, the resort will offer on-site sporting such as a nine-hole reversible course with a practice range that converts to a par three course, golf academy, putting course and full-service clubhouse restaurant. In addition, various wellness services will be available for residents, such as a yoga and meditation studio located on a private alcove, a reflection pool, outdoor gym and other such amenities for the enhancement of both mental and physical wellbeing.
A waterfront sushi and omakase restaurant serving all-day seafood in sustainable sea-to-table fashion will also comprise this Four Seasons Caye Chapel resort. A rotation of guest chef experiences will ensure both satiety and excitement as novel dishes are regularly served.
Set to open late 2024, Four Seasons Caye Chapel will comprise of 24 private beach and oceanfront residences, a 104-key hotel, and overwater bungalows that will line the island's northern edge. The architectural seamlessness of these residences will provide an illusory feel of the outdoors as the natural world and threshold morph.
[See also: Embark on a Route 66 Road Trip with Four Seasons]