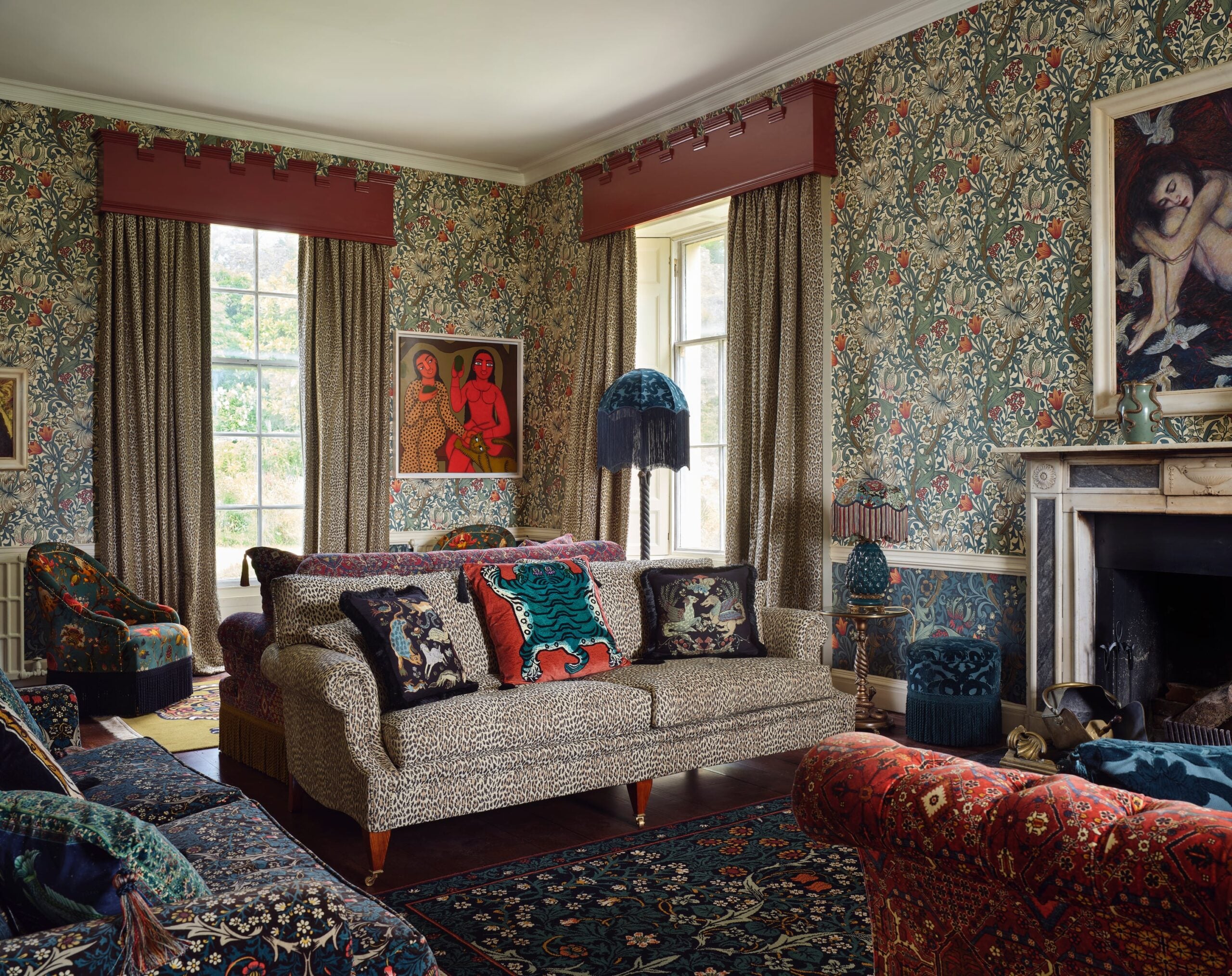 To celebrate its 10th anniversary, esteemed British brand House of Hackney has recently unveiled details of its hotel pop-up concept, which is headed to Cornwall this summer. Hotel Trematonia will take over the ancient Castle of Trematon, which sits in an Area of Outstanding Natural Beauty, to offer a completely unique retreat in the English countryside.
House of Hackney founders Frieda Gormley and Javvy M Royle have transformed the castle – which usually acts as their private home – into a luxury pop-up hotel that fully reflects the eclectic and often outlandish signature style of the brand, as well as celebrating its stunning surroundings. Guests will be welcomed to the House of Hackney Hotel Trematonia for a highly limited eight-week period from June 24 to August 22, for minimum stays of either three or six days.
The castle's six guest bedrooms have been meticulously designed with House of Hackney prints filling every inch of space, alongside a series of one-of-a-kind vintage pieces. A restful night's sleep is catered for by handcrafted Titchmarsh & Goodwin beds topped with traditionally made mattresses stuffed with cashmere, silk and wool. Bedding is courtesy of British linen company Peter Reed. Having been award a Royal Warrant by the Queen of England, Peter Reed bed linen is among the finest available – and it unwaveringly champions sustainable practices to boot.
[See also: Inside Henry's Townhouse, Your New Home Away From Home]
In addition to rooms in the main house, Hotel Trematonia will also offer a series of alternative accommodations including the self-catering Castle Cabin and three lovingly restored classic 1970s caravans. Launched in partnership with Jeep to celebrate the brand's 80th anniversary, the Castle Caravans are decked out in House of Hackney's nature-inspired prints, elevating them to 21st century standards.
As part of the partnership, guests who book a caravan will also have exclusive of use of a Jeep Renegade 4xe – the brand's first plug-in hybrid vehicle – for the duration of their stay. In true extravagant House of Hackney style, each Jeep will be coated in the same signature motif as its corresponding caravan.
In line with House of Hackney's recently awarded B-Corp status, every detail at Hotel Trematonia has been imagined with sustainability in mind. Particular emphasis is put on resorting artifacts rather than buying new and celebrating the heritage of British design and manufacturing. The House of Hackney wallpaper that lines the walls is PVC-free (unlike most European-made wallpapers), the fabrics draping the beds and couches are free from harmful chemicals and its plump cushions use 100% British wool, which is deemed to be the most environmentally friendly filling available.
[See also: The Must-Visit Luxury Spa Hotels in The UK]
The hotel is also designed to be completely plastic-free, with visitors being politely requested to adhere to this ethos. To help with the transition, each Hotel Trematonia guest is gifted a reusable water bottle and a House of Hackney face mask when they arrive, with water refill points dotted throughout the house.
The commitment to eco-consciousness continues in the castle's nine-acre garden, which has been allowed to retain its wild English character. Founders Gormley and Royle work closely with some of Cornwall's finest regenerative farmers to employ less invasive and more natural gardening methods.
As part of this mission to return the garden to its natural glory, closed-loop systems are used to prevent the need for fertilizers and plants known to attract vital pollinators such as bees and butterflies have been introduced. Not only will these efforts naturally increase the garden's beauty but will also help ensure its sustainability for generations to come.
[See also: A Guide to Ethical and Sustainable Design]
Guests are invited to explore every area of the expansive grounds as they please, from the Indian-style pool surrounded by sub-tropical blooms and the inviting orchard, to the ancient woodlands and the walled garden that is straight out the pages of a fairytale.
Hotel Trematonia's dining offerings also celebrate the bounty of the Cornish landscape, with ingredients for the daily vegetarian breakfast sourced from within the grounds where possible, with eggs provided by the castle's hens and vegetables grown in the no-dig kitchen garden. What can't be sourced in-house is provided by local, trusted suppliers. In addition to the inclusive breakfasts, guests can also request evening meals and lunches, as well as specially made picnics to enjoy on the grounds or on their travels through Cornwall.
Rooms in Hotel Trematonia main house from £300 ($425) per night; Castel Caravans from £570 ($808) for 3 nights. See houseofhackney.com for more details and bookings.
[See also: Amazing Eco-Friendly Homes Around the World]