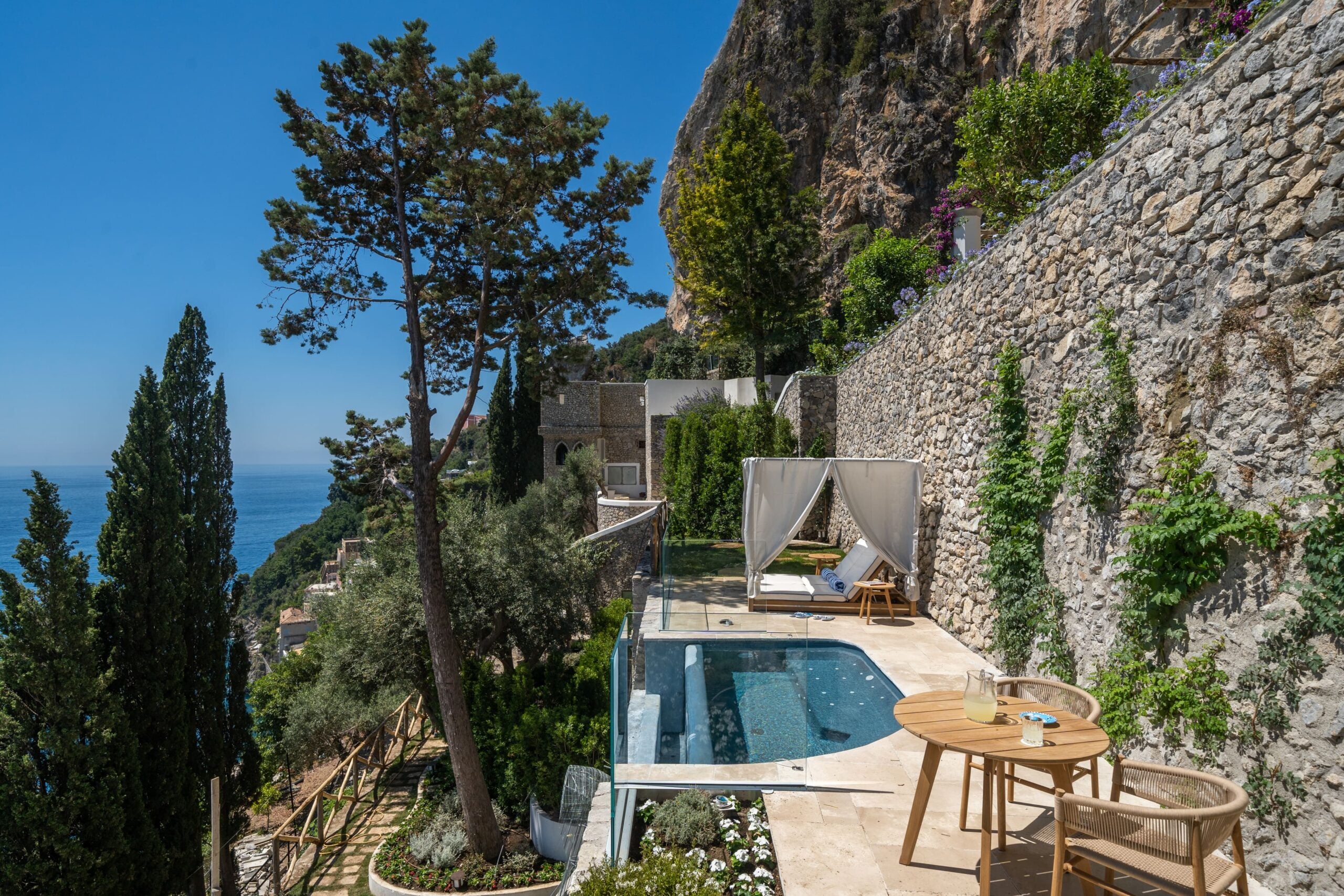 With pastel-hued clusters of buildings clinging to a nail-bitingly steep cliffside, the Amalfi Coast is surely one of the most iconic strips of coastline in Europe. Now, the region has been catapulted to a new level of elegance with the opening of the all-new Borgo Santandrea, which stakes a claim as the Amalfi Coast's first luxury hotel in over a decade.
The opening comes off the back of a careful three-year restoration, which saw two Italian families unite to deliver multiple generations of hospitality expertise to the project. Like all the most famous Amalfi properties, Borgo is tucked into the rockface, sitting some 300 ft above sea level. The hotel overlooks the ancient fishing village of Conca dei Marini, with the view extending across the houses and out to the ocean.
Design
As expected with any renovation project as meticulous as this one, design takes center stage at Borgo Santandrea. During the sensitive and 'slow' refurbishment of the mid-century property, the new owners sought to highlight its history, as well as that of the local area, while simultaneously elevating it to fit 21st century standards.
To achieve this, the design team enlisted the help of a number of fellow Italian designers, architects and artists; together they combined lovingly restored antiques, handcrafted pieces by Amalfitano artisans and bespoke furniture designed by in-house designer Nikita Bettoni to create a finish that is distinctly Italian.
This eclectic mix of periods styles and materials is brought into harmony by offsetting the startling white and blue hues that have become synonymous with Mediterranean design with more muted brown tones and natural linens.
The end goal of this painstaking commitment to championing the best of Italian makers and products was to create a unique space where visitors felt like more than guests: "We feel Borgo Santandrea is much more a home than a hotel," commented Borgo Santandrea's general manager, Maurizio Orlacchio. "It has been a beautiful challenge, over the past three years, to restore the property and I feel proud to have brought so many talented artisans and iconic Italian brands together to create a one-of-a-kind hotel that is truly 'Made in Italy'."
[See also: Inside the Stunning New Bulgari Suite in Milan]
Stay
With 29 guest rooms and 16 suites, Borgo Santandrea's sumptuous accommodations will suit every type of traveler. Each boasts impressive views of the village below and the Tyrrhenian Sea through floor-to-ceiling windows, but it is from the Deluxe Suite's private gardens complete with infinity pool and a four-poster day bed that these vistas are best absorbed.
Every room is light and airy thanks to the in-house design team's expert touch. Chic white and blue accents in the form of hand-painted geometric tiles and soft furnishings seamlessly tie each to the hotel's overall design.
Again, like the rest of the hotel, the finishing touches in each bedroom celebrate distinctive Italian craftsmanship: each bathroom features white marble from Puglia, Veneto and Tuscany; handblown Venetian glass lamps adorn the bedsides and Rubelli fabrics complete the upholstery. Each room even smells like an Italian garden thanks to the distinctively floral Acqua di Parma toiletries.
Dine
Orchestrated by executive chef Crescenzo Scotti, the gastronomic offering at Borgo Santandrea is centered around local flavors and ingredients sourced from regional producers and suppliers for a real taste of the Amalfi Coast.
Hotel guests are spoilt for choice, with three restaurants to visit: Alici, which offers al fresco dining with panoramic views; the laidback yet glamorous Beach Club; and La Libreria, with its open kitchen giving guests a window to the chefs at work. Each restaurant serves a variety of artfully prepared Mediterranean dishes, which have been carefully created by chef Scotti to not only look beautiful but also to celebrate the fresh flavors of the surrounding landscape.
Borgo Santandrea also has two bars perched at the very top of hotel, making them the perfect spot to sip a crisp glass of white wine or an expertly prepared spritz as you watch the sunset. Bellissima.
Explore
Anyone who has visited the Amalfi Coast can testify that you won't find yourself short of things to do. Exploring the beautiful Tyrrhenian Sea is first on most visitors' agendas, with these brilliantly blue waters typically littered with some of the world's finest yachts and sailing boats.
Back at the hotel, guests can explore its meandering cliff-face gardens, of which the redesign was a huge part of Borgo Santandrea's overall restoration. The owners went to great lengths to ensure the gardens featured foliage typical of the region, such as olive, lemon and pomegranate trees, winter jasmine and Myrtus. These efforts have resulted in a Mediterranean oasis that all but invites you in.
As one of the smaller, lesser-known villages on the Amalfi Coast (for now, at least), Conca dei Marini is far quieter than the nearby destinations of Positano and Amalfi. Visitors can enjoy this sublime corner of the famous coastline without the throngs of crowds that descend on its neighbors every summer, but for ultimate privacy, make use of the hotel's private beach and jetty.
The hotel concierge can also arrange tailor-made excursions showcasing the best of this beautiful part of the world, including clifftop trails along the panoramic 'Path of God' or cultural walking tours to must-see monuments along the coast.
[See also: How to Charter a Superyacht]
Borgo Santandrea rooms from $1,703 per night during opening period, $1,390 thereafter.