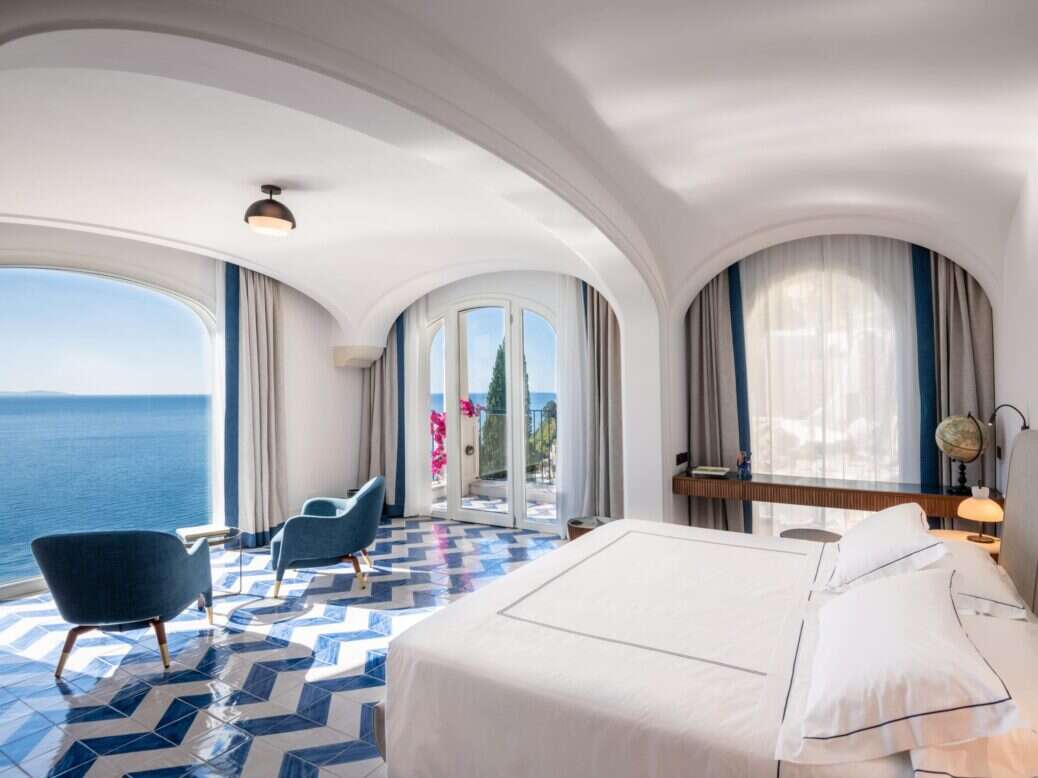 Borgo Santandrea, a newbie glamorous hotel on the Amalfi Coast, has caused quite a stir. It's the first hotel to open on the wildly romantic coast in 15 years.
The chance to create this family-run hotel came when the aging Il Saraceno Grand Hotel went up for sale. Four years of painstaking renovations later — with a few delays due to Covid — a dramatic new hotel was revealed to the Amalfi glitterati, with 45 supremely modern sea-facing rooms and suites; floors draped in artisanal tiles; and grand, plant-flecked terraces that have a whiff of Ravello in the air.
A celebration of Italian design also takes center stage, especially in all the public hangouts, where creations from artisans Rubelli and furniture design emporiums Tosconova and Lisar stun, and Venetian glass lamps and coffee tables are stacked with every Assouline title under the sun.
The concierge desk is even an original Carlo Mollino glass-topped dining table with a Gerald Thurston table lamp atop the elegant check-in desk.
[See also: Elite Traveler Reveals Top 100 Hotel Suites in the World]
Design
As expected with any renovation project as meticulous as this one, design takes center stage at Borgo Santandrea. During the sensitive and 'slow' refurbishment of the mid-century property, the new owners sought to highlight its history, as well as that of the local area, while simultaneously elevating it to fit 21st century standards.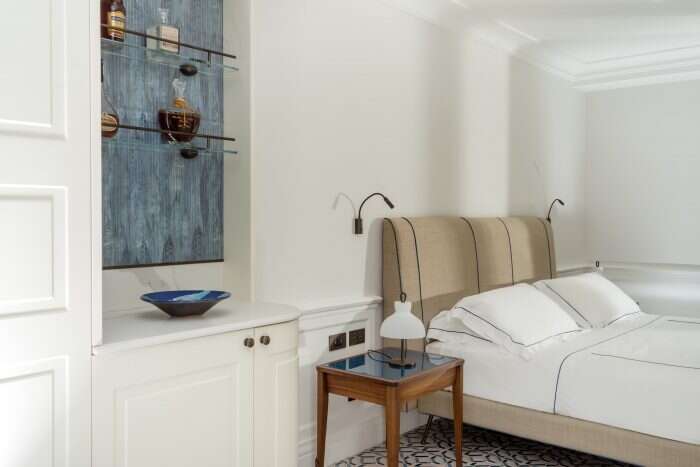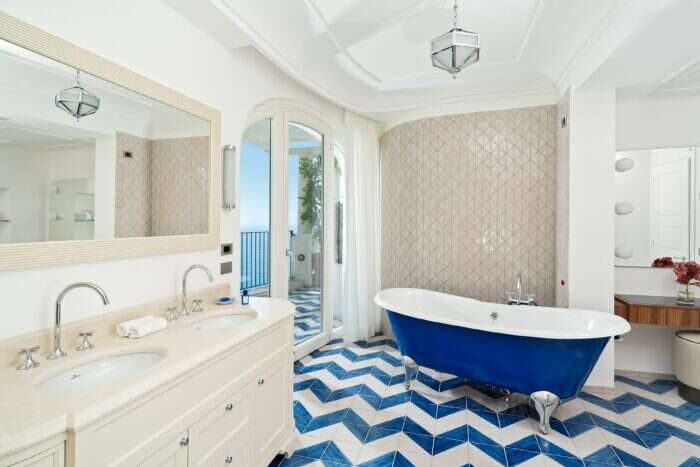 To achieve this, the design team enlisted the help of a number of fellow Italian designers, architects and artists; together they combined lovingly restored antiques, handcrafted pieces by Amalfitano artisans and bespoke furniture designed by in-house designer Nikita Bettoni to create a finish that is distinctly Italian.
This eclectic mix of periods styles and materials is brought into harmony by offsetting the startling white and blue hues that have become synonymous with Mediterranean design with more muted brown tones and natural linens.
The end goal of this painstaking commitment to championing the best of Italian makers and products was to create a unique space where visitors felt like more than guests: "We feel Borgo Santandrea is much more a home than a hotel," commented Borgo Santandrea's general manager, Maurizio Orlacchio. "It has been a beautiful challenge, over the past three years, to restore the property and I feel proud to have brought so many talented artisans and iconic Italian brands together to create a one-of-a-kind hotel that is truly 'Made in Italy'."
[See also: Inside the Stunning New Bulgari Suite in Milan]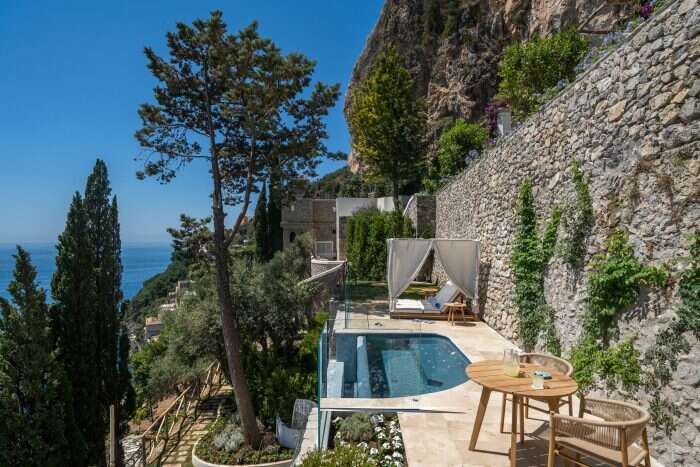 Stay
All rooms and suites are inspired by the Hotel Parco dei Principi in Sorrento, the work of Italian designer Gio Ponti. Think: walls and floors dressed in exceptionally blue and pristine white tiles, gargantuan bathtubs and tables crowned with glossy books.
If you're in one of the huge corner suites, there's floor-to-ceiling windows that look out onto plunge pools eyeing the dramatic Amalfi coastline and Sophia Loren's former holiday pad. Everything, from the large balconies to the slick fixtures (the groove dressers especially), play on natural light, and nothing ever feels too artificial, strained or acted out to a stuffy script.
Instead, expect mid-century design, minimal fuss and playbook southern Italian simplicity. Elsewhere, you'll find a cool library, the Cupido treatment room for two; a sauna; and a sea-view terrace for outdoor massages, plus a neat gym with Technogym workouts that look out onto the glittering sea.
Dine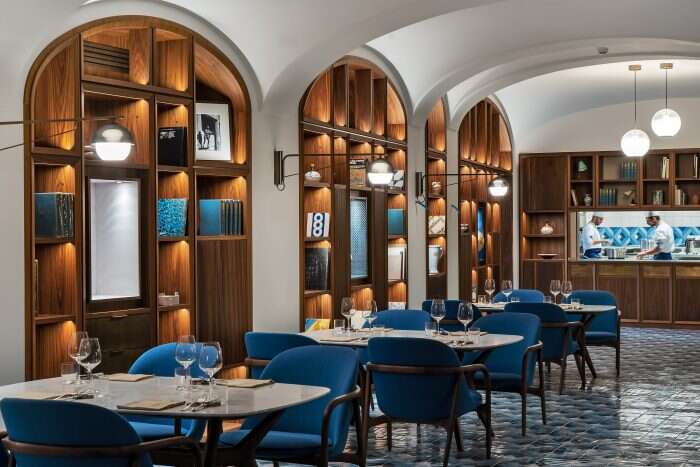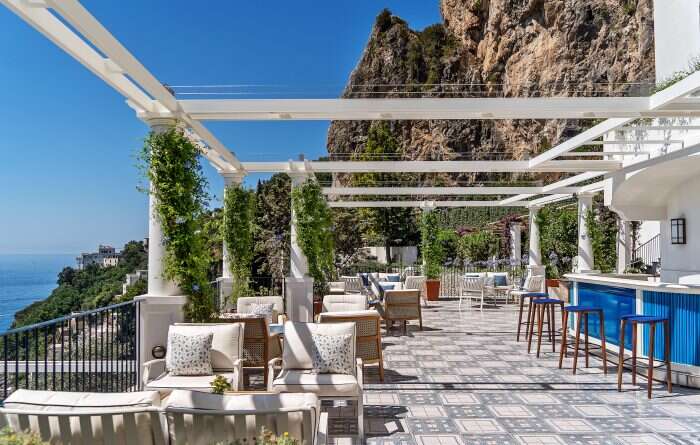 Chef Crescenzo Scotti, whose restaurant II Flauto di Pan in Ravello has a Michelin star, oversees three restaurants: the Alici, La Libreria and Al Borgo.
The patio-graced Alici with its spectacular views is all about a modern spin on classics, from deep-fried zucchini flowers to Amalfi's delizia al limone (a mini sponge cake filled with oozing lemon custard).
La Libreria is Borgo's top-notch dining spot — and where Scotti naturally likes to show off his culinary talents. Eight-course tasting menus dabble in the perks of regional coastal freshness and seasonality: lemon smoked risotto, lobster cappuccino laced in milk cream and smoked scamorza cheese baked on leaves are just a few of the tasty standouts.
Explore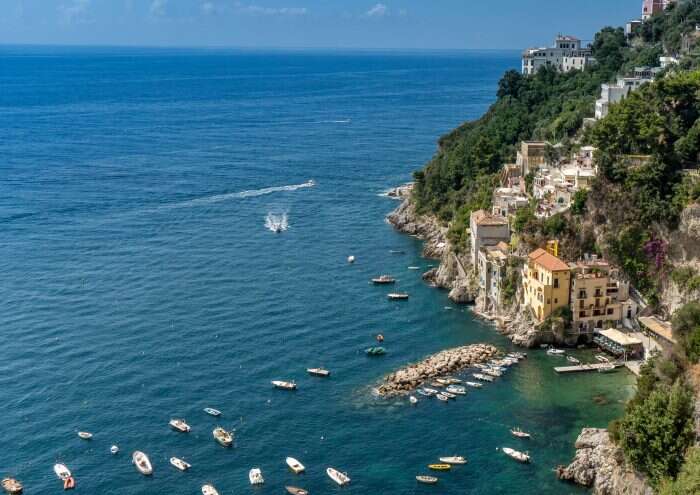 Anyone who has visited the Amalfi Coast can testify that you won't find yourself short of things to do. Exploring the beautiful Tyrrhenian Sea is first on most visitors' agendas, with these brilliantly blue waters typically littered with some of the world's finest yachts and sailing boats.
Back at the hotel, guests can explore its meandering cliff-face gardens, of which the redesign was a huge part of Borgo Santandrea's overall restoration. The owners went to great lengths to ensure the gardens featured foliage typical of the region, such as olive, lemon and pomegranate trees, winter jasmine and Myrtus. These efforts have resulted in a Mediterranean oasis that all but invites you in.
As one of the smaller, lesser-known villages on the Amalfi Coast (for now, at least), Conca dei Marini is far quieter than the nearby destinations of Positano and Amalfi. Visitors can enjoy this sublime corner of the famous coastline without the throngs of crowds that descend on its neighbors every summer, but for ultimate privacy, make use of the hotel's private beach and jetty.
The hotel concierge can also arrange tailor-made excursions showcasing the best of this beautiful part of the world, including clifftop trails along the panoramic 'Path of God' or cultural walking tours to must-see monuments along the coast.
[See also: How to Charter a Superyacht]
Borgo Santandrea rooms from $1,600 per night, Contact info@borgosantandrea.it, +39 089 831 148, borgosantandrea.it